The Orleans Casino Medley Buffet – 2023
Updated January, 2023
(Editor's note: The Medley Buffet remains closed – as it has since March of 2020. If and when plans for a buffet re-opening are announced, we'll update this article accordingly).
After a $4.5 million dollar renovation of the former French Market Buffet, The Orleans Hotel & Casino opened its updated 22,000 square foot-plus Medley Buffet back a few years ago.
The buffet has garnered pretty good reviews since then, and not just because of its welcoming, attractive décor with contemporary soft colors and designer accents.
An especially positive feature is Medley's very affordable pricing structure, which includes a breakfast buffet costing just $10.99 or less (when showing a player's card).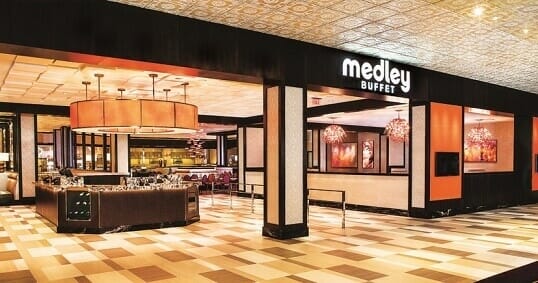 The eight cooking stations here (which we'll cover more below), include Italian, Barbecue, American, Seafood, Mexican, Asian, Deli and Desserts.
Nightly dinner buffets include prime rib and shrimp scampi.
The Orleans Medley Buffet Prices and Hours
First off, you'll want to sign up for a "B Connected" card, which is the Orleans' casino players card. There are five levels, beginning when you sign up at "Ruby," followed by Sapphire, Emerald, Onyx and Titanium. The higher your status, the less you'll pay – two to three dollars less than the basic Ruby level.
Below are the buffet prices when showing a Ruby "B Connected" card. Those who don't want to sign up for a free card will pay $3 more than the prices listed below.
Breakfast
Monday – Friday: 8 AM to 10 AM – $10.99
Champagne Brunch
Saturday & Sunday: 9 AM to 3 PM – $19.99
Lunch
Monday – Friday: 11 AM to 3 PM – $13.99
Dinner
Sunday – Thursday: 4 PM to 8 PM – $19.99
Friday Steak & Shrimp Dinner: 4 PM to 9 PM – $24.99
Saturday: 4 PM to 9 PM: $19.99
These prices do not include tip nor the 8.38% Las Vegas sales tax. So for example, a Saturday night buffet for two people would cost you a total of $43.33 after tax, (but before tip).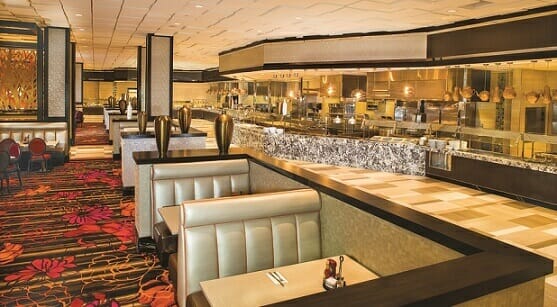 As the name implies, the Saturday and Sunday champagne brunches include free champagne.
Last, as with most other Las Vegas buffets, during holidays, buffet prices are subject to change, (up, not down).
This past Christmas for example, the 11 AM to 8 PM buffet on Christmas Day cost $23.99 (for Ruby B-connected card holders). It included roast turkey, ham, prime rib, roast leg of lamb, rotisserie chicken, crab stuffed salmon sides, New York steak, and more.
The Orleans Medley Buffet All Day Pass
The buffet offers a special all-day, all-you-can eat buffet pass.
The pass lets you gorge for breakfast, lunch, and dinner – all at one reasonable price. The pass is good from when they open up in the morning until they close down the dinner buffet.
Prices are as follows:
Saturday – Thursday: $34
Friday: $38
Please note that The Orleans Hotel's all-day buffet pass is not available during holidays.
Medley Buffet Children's Prices
Children 3 and under eat free.
Those ages 4 to 10 years of age will pay exactly $3 less than the Ruby prices shown above for all meals, with the exception of the Friday night Steak and Shrimp buffet, in which case they'll be charged $4 less than the Ruby price shown above.
The Orleans Hotel & Casino Medley Buffet Menu Items
As mentioned above, the newly remodeled buffet has eight different food stations.
Here's a small sampling of menu items found at the various stations. And while specific menu items are subject to change, you're likely to find the following standards for dinner:
American – Roasted turkey, meatloaf, roast beef, rotisserie chicken, fried chicken, onion rings, fried eggplant.
Barbeque – Smoked brisket, barbecue beef ribs, and more, including prime rib here. Sides include corn on the cob, dressing, collard greens, black-eyed peas, grilled vegetables, mashed potatoes, cold salads, mac n' cheese.
Deli – In addition to the salad bar, and separate Caesar salad bar, there are six daily soups, and standard deli cheeses and meats.
Mexican – Made-to-order tacos, tacos al Pastor, menudo, adobo, elotes (grilled Mexican street corn), street tacos, pork tamales, salsa bar, enchiladas and more.
Italian – Pizzas (I think I remember 4 different kinds), shrimp linguini, osso bucco, lasagna, spaghetti, penne pasta with sauce options, and veal parmesan.
Asian – Different sushi varieties, dim sum, make your own pho, oxtail, edamame, dumplings, fried rice, pork buns and Mongolian beef.
Seafood – Clams, mussels, shrimp, ceviche, oysters crawfish, gumbo catfish, fish n' chips.
Desserts
There are eighteen different flavors of ice cream and sorbet here. Flavors can rotate but you may see mint chocolate chip, peach, lemon, pistachio, Spumoni, and/or mango. These are all hand scooped ice creams, however there is also a soft serve machine (vanilla and chocolate) with cones.
You'll also find cookies, peach cobbler, apple cobbler, fruit tarts, bread pudding, assorted slices of pies and cakes, including chocolate cheesecake, chocolate cream pie, blueberry cheesecake, crème brulee and even bananas foster.
There is also a small selection of sugar-free desserts.
Orleans Casino's Medley Breakfast Buffet
During breakfast buffets, you'll find made-to-order omelet station. The options I saw included bacon, ham, sausage, mushrooms, jalapenos, and shrimp.
There's also a made-to-order crepes area with nine different toppings ranging from pineapple to almonds.
You'll see your standard breakfast staples of course: scrambled eggs, waffles, pancakes, bacon, sausage, etc., but also biscuits, eggs benedict, grits, chicken fried steak and gravy, a good selection of glazed and sprinkled donuts, muffins, cinnamon rolls, and other pastries.
Medley Buffet at The Orleans Phone & Website
Phone: (702) 365-7111
Website: Orleans Dining page
Other Notes
The Medley Buffet does a great job pointing at their many gluten-free menu items. The do so by printing them all out on a paper menu that acts as a placemat at your table.
Per signs in front of the buffet, there is a two hour dining limit at the Medley Buffet.
Also, while you can eat to your heart's content for those two hours, taking food to go is not allowed.
The Orleans Hotel and Casino is a Boyd Gaming property. A sister property of The Orleans, The Aliante Casino, Hotel and Spa in North Las Vegas, also has a Medley Buffet.
(By Steve Beauregard. Photos are courtesy of The Orleans Hotel & Casino)