Tropicana Las Vegas Savor, the Buffet: 2023 Price, Hours & Menu
(Editor's note: The Tropicana's Savor Buffet remains closed and may be closed permanently. If and when a re-opening date is announced, we'll update this article accordingly).
Just about every casino has a buffet, but the Tropicana Hotel & Casino's buffet is that rare restaurant to only serve brunch.
Set on the main level, Savor is past the Starbucks and food court area towards the back of the casino.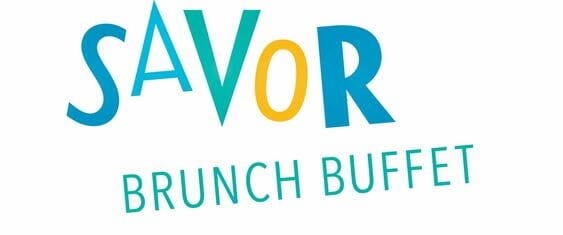 In contrast to the mega buffets that dominate the Las Vegas Strip, Savor is much more intimate. That means smaller lines, and less walking around to the buffet stations.
What Savor lacks in size, it makes up for with a beautiful, contemporary décor. The 5,000 plus square foot dining area, (a complete remodel of the resort's former Beach Café), is open, bright, and airy, with large windows overlooking the tropical landscaping outside.
You can also choose to sit outside on the buffet's patio.
Tropicana Buffet Price & Hours
Since the buffet only serves brunch, this is easy:
7 AM to 1 PM (every day): $23.99
This fairly reasonable price (in my view), especially given the quality (and number) of made-to-order stations, (more on that below).
However keep in mind the price doesn't include the Las Vegas Strip 8.25% tax on food, so a buffet for two people would cost you a total of $51.94 after tax (and before a tip).
As for kids? Children between 4 and 10 years of age are charged $11.99.
Children 3 and under eat free, while those 11 and up will pay the full adult price of $23.99.
To-go buffet options are becoming more popular on the Strip, and the Tropicana offers one as well. Here the one-box buffet fill-up will set you back $17.99.
Lastly, buffet prices typically rise during holidays. I'm not entirely certain of future holiday pricing, however last November, I know the Thanksgiving brunch cost $31.99. There were added menu items of course.
Tropicana Savor, the Brunch Buffet Menu
For not being very large, this buffet offers a decent variety of breakfast and lunch items. Of course, menu items can change, but the dishes below were available on a recent visit.
Mushroom and spinach crepes, cheese blintzes, and roasted tomato quiche.
In addition to standard scrambled eggs, biscuits and gravy, breakfast potatoes and hash browns, bacon, etc., there were specialty chocolate brioche French toast and lemon ricotta pancakes rather than the plain pancakes and French toast.
Hot breakfast dishes also included a smothered tater-tot casserole dish, an egg-white frittata, eggs benedict, turkey sausage, chicken n' apple sausage, and individual plates of huevos rancheros.
There were also pre-made for you breakfast bagel sandwiches. These were wrapped in aluminum foil and next to the cherry cobbler, and apple fritter bread pudding.
Made-To-Order Waffles
The made-to-order waffle station is a hit, and is full of waffles with a twist.
These are waffles made right there in front of you, and there are six different waffles to choose from:
Apple pie: Apple compote, cinnamon Chantilly, and apple butter.
Saturday Morning: Milk cream, Fruity Pebbles cereal, and Captain Crunch cereal.
Pick-me-up: Espresso syrup, coffee cream, and dark roast crumble.
Orange Creamsicle: Vanilla cream, orange marmalade, and candied orange zest.
The Cavity: Banana compote, Nutella, peanut butter ganache, and caramel.
Very Berry: Berry compote, blackberries, raspberries, blueberries, strawberries and whipped cream.
You can add or delete different toppings according to your taste to make your own perfect made-to-order waffle.
On a little healthier front, the buffet has the normal selection of freshly cut fruits, however the fresh papaya here is not something you'll find at most Strip brunch buffets.
The yogurt/fruit parfait is another healthier option.
Pastries, breads and sweets include bagels, freshly made donuts, (including a bear claw), a chocolate croissant, cookies (including some no-sugar added cookies), raspberry palmier cookies, cheese Danish, and assorted muffins.
And while, other buffets may have cinnamon rolls and apple fritters, Savor, the Brunch Buffet has both of these kept separate in warm, heated pans. Something about that makes them taste much better.
There also the traditional made-to-order omelet station.
On more of the "lunch" side of "brunch," you'll find what they call, "Pop's Famous Fried Chicken," and several different types of sushi – including forbidden rice. There there's the….
Pizza
I know, I know: Las Vegas buffets aren't exactly famous for high quality pizza.
Pizza sections at most Strip buffets have a selection of three or four different basic pizzas to choose from: cheese only, pepperoni, etc. These are always under a heat lamp, and you're never sure when they were made.
The risk that you may fill up valuable stomach space on a mediocre pizza when there are tastier selections at other parts of the buffet.
However Savor, the Brunch Buffet's pizza area is far different than almost every other buffet in Las Vegas.
Starting with the fact they pizzas are made fresh. By that I mean these are individual pizza pies made right there in front of you as you wait.
Different Pizza Choices
There are four different pizzas to choose from:
Napoli: tomato, fresh mozzarella, basil and olive oil.
Pepperoni: red sauce, mozzarella, beef and pork pepperoni.
Chicken: roasted chicken breast, goat cheese, pesto, and radicchio.
Prosciutto: Described on the menu as "Tomato and mozzarella finished with sliced prosciutto, arugula, olive oil."
However you're not stuck with these exact pies. You may ask the pizza chef to hold off on an ingredient, or to add one of several additional toppings available (spinach, peppers, etc.) to create your own fresh made-to-order pizza!
Drinks
Drink service here is self-serve at the drink station, meaning you will have to keep getting up to get your coffee and/or orange juice refills.
There is a full service bar with Mimosas for just $2 a glass and a Bloody Mary for $3.
Tropicana Hotel & Casino in Las Vegas Lunch and Dinner buffet?
Savor, the Brunch Buffet only serves, well, brunch.
When it first debuted in November 2017, it was called "Savor, the Buffet," and was your typical casino buffet. There were three different meals a day, and it was open from 7 AM to 10 PM.
However in late 2018 they later dropped both the dinner and lunch buffets, and now serve only brunch.
By only serving brunch, and not trying to replicate the typical large-scale Las Vegas buffet experience, Savor, the Buffet can focus on fewer, select dishes.
That, combined with a pretty, smaller dining area, makes Savor, the Brunch Buffet a pleasant contrast to mega buffets up and down the Strip.
By Steve Beauregard