Updated August 3rd, 2022
The Fremont Street Light show times are easy to remember: the show starts on the hour, every night starting at 6 PM and going until 2 AM.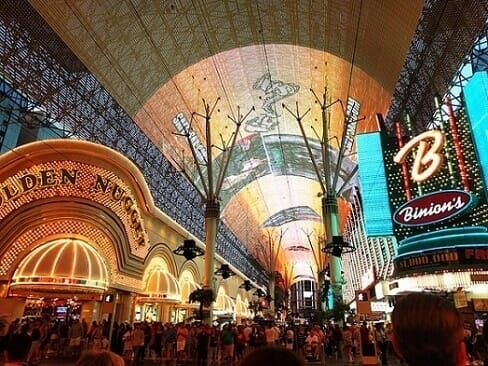 Officially called the Viva Vision Light Show, this elaborate light show at the Fremont Street Experience is by far the most visible part of downtown's concentrated entertainment efforts to bring in (and keep) those visitors who may be inclined to spend all their time at the strip.
Entertainment options downtown include a regular series of free concerts, (some by some pretty impressive names), and a thrilling zip line that takes riders high over the heads of the tourists below.
While there is now programming broadcast on the overhead canopy 24 hours a day, the big Fremont Street musical light shows run at night – about six minutes in length, and are one of the coolest things to do while in Las Vegas. A $32 million dollar upgrade has recently been completed, making the enormous screen seven times brighter than before.
Even better, it's completely 100% free (you don't even have to struggle through a 5 hour time share presentation to see it).
Fremont Street Viva Vision Light Show Times & Schedule 2022
The starting time can depend on the time of year. Current show times are as follows:
Seven Days a Week

6 PM, 7 PM, 8 PM, 9 PM, 10 PM, 11 PM, Midnight, 1 AM and 2 AM
For August, there are free concerts on the Fremont Street stages which affect the light show, as it typically is not displayed during concerts. July concerts are as follows:
Sat, Aug 13th – Saliva & Theory of a Deadman ( 3rd St Stage, Starts at 8:00 p.m.)
Sat, Aug 20th – Simple Plan (3rd St Stage, 9:00 p.m.)
Fremont Street Experience Light Shows
Last spring, the popular duo, The Chainsmokers got their very own light show. A few weeks later, the new Steve Aoki light show debuted.
In addition to The Chainsmokers and Steve Aoki, the current song schedule includes songs from the Imagine Dragons, Green Day, The Killers, Lincoln Park, and Tiesto.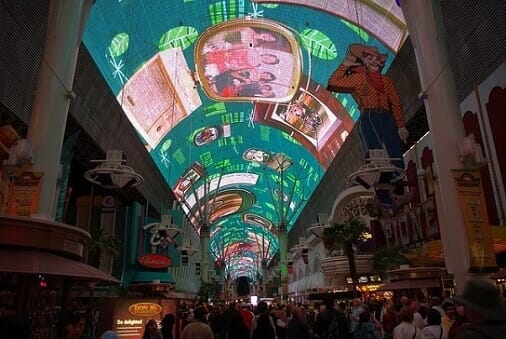 One of the newer songs in the lineup is actually a mash up of well-known songs. Called "Mixology", it plays at midnight, and is described as a feast for the senses with, "never-before-seen 3D visuals."
In the fall of 2020, a six minute-plus long montage of hits by Shakira debuted. Songs include her classics, like "Hips Don't Lie," and "Whenever, Wherever."
More about the Fremont Street Light Show
For those of you who haven't seen it yet, the experience is an enormous light and sound show broadcast on the largest television screen in the world.
The screen is 90 feet above the ground, on a high one-half circle canopy that covers four entire blocks of Fremont Street from 4th Street to Main Street, at the Plaza Hotel and Casino. (You may remember the Plaza as being the place that "Biff" owned in one of the "Back to the Future" movies).
The canopy stretches 1,375 feet across Fremont Street.
This downtown Las Vegas light show has been popular since its inception in December of 1995.
Casino owners had fretted over the erosion of their business to their glitzier cousins a little south on the Strip, and wanted a unique attraction in their own right to bring the tourists back downtown.
25,000 a day
According to official tourism stats, 25,000 people each day watch the shows. 18,000 of them suffer dangerous neck injuries from staring up above at the show.
Ok, I made that last part up, but the Fremont Street light show is addictive.
Both the sound and graphics light up downtown in a visual and audio display that leaves you with one of those, "only in Vegas" moments. I know personally, I've actually left the craps table at the Golden Gate to venture outside to check out the canopy show. And trust me, it takes a lot for a degenerate gambler like me to leave the table.
(Related: Bellagio Fountains Schedule)
Viva Vision Light Show Upgrade
Although the overhead canopy was built in 1995, the entire system underwent a $17 million dollar upgrade that was completed in June of 2004, then another $32 million upgrade in 2019. The "Viva Vision" screen is said to be the largest projection screen in the world.
In fact, nearly 5 million LED lights now work their magic during each performance, accompanied by a sound system that has 600,000 watts.
There is a constantly rotating selection of shows, but some popular standouts (like the "American Freedom" shows) always seem to be in the mix. A recent random Fremont Street show schedule showed tributes to Queen, the Doors, Bon Jovi, and Don McLean – and that was all just on one night.
The remodeled light show features lights that are up to 7x brighter, with 4x the resolution, than before the upgrade according to the recent Associated Press article.
Fremont Street Experience parking
On the corner of Fremont Street and 4th Street, attached to the Walgreens Store on the eastern end of Fremont, is a 1,430 space parking structure called the Fremont Street Experience Parking Garage.
As of recently, hourly rates at this garage are $4 per hour, with a daily maximum rate of $20.
(Photos courtesy of Paul K, and Laila Goubran via Flickr).