By Steve Beauregard
The Wynn Las Vegas is the beautiful, smooth, dark brown curving hotel on the North end of the Strip, next door to the Palazzo.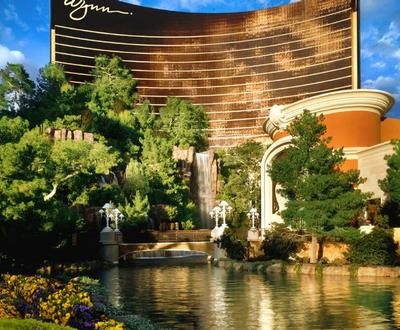 From the start, the resort's design and architecture won rave reviews. A reviewer from the Los Angeles Times calls it "slim and graceful, wrapped in skin-tight bronze."
The multi-billion dollar property, (the construction costs come out to about one million dollars per room), opened in 2005 as the world's most expensive hotel. It's set on 217 acres, including a strip-front entrance complete with soaring mountains of rock, waterfalls, and pine trees.
This marks a contrast to all of the other casinos built by casino mogul Steve Wynn, all of which he used jaw-dropping spectacles that were visible from the sidewalk, as a means to draw in curious tourists.
These included the volcano outside the Mirage, the pirate show at Treasure Island, and perhaps the new symbol of Las Vegas and must-take-photograph: the world-famous Bellagio fountains.
The only sort of notable gimmick visible from the sidewalk outside the Wynn is the resort's enormous sign. I say "gimmicky" because a portion of the sign moves up and down, revealing more advertisements for the pleasures that await you inside. The casino sign, is not designed to be a jaw-dropping feature, but I always can't seem to look away from it. Plus it's so damn quiet, for being a huge metal billboard that drops ten feet per second. The sign's designer says the moving sign weighs about as much as an 18-wheeler.
While the mountain out in front of the Wynn is 140 feet tall, and is dotted with pine trees reaching 60 feet in height, the main attraction inside the resort grounds is the tree-lined three acre lake, called the Lake of Dreams. The lake plays host to a nightly visually-stunning spectacle featuring light, smoke and music – all set against a soothing waterfall backdrop.