Aria Buffet 2023 Update
Editor's note: The Aria Buffet closed in March 2020 due to Covid, and, like a lot of buffets, never re-opened. The space previously hosting the Aria Buffet is now the Aria's food court, called "Proper Eats." Below is our original write up of the Aria Buffet.
The Aria Buffet is $45.99 per person for weekend dinners. (More prices down below).
From its perch on the second level promenade, diners at the 8,800 square foot restaurant get to enjoy beautiful views of the resort's gorgeous landscaping and pools.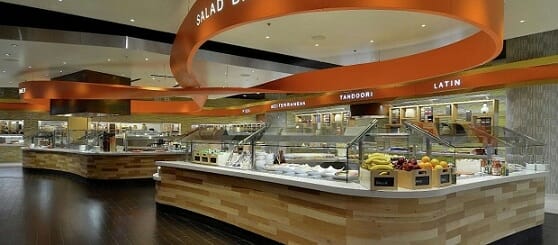 Officially called "The Buffet," this buffet has already undergone a complete renovation – despite having originally opened just a few years ago.
The Aria's buffet smorgasbord offers everything from the unusual all-you-can-eat crab legs, to Indian food, to good old fashioned American pot roast.
For the Aria breakfast and brunch buffets, customers rave about the red velvet pancakes and carrot cake pancakes. The smoke salmon eggs benedict gets good reviews as well.
Of all the buffets in Las Vegas, they claim to have the only Tandoor Oven, which is a cylinder shaped clay cooking oven mostly used in Middle-eastern countries. The Aria's Middle-eastern dishes include Naan bread (plain and garlic), and kabobs.
The Aria has 11 separate food Station listed below:
Asian – Dishes include dim sum, Peking duck, shrimp pad Thai, sesame balls, and chicken satay.
From 9 AM to 10 PM every day, there is a made-to-order Hawaiian poke bowl station.
Carvery – Meat carving station with prime rib, ham, beef brisket, barbecue ribs and other meats. There's also rotisserie chicken and roasted turkey breast, all carved to order.
Dinner – American comfort food. Breakfast offerings including biscuits and gravy, stuffed french toast, and quiche, while lunchtime spreads include gourmet macaroni and cheese, chicken pot pie, grilled cheese sandwiches with roasted tomato soup. At night, indulge in loaded mashed potatoes, spiced meatloaf, chicken fried steak, beef sliders, etc.
Italian – In addition to the made-to-order pasta dishes, spaghetti and meatballs, you'll find polenta and gourmet meats and cheeses
Fish Market – Fish & Chips, unlimited crab legs, New England clam chowder, salmon, crawfish, peel and eat shrimp, and oysters.
Please note that the all-you-can eat crab legs are Dungeness Crab Legs, Snow Crab, and Jumbo Crab Claws every night except for the pricier Friday and Saturday night buffets, in which case you are offered the aforementioned Dungeness, Snow and Jumbo Crab Claws, along with King Crab Legs as well.
Latin – Breakfast burritos, huevos rancheros and the like in the morning, while lunch offerings include your typical Mexica, Spanish, and South American dishes like a taco bar, taquitos, tamales, carne asada burritos, and queso fondido.
Mediterranean – Baba Ganoush, tabouleh, olive tapenade, pita chips with hummus, feta salad and more.
Pizza – New York style pizzas and calzones.
Salad – A large salad bar and baked potato bar with a ton of variety of toppings. You'll also find sushi at this station.
Sweets – Save room for gelato, cookies (like butterscotch cookies and Mexican wedding cookies), coconut macaroons, Rice Krispie Squares, apple pie, cakes, creme brulee, bananas foster, and red velvet cupcakes.
Tandoori – Fresh authentic Indian food, including oven fresh Naan, pompano fish, yellow dahl, along with chicken and vegetable dishes, like chicken tikka masala and chicken curry.
Aria Las Vegas Buffet Hours and Prices
Please keep in mind, these are standard prices. During holidays, Aria Buffet prices increase from an additional $6 per person at breakfast, to $10 per person for dinner.
Breakfast Monday to Friday (7 AM to 11 AM) – $29.99 ($16.50 for kids)
Brunch Saturday & Sunday (7 AM to 3 PM) – $35.99 ($18.50 for kids)
Lunch Monday – Friday (11 AM to 3 PM) – $29.99 ($16.50 for kids)
Dinner Monday to Thursday (3 PM to 10 PM) – $40.99 (Free for kids up to 12 years old)
Friday to Sunday Gourmet Dinner (3 PM to 10 PM) – $45.99 (Free for kids)
These prices do not include the Las Vegas sales tax of 8.25%. As such, a weekend dinner buffet for two people would cost you $99.56 after tax.
Official website: Aria Las Vegas
Kids pricing applies to children 5 to 12 years of age. Kids 4 and under always eat free, while kids 13 and over pay full adult prices.
Aria Buffet All You Can Drink Option
Note that with every meal, a guest can pay $19.99 more to have unlimited drinks.
(Related: Bellagio Buffet price)
The drink options under this bottomless plan include Bloody Mary's, champagne, Mimosas, rum punch, margaritas, and premium beer (including Stella Artois), and wine – both on tap. There is a 2 hour limit for the all-you-can drink plan.
Aria Buffet All-Day Pass
Recently, the Aria Buffet introduced an all day pass.
The all-day pass costs $60, and allows you entry for all three meals, up until 10 PM. Please note the all-day pass is not offered on Saturdays and Sundays. Nor is it available on holidays.
If you're OK eating at the Aria Buffet for an entire day, the pass represents a great savings. The combined breakfast, lunch and dinner price during a weekday would cost you $100.97 before tax vs. the $60 cost for the pass. Not to mention the benefit of being able to sneak into the buffet and snack or feast whenever the mood strikes without having to pay extra.
Other
Also, like at most other places, the budget-minded customer could always go in at 2:45 or so and pay the lower entry fee, yet still have access to the expanded (and more expensive) dinner buffet selections that get put out at 3 p.m.
Unlike the Bellagio or some others, the Aria buffet is not known for having long lines. This is partially attributed to the buffet being sort of out of the way, on the second floor.
Nevertheless, if you go to the Aria buffet, try to ask for a seat by the window. Between the lighting, scenery, and recently-remodeled decor, the atmosphere is pretty nice.
Aria Buffet Phone Number
(877) 230-2742
For groups of 16 or more, use this number: (702) 590-8638
By Steve Beauregard. Photo courtesy of the Aria