Updated July 1st, 2021
The Buffet at the Bellagio re-opens on July 16th, albeit only for brunch. (More on that below).
Located in the back of the resort, near the "O" Theater, The Buffet at the Bellagio was the first real gourmet buffet in town, and is still widely regarded as one of the best buffets in Las Vegas.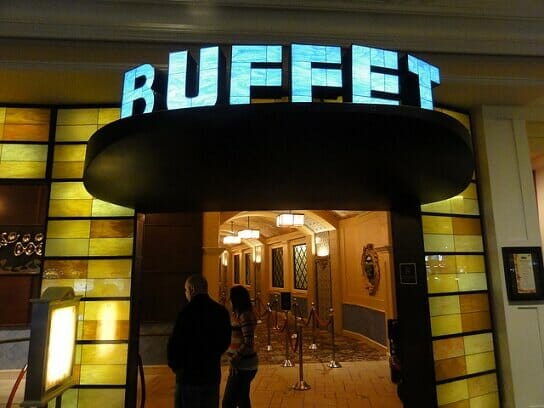 The spacious and inviting dinning space provides guests with a diverse and delicious array of international offerings in several live-action cooking stations.
Bellagio Buffet Prices & Hours
| | |
| --- | --- |
| Monday – Thursday (7 AM to 3 PM) | $39.99 |
| Friday – Sunday (7 AM to 3 PM) | $45.99 |
Please keep in mind that these prices do not include server tip, nor the 8.25% tax Las Vegas civic leaders generously imposes on its visitors. Generally, the tax will be in the $3 to $4 per person range.
In fact, a weekend brunch for two would cost you a total of $99.56 after tax.
Bellagio Buffet Children's Prices
As with almost every other buffet in Las Vegas, the Bellagio does not charge toddlers to eat. Kids ages five and under are free. Kids 6 to 11 years old will pay half of the adult prices posted above. And anyone 12 or older pays the full adult prices shown above.
(Related: Prices for the Bacchanal Buffet at Caesars Palace)
Brunch Menu
In their announcement, the Bellagio said there will be "a variety of stations to satisfy any craving." Stations include the popular Omelet Station. There will be all of the traditional breakfast items, along with more brunch-like pasta and pizza dishes. Other brunch items include different Eggs Benedict varieties, a toast bar, and chicken and waffles.
Editors' Note: Below is the pre-Covid writeup of the Bellagio Buffet. Most of the brunch section will remain the same, and we'll update this once we get to visit and menu items are announced.
For you carnivores, you'll find kobe beef, carvings of ham, prime rib, chicken, lamb, venison, quail, and roasted duck.
Sides include vegetables, breads, and varieties of mashed potatoes. Get them plain, with pesto, or sweet mashed potatoes.
Seafood offerings include fresh salmon and tuna poke. There are snow crab legs of course, as well as dishes not found at every buffet in town, such as salmon mousse cups, crab cakes, smoked trout, mahi mahi, crawfish, seafood paella and even a seaweed salad.
Other items I have yet to see at other Vegas buffets include Jalapeno cornbread muffins (served in the morning only I believe), and eel at night.
The Mexican station features a make your own beef or chicken tacos, along with prepared beef sopaipillas.
The Asian station includes sashimi and a variety of fresh sushi. There's also a make-your-own Pho area. The duck fried rice gets high marks here too.
Bellagio Buffet's pasta station includes everything from plain, but wood-oven cooked cheese pizza to pasta marinara, to a highly-regarded mushroom ravioli.
You already know what to expect in the salad area, but there are extras like beef tartare, and a selection of pre-made salads, like Caesar salad, etc.
The Gourmet Friday and Saturday night buffets include a few extras which are not available during the less expensive weeknight dinner buffets. Here I'm talking about Jumbo king crab legs (versus the snow crab legs served during the week), beef Wellington, osso bucco, Chilean sea bass, and what the Bellagio says includes "some of the world's finest caviars Ikura and Tobiko..".
Delectable desserts at the Bellagio buffet include tiramisu, banana foster, key lime pie, chocolate covered strawberries, fudge walnut brownie, crème brulee, flan, macaroons, fruit tarts, a mango mousse and an area offering several different gelato flavors.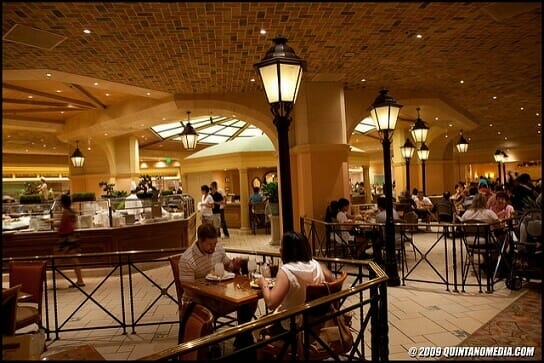 There is also a selection of sugar free desserts. Also, you now refill your own drinks at the drink station here.
(Related: Bellagio Fountains Show times)
To fully savor this buffet, you may want to arrive right at opening (3 p.m. for dinner). Sure, it's early, however you'll avoid the notoriously long Bellagio Buffet lines that have been known to stretch out into casino. Wait times exceeding an hour aren't that uncommon.
In addition, an early arrival will ensure yourself of not missing out on any of the extremely popular dishes you wanted to sample, (see the aforementioned chocolate-covered strawberries).
Also, you may want to try to avoid going to the buffet the hour right before a popular show, as many attendees will dine before the performance. This is especially true here, since the restaurant is situated near the O Theatre.
Prices
The cost of the Buffet at the Bellagio will depend on the day of your visit.
By that I mean the Friday through Sunday night dinners are more elaborate (and expensive), while Saturday and Sunday mornings have only one brunch, rather than a separate breakfast and lunch each day.
(They'll also serve you orange juice with your champagne if you prefer mimosas over plain champagne.)
Bellagio Buffet Unlimited Drinks
For each buffet, guests can have the option of buying an all-you-can drink package costing $22.99 per person.
Your drink options include Bloody Mary's, house margaritas, sparking wine, or draft beer.
During Holiday weekends, the unlimited drink package increases a few dollars.
Also….
* My fellow cheapskates who want to maximize their value, and who have some time to spare, can arrive towards the end of the $30.99 weekday lunch. If you linger around past 3:00 p.m., the more expensive dinner buffet will begin with more platters being brought out for you.
* That being said, the Bellagio Buffet receipt you will receive has printing on the bottom which reads: "Thank you for limiting your dining experience to 2 hours."
* Parties of 8 or more will have an 18% tip included in the bill.
Bellagio Buffet Pricing During Holidays
Prices will change for various holidays throughout the year. And when I say "change" I mean, "increase."
Like many buffets in Las Vegas, prices for the buffet are increased for holiday buffets at Thanksgiving, Easter and Christmas.
But in addition to those three standard holidays, the Bellagio increases the admission price for an amazing 13 other holidays as well, including St. Patrick's Day and the Chinese New Year.
Increased pricing applies to the following holidays: New Year's Day, Chinese New Year, Super Bowl weekend, President's Day, St. Patrick's Day, Easter, Mother's Day Weekend, Memorial Day weekend, Father's Day weekend, the July 4th weekend, Labor Day, Mexican Independence day weekend (apparently in mid-September), Columbus Day weekend, Thanksgiving, Christmas, and New Year's Eve.
These holiday buffet prices are not specifically listed on the Bellagio's website, as the menu will change depending on the holiday. However generally a holiday buffet will cost from $4 to $8 dollars more than the normal buffet, depending on the holiday.
Christmas holiday pricing starts in mid to late December and runs to early January. The New Year's Eve Buffet is typically the most expensive buffet of the year.
Finally, as with other all-you-can-eat options in Las Vegas the menu here is subject to change.
Chef's Table at the Bellagio Buffet
If so inclined, you can pay an additional $71.99 (on top of the regular buffet price), to have a seat at the Chef's Table, where the Bellagio's executive chef will spend time with you. According to their website, guests will have selections not available at the regular buffet, and that there will be "table side carving of succulent meats from the rotisserie oven and exquisite desserts."
The Chef's Table option is only available at the dinner buffet, and runs from 4 p.m. to 10 p.m. A reservation is required for the Chef's Table.
Bellagio Phone Number & Website
(866) 259-7111 or (702) 693-8865
Website: Bellagio Buffet
(By Steve Beauregard. Photos courtesy of inazakira, and Anthony Quintano via Flickr).