Las Vegas is back, and so is the famous Bacchanal Buffet!
It opened May 20th, after completing a $2.4 million dollar remodel. There will not be a brunch buffet (yet), and limited hours are as follows:
Seven Days a Week: 4 PM – 10 PM
Reservations can be made here: OpenTable.com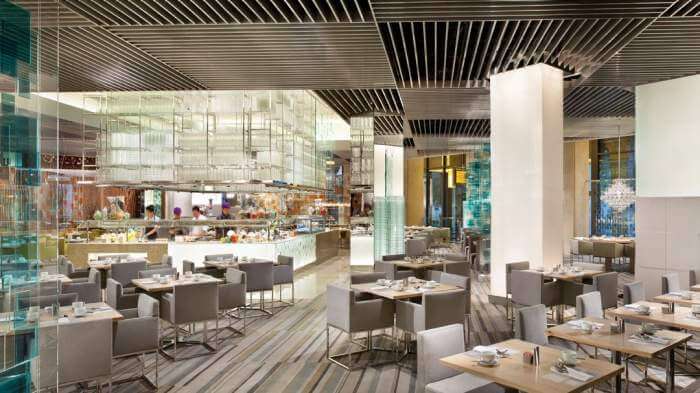 Bacchanal Buffet Prices
| | |
| --- | --- |
| Buffet Cost | $74.99 |
| All-You-Can Drink Add-On | $19.99 |
| Express Pass | $45 |
These prices do not include tax, which is 8.25%. Therefore a dinner buffet for 2 would cost a total of $162.35 after tax (but before tip), and not including the all-you-can drink and express pass options.
Since you are encouraged to make reservations on OpenTable, we're unsure as to what the Express Pass entails. For $45, it better entail a lot! We'll update this once we get more information.
Please note that kids 4 and under eat free. Kids 5 to 10 years of age are charged $20 less than the adult prices for weekday brunches, $28 less for weeknight dinners, $38 less than weekend dinners, and $30 less than adult prices for weekend brunch.
Lastly, during holidays such as Easter, Thanksgiving, Christmas, etc, Caesars Palace mixes up the menu and charges more. For many holidays, the prices are around $15 more per meal, however in some cases, this jumps up significantly more. For example, the New Year's Eve brunch buffet this past year (from 11 AM to 3 PM) went for $124.99 per person!
Also, Caesars is asking that guests only stay at the buffet for 90 minutes. We've heard of 2 hour limits before, but this is a new, lower-bar. We're unsure as to how this will be enforced (if it even will).
New Menu Items
We haven't been to the new re-imagined buffet yet, but per Caesars Palace website, the new Bacchanal Buffet has several new menu items.
These include dim sum-style food carts, that roam around the buffet dining room. The food carts will serve you (among other items), servings of foie gras PB&J, spicy seafood boil bags, and Japanese wagyu hot dogs.
Other new additions to the menu include turmeric grilled baby octopus with XO chili jam, cheeseburger bao, chipotle bourbon barbecue oysters and duck carnitas quesadillas.
The upgraded selection of vegan options now include: quinoa-stuffed baby sweet potatoes with fried kale, tomato tartar and coconut-carrot gazpacho.
The new dessert section includes earl grey mousse, salted caramel popcorn and death by chocolate cupcakes, yuzu tart, ube chiffon cake and a gelato station with more than ten flavors.
Of course, buffet favorites such as prime rib, steamed crab legs, cold crab legs and more will still be available.
(Editor's note: Below is the original article about the buffet. We're updating this as more information about the new menu items becomes available).
In a city known for its buffets, one reigns supreme: The Bacchanal Buffet at Caesars Palace.
Nowhere else is there a buffet with 25,000 square feet of space, 500 different daily offerings, seating for 600, and with a price tag of $17 million to build. Your entry fee will only be slightly less.
Opened in 2012, the Bacchanal Buffet is one of 11 restaurants at Caesars Palace and has won the "Best Buffet in Las Vegas" title from the likes of USA Today and the Las Vegas Review-Journal. If there was ever a game changer in the buffet industry, the Bacchanal is it.
It's unlike any other buffet you've experienced, in terms of variety, quality, décor, and yes, price. (More on that later). Except for having to get your own meal, it's as if you are seated in an upscale restaurant.
Bacchanal Buffet Unlimited Drinks
You can purchase an unlimited drink upgrade for $19.99.
This all you can drink price of $19.99 covers bottomless draft beer, house wine (red or white), red or white sangria, champagne and mimosas. On a recent visit, the beer options were Coors Light and Blue Moon.
Buffet of Buffets Upgrade Fee
If you have the Buffet of Buffets pass, you can get in the Bacchanal Buffet for the following extra fee:
Breakfast: $15
Brunch: $25
Dinner: $35
* During holiday pricing periods, the upgrade fee jumps to $45.
Bacchanal Buffet VIP Ticket
A new feature at the buffet is a VIP option. You'll receive a reserve seating time, unlimited alcoholic drinks, and what they call a "VIP Seafood Tower." Of course, you also have access to the full buffet.
The VIP package is available from 3 PM to 10 PM, every day of the week. Prices are:
Monday – Thursday: $119.99
Friday/Saturday/Sunday: $129.99
Bacchanal Buffet at Caesars Palace Menu
The buffet is made up of nine different stations, only that doesn't do it justice. Vegas.com calls the nine stations "show kitchens" and that seems more fitting.
The Bacchanal prides itself on a wide array of its small plates, rather than the mass portions typically served in large pans.
As an example, the breakfast or brunch buffet serves small colorful plates, with each one containing two pancakes. This is unlike the normal buffet where you have a metal pan full of pancakes with the requisite tongs. It sounds like a minor thing, but something about an individual serving on a dish just makes the pancakes taste better.
Even something as simple as the condiments dazzle here at Caesars Palace. In the deli area, for example, the mustard condiments selection includes whole grain mustard, Dijon mustard and purple violet mustard.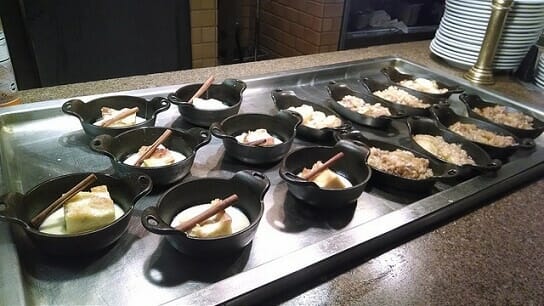 But you're not interested in mustard, so here's a quick review of each of the nine show kitchens.
According to Caesars, the menu is always changing "depending on the season and the chef's whims." So we can't guarantee you a definite list of menu items, however you're likely to find most of the items listed below for each station:
American
You carnivores will take delight in everything from St. Louis ribs, to barbecue bourbon wings, from barbecue duck wings to slab bacon, wood fired quail (with a chipotle cherry sauce) to bone-in ham (with a honey and brown sugar glaze), to oven roasted turkey. The carving area features prime rib, grilled tri-tip, smoked brisket, and American wagyu steamship.
Other dishes and sides include small plates of chicken and waffles, mashed potatoes, wagon wheel mac n' cheese, and cauliflower & broccoli rice.
Located in this section (rather than the Chinese area), are Chinese cheeseburger boa – a fun mashup of foods from the world's two biggest superpowers.
Mexican
Pretty unique to buffets is the Bacchanal's Made-to-order Mexican Street Corn station, where you first choose your flavor: elote, takis, flaming hot, or roasted garlic & cilantro, then watch as the corn is roasted on a rotating grill.
Not real expansive, the Mexican kitchen serves mini churros, chicken green chile, small nacho plates and what I counted to be 13 different salsas and guacamoles.
Perhaps the coolest feature is the made-to-order taco area, which includes tortillas fresh off the grill.
Some of the non-typical buffet items include sope, machaca, and posole, which is a traditional Mexican stew.
Italian
Pizza is covered in a different section, but the Bacchanal's Italian station includes the usual pasta favorites, along with a delicious spinach ravioli, shrimp and cheese ravioli, meatballs, and rigatoni.
Chinese/Korean
Just to the right of the Japanese station, you'll find Asian delicacies, starting on the Korean side, with Gungjung Tteobokki (Korean stir fried rice cake), Korean chicken, kalbi short ribs, and Japchae (glass noodle stir fry).
To the right of that, we enter the Chinese area, which features: Char Sui (barbecue pork), Chinese roasted pork belly, carved duck, ginger and garlic clams, schezwan fish, and sweet and sour chicken, (among other items).
Menu items here include dim sum, orange chicken, barbecue pork, chow Mein, sweet and sour pork, chicken feet in a black bean sauce, egg rolls, dumplings, and Peking duck.
Soups here include chicken ginseng soup, miso, udon, pho, ramen, and Singapore laksa.
Seafood
The wide selection in this kitchen includes both king crab legs and stone crabs, oysters, shrimp, roasted shrimp and grits, mussels, salmon, coconut ceviche, great clam chowder, small plates of miso seabass, salmon, and a pan seared halibut with fennel & herb salad.
Please note that while crab legs are served all day and night during the weekend buffets, they are only offered after 3 PM on the weekday buffets.
Pizza
You'll find the normal pepperoni pizza here, along with a flatbread pizza, and a fig and prosciutto pizza.
Japanese
Perhaps the smallest kitchen, this area serves nigiri shrimp and eel nigiri, along with sushi staples such as inari sushi, onigiri, a spicy tuna crunch roll, Spam musubi, and California rolls.
Deli
This area includes the salad bar, which has five different varieties of salad to start with, including arugula and spinach.
In addition to twenty different types of breads, there is a selection of hams and other deli meats, and artisanal cheeses.
Pre-made salads include a small plate Caesars salad (of course), roasted baby beet salad, a caprese salad, and a watermelon and feta salad.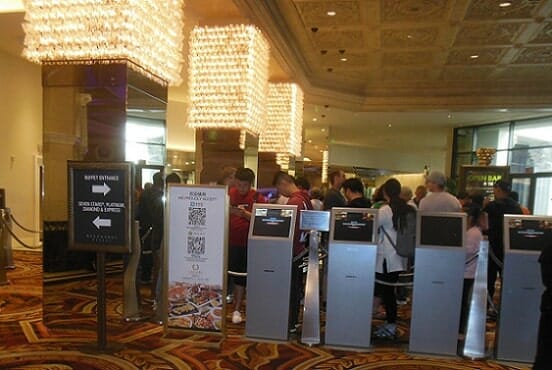 Desserts
Where to start here?
How about with the tiramisu or crème brulee?
The gelato station has a wide array of flavors (I believe I counted 18 flavors), including unusual ones like an orange beer gelato, brown butter caramel, and mango chili lime.
(Related: Wicked Spoon Buffet at the Cosmopolitan – prices and menu items)
You'll also find cookies, cake pops, gourmet cupcakes, small plates of chocolate lava cake, and less frequently-seen buffet desserts like green tea shaved ice and panna cotta, and a green tea & sesame opera cake (they're big on Green Tea here).
This large dessert station also includes gummy bears, salt water taffy, and a made-to-order dessert crepes area with a selection of toppings that include sliced almonds, coconut, fruits, etc.
On the cool desserts/ice cream front, you may want to try the unique Thai Tea Boba Float. There is ice cream of course, but Caesars Palace's buffet give you some different cone options, including chocolate-dipped cones.
While not one of the nine different restaurants, the Bacchanal's drink station stands on its own as well with individual bottled juices available for you to take back to your table, rather than you having to use the traditional juice machine.
Specialty juices are available until 11 AM, and include flavors include watermelon, carrot and cucumber (among others).
Breakfast menu items include bacon egg & cheese croissants, fried chicken and waffles, red velvet pancakes, and pre-made fruit and granola yogurt parfaits. These are all served in small portions. There's also all of the usual breakfast buffet standards.
Website, Phone and Group Reservations
Official Website: Bacchanal Buffet at Caesars Palace
Main phone number: (702) 731-7928
Groups of 14 or more wanting to sit together should call ahead first, at (866) 733-5827.
Bacchanal Buffet FreshTxt
As the best buffet in Las Vegas, the Bacchanal is unbelievably busy at times.
To keep guests out of hours-long lines, (and to keep them on the casino floor gambling), Caesars Palace has kiosks in front of the Bacchanal. By simply giving them your name and phone number, you'll be texted when your name is ready to come up on the wait list.
The downside? It doesn't mean you won't have to wait. After receiving your text, you'll still have to wait a little bit to pay, then wait to be seated.
Bacchanal Buffet "Grab n Go"
A new feature offered at the buffet is a to-go option, in which you can fill a to-go box (one time). Prices are the same, seven days a week and are as follows:
Mornings (7:30 AM to 3:00 PM)
Monday – Friday: $23.99
Saturday and Sunday: $23.99

Evening 3:00 PM to 10:30 PM
Monday to Thursday: $23.99
Friday to Sunday: $34.99
One last note: while you're entitled to linger and sample to your heart's content, signs at the buffet and on your receipt state: "Please limit your dining experience to two hours."
(By Steve Beauregard. Photos courtesy of Caesars Palace and Aranami via Flickr).