Bacchanal Buffet at Caesars Palace: January 2023 Price, Menu & Hours
Updated January 1st, 2023
In a city known for its buffets, one reigns supreme: The Bacchanal Buffet at Caesars Palace.
Nowhere else is there a buffet with 25,000 square feet of space, 500 different daily offerings, seating for 600, and with a price tag of $17 million to build. Your entry fee will only be slightly less.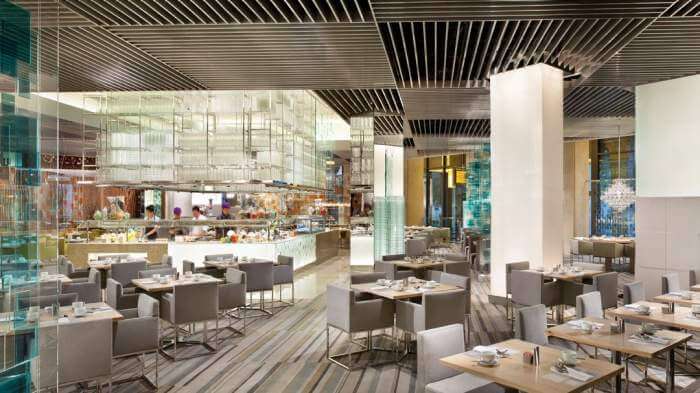 Opened in 2012, the Bacchanal Buffet is one of 11 restaurants at Caesars Palace and has won the "Best Buffet in Las Vegas" title from the likes of USA Today and the Las Vegas Review-Journal. If there was ever a game changer in the buffet industry, the Bacchanal is it.
It's unlike any other buffet you've experienced, in terms of variety, quality, décor, and yes, price. (More on that later). Except for having to get your own meal, it's as if you are seated in an upscale restaurant.
Following the long Covid shutdown, Bacchanal re-opened in May 2021 (with dinner only) after completing a $2.4 million dollar remodel. The brunch buffet was re-opened in early September 2021, but only on weekends.
Bacchanal Buffet Prices & Hours 2023
Current standard (non-holiday) prices and hours for the Bacchanal Buffet are as follows:
| | |
| --- | --- |
| Brunch (Fri – Sun) 9 AM – 1 PM | $64.99 |
| Crab Brunch (Fri – Sun) 1 PM – 3 PM | $79.99 |
| Dinner (Mon – Thurs) 4 PM – 10 PM | $79.99 |
| Dinner (Fri – Sun) 3 PM – 10 PM | $79.99 |
These prices do not include tax, which is 8.38%. Therefore a dinner buffet for 2 would cost a total of $173.38 after tax (but before tip).
A breakfast brunch for two people costs $140.87 after tax.
Please note that kids 3 and under eat free. Kids 4 to 10 years of age are charged exactly half of the adult prices.
Caesars is asking that guests only stay at the buffet for 90 minutes. We've heard of 2 hour limits before, but this is a new, lower-bar. In fact, the time you arrive at the buffet is now written on your receipt. We're unsure as to how this will be enforced (if it even will), but you should be aware.
(Derek and Catherine from All You Can Vegas produce a very in-depth walk through of the Bacchanal Buffet below.)
Holiday & Special Event Pricing at the Bacchanal Buffet 2023
During holidays such as Easter, Thanksgiving, Christmas, etc, (as well as events like Super Bowl weekend), Caesars Palace typically charges more for the buffet. $89.99 seems to be the minimum. On holidays like Thanksgiving and Christmas to New Year's, the Bacchanal mixes up the menu, while charging more. The last New Year's Eve Buffet for example, was $129.99.
Bacchanal Buffet Reservations
Reservations can be made here: OpenTable.com, but they often sell out. And even with a reservation, there will still be a wait to be seated. Even with an OpenTable reservation, you will still check-in up front in person, whereupon you'll be directed to a line. On busy holidays, diners have reported a 2 hour wait.
New Menu Items
Along with the multi-million dollar remodel, the Bacchanal Buffet has several new menu items and some table-side roving food carts unseen at any other buffet in town.
These include dim sum-style food carts, operated by a server who strolls around the buffet dining room offering dishes. The food carts will serve you (among other items), servings of foie gras PB&J, spicy seafood boil bags, and Japanese wagyu hot dogs.
Other new additions to the menu include turmeric grilled baby octopus with XO chili jam, cheeseburger bao, chipotle bourbon barbecue oysters and duck carnitas quesadillas.
The upgraded selection of vegan options now include: quinoa-stuffed baby sweet potatoes with fried kale, tomato tartar and coconut-carrot gazpacho, however there isn't the traditional salad bar here.
The new dessert section includes earl grey mousse, salted caramel popcorn and death by chocolate cupcakes, yuzu tart, ube chiffon cake and a gelato station with more than ten flavors.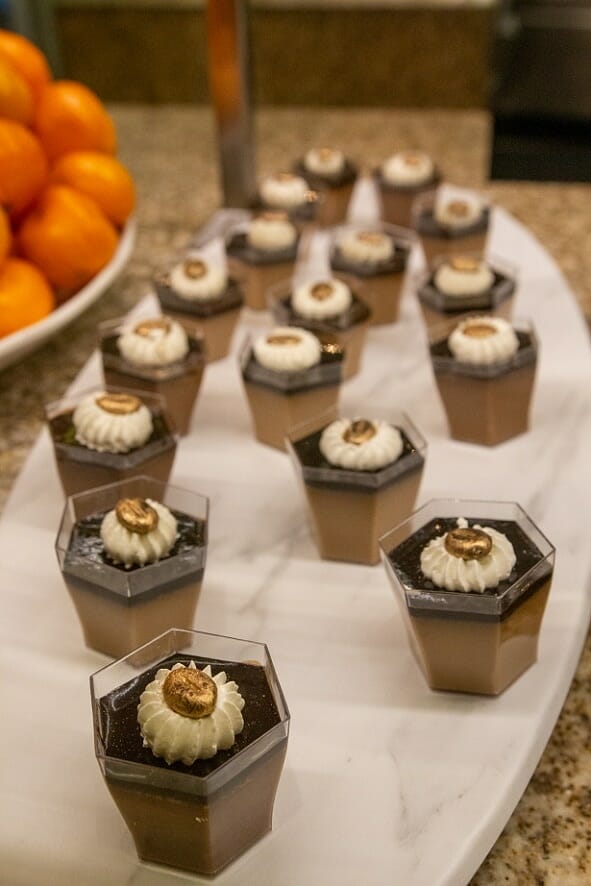 Of course, buffet favorites such as prime rib, steamed crab legs, cold crab legs and more will still be available.
On the brunch side, newer menu items include red velvet waffles, a green tea pancakes, birthday cake pancakes, truffle mushroom egg bites, crab Florentine Benedict, and plant-based sausages. (More on that below).
Bacchanal Buffet Unlimited Drinks
The on-again/off-again unlimited drink upgrade appears to be back on.
This all you can drink price of $24.99 covered bottomless draft beer, house wine (red or white), red or white sangria, champagne and mimosas. On a recent visit, the beer options were Coors Light and Blue Moon.
Bacchanal Buffet at Caesars Palace Dinner Menu
The buffet is made up of several different stations, or "show kitchens" as they call them.
The Bacchanal prides itself on a wide array of its small plates, rather than the mass portions typically served in large pans.
Even something as simple as the condiments dazzle here at Caesars Palace. In the deli area, for example, the mustard condiments selection includes whole grain mustard, Dijon mustard and purple violet mustard.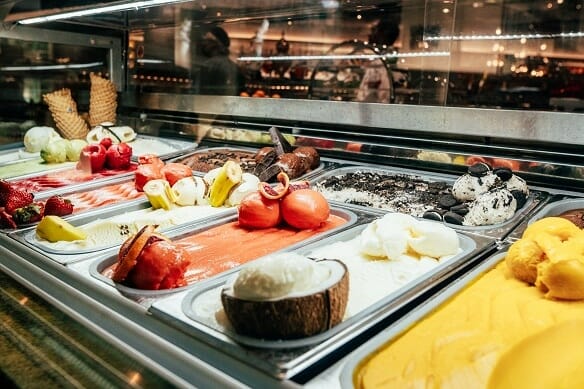 But you're not interested in mustard, so here's a quick review of each of the show kitchens.
According to Caesars, the menu is always changing "depending on the season and the chef's whims." So we can't guarantee you a definite list of menu items, however you're likely to find most of the items listed below for each station for the dinner buffet.
Meat
Keep in mind, meat selections may rotate and that everything listed here may not always be available, however you carnivores will take delight in dishes in the rotation that include everything from fresh-carved American steamship wagyu, fresh-carved smoked brisket, slab bacon, prime rib, grilled tri-tip, BBQ duck wings, rotisserie chicken, roasted turkey, wood-fired grilled quail (with a Chipolte cherry sauce), bone-in ham, Keilbasa, BBQ bourbon wings, and St. Louis style ribs.
Individual plates include wood-grilled lamb t-bone, glazed pork belly and roasted bone marrow, which many consider to be the most delicious item in the buffet. There's also a whole roast suckling pig. You can ask for skin or meat or both.
Sauce options included a peppercorn sauce, au jus, and barbecue.
Other dishes and sides include small plates of chicken and waffles, mashed potatoes, wagon wheel mac n' cheese, blue lake green beans, twister french fries, and the Chinese cheeseburger boa – a fun mashup of foods from the world's two biggest superpowers.
Mexican/Latin America
Far from the standard taco bar you find at most buffets, the Bacchanal steps up their Latin game with an array of unique (at least to most Vegas buffets) dishes.
These include Ceviche campechano, ceviche de pulpo (octopus, scallops, shrimp and calamri), Jicama citrus salad, Pozole rojo (a Mexican pork stew), criollos (Venezuelan style fried plantains), Birria (slow braised beef shoulder), Chili toreados, Carne asada tacos, duck carnitas quesadillas, tacos a pastor (pork), and sopes con camarones.
Especially unique to buffets is the Bacchanal's Made-to-order Mexican Street Corn station, where you first choose your flavor from among the following: elote, flaming hot, takis, or roasted garlic & cilantro, then watch as the corn is roasted on a rotating grill.
Other offerings include Chile and lime duros (a puffed wheat Mexican snack), and Chicarron (fried pork belly or rinds). Of course there are chips and salsa (regular and habenerno), along with guacamole.
Another unique touch here: there are three Mexican beverages to choose from. This self-serve beverages are Pina Aqua Fresca, Guava Aqua fresca, and Horchata, which is a traditional sweet-rice Mexican beverage (non-alcoholic).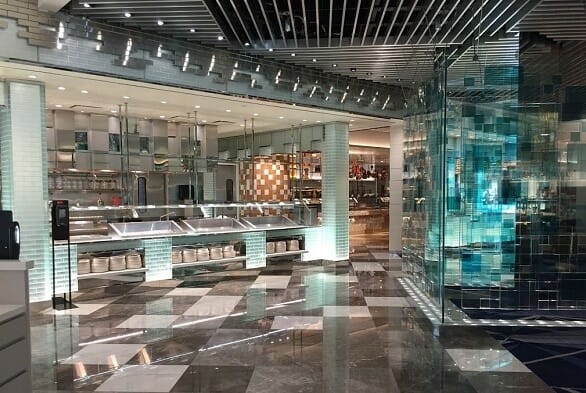 Mediterrean
Covering Italy to North Africa and beyond, here is where you'll find small plates of Baba ganoush, falafel, Labneh with ("Persian cucumber, olive oil, Zaatar"), Marinated olives, tabbouleh salad, pita bread and manakish (a zaatar flatbread), chicken pita, and beet hummus.
The six cheeses on the cheese board include: manchego, smoked gouda, blue cheese, marinated bocconcini, mozzarella and muenster.
Before you get to the charcuterie board, there's a selection of condiments that include honey, whole grain mustard, roasted almonds, fig jam, and dried apricots and dates.
On the charcuterie board you'll find: Pamplona, saucisson sec, sopressata, prosciutto di parma, and Genoa Salami.
Breads in this area include: cheddar corn muffin, white chocolate brioche, crostini and grisini bread sticks, walnut raisin pumpernickle, and pretzel bread.
Additional individual plates you won't find at your local Golden Corral include Pea Toast ("multi-grain bread, watermelon radish, sunflower seeds"), Coconut Carrot Gazpacho, tomato & basil tartar ("roma tomatoes, shallot, parmesan, whole grain mustard"), and Hearts of Palm roll ("vegan mayonnaise, celery, Old Bay, dill, bibb lettuce").
Hot and cold salad offerings here include Roasted cauliflower salad, Orzo salad (cucumber, peppadow, feta cheese), Cleopatra Salad, and Red cabbage pepperonata.
On the Italian side, there are Crispy Fried Polenta, Pan seared white fish, cheese tortellini, broccoli rabe and cannellini beans, shakshuka (an egg and tomato sauce dish) with a small slice of bread for dipping, garlic herb butter and parmesan breadsticks, marinara sauce, and thick pot full of "Grandma's Meatballs."
To the right of that are the selections of Wood-fired pizzas. These are all thick style. On this particular day, selections included a pistachio mortadella pizza with mozzarella, ricotta, garlic and arugula, margherita pizza, a truffle mushroom pizza, spicy sausage (with Calabrian chilis), and your standard pepperoni.
Another nice touch in this area are the virgin red and white sangria drink options.
Asian
At a buffet already beaming with variety, there's quite a variety in this section alone.
Dishes include Filipino chicken adobo, spicy Lao sausage, vegetable butter curry (which consists of califlower, peppers, squash, potatoes, chick peas, broccoli and eggplant), Vietnamese fried fish, and Thai pork skewer.
Cuisine inspiried from China includes sesame balls crispy beef, crab rangoons, carved roast duck, schezwan fish, Char Sui (barbecue pork), and Chinese roasted pork belly.
Korean themed dishes include Korean fried chicken spicy gochujang sauce, gungjung tteokbokki (a Korean stir-fried rice cake), Jap chae (glass noodle stir fry), kalbi short ribs (garlic & soy marinated ribs). Banchan are Korean vegetable side dishes. Ones offered here include cucumber, black beans, kimchi, bean sprouts, and Daikon.
On the Japanese front, Sushi choices are Inari sushi (tofu), salmon box sushi, tuna nigiri, unagi nigiri (fresh water eel), onigiri, a spicy tuna crunch roll, ebi nigri (sweet shrip), Hamachi nigiri (fresh yellowtail), Spam musubi and the "California Dreaming Roll" (a Cali roll with tuna, salmon and yellowtail).
The popular made-to-order Asian soup station features six different varieties: Udon Noodles, Miso soup, Tonkotsu Ramen (pork broth and bamboo), Egg Flower Soup, Hot & Sour Soup, and Vietnamese Pho. Chose your toppings from among dried pork, pickled turnip, lime wedges, century egg, Thai basil, scallions, cilantro or jalapenos.
Seafood
The wide selection in this kitchen includes chilled snow crab legs, steamed crab legs, sweet shrimp cocktail, lobster claws, chilled Jonah crab claws, Penn Cove mussels, oysters on the half-shell, sea scallops (on the half shell), Cortez clams and green lip mussels on the half shell.
Condiments in this area include everything from your standard cocktail sauce to Cajun remoulade, to Atomic horseradish, (among others).
During a recent visit, the roaming food cart server dished out hot fresh lobster bisque soup.
More seafood dishes (all of which were served on individual plates), included barbecue oysters, cedar plank salmon, sweet corn chowder with lump crab and garlic cheddar croutons. red curry shrimp & grits, turmeric grilled baby octopus, and fritto misto (fried calamari with zucchini and lemon).
On another visit, whelk was served, (a sea snail), as well as a very large Cajun Poached Prawns.
Salads
The Bacchanal Buffet does not a typical salad bar. But just to the right of the carving station are a variety of salads and some hot and cold vegetable dishes. Also, some of the cold salads offered can be found in the other stations.
In this area, however, you'll find a wild rice mushroom pilaf, quinoa stuffed sweet potatoes, Beluga lentils, sweet peppers & onions, cauliflower & broccolini (in garlic and olive oil with Calabrian chilies), Vandouvan roasted carrots, loaded potato salad, mojito watermelon, and a sweet corn salad.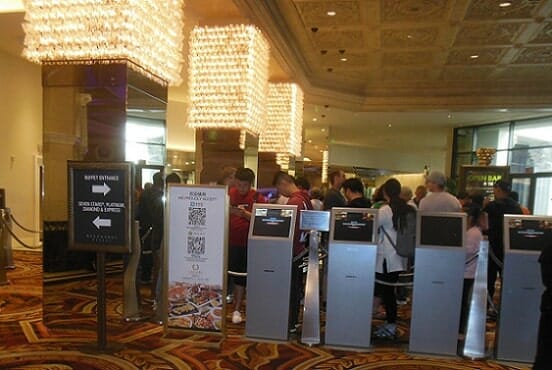 Desserts
Where to start?
How about with the Vietnamese coffee creameux (a crème Brulee)? Sweets you won't find at cheaper Vegas buffets also include the Ube chiffon cake, carrot coupe, mango rice pudding (served in small, cute Chinese to-go boxes), Earl Grey mousse with grapefruit shashimi, yuzu tart, and green tea & lime cheesecake.
There are elegant, curbed spacious displays full of small cups of tiramisu and various cheesecakes (including Oreo, and speculoos cheesecake), and salted caramel mousse. Next to these displays are plates of cupcakes (carrot cake, death by chocolate, confetti and a very cute salted caramel cupcake served in a cup that looks like movie theater popcorn box).
An especially fun and unique dessert is the "Sunny-side up egg." It looks like a small egg dish, but is actually a yellow mango sphere nestled on top of sweetened yogurt, with vanilla powder.
The array of sweets continues with Mint Oreo chocolate mousse, banana cream pie, crème brulee, a vegan strawberry cake, chocolate pot de creme, candied apples on a stick, creme de pistachio, strawberry shortcake, egg tarts, cinnamon roll bread pudding, and Peanut Butter Pretzel Verrine – a delicious-looking peanut butter, milk chocolate caramel pretzel mousse.
There may be a line at the hand-scooped gelato and sorbet stand. Among the eleven varieties are Strawberry cheesecake, Oreo, Madagascar Vanilla Bean, roasted banana, espresso chip, Belgium chocolate, ube, and coconut. Sorbets included strawberry and alfonzo mango, and torta di Limone (lemon pie).
You can have this served to you in either a cup or waffle cone. Topping options include M&M's, Oreos and the like.
Another dessert section highlight is the made-to-order dessert crepe station. You can choose from, Nutella, chocolate, caramel, along with either mixed berries, whipped topping, or bananas foster sauce for toppings.
If you have room, try the chocolate hazelnut beignet, or S'mores bar.
The "NSA" section, or "no sugar added" area, included cheesecake, chocolate mousse and lemon bars.
(Related: Wicked Spoon Buffet at the Cosmopolitan – prices and menu items)
Bacchanal Buffet Brunch Menu
Any brunch buffet can serve up your standard runny eggs and bacon, but where else but the Bacchanal can you find a Pineapple Turmeric Smoothie, or S'mores Waffle?
As with the dinner menu, these are always subject to change with various dishes being rotated in and out seasonally, but on a recent visit since the re-opening, you could find the following:
Chicken & Waffles, BBQ Twister Fries, a sweet corn chowder, green beans, mashed potatoes, Denver scrambled eggs, bacon, hashbrowns, corned beef hash, and a loaded egg breakfast tot dish with cheese, bacon and scallions.
Vegans may enjoy the vegan tofu scramble or plant-based sausages. Next to these was a "Soyrizo Hash," consisting of potatoes, edamame, sweet potatoes, mini bell peppers and parsley.
Yet another nice feature of the Bacchanal Brunch Buffet is that you get to sample more unique offerings such as truffle mushroom egg bites or a crab Florentine Benedict, while still having your more conventional breakfast items available, such as oatmeal and cream of wheat.
There's also a bagel and lox section, oysters and shrimp cocktail.
Egg & Omelet Bar
This made-to-order station (located in-between Italian dishes for some reason), has you first choosing your egg type (whole eggs or just whites), followed by the cooking style (fried, poached or omelet).
After that, you can choose a meat (bacon bits, ham or spicy sausage), and/or vegetable add-ins (onion, spinach, tomato, bell peppers, jalapeno, scallions and mushrooms).
Lastly, you can choose your cheese topping (if desired). These include sharp cheddar, parmigiano-reggiano, pepper jack and mozzarella.
The cute little smoothie cup options included Dragon Fruit, the aforementioned Pineapple Turmeric, and an Apple Kale Spinach smoothie to detox your body from the previous night's festivities.
Pancake & Waffle Bar
At this delectable area, you can choose your pre-made flavor, or create your own. Pre-made options include the following:
Green Tea Pancakes – toasted coconuts & lilikoi syrup
Birthday Cake Pancakes – rainbow sprinkles & vanilla frosting syrup
Red Velvet Waffle – chocolate chips & cream cheese frosting
S'mores Waffle – graham cracker crumb, chocolate chips, marshmallow fluff
Banana Foster French Toast – vanilla whipped cream & cajeta caramel sauce
Alternatively, you can create your own version or combo of these, mix and matching various toppings and ingredients.
Brunch Desserts
If the S'mores Waffle didn't satisfy your sweet tooth, you can still choose among a wide variety of desserts and sweets.
This area starts with an egg tart, then has maple cinnamon rolls, fruit Danishes, cheese Danishes, and croissants (regular and almond).
Small individual cups of Vietnamese coffee cremeux on displayed here, along with mango cremeux, a raspberry gelee with rose petal whipped cream, ube chiffon cake, Yuzu tart, various macaroons, a green tea & lime cheesecake, tiramisu, and a salted caramel mousse.
Dessert cones, that look like mini chocolate covered ice cream cones decorate this section, which includes "death by chocolate" cupcakes, individual dishes of strawberry shortcake, candied apples, mini donuts, berry cheescake, rainbow cake with apricot jam, the mango tart dish that looks like a sunny-side up egg, mint Oreo chocolate mousse, Banana cream pie, chocolate whoopie pie, which is followed by a vegan strawberry cake.
A selection of fresh fruits, included honeydew, cantaloupe, watermelon, along with an Ambrosia salad can be found here as well.
As with the dinner buffet, the made-to-order dessert crepe station is very popular. Choices include Nutella, chocolate, caramel, along with either mixed berries, whipped topping, or bananas foster sauce for toppings.
Similarly, the hand-scooped gelato and sorbet stand (a full list of flavors is listed above in the dinner buffet section), is open during the brunch buffet.
On the drink side, there are fresh juices, teas and such. A nice touch for us coffee addicts is that they will leave you an entire pot at your table to prevent you from having to constantly ask for re-fills.
Bacchanal Buffet Brunch – Lunch Items
More on the lunch side of things, you'll find many of these menu items overlap with the dinner buffet.
The carving station during brunch serves up prime rib, slab bacon, honey-glazed ham, roasted turkey, smoked brisket, Keilbasa and other sausages. To the right of this were individual Baby Moco Loco plates (beef patty, onion gravy, fried quail egg & furikake).
The bread section includes pretzel bread, Walnut raisin pumpernickel bread, your standard multi-grand roll, breadsticks and a while chocolate brioche.
This area is to the right of the charcuterie section, where you'll find assorted deli meats like genoa salami, sopressata and prosciutto di parmadates, along with dried figs, almonds, apricots, cashews, mustards, along with blue cheese, gouda and other gourmet cheeses. There were also fresh blackberries and raspberries here.
Pizzas on this day included a breakfast pizza, pepperoni, and a truffle mushroom pizza, among others.
In the back is the Asian section, with dishes like Chinese barbecue pork, vegetable spring roll, Soy Sauce chicken, Bang Bang Shrimp, fried rice, szechuan fish, beef & broccoli, japchae (Korean noodles), Kalbi short ribs, Korean chicken, gungjung tteokbokki (a savory and sweet rice cake dish), and assorted banchan.
Website, Phone and Group Reservations
Official Website: Bacchanal Buffet at Caesars Palace
Main phone number: (702) 731-7928
Groups of 14 or more wanting to sit together should call ahead first, at (866) 733-5827.
Buffet of Buffets Upgrade Fee
Prior to the Covid shutdown, Caesars offered guests the chance to sample multiple buffets at various Caesars Entertainment properties in a 24 hour period via their popular Buffet of Buffets pass. As the premier buffet on the list, there was an upcharge to visit the Bacchanal however. As of this update, the all-you-can eat pass is not available.
We will update this if and when the Buffet of Buffets pass returns. Previously, pass holders could pay the following upgrade fee to visit the Bacchanal:
Breakfast: $15
Brunch: $25
Dinner: $35
* During holiday pricing periods, the upgrade fee jumps to $45.
(By Steve Beauregard. Photos courtesy of Caesars Palace and Aranami via Flickr).