New Year's Eve Fireworks on Las Vegas Strip 2023 & Viewing Parties
Updated December 31st, 2022
The annual Las Vegas New Year's Eve fireworks show is a jam-packed, fun-filled celebration complete with merriment, thousands of fireworks and 400,000 of your closest friends. And while other cities have shut down or scaled back their celebrations, Sin City's NYE party to welcome in 2023 should be better than ever (weather permitting).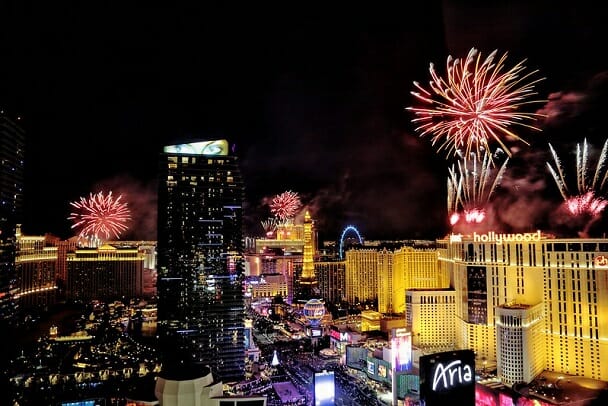 Each New Year's Eve, around 400,000 revelers crowd the Strip to ring in the new year and watch the fireworks display. The city typically spends $500,000 on the display. After prior shows were scuttled due to Covid, last year's party to welcome in 2022 was bigger than ever (thanks to a new casino added to the display).
While fireworks are shot off at midnight, the Las Vegas Strip NYE party begins at 5 PM on December 31st, when all vehicle traffic is shut down, making the Strip the world's largest block party. This year's celebration is on a Saturday.
In 2023, eight different casinos on the Las Vegas Strip will participate in a coordinated December 31st fireworks show. This is up from the seven casinos in prior year's shows, thanks to the addition of Resorts World fireworks.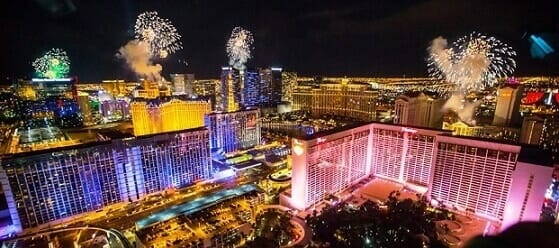 New Year's Eve Las Vegas Fireworks 2023 Time & Location
Plans are always announced by the Las Vegas Convention and Visitors Authority, and the time and locations for the "America's Party 2023" fireworks show are as follows:
Saturday, December 31st at Midnight
The following eight casino resorts will shoot fireworks off of the top of their hotels right at midnight:
The Strat
Resorts World
Treasure Island
The Venetian
Caesars Palace
Aria
Planet Hollywood
MGM Grand
Each year, 80,000 fireworks are set off during a choregraphed fireworks display lasting around eight minutes. It comes out to about 150 fireworks per second.
Just before the fireworks show, there is always a lighted countdown (10, 9, 8…) up the Strat's tall tower. And, as is tradition, the Strip fireworks show will accompanied by music, including of course, "Auld Lang Syne."
Where to watch fireworks in Las Vegas on New Year's Eve
For free? You can enjoy the fireworks from the Strip, as the road is closed to traffic beginning at 5 PM on New Year's Eve, creating a huge pedestrian walkway.
From the MGM Grand to the south, to the Stratosphere on the north end, there'll be great spots up and down the Strip, but the center Strip (think outside Caesars Palace), is where you'll get more bang for your buck.
Those of you who don't mind paying a little (or a lot), to gain a good vantage point have plenty of options. Some of the links below are affiliate links through which I may receive a commission.
Las Vegas Strip New Year's Eve Fireworks Viewing Parties 2023
Hard Rock Cafe
The Hard Rock Cafe is directly on the Las Vegas Strip – just north of MGM Grand and right across from Park MGM. The restaurant and bar has 3 floors and outdoor patios for great viewing of the NYE Strip fireworks.
The party runs from 9 PM to Midnight, with entry beginning at 8:30 PM. The package costs $225 per person, (or $470 for two people combined after fees), and gets you 3 hours of an open premium bar, food stations with heavy appetizers, a live band, party favors and a champagne toast at midnight.
Tickets available here: Hard Rock Live NYE
Other Parties
Please note: Parties that have yet to be announced are labeled "TBD," but will show you the prices for last year, which may give you an idea of what to expect this year.
Caesars Palace
In addition to shooting off fireworks, Caesars has typically had a viewing party on the Spanish Steps in the Roman courtyard area out in front of Caesars (near the Bellagio side), running from 10 PM to 1 AM on New Year's Eve. Plans for 12/31/22 have yet to be announced.
Inside, however three of Caesars notable bars/lounges are having parties. These are not fireworks viewing parties. Prices are TBD. Last year they were as follows:
Vanderpump Cocktail Garden – Sold out.
Vista Lounge – Table for 4 with $400 beverage credit (aka minimum), starts at $500 (before taxes and fees).
Alto Bar – Table for 2 with $200 beverage credit (aka minimum) starts at $200 (before taxes and fees).
The most updated prices and availability for these parties can be found here: CaesarsPalace/NYE2022
Cosmopolitan Las Vegas
Ice Rink – Each winter, the Cosmo turn their Boulevard Pool area into the only ice skating rink atop the Strip. And given this elevated location, it offers fantastic views of the fireworks.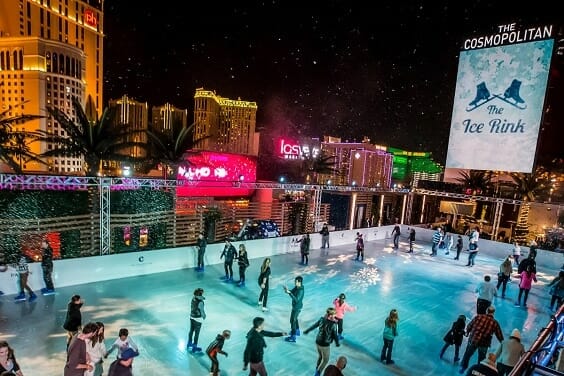 On New Year's Eve, the ice rink party starts at 9 PM, and includes skate rentals (while supplies last), a 3 hour open bar, and champagne toast at midnight.
Tickets are $200 each. After all taxes and fees I believe it's $461.05 for two people combined: Cosmo NYE tickets
The Chandelier – Level 1.5 inside the Cosmo has a NYE party with tickets also at $200 per person before taxes, fees and tips. The 10 PM to 2 AM party includes an open bar and champagne, live DJ performance, party favors, and access to the ice rink above to watch the fireworks.
Cromwell
The intimate bar inside the Cromwell has packages with tables for 2 starting at $250. It includes a $200 beverage credit. Info here: Caesars/NYE Bound
This upscale bar on the gaming floor has a table package for 2 for $250, which includes a $200 beverage credit.
Flamingo Hotel & Casino
On the north end of the Flamingo Hotel and Casino is the tropical-themed restaurant across from Caesars Palace. It has a great-Strip front location and always have a NYE bash starting at 9 PM.
This year, there are two packages available: one for the Main floor, and one for the 2nd & 3rd floors.
Main Floor: The $149 per person, which gets you an open bar from 9 PM to Midnight on the first (main) floor, along with a champagne toast, live entertainment and party favors. Seating is "open."
2nd & 3rd Floor: This $249 per person ticket gets you a view of the fireworks on Margarita's 2nd and 3rd floors, along with the 3 hour open bar, champagne toast, party favors, "heavy" d'oeuvres, and a D.J. The website says that like the party below on the first floor, seating is open and unassigned.
Mandalay Bay
The Foundation Room, with wonderful Strip views, has tickets (9-11 PM, open bar), starting at $118. This does not include seating, and their site says you are not guaranteed fireworks viewing on the patio.
Situated on the 64th floor of the Delano Las Vegas at Mandalay Bay, the Skyfall Lounge's soaring perch on the southernmost end of the Strip gives you an incredible perspective of all the fireworks blasted off the roofs from the casinos to the North. General admission tickets start at $165, but that does not include drinks. For an extra $50, you can have access to the patio (I believe).
Other Skyfall packages include table reservations for $3,700, which gave you admission for eight people, long with two bottles of alcohol, and two bottles of champagne.
Info here: DelanoLasVegas/Skyfall
NY-NY Hotel and Casino
Every year the NY-NY Hotel and Casino hosts their "New Year's Eve Bridge Bash" on the outdoor bridge section of the resort.
This year's $263.94 starting ticket price (before taxes and fees) gets you general admission, a DJ, party favors, and, "food Offerings from Local Food Trucks & Open Bars."
Tickets available here: Bridge Bash 2023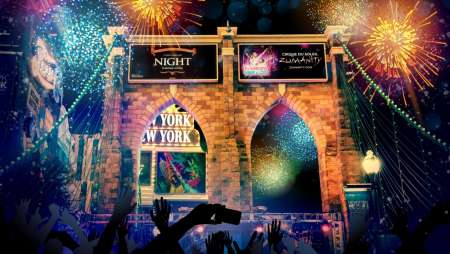 Planet Hollywood Hotel & Casino
This is Sammy Hagar's Mexican-themed restaurant/bar across from the Bellagio at the Miracle Mile Shops at PH. Their all-you-can drink patio party seating starts at $250.
This bar inside the casino has a table for 4 package for $550. It includes a $300 beverage credit. Info here: Caesars/NYE Heart Bar
Paris Las Vegas
There are always several different New Year's Eve viewing parties at Paris Las Vegas.
(1) Chateau – SOLD OUT (except for tables)
The indoor/outdoor patio club atop the Paris Las Vegas offers one of the more affordable parties, (by Las Vegas standards). A bar stool for three hours with an open bar runs $240. Although this is sold out, there is still a VIP table for $3,000 available.
(2) Beer Park at Paris Las Vegas
Bar seating starts at $300 and includes an open bar. They may be sold out, as I had trouble finding seats for 2. Indoor tables for 2 guests start at $600. Outdoor tables for (2 to 4 guests) start at $1,200. Both are available as of this update.
(3) Their Suki at Koi nightclub overlooks the Strip, and party options include an open bar. Info here: Sukilasvegascom/nye
(4) Napoleon Lounge
This isn't a viewing party as this piano bar is in inside, but a table for 4 with $400 beverage credit costs $500. Info here: Napoleon's NYE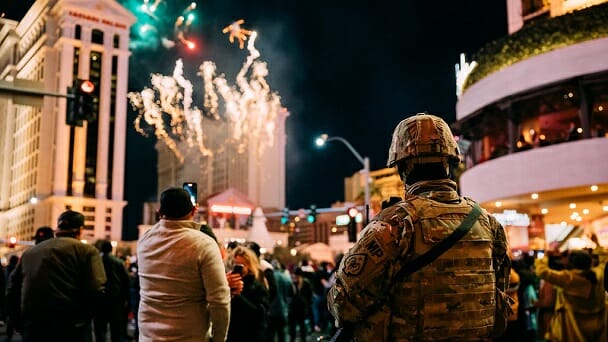 Sahara Las Vegas
The fireworks viewing party at their AZILO Ultra Pool starts at 8:30 PM, and includes all-you-can drink beer, wine, specialty cocktails and spirits. Tickets start at $123. Sahara NYE tickets.
The Strat
The casino on the far northern end of Las Vegas Boulevard that was previously known as "The Stratosphere" offers one of the best views in all of Las Vegas.
Their 2023 "Party at the Top" costs $150 per ticket and gets you admission to the SkyPod Tower party at the indoor observation deck on Level 108 atop the Strip. There is also a DJ and party favors, but drinks are on your own. The party runs from 9 PM to 1:30.
The Strat's Top of the World rotating restaurant also has very pricey dinner packages available. We're talking starting prices of $371 per person for 9:45 PM seatings.
T.I. Treasure Island Hotel & Casino
The country-themed Gilley's Nightclub is inside, however their patio borders the Strip, and their NYE party has "easy access to the Las Vegas Strip fireworks." Considering that T.I. is one of the casinos shooting off fireworks, this spot is pretty good. Scotty Alexander performs at 10 PM. No cover if you get there before 8 PM. After that, it's $25. Info here: Gilleyslasvegas.com/NYE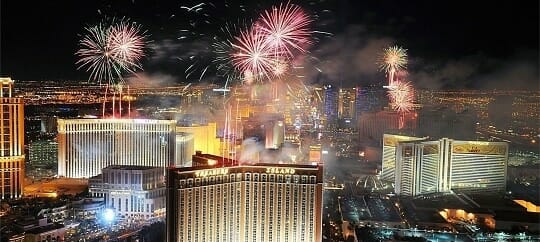 Venetian & Palazzo Hotels & Casino
Wakuda is the resorts newer upscale Japanese restaurant. It has patio seating for fireworks viewing. 10 PM reservations run $300 per person (pre-payment), which is applied to your final bill. More info here: Venetianlasvegas.com/nye
Thirty-six floors atop the Venetian Tower sits their Prestige Club Lounge, (and one 23 floors atop the Palazzo). Both overlook the Strip, and typically both have New Year's Eve parties. Tickets cost $275 and include a midnight toast, party favors, two drink tickets, and entertainment. You can purchase an unlimited drink package for an additional $100.
Las Vegas Concerts & Shows NYE 2022/2023
From the numerous Cirque du Soleil shows to the Blue Man Group, from magic shows like David Copperfield to concerts by Katy Perry and Maroon Five, there are no shortage of shows, performances and concerts to enjoy before the fireworks.
Many shows are to be determined, and we will update this as shows are announced.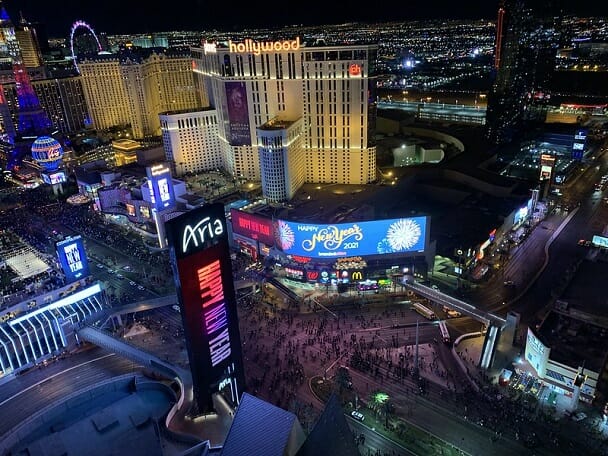 Area15
This hard-to-describe "immersive" experience boasts 4 acres of entertainment just off of I-15, about 3/4 of a mile west of the Wynn/Encore.
Their NYE at Area 15 party starts at 10 PM. There are 3 different packages, starting at $195 per person, here: Area 15 NYE
Aria
Lil Jon performs on Saturday, December 31st at 8 PM at the Jewel Nightclub. Presale tickets (subject to change) start at $50 for women and $75 for men.
Caesars Palace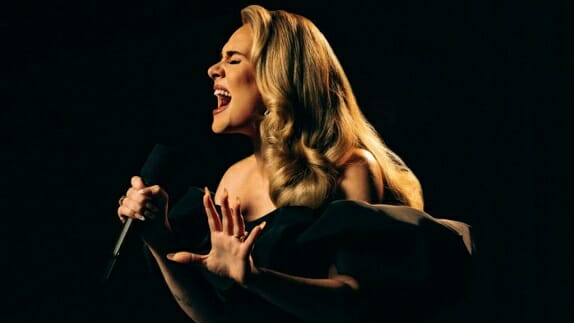 Adele will perform on the 30th and 31st, at the Colosseum as part of her "Weekends with Adele" residency. As of this update, tickets are not available on her Ticketmaster page here: Adele NYE tickets. However there are resale tickets available (starting at $478 each), on Vivid Seats here: Adele at Caesars Palace NYE tickets.
Omnia – Steve Aoki performs on NYE, at 8 PM. Presale tickets (subject to change) start at $50 for women and $75 for men.
Cosmopolitan
Marquee Nightclub – DJ Pauly D has an NYE party starting at 8 PM on the 31st. Early bird presale tickets cost $30 for ladies, $50 for men.
The Killers concert starts at 8 PM. Tickets sold out fast, but resale ones may be found at Ticketmaster here: Killers Las Vegas NYE or at Vivid Seats here:Ki The Killers NYE tickets The last I checked they started at $420 each.
The Cromwell
Eleven stories up on top of the Cromwell is where you'll find Drai's Beachclub/Nightclub, with 70,000 square feet of outdoor space and great views of the Strip (and fireworks). Chris Brown will have a concert. As of this update, tickets for general admission start at $200 for ladies, $250 for men.
MGM Grand
Popular magician David Copperfield has a long-running residency at MGM Grand, and he works very hard this time of year, with three shows every day. From Christmas Eve up to (and including), New Year's Eve, Copperfield wows the crowd at 3 different shows starting at 4PM, 7 PM and 9:30 PM. Tickets here: David Copperfield at MGM
Hakkasan is MGM Grand's nightclub. Tyga performs on Friday, December 30th, while Illenium performs on Saturday, NYE. Presale tickets start at $50 for ladies, and $75 for men. Tickets here: Hakkasannightclub.com
Mirage
Popular magician Shin Lim has shows at 7:30 PM every night from 12/29/22 to January 2nd, 2023. Shin Lim Tickets.
Park MGM
Bruno Mars plays at 9 PM on both Friday December 30th, and the 31st at the Dolby Live theater at Park MGM. Tickets from Ticketmaster here: Bruno Mars at Park MGM but I also found some slightly cheaper ones (starting at $362 each) at Vivid Seats here: Bruno Mars Park MGM – Vivid Seats
Planet Hollywood
80's band, The Jets perform at 6:30 on the 31st.
Resorts World
Kevin Hart has gigs at 8 PM in the Resorts World Theater both on NYE and January 1st, 2023. I checked prices recently and nosebleeds started at $89 before taxes and fees. Available here: Kevin Hart at Resorts World. Vivid seats has resale tickets here: Kevin Hart NYE
PitBull is playing on 12/31/22, but prices have yet to be announced. Table prices are announced, with prices starting at a $5,000 minimum spend. Here is more info: PitBull at Resorts World
In their Zouk Nightclub, Zedd performs on Friday, December 30th. Tiesto plays on New Year's Eve. As of this writing general admission tickets start at $50 for ladies, $100 for men. Or you could book a table on the dance floor with a minimum spend of…gulp….$22,500.
The Alle Lounge on 66 has strip view tables available for a $3,200 minimum spend.
T-Mobile Arena
If you're interested in catching some hockey action prior to the night's festivities, the Las Vegas Golden Knights play the Anaheim Ducks at noon at the fun (and loud), T-Mobile Arena. Tickets here: Vegas Golden Knights NYE
Venetian
Tao Nightclub – Rapper O.T. Genasis performs at 8 PM. Presale tickets (subject to change) start at $30 for women and $50 for men.
Virgin Las Vegas Hotel & Casino
Wynn Las Vegas
XS Nightclub – The Chainsmokers perform on NYE at 9 PM. "Under the Stars" (general admission) presale tix start at $55 for ladies, $75 for men. The night before, Marshmello performs at 10 PM. Information here: Wynnsocial.com
Weather in Las Vegas during New Years Eve
Historically on New Year's Day, the average high temperature in Las Vegas is 56 degrees, while the average low is 38 degrees.
As of this morning's 12/31/22 update, the forecast predicts a high of 60 degrees today, with a low of 47 degrees. The hourly forecast predicts it will be 53 degrees at midnight, but with a 72% chance of rain at night and winds around 12 miles per hour.
If the winds exceed 15 miles per hour, organizers may cancel or delay the fireworks.
Security on the Strip for NYE
The already significant Strip security plan was beefed up significantly a few years ago, following the October 2017 attack at the Route 91 Harvest Festival across from Mandalay Bay. City officials increased security funding 300%.
According to Deputy Chief Andrew Walsh of the Las Vegas Metro Police Department, 1,700 officers patrolled the Strip on NYE in 2019, many in plains clothes to watch over the festivities. In addition, one hundred Nevada National Guard troops are usually be out in force to help everyone welcome in the new year safely.
The Strip is closed to vehicles at around 5 PM on the 31st, from Mandalay Bay Road on the south end, to Sahara Avenue on the north end. It will reopen to cars at around 3:30 AM on New Year's Day.
Las Vegas Strip New Year's Eve Rules
Please note that per Las Vegas Metro Police, revelers are not allowed to have backpacks or strollers on the Strip on New Year's Eve. Also, there is a curfew on the Strip for NYE. You must be 18 years or older to be on the Strip after 6 PM on the 31st.
Bags cannot be larger than 12'' x 6'' x 12''.
Glass containers are not allowed on the Strip, for a 24 hour period starting at 6 AM on the 31st.
In recent years, many casino/hotels have required you to be a guest to access the resort during specific times. For example, between 11 PM and 1 AM, all of the MGM Resorts hotels, (like Mandalay Bay), required everyone to show a hotel room key before entering the property.
Other
Should you get tired walking up and down the Strip, please know the Las Vegas Monorail will extend their hours and will be running continuously for 44 straight hours on New Year's Eve. With a lack of Uber/Lyft/Taxi service on Las Vegas Boulevard itself, this may be an attractive option. You can get an unlimited 24 hour pass for $13, or single rides for $5.
Please note that if there are high winds, the show could be delayed up to 1 AM. If winds persist after 1 AM, the fireworks will likely be cancelled.
According to the company, Fireworks by Grucci, it takes 66 pyrotechnicians (along with help from casino workers), and five full days to set-up the fireworks display.
11,000 electrical devices are used to launch the fireworks.
According to an article in the Las Vegas Sun, ten to twelve tons of trash are picked up after the NYE party on the Strip.
The 2019 America's Party marked the 20th anniversary of fireworks being shot off above the Las Vegas Strip.
New Year's Eve on Fremont Street in Downtown Las Vegas
The 2023 welcome party does not stop at the Strip of course. For many, the energy and fun vibe in downtown Las Vegas rivals, or even exceeds that of its pricier casino neighbors to the south.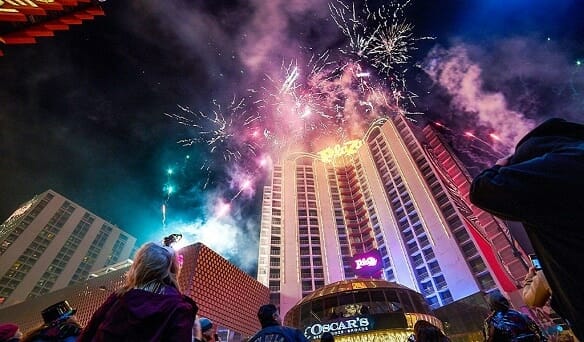 For December 31st, 2022, the Plaza Hotel & Casino has posted on their website their yearly fireworks will take place at midnight.
Fremont Street Experience NYE Party
Fremont Street is hosting what they call, "The Time of Your Life Festival," with performances by Bush, Sugar Ray, The Wailers featuring Julian Marley, Sugarhill Gang, All-4-One, Tag Team, DJ Skribble and others to be announced – all on various stages along rocking Fremont Street.
While access to Fremont Street is typically free, on NYE there is a charge to enter, along with security checks as well. Gates open at 6 PM. Everyone must be 21 or older. Tickets are $55 before taxes and fees, and can be purchased from the Fremont Street Experience's official site here: VegasExperience.com
Closer to the event, (after Christmas), tickets can be purchased at Fremont Street hotels and at the Slotzilla zipline office. On New Year's Eve, you can purchase tickets at the entry gates into Fremont Street.

The $60 fee may be increased closer to NYE, and only includes access to the party. There are plenty of bars up and down Fremont Street of course. There will also be a custom NYE-themed, 3D motion graphics show in place of the normal light show broadcast on the canopy above.
NYE Fremont Street Shows & Events
Plaza Hotel & Casino
The Plaza shoots off fireworks at midnight. There is a viewing party on the pool deck, but only for hotel guests.
Comedian Doug Stanhope performs at 8 PM on December 31st. Tickets are $99 before taxes and fees.
More information about the Plaza's NYE plans can be found here: Plaza Las Vegas NYE
Circa Las Vegas
Legacy Club is the beautiful cocktail lounge on the 60th level atop the Circa Las Vegas hotel & Casino. Their 2023 NYE party general admission ticket prices are hefty, starting at $375 per person. It includes an open bar, great views of the fireworks, hors d'oeuvres and a champagne toast. Info here: Circa's Legacy NYE Party.
Downtown Events Center
Jackpot NYE is a new 2-day music festival featuring DEADMAU5, a DJ set by Porter Robinson, REZZ, RL GRIME, Ghost RYDR, Marauda, Noizu, Lamorn, Rossy, Versa, & others. Tickets start at $149 and you must be 18 or older. Tickets here: Jackpot NYE 2023
Golden Nugget Hotel & Casino
1980's band Night Ranger plays on December 30th at 8 PM. Tickets start at $69.
Las Vegas New Year's Eve FAQ
(By Steve Beauregard. Photos courtesy of Caesars Entertainment (top), Las Vegas Blog via Flickr, MGM Resorts International, The Plaza Hotel & Casino, the Las Vegas Convention and Visitors Authority, Tydence Davis, the Nevada National Guard, and Arnie Papp via Flickr.