Updated December 2nd, 2021
Each New Year's Eve, over 300,000 revelers crowd the Strip to ring in the new year and watch the fireworks display. While the 2020 display was unfortunately cancelled, we expect the big Las Vegas Strip extravaganza to return to help us welcome in 2022 in style.
While fireworks are shot off at midnight, the Las Vegas Strip NYE party will probably begin at 6 PM on Friday, December 31st, when all vehicle traffic is usually shut down, making the Strip the world's largest block party.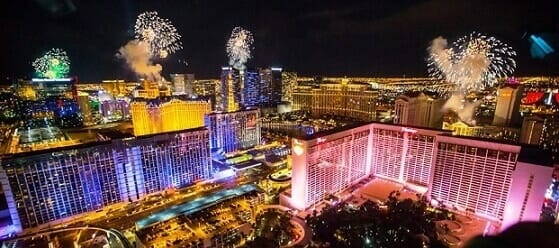 In the last year the fireworks were held (2019), city officials estimated that 318,000 out-of-town visitors came to Sin City for New Year's Eve. The city typically spends $500,000 on the display.
If tradition holds to form, seven different casinos on the Las Vegas Strip will participate in a coordinated December 31st fireworks show.
Las Vegas Strip NYE Fireworks Time and Location
While the plans for 2021 have yet to be announced by the Las Vegas Convention and Visitors Authority, the typical time and locations for the fireworks show are as follows:
Friday, December 31st at Midnight
In years past, the following resorts all shoot fireworks off of the top of their hotels right at midnight:
The Strat
Treasure Island
The Venetian
Caesars Palace
Aria
Planet Hollywood
MGM Grand
Each year, 80,000 fireworks are set off during a fireworks display lasting around eight minutes. It comes out to about 150 fireworks per second.
If, as custom holds, the traditional countdown will be done with fireworks. In other words, the numbers from ten on down will be in the form of fireworks above the casinos. Also, the Strip fireworks show is always accompanied by music.
Where to watch fireworks in Las Vegas on New Year's Eve
For free? You can enjoy the fireworks from the Strip, as the road is closed to traffic beginning at 6 PM on New Year's Eve, creating a huge pedestrian walkway.
(As of this update, 6 of the 10 Caesars Entertainment hotels on the Strip are sold out on New Years Eve.)
From the MGM Grand to the south, to the Stratosphere on the north end, there'll be great spots up and down the Strip, but the center Strip (think outside Caesars Palace), is where you'll get more bang for your buck.
Those of you who don't mind paying a little (or a lot), to gain a good vantage point have plenty of options.
Las Vegas Strip New Year's Eve Fireworks Viewing Parties 2021
Margaritaville Las Vegas
On the north end of the Flamingo Hotel and Casino is the tropical-themed restaurant across from Caesars Palace. It has a great-Strip front location and a NYE bash starting at 9 PM.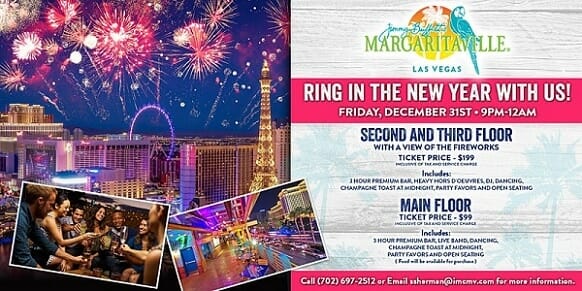 There are two packages available: one for the Main floor, and one for the 2nd & 3rd floors.
Main Floor: The $99 per person (which includes taxes and fees) ticket gets you an open bar from 9 PM to Midnight on the first (main) floor, along with a champagne toast, live entertainment and party favors. Seating is "open" meaning you probably won't get one.
2nd & 3rd Floor: The $199 ticket per person ticket (which includes taxes and fees) gets you better views of the fireworks on Margarita's 2nd and 3rd floors, along with the 3 hour open bar, champagne toast, party favors, "heavy" d'oeuvres, and a D.J. The website says that like the party below on the first floor, seating is open and unassigned.
(Some of the links below are affiliate links. Should you purchase your Las Vegas NYE tickets through them I may receive a commission).
Hard Rock Cafe
The Hard Rock Cafe is directly on the Las Vegas Strip – just north of MGM Grand and right across from Park MGM. The restaurant and bar has 3 floors and outdoor patios for great viewing of the NYE Strip fireworks.
They have three NYE ticket options: (1) The 6 PM package, (2) The 9 PM package or (3) Both.
(1) The 6 PM Package is a combination of comedy show, dinner, and open bar.
Starting at 6 PM on the 31st, and going until 8 PM, you get an open bar, general admission seat to the comedy show, and a three-course dinner.
Tickets cost $150 each, or $320 total for two people after fees. Tickets available here: 6 PM Hard Rock NYE Tickets
(2) The 9 PM Package costs $195 per person, and gets you 3 hours of an open premium bar, food stations with heavy appetizers, a live band, party favors and a champagne toast at midnight.
For 2 people, the total cost after taxes and fees is $410 combined. Tickets are available here: Hard Rock Cafe 9 PM New Year's Eve
3) Both – Should you want both parties, there is a discount. Buying both parties (giving you admission from 8 PM to Midnight) with all of the benefits of both parties costs $320 per person after fees, or $640 for a couple. Again this includes fees. You'll want to navigate to purchase the 9 PM package, then choose the "NYE Comedy Show and Dinner Upsell Discount" add-on before finalizing the purchase.
Cosmopolitan Las Vegas
Each winter, the Cosmo turn their Boulevard Pool area into the only ice skating rink atop the Strip. And given this elevated location, it offers fantastic views of the fireworks.
On New Year's Eve, the ice rink party starts at 9 PM, and includes skate rentals (while supplies last), a 3 hour open bar, and champagne toast at midnight.
Tickets are $200 each or $483.15 for two people combined after taxes and fees. Tickets are available here: Cosmo Ice Skating.
Paris Las Vegas
There are three different New Year's Eve viewing parties at Paris Las Vegas.
(1) Chateau
The indoor/outdoor patio club atop the Paris Las Vegas offers one of the more affordable parties, (by Las Vegas standards), however all of their packages and seats have already sold out.
(2) Beer Park at Paris Las Vegas
The reserved bar seating tickets at $200 apiece have sold out, as have most tables. As of this update, all that remains is a $1,250 indoor table for six. It comes with 2 bottles of Grey Goose and 1 bottle of Moet.
(3) Eiffel Tower – The view doesn't get much better than from atop the faux Eiffel Tower at the Paris Las Vegas Hotel & Casino, but the price doesn't get much higher either.
Prices for 2022 have yet to be announced, however last year's tickets cost $300 (after taxes and fees), and included an open bar, appetizers, a ticket to watch the fireworks from the viewing deck, a souvenir photo, and a champagne toast at midnight. Ticket holders also did not have to pay the usual Paris Las Vegas Parking fee.
EDITOR'S NOTE: Below are our writings of parties from the most recent New Year's Eve celebration to give you an idea of what may be available this year. We will update this as soon as more 2021 parties are announced.
A list of concerts and DJs performing on NYE is updated for 2021/2022 and can be found further down below.
Stratosphere
One of best views in all of Las Vegas is from atop the Stratosphere Hotel & Casino on the north end of the Las Vegas Strip.
The have 2 main parties:
(1) At Level 107
(2) At Level 108.
Both are on top of the tower.
(1) Their Level 107 Sky Lounge Celebration starts at 10 PM. It costs you $269.15 per person before taxes and fees. (It would be $623.61 for 2 people combined after all taxes and fees.
For this you receive access to an open bar from 10 PM to Midnight, along with music from a DJ, and party favors. Food is available for purchase.
(2) The "Party in the Sky" package starts at 9:30. It takes place one floor up on the Stratosphere's Level 108 indoor Observation Deck. It's pricier but has a longer open bar, and food included.
From 9:30 PM to 12:30 AM you get an unlimited open bar with premium brands, specialty drinks, and martini luges.
The menu from "award-winning chef's includes various food stations. These include a "skypod of shrimp", a North Italian Pasta Station, a Mediterranean Garden, and the Chef's New Year's Favorites station, which includes braised short ribs and salmon a la plancha.
The dessert station has chocolate covered fruits, pastries, and the intriguing, "Liquor Infused Cotton Candy served by a party dancer."
In addition to cotton-candy dispensing dancers, the party features go-go dancers, and what they call "atmosphere models."
A DJ will be performing, with dancing and of course, a midnight champagne toast. The cost is $358.41 per person. (For two guests, it will be a total of $827.13 after taxes, and fees).
Linq High Roller
A pod on the highest Ferris wheel in the world isn't a bad place to spend the first minutes of 2022, watching the Strip fireworks below. Ticket prices for the High Roller start at $200.
There are 3 different ticket levels. All include entry on a pod that stops for fireworks viewing at midnight. All three levels also include a champagne toast at midnight, a souvenir photo, and a free parking pass.
The three levels are as follows, and all prices include taxes and fees:
(1) Roaring Good Time – $200 per person. "Mid-wheel cabin view" of fireworks. (I believe this price level is sold out).
(2) Swinging Soiree – $350 per person. Includes a pre-party with entertainment, premium open bar, heavy appetizers, and upper tier cabin view of fireworks.
(3) Grand Affair – $500 per person. Top tier cabin view of fireworks, along with the pre-party with entertainment, heavy appetizers, and premium open bar.
NY-NY Hotel and Casino
Just as they've done in years past, the NY-NY Hotel and Casino once again is hosting their "New Year's Eve Bridge Bash" on the outdoor bridge section of the resort. This ticket price gets you an open bar from 8 PM to midnight with a DJ and views of the fireworks. Tickets are $193.20 after taxes and fees.
For two people, the total cost would be $379.30 after taxes and fees.
Caesars Palace
In addition to shooting off fireworks, Caesars has a viewing party on the Spanish Steps in the Roman courtyard area out in front of Caesars (near the Bellagio side), running from 10 PM to 1 AM on New Year's Eve.
There are two party options, one costing $190.00 per person, and the other a VIP Table ticket for 3 people at at a cost of $1,200.
The $190.00 ticket ($280.09 after tips, taxes and fees), gets you standing room only access to the courtyard, along with entertainment from a live DJ (as opposed to a dead one), and an open bar. Plus there are space heaters to keep you toasty.
The $1,200 VIP table ($1,742.90 after tips, taxes and fees) is the total for three people combined. It includes a table, an open bar, and the DJ entertainment.
Flamingo Hotel & Casino
The resort's Bird Bar sits right out on Strip and offers good fireworks views. For NYE, there is a $200 cover, ($236.74 after taxes and fees), for which you'll get you a 3 hour open bar (house cocktails, wine and beer), from 9 PM to Midnight and a midnight champagne toast.
The Book at the Linq
Being right on the Strip, The Book, and it's attached bar called Re:Match, will be a fun, crowded party with great views.
Tickets cost $200 per person, but tons of fees and gratuities added means that for two people, the party would cost a total of $589.14 combined, (after all taxes and fees). It gets you entry, an open bar until 1 AM, games, entertainment, and a dessert bar.
Harrah's Piano Bar
This popular bar off of Carnival Court has packages starting at $100 before taxes fees, and gratuities. It doesn't include an open bar, but you do get two free drinks.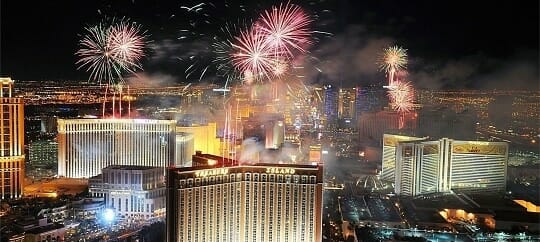 Drai's at The Cromwell
Eleven stories up on top of the Cromwell is where you'll find Drai's Beachclub/Nightclub, with 70,000 square feet of outdoor space and great views of the Strip (and fireworks).
As was the case last year, rapper Future will be performing. The cost is $150 for ladies, ($172.50 after taxes and fees), and $200 for men (or $229.99 after taxes and fees). This does not include free drinks or anything, however there is a free champagne toast at midnight.
Skyfall Lounge at Mandalay Bay
Situated on the 64th floor of the Delano Las Vegas at Mandalay Bay, this soaring perch on the southernmost end of the Strip gives you an incredible perspective of all the fireworks blasted off the roofs from the casinos to the North.
General admission tickets to the Skyfall Lounge's NYE Prohibition Party start at $220 (before taxes and fees). It includes a two hour open bar.
There are other packages including table reservations in the $2,000 range that give you admission for four people, long with two bottles of alcohol, and two bottles of champagne.
Cabo Wabo Cantina
Sammy Hagar's Mexican-themed restaurant/bar across from the Bellagio has all-you-can drink patio party seating starting at $200.
NYE Shows & Concerts NYE in Las Vegas 2021/2022
Updated 12/2/21: From the numerous Cirque du Soleil shows to the Blue Man Group, from magic shows like David Copperfield to concerts by Katy Perry, the Go Go's and Maroon Five, there are no shortage of shows, performances and concerts to enjoy before the fireworks. We'll update this as shows are announced.
Aria
Aria's Jewell Nightclub will once again have Lil Jon performing a DJ set at 9 PM on 12/31/21.
Caesars Palace
Usher has a popular residency at the Colosseum and his shows around NYE include concerts on Wednesday December 29th, the 31st, and on January 1st. All shows start at 8 PM and are pretty pricey: Usher NYE
Steve Aoki welcomes in 2022 at the resort's Omnia nightclub at 8 PM on the 31st.
Cosmopolitan
The Cosmo's Chelsea Theater will play host to Maroon 5 for two shows, Thursday 12/30/21 and Friday, New Year's Eve – both at 8 PM. Tickets are pricey, but available here: Maroon 5 New Year's Eve
MGM Grand
Popular magician David Copperfield has a long-running residency at MGM Grand, and he works very hard this time of year, with three shows every day. From Christmas Eve up to (and including), New Year's Eve, Copperfield wows the crowd at 3 different shows starting at 4PM, 7 PM and 9:30 PM.
Hakkasan is MGM Grand's nightclub, where South African DJ Black Coffee will perform at 8 PM. Tickets range from $50 for pre-sale tickets for females, (this includes a 2 hour open bar), all the way up to $15,00 for a VIP table in the Main Room for 20 people. Tickets here: Hakkasannightclub.com
Mandalay Bay
The resort's House of Blues hosts former Van Halen frontman David Lee Roth on both NYE and on the first. Both shows start at 8 PM. Tickets here: David Lee Roth at House of Blues.
Park MGM
Bruno Mars plays at 9 PM on both December 30th, and the 31st at the Dolby Live theater at Park MGM. Tickets here: Bruno Mars Park MGM
Planet Hollywood
The 80's pop band The Jets perform in Planet Hollywood's V Theater at 6:30 PM.
Resorts World
Katy Perry has three concerts for the week of NYE 2021/2022: Wednesday the 29th, December 31st, and New Year's Day. All shows start at 8 PM: Katy Perry NYE tickets.
Also at Resorts World, in their Zouk Nightclub, Zedd performs (doors open at 10 PM), on New Year's Eve. Tickets range from $75 for ladies general admission (men are $125), all the way up to stage seating where there is a gulp, $30,000 minimum spend. (But I think it's a table for multiple people).
T-Mobile Arena
If you're interested in catching some hockey action prior to the night's festivities, the Las Vegas Golden Knights play the Anaheim Ducks at noon at the fun (and loud), T-Mobile Arena. Tickets here: Golden Knights 12/31/21
The Venetian
At the Venetian Theater, 80's favorite girl-band, The Go-Go's take the stage at 8 PM on NYE. Tickets here: Go-Go's New Year's Eve.
Virgin Las Vegas Hotel & Casino
The former Hard Rock Casino just east of the Strip hosts Lizzo at 10 PM. Tickets here: Lizzo NYE tickets
Wynn Las Vegas
Once again, the Chainsmokers will be performing at the XS nightclub at the Wynn at 9 PM on New Year's Eve. Diplo plays the night before.
Weather in Las Vegas during New Years Eve
Historically on New Year's Day, the average high temperature in Las Vegas is 56 degrees, while the average low is 38 degrees.
Last year's NYE fireworks show, however, was much cooler than usual. Temperatures were in the thirties, with a wind chill factor making it feel like it was in the twenties!
(Go here to read about Las Vegas weather in January)
As of this update, Weather.com's forecast for the 31st predicts a sunny day, with a zero percent chance of rain or snow. The high is expected to be 56 degrees. At midnight on the Strip, they say it will be 41 degrees, but will feel like 39 degrees when the slight wind and humidity are factored in.
Security on the Strip for NYE
The already significant Strip security plan was beefed up significantly a few years ago, in 2017, following the October 2017 attack at the Route 91 Harvest Festival across from Mandalay Bay. City officials increased security funding 300%.
According to Deputy Chief Andrew Walsh of the Las Vegas Metro Police Department, 1,700 officers patroled the Strip on NYE in 2019, many in plains clothes to watch over the festivities. In addition, Nevada National Guard troops are usually be out in force to help everyone welcome in the new year safely.
Las Vegas Strip New Year's Eve Rules
Please note that per Las Vegas Metro Police, revelers are not allowed to have backpacks or strollers on the Strip on New Year's Eve. Also, there is a curfew on the Strip for NYE. You must be 18 years or older to be on the Strip after 6 PM on the 31st.
Bags cannot be larger than 12'' x 6'' x 12''.
In recent years, many casino/hotels have required you to be a guest to access the resort during specific times. For example, between 11 PM and 1 AM, all of the MGM Resorts hotels, (like Mandalay Bay), required everyone to show a hotel room key before entering the property.
Other
Please note that if there are high winds, the show could be delayed up to 1 AM. If winds persist after 1 AM, the fireworks will likely be cancelled.

The 12/31/19 America's Party marked the 20th anniversary of fireworks being shot off above the Las Vegas Strip.
New Year's Eve on Fremont Street in Downtown Las Vegas 2021/2022
The 2022 welcome party does not stop at the Strip of course. For many, the energy and fun vibe in downtown Las Vegas rivals, or even exceeds that of its pricier casino neighbors to the south.
In fact, last year, due to the pandemic, the Strip did not have NYE fireworks, but Fremont Street did.
For December 31st, 2021, the Plaza Hotel & Casino has posted on their website their yearly fireworks will take place at midnight.
Fremont Street Experience NYE Party
New this year: Fremont Street will be home to a big 80's and 90's themed NYE bash, with performances by Bobby Brown, Vanilla Ice, Village People, and Tone Loc, on a special stage in the middle of Fremont Street.
While access to Fremont Street is typically free, on NYE there is a charge to enter, along with security checks as well. Everyone must be 21 or older. Tickets are $35 before taxes and fees, and can purchased from the Fremont Street Experience's official site here: VegasExperience.com
Closer to the event, (after Christmas), tickets can be purchased at Fremont Street hotels and at the Slotzilla zipline office. On New Year's Eve, you can purchase tickets at the entry gates into Fremont Street.
The $35 fee may be increased closer to NYE, and only includes access to the party. There are plenty of bars up and down Fremont Street of course. There will also be a custom NYE-themed, 3D motion graphics show in place of the normal light show broadcast on the canopy above.
2021/2022 NYE Fremont Street Shows & Events
Plaza Hotel & Casino
In addition to generously hosting the fireworks show, the Plaza will have comedian Doug Stanhope for an 8 PM New Year's Eve show in their showroom.
Also, on NYE, you can purchase tickets to a party (running from 7 PM to 11 PM) that is complete with a dinner buffet, bar, and dancing. Other NYE weekend events include rooftop fireworks viewing and even "Boozy Bingo."
More information about the Plaza's NYE plans can be found here: Plaza Las Vegas NYE
Golden Nugget Hotel & Casino
Blue Oyster Cult takes the stage for one show at The Showroom at the Golden Nugget Hotel & Casino on Fremont Street in downtown Las Vegas at 8 PM on New Year's Eve.
Las Vegas New Year's Eve FAQ
(By Steve Beauregard. Photos courtesy of Caesars Entertainment (top), Las Vegas Blog via Flickr, MGM Resorts International, The Plaza Hotel & Casino, and the Las Vegas Convention and Visitors Authority.