By Steve Beauregard
How many casinos are on the Las Vegas Strip? It sort of depends on your definition of the "Strip," but basically, thirty-one casinos call the Strip home, up from 29 just a few years ago.
These 31 Strip casinos range from dinky little dives like the cheesy but classic Slots A Fun, to the glamorous (and expensive) Wynn and Encore resorts.
(Go here to find out How many casinos are in Las Vegas?)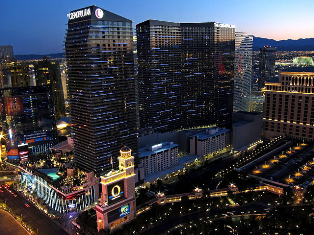 The 31 casinos stretch from Mandalay Bay on the South, up to the Stratosphere to the North. Many others casino/hotels, like the Rio, Palms, and Hard Rock, aren't included in the 31, as they are not located right on Las Vegas Boulevard. However these near-strip casinos are within walking distance – albeit a long walk in the heat. For example, The Hard Rock Casino is almost exactly a one mile walk to the Strip. The Rio to the Strip (at the Bellagio entrance) is just under a mile.
Strip-Area Casinos
According to the Nevada Gaming Commission, there are actually 40 casinos in the Las Vegas strip area. Again however, their definition of "strip" is not as strict nor literal as ours is here, and therefore their list includes casinos off of Las Vegas Boulevard, including the Golden Dragon, which opened just off the Strip in November 2016.