How Many Casinos Are In Las Vegas?
By Steve Beauregard
There are 143 casinos in Las Vegas, not including "Louie," a taxi driver who runs a semi-regular craps game behind the 7-11 on Friday nights.
By "Las Vegas" I mean the Las Vegas valley, including downtown, the Strip, and suburbs, even though some of these are not in the city limits of Las Vegas. In fact, parts of the Las Vegas Strip are not even, technically, in the city of Las Vegas. Either way, we count those casinos in the 143 total.
These are broken down as follows:
Las Vegas Strip: 60 casinos
North Las Vegas: 17
Boulder Strip: 43
Downtown Las Vegas: 23
For our purposes, we are using figures from the Nevada Gaming Commission's "unrestricted gaming licenses," which defines a casino as a business with more than 15 slot machines or one with table games.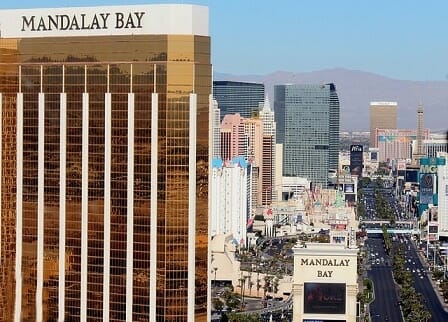 So in other words, we're not counting the local 7-11 with a video poker machine as a casino. The neighborhood bar with a few video poker machines, or the corner gas station with a few slot machines aren't considered casinos by the Nevada Gaming Commission, and thus, aren't counted here.
(Related: How many casinos are in Nevada?)
There is no official record of the number of casinos within the exact city limits of Las Vegas, so we have to go off of the reported figures as determined by the Nevada State Gaming Control Board, which is a pretty good source considering they have authority over the ownership, games, licenses, and everything else to do with casinos and gambling in Nevada.
As such, there are 228 casinos in Clark County, as of January 1st, 2022, according to the Nevada State Gaming Control Board.
For those of you unaware, Las Vegas is in Clark County, as are the gambling destinations of Mesquite, and Laughlin, Nevada. This 228 figure also includes the casinos in nearby Primm.
Overall, Clark County has roughly 2.3 million people, and encompasses all of Southern Nevada.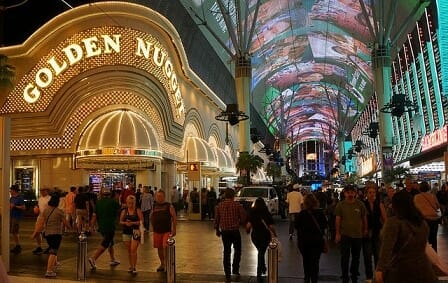 85% of the state's gambling revenue comes from casinos in Clark County, Nevada, and 52% of the state's gambling money comes from the Las Vegas Strip.
Clark County Gaming Revenue
The 232 casinos in Clark County took in $11.44 billion in gaming revenue in 2021 – a huge 75% jump from 2020, when Covid shutdown casinos for over two months. Other recent yearly gaming revenues in Clark County:
2021: $11.44 billion
2020: $6.5 billion
2019: $10.35 billion
2018: $10.25 billion
2017: $9.85 billion
2016: $9.7 billion
Although Clark County has 228 casinos, we cannot count this figure in our Las Vegas figure, seeing as how some of those casinos are pretty far away from town.
(Related: How many casinos are on the Las Vegas Strip?)
Fortunately, the state of Nevada separates gaming revenue figures into many different geographical sections – four of which would apply to Las Vegas: The Strip, Downtown, North Las Vegas, and The Boulder Strip.
The Strip
Of the 232 casinos in Clark County, Nevada, there are currently, 60 casinos in the Las Vegas Strip area.
For their purposes however, the Nevada Gaming Commission includes casinos that are not actually on Las Vegas Boulevard as being Strip casinos in their figures. These include major resorts like the Rio, the Palms, the Virgin Hotels Las Vegas, and the Westgate.
Also included in this list, are off-Strip properties like OYO Hotel & Casino, the Orleans, and the Gold Coast. As you might expect, these 60 casinos represent the vast majority of gaming income in Las Vegas. In fact, the Strip accounts for 52% of all the gaming revenue in Nevada.
In 2021, Las Vegas Strip casinos generated just over $7 billion – a record figure, and quite impressive given that visitor numbers are still not up to pre-pandemic levels.
Las Vegas Strip Gaming Revenue
2021: $7 billion
2020: $3.73 billion
2019: $6.587 billion
2018: $6.588 billion
2017: $6.479 billion
2016: $6.376 billion
2015: $6.48 billion
2014: $6.372 billion
2013: $6.5 billion
2012: $6.2 billion
(Go here to find the answer to the question: What was the first casino on the Las Vegas Strip?)
Downtown
Consisting of the fun and action-packed Fremont Street and surrounding blocks, there are officially 23 casinos reporting revenue in the downtown Las Vegas/Fremont Street area as of January 2022.
These 23 downtown casinos had gaming wins of $842 million, up an incredible 81% from the $464 million in 2020. This is of course, due to the pandemic, but also reflects revenues from the first full year of downtown's new star, Circa Las Vegas.
Downtown Las Vegas Gaming Revenue
2021: $842 million
2020: $464 million
2019: $685 million
2018: $649 million
2017: $631 million
2016: $564.6 million
2015: $542 million
2014: $511 million
2013: $501 million
2012: $509 million
In contrast, the 60 casinos on the Las Vegas Strip took in $7 billion in 2021. So although the Strip has around three times as many casinos, it has over eight times more gambling revenue than downtown. This really isn't surprising given the modest size of many of the cozy casinos on Fremont Street as compared to the behemoths like the Bellagio and MGM Grand on the Strip.
North Las Vegas Casinos
North Las Vegas has 17 casinos, again, according to the Nevada State Gaming Control Board. Casinos in North Las Vegas are mainly locals-oriented, and for the most part are less glamorous than their cousins on the Strip.
North Las Vegas Casinos include the Station chain properties: Santa Fe Station Hotel and Casino and the Texas Station, as well as the old-school classic joint: Jerry's Nugget, which has been around since 1964. My friend Ken stops there every time he's in Las Vegas, as they always have very low minimums on the craps tables. Also in this North Las Vegas category are the Cannery Casino and the Aliante Hotel and Casino, which was built in 2008.
In 2021, these North Las Vegas casinos brought in $285 million – up 39% from the $204 million in gaming win in 2020.
North Las Vegas Gaming Revenue
2021: $285.7 million
2020: $204 million
2019: $302.4 million
2018: $288 million
2017: $275 million
Boulder Strip Casinos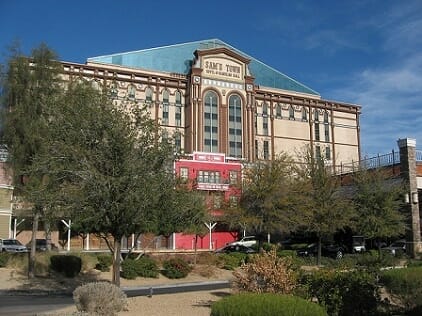 The Boulder Highway area covers some casinos in Las Vegas suburbs, or those on the outskirts. These are mostly locals places, and include casino/hotels such as Sam's Town, Boulder Station, Fiesta Station, Green Valley Ranch, and such. There are 42 casinos in this area defined by the Nevada Gaming Commission.
It may surprise you to learn that casinos in the Boulder Strip area bring in more gambling revenue than downtown Las Vegas.
This area of mostly "locals" casinos is roughly seven to ten miles east and southeast of the Las Vegas Strip. While many tourists have probably never played there, this section of town, which includes Henderson, Nevada, is an impressive player in the casino market, and the area typically sees a steady increase in year-to-year income from players losing money at their establishments.
There are 43 casinos in the Boulder Strip area, as of January 1st, 2022. Yearly gaming revenues from Boulder area are as follows:
2021: $967 million
2020: $655 million
2019: $861.7 million
2018: $857 million
2017: $813 million
2016: $787 million
2015: $784 million
Other Boulder Strip casinos include the Eastside Cannery Casino, the pretty swank M Resort Spa and Casino, Arizona Charlie's Boulder Hotel and RV Park, Sunset Station, and Joker's Wild, among others.
Although we call it a locals casino, the Green Valley Ranch is a draw for tourists, due in part to its luxurious accommodations and amenities, as well as being featured on TV a few years back. The reality show, "American Casino" was filed at the Green Valley Ranch, and it got many Vegas travelers (including me) to want to venture off of the standard Strip properties to try something new.
So while there are plenty of slot machines and video poker machines tucked away in the corner of nearly every grocery store and gas station in Sin City, when it comes to actual legitimate casinos, there are 143 of them in Las Vegas.
(Top photo courtesy of Prayitno and Pierre Andre Leclercq, and Ken Lund via Flickr).