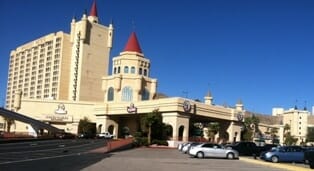 By Steve Beauregard – Situated right on the California/Nevada border, Primm, Nevada has three bustling casinos: Whiskey Pete's, Buffalo Bill's, and Primm Valley Resort.
Formerly called "State Line" up until the mid-90's, Primm is a small, desolate, isolated town 42 miles from the excitement of Las Vegas. Looking at map or driving it will confirm the fact it's in the middle of nowhere.
So how does a town of 1,000 or so residents in the high desert sustain three high-rise casinos? It's the first town with legalized gambling you get to when driving from Los Angeles to Las Vegas. In fact, it's entire economy is dependent on the gambling-hungry Southern Californians stopping by for a quick gambling fix before getting on their way to Las Vegas. Of course, some people make Primm their destination, much in the same way Mesquite is a border town destination on the eastern side of the state. Like Mesquite casinos, Primm casinos attempt to capture overnight visitors with buffets, concerts, and golf courses (Primm has 2 golf courses).
They also receive heavy traffic on Sunday afternoons, from visitors returning from Las Vegas, heading home, and wanting to stop for gas, food, or just another crack at the slots before returning to normal life.
There's also a large, indoor mall, called the Fashion Outlets of Las Vegas, that also lures Southern Californians. It's attached to the Primm Valley Resort.
The three casinos in Primm are as follows:
Whiskey Pete's Hotel & Casino
Although fairly big, Whiskey Pete's is a fairly low-rent joint. We stayed there after a Thanksgiving weekend and found the surroundings and room to be dated and unspectacular.
The hotel's name comes from an actual person. Apparently a local gas station owner named Pete Macintyre supplemented his income by bootlegging whiskey, thereby acquiring the nickname, "Whiskey Pete."
The hotel has an odd castle theme, and has around 777 rooms plus a showroom. Downstairs on the gaming level, there's an IHOP restaurant with very nice waitresses, but very high prices. To be fair, I don't know if that's normal for all IHOPs, but breakfast pancake meals were in the $10 to $11 range. (Maybe I'm just cheap).
Inside the casino, right next to the IHOP is a McDonald's, for those of you looking for cheaper options.
Along those lines, Whiskey Pete's does cater to low-rollers. Five dollar minimums on the blackjack tables were standard, and at the casino bar, they offered $1 draft beers, $1 hot dogs, and $1 shrimp cocktail.
Also on the casino floor is the actual car in which the infamous Bonnie & Clyde were killed. Those wanting to explore can take a free monorail that leads from Whiskey Pete's to the more upscale Primm Valley Resort.
Whiskey Pete's has the usual assortment of slots, video poker, and table games, however there is not a poker room. What appears to have once been a poker room is now an area full of pool tables (because those are a big money maker for the casino).
Primm Valley Resort
The more "elegant" hotel in Primm, the Primm Valley Resort has 624 rooms, a spa, a steakhouse and an outlet mall attached to it on the south.
In addition to GP's Steakhouse, this resort's dining options include a cafe called "The Original Pancake House," O'Mulligan's Pub, the Country Club Buffet, and Rosie's Pizzeria.
In the walkway between the shopping mall and casino sits a comedy club called "Bonkerz," while the resort's spa is the only one in town.
Buffalo Bill's Hotel and Casino
The largest of Primm's three casinos, Buffalo Bill's Hotel and Casino has over 1,200 rooms and a 46,000 square foot casino.
In addition to over 1,700 slots and the usual table games, Buffalo Bill's has a race and sports book.
On the dining front, Ramon Ayala's Cocina & Cantina is the food headliner. There's also a Denny's, another Mexican restaurant called "La Salsa Fresh Mexican Grille," the oddly-named "Miss Ashley's Boarding House Buffet," and both a Panda Express and a Haagen-Dazs.
On the entertainment side, Buffalo Bill's is home to a 6,500 seat arena. To put that in perspective, the population of Primm is around 1,000 residents. The Star of the Desert Arena attracts fairly big names, like Brooks & Dunn and Dolly Parton and those types of acts.
For the thrill-seeker, Buffalo Bill's offers a couple of theme-park type rides. The Adventure Canyon Log Flume resembles "Splash Mountain" at Disneyland. The $8 ride has a sharp plunge and floating boat ride.
The biggie is the enormous, highly-regarded roller coaster visible from all parts of town. Called the "Desperado," the yellow roller coaster just looks scary. At least it did from the safe vantage point of my hotel room window. (I tried to convince my wife that the steep, high arching tracks were part of the monorail).
The Desperado has a 60 degree, 225 foot drop, and parts of the ride go through the actual casino. When opened in 1994, shortly after the casino opened, the roller coaster was listed by the Guinness Book of World Records as the steepest, tallest coaster on the planet. It has since been surpassed in those categories, yet it's still a frightening and exhilarating ride.
A free tram runs from Buffalo Bill's to Primm Valley Hotel and Casino. From there, you can also get off then take another, different free tram on across I-15 to Whiskey Pete's.
In conclusion, Primm, Nevada is a quiet, laid-back town, but the kind of place you stop just to get your gambling fix. Although there is shopping and thrill rides and gambling, the lure of Las Vegas just 42 miles to the East is just too tempting for me to spend a night or two in Primm.