Mesquite Nevada Casinos List
By Steve Beauregard
This fun desert town was previously known as a place you stop to refill gas before getting to Las Vegas, (which is a long hour away).
Yet in recent years, Mesquite has become a gambling destination town in its own right. People like me enjoy the more laid back atmosphere of Mesquite, and it's a nice change from the go, go, go 24 hour a day party atmosphere of Las Vegas. Plus, it's a whole heck of a lot cheaper than gambling and eating in Sin City, and much easier to get around.
There are four casinos in town. There used to be five, but one of the oldest and largest of the bunch, the Oasis Hotel and Casino, straddling Interstate 15, closed due to slow economic conditions. It was torn down in May of 2013.
So here's the Mesquite Nevada Casinos List:
Casablanca Hotel and Casino
Phone: (877) 438-2929
Virgin River Hotel and Casino
Phone: (877) 438-2929
Stateline Casino (No website. They have a phone number but there's no reason you should call).
Eureka Casino Resort
(702) 346-4600
The hotels themselves are small by Vegas standards, the Casa Blanca has 472 rooms, the Virgin River has 717 rooms and Eureka has 214 rooms.
For those of you who've never been there, or who are among the many who just quickly stop there to refuel on their way to Las Vegas, Mesquite, Nevada is a fun little friendly resort town of about 15,000 people, just to the west of the Nevada and Arizona state line.
Because it is the first chance for people to gamble in Nevada, it gets a lot of stopover traffic from folks heading to Las Vegas from places like Denver, Grand Junction, Salt Lake City and other towns further east. People who have been stuck in a car through Utah for hours on end and who are dying to satisfy their gambling fix. (I once was on a bachelor party when we stopped in Mesquite on our way to Sin City. One of the guys lost all his money in the Casa Blanca and was broke the rest of the weekend.)
Here's a little more details on the casinos in Mesquite.
Casablanca Hotel and Casino
The CasaBlanca in Mesquite NV is the grand daddy of all the area's casinos, and the place I always stay when in town.
They offer low limit table games, a decent restaurant, and a wonderful swimming pool, complete with waterfall. (This pool thing wasn't a consideration until I had kids.) Between the spa, the golfing, and Katherine's, which is the fancy restaurant there, a weekend at the Casa Blanca is a wonderful way to refresh and recharge before going back to your crummy job.
The Virgin River Hotel/Casino/Bingo Hall
The Virgin River opened in 1990, but feels much older. There's not much to say about it, other than it offers cheap rooms and packages. You can see multitudes of billboards along Interstate 15 promoting their room and breakfast special for something like $29.99.
There's a sports book, bingo hall, Keno, all the usual games. More importantly, a hot dog stand that sells tasty hot dogs for $.75 each. The Virgin River does not have a poker room. What it does have is Sierra's Buffet, with a reasonable $12 fee for dinner (more on weekends when they bring out the crab), and the River Cafe. My wife and I had the prime rib special here, and it was incredible, especially considering the very cheap price ($5.99 I believe).
Eureka Casino Resort
The very first casino you see when arriving from the east, this is by far the newest of the hotels and casinos in Mesquite. It even looks and smells a world different than the Virgin River across the street. With Randy Black's tripe empire of the Casa Blanca, the Oasis, and the Virgin River, the Eureka was the only independent casino in town.
The casino is clean, and pretty large with over 1,000 slot machines/video poker machines. There's a 200 seat bingo parlor and the usual craps, blackjack and roulette games. In addition, they have a little, cozy sports book and a fun and friendly poker room.
The cashiers and dealers in the Eureka poker room have always been kind and attentive – like they actually enjoy people – which is a rarity in Las Vegas poker rooms sometimes.
The players here are friendly too (minus the occasional Saturday night drunk of course). Tables in the morning are occupied almost exclusively by local retirees – all of whom know each other and the dealers by name. Sitting down in the limit hold'em game at the Eureka Casino at 9:30 a.m. on a Tuesday morning is basically crashing a senior citizen's home game.
My experience has been that the poker room runs $1/2 no limit hold'em, as well as $3/$6 limit hold'em. Their website boasts about spreading stud and Omaha, but I've never seen it there in the four visits I've made.
They also offer low buy-in poker tournaments, and by "low buy-in" I mean maybe the cheapest poker tournament in the country. The Friday morning tournament has a buy-in of just $15. Try finding that at the Bellagio.
The hotel and resort has a buffet on weekends, a coffee-shop type of restaurant, and the requisite, wanna-be upscale steakhouse.
Stateline Casino
As I wrote earlier, this place doesn't have a website..if that tells you anything. They just have a few slot machines, a bar and a restaurant serving cheap eats. I don't know this for a fact, but I assume it's just place where locals go get their cheap drink on after work. In other words, it's not a destination resort.
Closed Casinos
There are also two now-closed casinos in Mesquite that are no longer in business, but are still part of Mesquite lore: the Oasis Hotel and Casino and the Mesquite Star.
The Oasis was once the Peppermill, and the original of the big casinos in Mesquite. It once boasted a poker room, a well-attended poker tournament (The Oasis Open), a popular buffet, ice cream stand and family-friendly attractions, like a miniature golf course and go-kart rides.
The resort closed its doors in December of 2008, after the ownership Black Gaming (named after Randy Black – he of those numerous TV commercials), suffered some financial difficulties with a drop in visitors to Mesquite. As mentioned above, the resort was sadly (to me at least) demolished in May of 2013.
The Mesquite Star was a casino/hotel, but which has now been converted into the Rising Star Sports Ranch Resort. It caters to young athletes attending sports camps, and thus it is a non-gaming facility.
Mesquite Nevada Entertainment
The Eureka has the Seasons Lounge, where (according to the Eureka's website): "We work hard to not be 'just another casino lounge.'" However it's just another casino lounge. Live singers, as opposed to dead singers, grace the stage Thursday – Saturday from 8:30 to 2 a.m.
The Virgin River Casino has country music bands performing at the River Lounge, every Tuesday through Sunday night. There's no cover charge or anything. The resort also has a bowling alley and an arcade full of video games.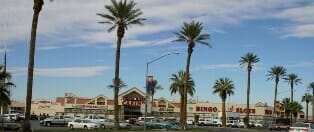 Casablanca has a sort of jungle-themed stage and dance floor set-up called the Skydome Lounge. They play loud, party music on weekend nights, and it's always a good time. Maybe it's the bands they select, or maybe it's because your drinking and not at work.
Once a month, and twice in August, the resort hosts "Casapalooza" which is a series of concerts in the pool area.
In their large showroom, the Casablanca has featured either free comedy shows on Friday and Saturday nights, or free music acts. The comedy shows have always been great, and you cannot complain about the price. On the music side, the acts are typically a tribute, or cover band. Occasionally the showroom will host a big-name act, and by "big-name" I mean someone who had a hit or two on the top of the charts ten to 30 years ago.
Conclusions
Overall, Mesquite is a nice reprieve from the hustle and bustle (and more expensive) Las Vegas down the road. In fact, it's only 86 miles from Mesquite, Nevada to Las Vegas. The road is long and mostly flat and takes a little over an hour, but seems much longer. (That's because you're always so anxious to get to Vegas.)
A lot of race fans stay here in late February and mid-September, when the Las Vegas Motor Speedway hosts their NASCAR races. It's just 67 miles from Mesquite to the race track.
On the way, you can stop and get another little gambling fix at the Indian dive restaurant/casino/gas station/fireworks stand about halfway between Mesquite and Las Vegas.
Being on a reservation, they're allowed to sell about any type of fireworks made, meaning many tourists from Colorado (not me), stop and buy the really cool explosive fireworks that you cannot purchase in Colorado (but again, not me. I wouldn't do that officer).
Going east, Mesquite is roughly twenty miles from the Utah border, when traveling on I-15. St. George, Utah to Mesquite, Nevada is just 38 miles, or about a 41 minute drive (according to Google maps). And yes, I know you can usually drive more than 38 miles in Utah and Arizona in 41 minutes, however in this case you're going down the very curvy Virgin River Canyon.