By Steve Beauregard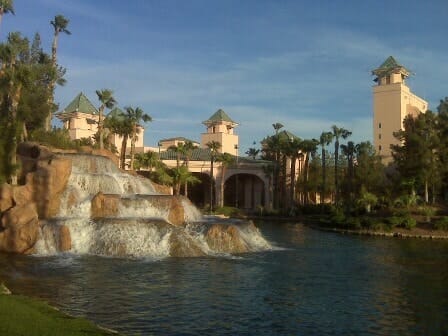 The Casa Blanca Hotel and Casino in Mesquite, Nevada is one of my favorite places to visit. Just about 80 miles east of Las Vegas, it's nearly the opposite of the typical Las Vegas casino environment. By that I mean, the dealers are friendly, limits are low, it's laid-back, comfortable, relaxing, and best of all: unlike say, the MGM Grand, you won't have to walk 1/2 mile to go to the bathroom or get back to your room.
It's officially called the "Casa Blanca Resort, Casino, Golf and Spa." They could also throw "RV Park" in there too, as they have a 45 site park behind the casino, complete with water, sewer, and electrical hook-ups. My parents have stayed in the park and found it reasonable and maybe quieter than you'd expect from a place adjoining a casino. Many other RV'ers just park in the expansive Casa Blanca Casino parking lot (the resort sits on 43 acres).
Inside, the hotel itself has 450 rooms. And while I've sometimes found some hints of dating, like worn bathroom wallpaper starting to tear, I've always found the rooms to always be clean and comfortable during my many, many stays there. (I'm guessing I've stayed at the Casa Blanca at least 20 different times.)
The rooms are what you'd expect from a relatively inexpensive casino hotel, (they offer rates in the $40 a night range on weekdays). It seems that nearly all rooms offer at least some sort of view. On the entrance side you can look out and see the large waterfall, pond, and palm trees, while the other side boasts pretty views of the resort's well-kept and plush pool area.
(Go here for the full: Mesquite Nevada Casinos List)
Speaking of which, the Casa Blanca has a terrific swimming pool that is perfect for either beating those long cold streaks at the craps table, or beating those unbearable 114 degree days. And no, I'm not exaggerating about the heat. One trip, our rental car outside temperature gauge read 114 degrees. The hottest temperature ever recorded in Mesquite, Nevada was when the thermometer hit 119 degrees on July day in 1998.