The least populous city in Colorado is the most exciting.
According to the United States Census, Black Hawk, Colorado has just 118 residents, but millions of non-residents annually flock to this historic old mining town in an attempt to strike it rich, not in the dirty mines, but rather, in the somewhat clean casinos.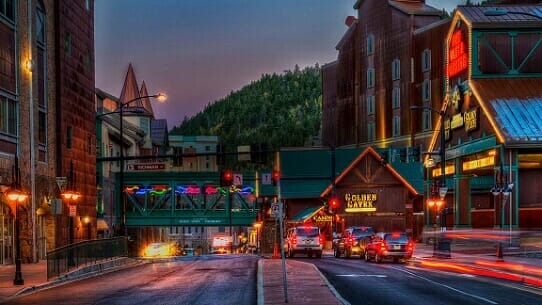 At an elevation of 8,042 square feet, the central Colorado mountain town of Black Hawk is a thriving casino market with 15 licensed casinos. On busy weekends, the town bursts with up to 20,000 visitors!
These are all fun, low-limit places and all within walking distance from each other. Limits here are $100 maximum, and alcohol is served to players. You'll find everything from penny slots to video poker to roulette, blackjack, and live dice craps. There's even now legal sportsbetting in Colorado, with many Black Hawk casinos now boasting sportsbooks. There aren't keno or bingo games, nor is there baccarat, however there are live poker games. And in a change from recent years, casinos are open 24 hours a day.
Casinos here in this small mountain town are also constantly expanding, and are busier than ever, with gaming revenue increasing yearly at a healthy clip.
Casinos in Black Hawk range from tiny, little joints with character, to Las Vegas-style, newly-built resorts, complete with towering hotels.
Big Money
Yet while Black Hawk may be relatively small, the town's 15 casinos combine to bring in big money. According to the Colorado Gaming Commission, Black Hawk casinos generate over 1/2 of a billion dollars in gaming revenue per year.
While Colorado has legalized gaming in two other towns, (there are casinos in Central City and Cripple Creek), along with two smaller remote Indian casinos in southern part of the state, Black Hawk is clearly the gaming capital of Colorado, with the town accounting for just over 72% of all of the state's gaming revenue.
According to gaming figures from the state of Colorado, Black Hawk has 6,763 slot machines, video poker machines, and other electronic games, along with 184 table games.
Of these 184 table games, there are 80 blackjack tables, 14 craps tables, 16 roulette wheels, and 74 of what they call "poker tables" in town. However the gaming commission counts the 3-card poker and other carnival games as "poker tables." In other words, there aren't 73 Texas Hold'em poker room tables operating.
There are, however, several casinos with live Texas Hold'em games running.
Black Hawk Casinos
Here's a list of 15 casinos in the town of Black Hawk:
Ameristar Casino Resort Spa Black Hawk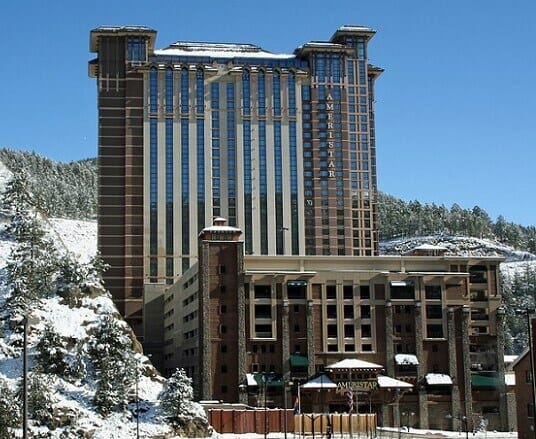 The most "Vegasy" casino in Black Hawk, The Ameristar Casino Resort Spa Black Hawk has 1,250 slots, 40 table games, and a 22 table poker room.
Set up on the hill overlooking the town (but still within easy walking distance), The Ameristar has 536 hotel room, a spa, and rooftop pool.
Downstairs you'll find Ameristar's popular Centennial Buffet along with a Starbucks and three other restaurants.
The casino's centerpiece bar, (called "Bar 8042" after the towns elevation above sea level), often has live music.
11 Richman Street, Black Hawk, CO. 80422
Phone: (720) 946-4000
Website: BlackHawkAmeristar.com
Bull Durham Saloon & Casino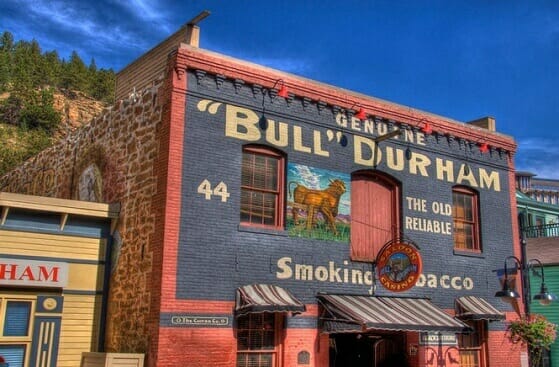 In contrast to the massive, corporate, newer Las Vegas-style Ameristar, Bull Durham Casino is small, cozy, independently owned casino with character and a past.
As one the numerous Black Hawk/Central City casinos occupying one of the old buildings from the city's mining days, Bull Durham's building used to be a blacksmith shop. It's also one of the longest running casinos in town, having originally opened in February of 1993.
The two story building is packed tightly with slot machines and video poker machines. There are just under 200 of these games, and zero table games. As a nice perk, Bull Durham gives out free hot dogs and "sweet treats" to their player's card members who are actively playing.
Alternatively, you can also buy what they call, "The Best Hot Dog in Black Hawk" for just $1.50.
110 Main Street
Black Hawk, CO. 80427
Phone: (303) 582-0810
The Gilpin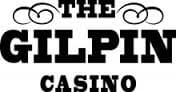 111 Main Street
PO Box 50
Black Hawk, CO 80422
(303) 582-1133
Another two story brick casino in the heart of town, the Gilpin has mostly slots – several of which are progressive games. They also have video poker and a few table games (with low minimums). They serve free drinks to players.
The Gilpin's Lucille Malone's restaurant is open from breakfast to dinner, serving mostly American fare (chicken pot pie, chicken fried steak and the like) at very affordable prices. They also have an all-day breakfast menu.
While the Gilpin Casino does not have a hotel, it's sister property across the street, The Lodge Casino, does have lodging.
Golden Gates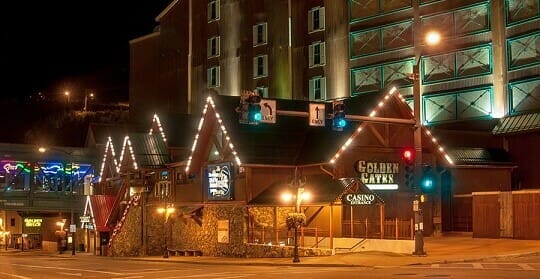 Golden Gates has slots and video poker machines of course, (650 between them), along with 39 table games (including craps), however the casino mostly known for its impressive poker room.
The 17 table poker room is modern, nice and well-run, in my experience. They spread games other than just Texas Hold'em, and have three poker tournaments every day.
As a twice-a-year stop on the Heartland Poker Tour, they are known for having the biggest turnout and prize pool of all of the poker tournaments on the nationally televised HPT.
As one of the smaller casinos, Golden Gates doesn't have much in they way of dinning or entertainment, other than the Gold Bar for drinks, and the Full House Cafe for a modest selection of fast-casual menu items.
300 Main Street, Black Hawk, CO. 80422
(303) 582-5600
Website: GoldenMardiGras.com
Golden Gulch
Located in an old separate building steps away from its sister properties, Mardi Gras and Golden Gates, the Golden Gulch is a smaller, slots-only joint. However those slots are all coin-in slot machines and video poker machines. These are perfect if you're like me and miss the sound of coins hitting the metal tray on the bottom.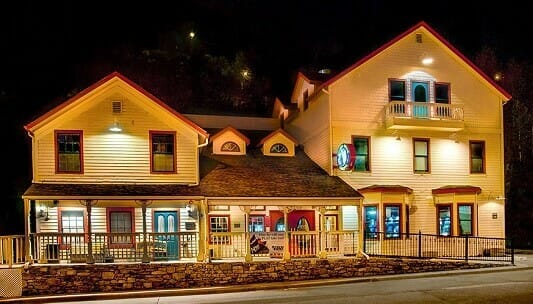 There is not a restaurant here, however there is the Golden Gulch Bar for drinks.
321 Main Street Black Hawk, CO. 80422
Phone: (303) 582-5600
Isle Casino and Hotel
There aren't a lot of hotel rooms in Black Hawk, however this island-themed casino and hotel has 240 rooms. All were renovated in 2019 as part of a $35 million hotel/casino refresh.
Downstairs on the casino floor are 1,000 electronic games and 38 table games, including 3 roulette wheels and 3 craps tables.

There's blackjack of course (double deck) along with a BJ variant called Buffalo Blackjack. Other table games include a Three Card Poker progressive game, Mississippi Stud, and High Card Flush. There is also baccarat, albeit the electronic version, and not the live game.
There is a very nice ten table poker room that offers plenty of promotions, including free lodging (during weekdays) with enough hours earned.
In addition to their popular Farmer's Pick Buffet, the Isle has the new Roxy's Restaurant & Bar, a bakery, and the fast-casual Dash Cafe.
The Isle Casino Hotel Black Hawk is connected via an enclosed pedestrian sky bridge to its sister casino across the street, the Lady Luck.
401 Main Street, Black Hawk, CO. 80422
Phone 1-800-THE-ISLE
Website: IsleBlackHawk.com
Lady Luck
For being one of the new-from-the-ground casinos, the Lady Luck is a no-thrills, low rollers casino, with low craps and blackjack minimums during weekdays. As a sister property to the Isle of Capri, it is connected to the Isle via a climate controlled pedestrian skyway.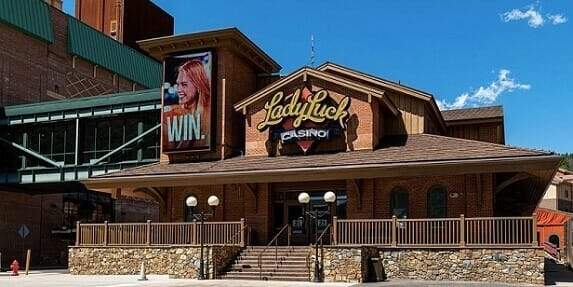 The casino has more than 400 slots and video poker machines, and eleven table games. These include regular blackjack, Buffalo Blackjack, craps and roulette. Both the craps and blackjack games have $5 minimums, and the craps game offers 10x odds.
Lastly, the Lady Luck has one restaurant. It's called Otis & Henry's and is located upstairs. The affordable place features an all-day breakfast menu, along with a variety of American favorites.
340 Main Street
Black Hawk, CO. 80422
1-888-Lady-Luck
Website: LadyLuckBlackHawk.com
The Lodge Casino
Located right in the heart of Black Hack, the Lodge has gaming on two levels, and is one of only a handful of Black Hawk casinos to have a hotel attached. It has fifty contemporary rooms. Everyone staying in the room must be 21 years or older.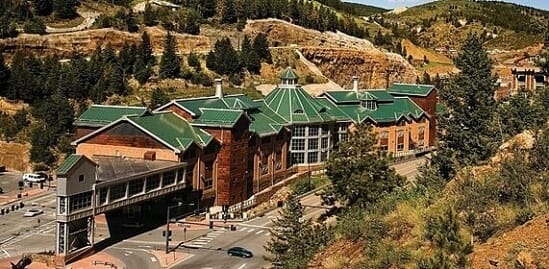 The Lodge has slots and video poker tables on both of the casino levels, including popular ones like Pink Panther, Wild Panda, Pompeii, Blazing Inferno games and the like. They even have a Fortune Cup Derby. For those unfamiliar, it's the little horse racing game in which you pick a horse and watch the little figures run around the track. It's fun and addicting.
Table games include craps, blackjack, roulette, and some carnival-type games with progressive jackpots on side bets. These include Texas Hold'em Bonus, Pai Gow Major, Pai Gow Minor, and Three Card Poker. The craps game offers 100x odds. There is no longer a poker room here.
Restaurants include the popular Season's Buffet, the White Buffalo Grille, Jakes (fast casual), and a Cinnabon. There is parking here, but not of the self-parking variety. Rather, it's all valet parking.
240 Main Street
Black Hawk, CO 80422
Phone: (303) 582-1771
Website: TheLodgeCasino.com
Mardi Gras
Owned by the same group that owns Golden Gulch and Golden Gates, the Mardi Gras Casino is by far the largest of the group, with 650 slots and video poker machines. The Golden Jackpot Room is the high limit area, with $25 slots.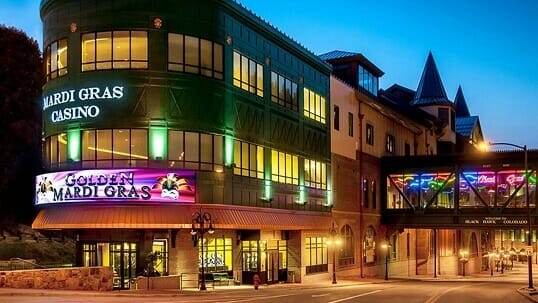 The Mardi Gras spreads 39 table games, with all of the favorites like blackjack, roulette and craps. There is not a poker room here, however there is one across the enclosed pedestrian skyway over at the Golden Gates Casino.
The buffet here has closed, however there are a couple of dining options, including the Bourbon Street Cafe.
300 Main Street
Black Hawk, CO. 80422
Phone: (303) 582-5600
Website: GoldenMardiGras.com
Monarch Casino Resort & Spa
Formerly the Riviera, the Monarch has remodeled and expanded its spacious two story casino.
Opened in the fall of 2020, the Monarch boasts a new 23 story hotel tower (with over 500 rooms), and parking garage with room for 1,500 vehicles.
The $400 million dollar project doubled the casino size to 60,000 square feet, while adding a beautiful looking spa, pool, and more restaurants.
You'll now find 1,250 slot machines here, along with 40 table games, including blackjack, roulette, Three Card Poker, and Pai Gow Poker. The craps games offer the sharpshooter side bet. A spacious full-service sportsbook and poker room are part of the post-Covid plans as well.
Dining options include The Monarch Chophouse steakhouse, "The Buffet" and Twenty Four 7.
88 Main Street
Black Hawk, Colorado 80422
Phone: (303) 582-1000
Website: MonarchBlackHawk.com
Red Dolly Casino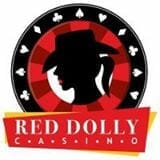 The oldest casino in Black Hawk, the Red Dolly is a very small casino located on the road between Black Hawk and Central City. There are 131 different slot machines/video poker machines here. They don't offer table games.
It has the rare heated smoking area, for you smokers out there, and the Red Dolly restaurant is known for it's very affordable meals, including a cheap prime rib special that remains at $6.99 as of the time of this writing.
The casino opens up at 8 AM daily.
530 Gregory Street
Black Hawk, Colorado 80422
Phone: (303) 582-1100
Saratoga Casino Black Hawk
Formerly Fitzgeralds, The Saratoga Casino has almost 500 slot machines/video poker machines, including video keno games. Limits run from a penny a pull to $25.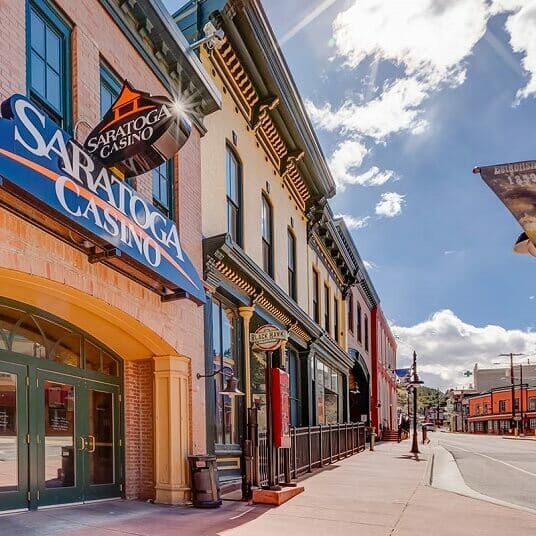 As for table games, the pit here opens at 11 AM daily. Games include roulette, craps (with the sharpshooter side bet), blackjack, several different blackjack variants (including Streak), and a few carnival games like Three Card Poker. They advertise $5 minimums every day on these table games, but state that limits can change if the casino gets real busy.
Dining options here include the Mill City Chophouse and the Main Street Cafe. In addition, there are three bars, including one outside on a patio.
101 Main Street
Black Hawk, CO 80422
Phone: (303) 582-6100
Sasquatch Casino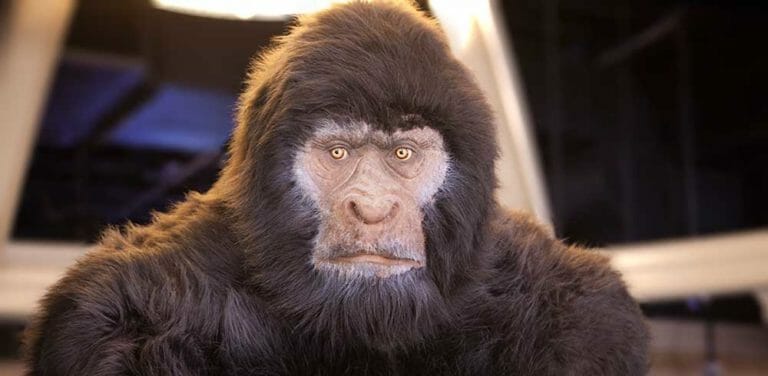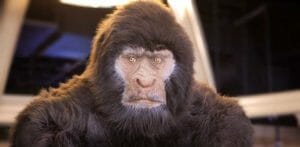 This charming two story casino with the Sasquatch theme is locally owned, and has two floors of gaming space. Totaling over 6,000 square feet of gaming floor space, the casino has 145 slot machines and video poker machines. There aren't any table games.
Located directly across from the Saratoga Casino, the Sasquatch Casino has, hands down, the best dinning values in Black Hawk. Harry's Grill & Pizza, serves all-day breakfast, and has a .99 cent pizza slices. The steakhouse, meanwhile has a $6.99 prime rib special.
There's also a video arcade area for the kids here, with 15 different games.
Fitting of its name, this fun and quirky joint has an enormous sasquatch in the center of it, where you can rub Sasquatch's butt for good luck.
The Sasquatch Casino is open from 8 AM to 2 AM, seven days a week.
125 Gregory St.
Black Hawk, CO. 80422
Phone: (720) 880-1616
Wild Card Saloon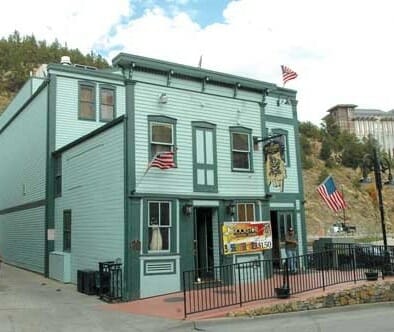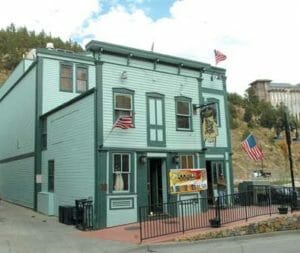 The Wild Card Saloon & Casino sits next to the Bull Durham, and like its neighbor, is a small, slots-only, family-owned joint that looks like something straight out of the old west. It claims to be the oldest casino in Black Hawk, as does the Red Dolly Casino.
This three story building has a bar, a little store and deli in the back, and just slot machines. A small meal selection of the day is available at the casino's third-floor balcony.
The casino opens at 8 AM every day, closing at 2 AM on most weekdays, and at 4 AM Thursday – Sunday.
120 Main Street
Black Hawk, CO. 80442
Phone: (303) 582-3412
Z Casino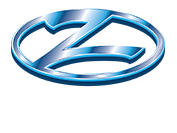 Formerly known as Bullwhackers, the Z Casino is a three level brick casino that has been remodeled inside to look similar to the casinos you'd find in Las Vegas.
You'll find just over 400 slots/video machines here, along with video blackjack and roulette machines, and bubble craps.
There is also a small selection of table games (live roulette, blackjack and Three card poker), with $5 limits. The table games are only open from Thursday to Sunday, and on holidays.
Dining options are the Mustang Grill, with a popular cheap prime rib special (still $7.77 at the time of this writing). The fast casual Z Cafe, has sandwiches, pizza, ice cream and Starbucks.
101 Gregory Street
Black Hawk, CO. 80422
Phone: (303) 271-2500
Black Hawk Casinos That Have Closed
Canyon Casino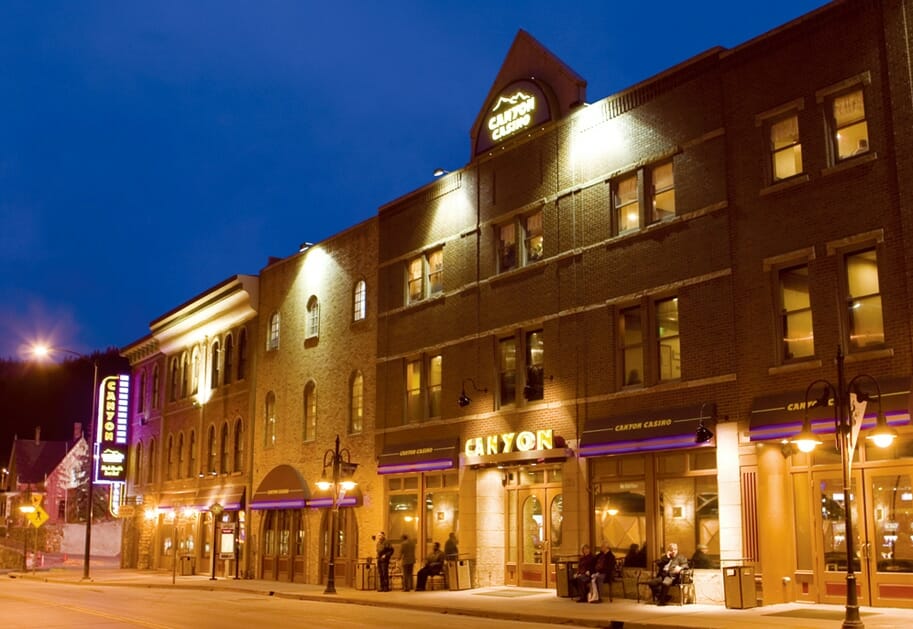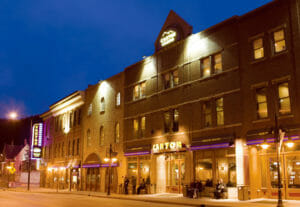 The brick Canyon Casino in the middle of town had 400 slot machines, 5 table games, and was home to the Canyon Grille.
It closed in late April 2017.
Black Hawk Station Casino
Formerly a separate casino, Black Hawk Station is not really closed, as this casino that was attached to the Sasquatch, merged with the Sasquatch Casino in 2016.
What is the biggest casino in Blackhawk?
It's the Ameristar, (formerly known as the Mountain High Casino), which has 1,250 slot machines, and 40 table games, including 19 black jack tables, 3 craps tables, and 3 roulette wheels. Plus there are 22 tables in the Ameristar's poker room. Overall, this casino/hotel is one of two (the other being the new Monarch), as two casinos that somewhat resemble a traditional, Vegas-style casino.
The Ameristar has a large circle bar with fireplaces, several restaurants, (including an always busy buffet), and a newer and pricey 536 room hotel. The Ameristar has live entertainment and a spa.
The second largest casino, (in terms of the number of slot machines) is the Monarch, followed by the Isle, which is spacious, clean, and brings folks in by way of a wonderful all-you-can-eat crab buffet.
The next largest casino in town is The Lodge, followed by the Mardi Gras, and Lady Luck.
If the prices at the Ameristar (often pushing the $300 a night range on weekends), scares you away, try staying at either the Isle or the Lady Luck. These two casinos are joined by a skybridge, and are owned jointly.
Talking a nice walk up and down Black Hawk, you'll see some of these great food deals that you used to find in Las Vegas. Also, by walking up and down the streets of Black Hawk, you'll be able to take him some of the history, from this former bustling mining town, as informational signs describing the town's glory days are planted throughout the town.
Lastly, those of you who tire of the walk, can take a free shuttle that runs twice every 15 minutes, up and down Black Hawk. There's also a shuttle that takes visitors up the hill a bit (only a mile, but it's a long one uphill) to Central City.
History of Legalized Gambling in Black Hawk
In November of 1990, Coloradoans approved a ballot measure that legalized limited, small stakes gambling in the small mountain towns of Black Hawk and Central City (which are basically next to each other – about a mile apart), and Cripple Creek, Colorado, which is in the hills above Colorado Springs near Pike's Peak.
(Go here to get the Distance and driving instructions from Denver to Black Hawk).
On October 1, 1990, Colorado's first legalized casinos opened with limited stakes, meaning the maximum bet was $5. Casinos were only allowed to operate slot machines, video poker machines, live poker games (again with a $5 maximum bet or raise), and various other card games, such as blackjack, three-card poker, etc. There were no roulette or craps games.
For some reason however, the Colorado gaming commission allowed poker tournament buy-ins that exceeded the $5 maximum. There were several poker tournaments, including a stop of the popular Heartland Poker Tour, in which the entry fee ran into the hundreds, or even the thousand dollar plus range.
Another quirk that many visitors to Las Vegas noticed when visiting Black Hawk was that the casinos actually closed! Colorado law stated that casinos had to be closed from 2 a.m. to 8 a.m. I know, it's hard to picture being at say, Caesars Palace in Las Vegas, and having the loudspeaker announce that Caesars was closing and that everyone needed to leave.
One fun feature of the "casinos close at 2 a.m." rule was strange nightly ritual at the poker table. Because the last hand of the night was usually dealt at 1:45 a.m., everyone who still wanted their poker fix (along with those who were down for the night hoping to catch up), would play the final hand – almost regardless of their cards. This, as you might imagine, led to some enormous pots in Blackhawk poker rooms.
In November of 2008, Coloradoans, by a 58% to 41% margin, approved an statewide ballot initiative called Amendment 50. While not raising the betting minimums to $100 max, it allowed the towns of Black Hawk, Central City, and Cripple Creek to decide if they wanted to both raise the limits, and introduce other casino games. All three towns doing so was just a formality and Coloradoans were allowed to bet up to a c-note beginning on a busy day on July 1, 2009.
With the new law, the casinos were also allowed to stay open 24 hours a day. One hold over from the old "casinos close at 2 a.m. days" is the fact that Colorado state law still prohibits the serving of alcohol after 2 a.m.
So now the limits are $100, and these apply to all games, such as blackjack, craps, slot machines, roulette, and poker cash games. There are, however, still poker tournaments in which the entry fee far exceeds $100.
There are now thirty-six casinos in Colorado.
Overall, Black Hawk, Colorado is a fun little gaming town that's a nice diversion when you're in or around the Denver area.
(By Steve Beauregard. Photos courtesy of the respective casinos, except for the Ameristar, which comes courtesy of Jeffrey Beall via Flickr)