Cripple Creek, Colorado Casinos – Map & List
The pretty, quaint little town of Cripple Creek, Colorado is the state's second largest gambling destination, having nine casinos within the town limits.
One of only three towns in Colorado allowed to have casino gambling, there are technically 12 different licensed casinos in Cripple Creek, however six of these 12 are located inside two bigger casino buildings.
Either way, all but one of the nine casinos are located on Cripple Creek's scenic main street, Bennett Avenue.
They all offer the usual assortment of slot machines, and video poker. Most also spread blackjack, roulette and craps games. The town's casinos generate over $130 million in revenue per year.
Cripple Creek, Colorado Casino Gambling
All total, there are 16 poker tables in town, 3 craps tables, 30 blackjack tables, six roulette wheels, and 3,510 slot machines/video poker machines in Cripple Creek, per the latest figures available from the Colorado Division of Gaming.
Like its gambling-town cousins to the North, Central City and Blackhawk, these casinos are smoke-free and there are no maximum betting limits. You do have to be 21 years or older to play here.
Here's a map and list of nine casinos located in the town of Cripple Creek. Each colored star represents one of the nine casinos:
Bronco Billy's Casino
Actually there are three attached Billy's casinos – all fronted with distinguishable blue awnings: Bronco Billy's, Billy's Casino and Christmas Casino. Owners appear to be rebranding these three casinos as just one: Bronco Billy's Casino. All three are under the same roof.
And that roof is expanding, as the new Chamonix Casino Hotel is currently under construction next door. (More on that below).
Bronco Billy's opened in 1991. It occupies a historic, 1905-built building, and still has the good-old fashioned slot machines where you can put coins in and still get the awesome sound of clanking coins dropping when you win.
Between the three attached casinos, you'll find 830 slot machines, including those massive tall (over 10 feet tall) Emperor's Coins video slot machines. There are also 100 video poker games.
The selection of 13 table games include roulette, craps (with 10x odds and small/tall/all side bet), Double Deck Pitch Blackjack, 3-card Poker, and Cajun Stud. Recently, they advertised $5 table game limits for Thursday afternoons.
Bronco Billy's Casino now has stadium gaming. For those unfamiliar with it, these are electronic table games, but with a live dealer. Stadium Gaming choices are blackjack, craps, roulette, and the dreaded "Big 6" wheel. (I say "dreaded" because of this game's very poor odds).
The modest Twin Spires Sportsbook here has a couple of live betting windows, along with 10 betting kiosks.
Bronco Billy's has a typically, American style restaurant simply called the "Home Cafe." They offer an affordable all-day breakfast, along with burgers, sandwiches, a rib eye, fried chicken and other comfort food traditions.
On the more upscale side, there's "The Steakhouse," which also serves a Sunday brunch.
233 E. Bennett Ave
Cripple Creek CO
(719) 689-2142
Website: BroncoBillysCasino.com
Christmas Casino at Bronco Billy's
Previously Buffalo's Casino, this has Christmas décor, go figure, with a 15 foot tall Christmas tree and other holiday decorations. Christmas music is played year round here. The small casino-within-a-casino has 121 slots, and Rudy's Diner.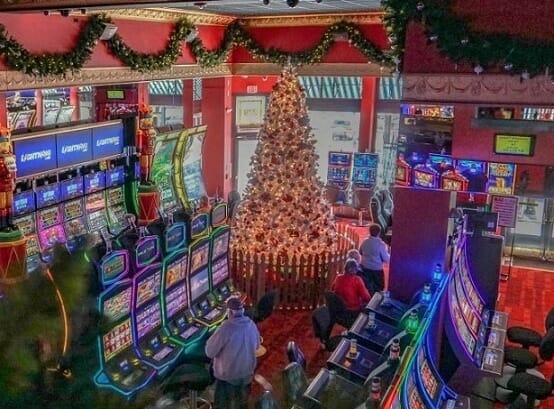 (Go here for the distance and directions from Colorado Springs to Cripple Creek.)
The new Billy kid on the block, Billy's, opened in 2008. It's home to 265 slots, and Baja Billy's Cantina Mexican restaurant.
Brass Ass
Without a doubt, the best name of a casino joint in the world.
The Brass Ass is the oldest casino in Cripple Creek (according to their website). They even have a brass donkey inside that people rub (or kiss) for good luck. (It helped me!).
Two hundred and thirty-two slot machines cover the main floor, while upstairs offers live table games, including blackjack, craps, roulette and now, baccarat.
Blackjack is offered 24 hours a day (per their website), while other table games have more limited days and hours. Table limits for all games are: $10 minimums, with $500 maximums.
In addition to the live action, there are electronic versions of blackjack, craps, roulette and baccarat upstairs as well, with limits of just a buck.
The only dining option at the Brass Ass is a fast-casual stand called the, Miner's Pick. This stand on the lower level has your basic soups and sandwiches, pizza, salad and the like. It's open 24 hours a day.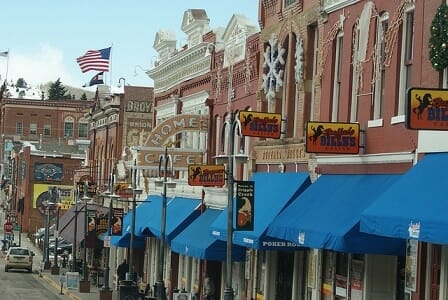 The Brass Ass is connected to the Midnight Rose Casino, which (along with McGill's Hotel & Casino), are all part of the "Triple Crown" casino group. Their player's card, called the "Triple Play" is good at all three casinos.
264 E Bennett Ave.
Cripple Creek, CO 80813
(719) 689-2104
Website: TripleCrownCasinos.com/BrassAss
Century Casino Cripple Creek
Yellow awnings front this classic casino on the main drag. While some hotels in Cripple Creek aren't the most attractive, Century Casino Cripple Creek's twenty-one hotel rooms are updated and contemporary. The property is the little brother to Century Casino in Central City.
The third biggest casino in Cripple Creek (by slot count), the casino is home to 419 slots and video poker machines. These include the classics, like Triple Star, along with and popular ones like Emerald Eyes, Dragon Link, Caribbean Gold, Dancing Drums, Monte Carlo Spin and Win, and the like.
Table games include blackjack, and a blackjack variant called Buffalo Blackjack Bonus. This is a game in which you're given the option to place side bets as to whether or not the dealer will busts. You're paid more handsomely if the dealer makes a certain hand. For example, if the dealer busts with three 8's, you'd win 25 to 1 on your bonus bet. Like all other of the side action bets, this bet has an enormous house edge.
Their Wild Card Six Draw Poker is a game against the house involving 52 cards plus 2 joker cards. Electronic roulette is available as well. The casino here is open 24 hours a day (but not the table games).
The "Mezz Bar" has video poker machines, and is one of two bars here.
On the eating front, Century City is home to the Mid-City Grill, which is open for breakfast, lunch and dinner. Dinner options range from salmon to Rib-eye steaks to Pot Roast to Chicken Parmesan. I bet you've never had a hamburger like their "Mountain Man" burger, which is made with elk, bison, antelope, boar and venison.
They also have a small conference room.
200 E. Bennett Avenue
Cripple Creek, CO. 80813
(719) 689-0333
Website: Cnty.com/CrippleCreek
Colorado Grande Casino and Hotel
Another brick beauty of an old time casino, the Colorado Grande sits at the corner of 3rd Street and Bennet. It boasts just seven hotel rooms on top, but those have character. In fact, several websites claim the hotel is "haunted" by the casino restaurant's namesake, a red-headed Irish woman named "Maggie."
Either way, downstairs from the hotel rooms, the Colorado Grande boasts 218 slot machines, including Pyramid Pretty Penny, Wild Break Pigtastic, Prize Pool Fierce Dragon, and Jolly 8's, among others.
There aren't table games here, but Colorado Grande is partners with the Sports Illustrated sports betting app, so a sports book or at least kiosks may be in the works.
Maggie's Restaurant is the casino's sit down restaurant. Jack's at the Grande, is the casino/hotel's coffee bar, with sandwiches, smoothies and the like.
300 E. Bennet Avenue
Cripple Creek, CO. 80813
(719) 689-3517
Website: ColoradoGrande.com
Double Eagle Hotel and Casino
Opened in 1996, the Double Eagle is situated on the far eastern end of Bennett Street. It's a large, long 4 story building that's more of a newer casino than a remodeled historic building you usually associate with Cripple Creek.
The hotel boasts 158 rooms. We stayed there and found the rooms to be clean and affordable. On the lower level, Lombard's restaurant serves breakfast, lunch and dinner, with your basic casino cafe menu. Friday's however, are home to a Fish fry, while Saturday's menu has a prime rib special.
The two-level casino is spacious, but is lacking in character. If that matters to you at all. There are 462 slots here, however it appears the table game are no more.
442 E Bennett Avenue
Cripple Creek, CO 80813
(719) 689-5000

Website: Decasino.com
Previously next door to the Double Eagle was the Gold Creek Casino, which was part of, and owned by the same folks who own the Double Eagle. The Gold Creek previously had a seemingly popular six table poker room, however it has since closed.
Johnny Nolon's Saloon & Gambling Emporium
This is what Cripple Creek used to look like during the gold rush.
In fact, Johnny Nolon's saloon was originally a saloon during the 1800's operated by, well, Johnny Nolon. A popular drinking establishment for miners back in the day, it's current version has 223 slot machines/video poker games.
Progressive slots here include Double Gold, Party Spin, Lightning Link, Quick Hits Volcano & Jungle, 88 Fortunes, Buffalo Grand and more.
The dining room at Johnny's Restaurant (that's the name), is open from 8 AM to 10 PM, they say on their website that food is available 24 hours a day. Either way, Johnny's Restaurant serves mostly comfort food favorites, along with pasta, steaks and more.
301 E Bennett Ave
Cripple Creek, CO 80813
(719) 689-2080
Website: JohnnyNolonsCasino.com
McGill's Hotel & Casino
Another Triple Crown Casino, McGill's is a spacious, historic old building, occupying a good stretch of Bennett Avenue next to sister property, Midnight Rose. Its two stories of action boasts 280 slot machines. There aren't table games, however the BetRivers sportsbook has kiosks for in person wagering.
Combined with the Midnight Rose, McGill's hotel room count is 60 rooms, all of which have recently undergone remodeling and which include a few charming, unique-themed rooms.
With a fun curved bar and high ceilings, The Pint & Platter Pub on McGill's main level gets good marks with a basic menu of pub fare, burgers, chicken sandwiches and the like. It's billed as the only Irish-themed pub in town, and the only one to serve Guinness.
262 Bennet Avenue
Cripple Creek, CO. 80813
(719) 689-2446
Website: McGills Hotel & Casino
Midnight Rose Hotel & Casino
I love this charming old place, but maybe that's because I got lucky on the poker tables.
Either way, this is a friendly, bustling casino in a warm environment. Nearly 350 slot machines dot the casino floor, however there aren't any table games. The poker room, which closed during the Covid shut down, has yet to re-open as of this September 2021 update.
The second level is home to the Midnight Rose Casino's only restaurant, Dynamite Dick's, which overlooks the action down below on Bennet Avenue. Open from 8 AM to 9 PM, it's your basic casino coffee shop-type of restaurant.
256 Bennet Avenue
Cripple Creek, CO. 80813
(719) 689-0303
Website: TripleCrownCasinos/MidnightRose
Wildwood Casino & Hotel
This is the largest and newest casino in Cripple Creek. It's the most Vegas type casino of the nine gambling dens in town.
A fancy (for Cripple Creek) casino just off the main street (but within easy walking distance), the Wildwood opened in May of 2008. It's 58,000 square foot building is home to 507 slot machines, and 14 table games, including BJ, craps, roulette, and some carnival games. The opening of Woody's Sportsbook allowed Wildwood to boast of having the first sportsbook in Cripple Creek.
Wildwood is the highest casino in the world. And it has nothing to do with Colorado's legalized marijuana laws.
The casino has gone through the trouble of hiring experts to reveal the casino is at an elevation of exactly 9,593 feet above sea level, making it the casino with the highest elevation in the world.
A new 101 room hotel, built at a cost of $14 million, opened in July of 2021.
Woody's Sports Bar & Grill, along with Joe's Diner, satisfy hungry gamblers here. There's also the Grab n' Go for quick sandwiches, nachos, salads and the like.
119 Carbonate Street
Cripple Creek, CO 80813
(719) 244-9700
Website: WildwoodCasino.net
New Casino in Cripple Creek
The new hotel and conference space at the Wildwood aren't the only exciting developments afoot in Cripple Creek.
What will soon be the largest hotel in town, the Chamonix Casino Hotel has begun construction, with an anticipated late 2022 opening date. Based on initial renderings, it will be the Bellagio of Cripple Creek.
The luxury casino/hotel will be attached to Bronco Billy's. (They share the same ownership group). Construction is currently taking place on the lot just west of Bronco Billy's Casino.
In addition to the Chamonix, a different 150 room hotel is being planned for space right behind the Brass Ass. The project is expected to cost in the $40 million dollar range. No timetable has been set.
Biggest Casino in Cripple Creek
Colorado Gaming regulators don't break down casino square footage, so we have to by machine count. Thus, with 507 slot machines, the aforementioned Wildwood is the biggest casino in Cripple Creek.
The Double Eagle is the second largest casino in Cripple Creek, with 462 gaming devices. Century Casino Cripple Creek comes in third, with 419 machines.
Who Owns the Casinos in Cripple Creek?
The Bronco Billy's trio of casinos are are owned by Full House Resorts, who acquired the properties in May of 2016. The Las Vegas-based company also has casino operations in Fallon, Nevada, Lake Tahoe, along with casinos in Indiana and Mississippi.
Triple Crown Casinos owns the Brass Ass, Midnight Rose, and McGills. The company is owned by Colorado Springs Wendy's restaurant franchise, Rick Holland.
The Wildwood Casino is owned by American Gaming Group LLC, which is managed by Joe Canfora and Pete Ferro.
Overall, Cripple Creek is a great little, charming historic, and friendly gambling town. Everything is laid-back, and its nine casinos are all within walking distance. On top of that, you can't beat a place that still gives you actually coins when you win a slot jackpot.
Steve Beauregard is a Colorado native and four-time winner of Colorado Press Association's "Humorous Column Writing" award, who has deposited a lot of money into Cripple Creek's economy. Photos courtesy of VisitCrippleCreek.com, Century Casinos, the Wildwood Casino, the Double Eagle, the Triple Crown Casinos media blog, Brass Ass & Johnny Nolon's by Mark Byzewski, Ernie Geiger, and Bradley Gordon, via Flickr.)