(Editor's note: Cripple Creek casinos re-opened on June 15th. Only slots are available however – no table games. We'll update this article when more games and information becomes available).
Casinos in Cripple Creek opened on Monday with hundreds showing up to test their luck at the slots. #CrippleCreek #Colorado Details: https://t.co/ZZHuyoc2VP

— Amber Jo Cooper (@AmberJoCooper) June 16, 2020
One of only three towns in Colorado allowed to have casino gambling, the pretty, quaint little town of Cripple Creek, Colorado is the state's second largest gambling destination (in terms of number of casinos), having nine casinos within the town limits.
The state of Colorado reports there are 12 casinos in Cripple Creek, however three of these are located within the other 9 other casinos, and aren't really separate casinos.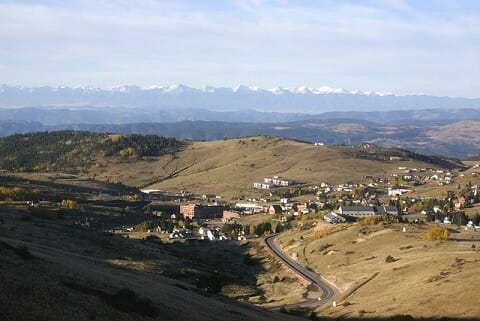 Either way, all but one of these nine casinos are located on Cripple Creek's scenic main street, Bennett Avenue.
They all offer the usual assortment of slot machines, and video poker. Most also spread blackjack and a few others both roulette and craps games. The Colorado Division of Gaming reports that the town's casinos generate over $130 million in revenue per year.
Cripple Creek, Colorado Casinos
All total, there are 15 poker tables in town, 3 craps tables, 30 blackjack tables, six roulette wheels, and 3,581 slot machines/video poker machines in Cripple Creek.
Like its gambling-town cousins to the North, Central City and Blackhawk, the maximum betting limit in Cripple Creek is $100. This applies to slots, blackjack, other table games, and Texas Hold'em poker, making every poker game in Colorado a limit game. However poker tournament entry fees can exceed the $100 limit. And don't ask me why.
Here's a map and list of nine casinos located in the town of Cripple Creek. Each colored star represents one of the nine casinos:
Bronco Billy's Casino
Actually there are three attached Billy's casinos, but I'm only counting them as one. There are Bronco Billy's, Billy's Casino and Christmas Casino & Inn.
Bronco Billy's is the largest and the original, having opened in 1991. It occupies a historic, 1905-built building, and still has the good-old fashioned slot machines where you can put coins in and still get the awesome sound of clanking coins dropping when you win.
Bronco Billy's has a typically, American style restaurant simply called the "Home Cafe." Remember how Las Vegas used to lure you in with cheap eats? That tradition lives on in Cripple Creek at the Home Cafe, where they have a cheap steak and egg special available every day. They also recently still offered a .49 cent breakfast, served every morning.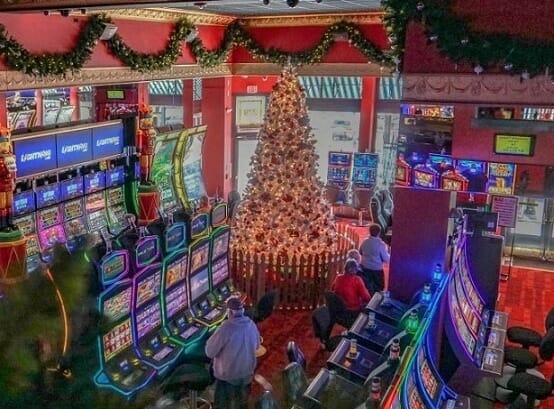 Christmas Casino
Previously Buffalo's Casino this has Christmas decor, go figure, with a 15 foot tall Christmas tree and other holiday decorations. Christmas music is played year round here. The small casino-within-a-casino has 150 slots, 12 hotel rooms, and Rudy's Diner.
(Go here for the distance and directions from Colorado Springs to Cripple Creek.)
The new Billy kid on the block, Billy's, opened in 2008. It's home to Baja Billy's Mexican restaurant. Of the three, Billy's is the casino with craps, roulette, three card poker, and blackjack.
Brass Ass
Without a doubt, the best name of a casino joint in the world. The Brass Ass is the oldest casino in Cripple Creek (according to their website). They even have a brass donkey in the lobby that people rub (or kiss) for good luck. (It helped me!) While various denominations of slot machines cover the main floor, upstairs offers blackjack, craps and roulette.
The Brass Ass, along with McGill's and Midnight Rose (see below) are all part of the "Triple Crown" ownership group.
Century Casino
Little brother to the fancier Century Casino in Central City, the Cripple Creek version has a hotel with 21 rooms.
In addition to the standard slots and video poker games, the casino spreads roulette, blackjack, and a blackjack variant called Buffalo Blackjack Bonus. This is a game in which you're given the option to place side bets as to whether or not the dealer will busts. You're paid more handsomely if the dealer makes a certain hand. For example, if the dealer busts with three 8's, you'd win 25 to 1 on your bonus bet. Like all other of the side action bets, this bet has an enormous house edge.
Limits here are as low as just $2 on Tuesdays, but Fridays – Sundays are always at least $5.
The casino is known for its "Wild Six Card Draw Poker" (a game against the house involving 52 cards plus 2 joker cards).
On the eating front, Century City is home to the Mid-City Grill.
Colorado Grande Casino and Hotel
Another brick beauty of an old time casino. This place also has the old fashioned coin-in, coin-out system, for those of you who miss the sound of clanging coins hitting the bottom of the slot machine tray.
Jack's at the Grande has blackjack and Three-Card Poker tables.
It's also home to Maggie's Restaurant and Jack's Coffee Bar.
Double Eagle Hotel and Casino
Opened in 1996, the Double Eagle is situated on the far eastern end of Bennett Street. It's a large, long 4 story building that's more of a newer casino than a remodeled historic building you usually associate with Cripple Creek.
We stayed there and found the rooms to be clean and affordable, and the restaurants to be just average. (There are three dining options here).
The casino is spacious and offers almost everything you'd want, however it's lacking in character. If that matters to you at all.
There are 500 slots here, as well as a few table games, such as blackjack, Buffalo Bonus Blackjack, and Roulette.
Previously next door to the Double Eagle was the Gold Creek Casino, which was part of, and owned by the same folks who own the Double Eagle. The Gold Creek previously had a seemingly popular six table poker room, however it has since closed.
Johnny Nolon's Saloon & Gambling Emporium
This is what Cripple Creek used to look like during the gold rush.
In fact, Johnny Nolon's saloon was originally a saloon during the 1800's operated by, Johnny Nolon. A popular drinking establishment for miners back in the day, it's current version has mostly just video poker and slots, along with a restaurant and bar of course.
McGill's Hotel & Casino
Nothing much to say here, other than it's a spacious, long building, occupying a good stretch of Bennett Avenue. It has JP's Pint & Platter Restaurant downstairs, a wide selection of progressive slots on the main level, and hotel rooms upstairs.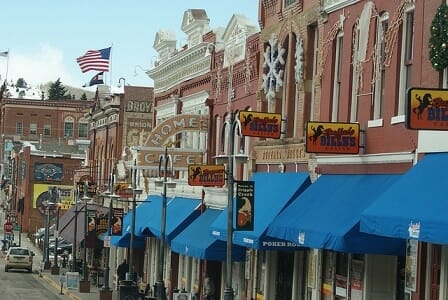 Midnight Rose Hotel & Casino
Love this charming old place. Maybe that's because I crushed the poker game. Still this is a friendly, bustling casino in a warm environment. Over 300 slot machines dot the casino floor, and the building is home to two restaurants, including an upper end restaurant called "Down Under."
The poker room has eight tables, high hand jackpots, and tournaments starting at $40. I've only played holdem there, but they claim to spread Omaha Hi Lo and even 7 card stud. Poker is offered Tuesday – Sunday.
Wildwood Casino & Hotel
This is the largest and newest casino in Cripple Creek. It's the most Vegas type casino of the nine gambling dens in town.
A fancy (for Cripple Creek) casino just off the main street (but within easy walking distance), the Wildwood opened in May of 2008. It's 58,000 square foot building is home to over 500 slot machines, and 14 table games, including BJ, craps, roulette, and some carnival games.
Wildwood is the highest casino in the world. And it has nothing to do with Colorado's legalized marijuana laws.
The casino has gone through the trouble of hiring experts to reveal the casino is at an elevation of exactly 9,593 feet above sea level, making it the casino with the highest elevation in the world.
Woody's Sports Bar & Grill, along with Joe's Diner, satisfy hungry gamblers here.
Overall, Cripple Creek is a great little, charming historic, and friendly gambling town. Everything is laid-back, and its nine casinos are all within walking distance. On top of that, you can't beat a place that still gives you actually coins when you win a slot jackpot.
By Steve Beauregard (Photos courtesy of VisitCrippleCreek.com, Bradley Gordon, another from Bradley Gordon, and Mark Byzewski via Flickr.)