Central City Casinos
Central City, a charming old mining town located just 30 minutes from Denver, has six casinos.
These range from small Mom and Pop dives with little more than slots, to totally remodeled and upscale (for Colorado) hotel/casinos offering a variety of different machines, table games, poker, nice restaurants, and lounges with live entertainment.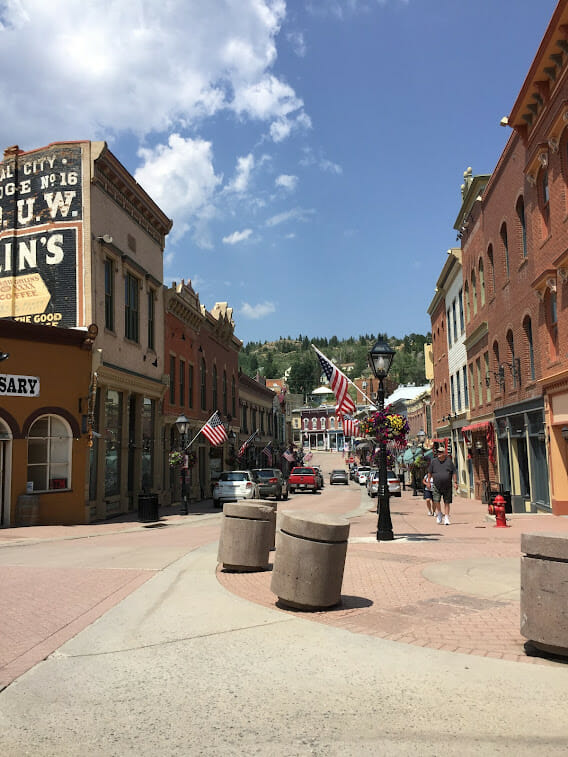 While I frequent nearby Black Hawk a lot, I've found Central City casinos to be a little more laid back, and a nice change of pace from the larger, more Vegasy casinos down the hill. For first-time visitors, please know that the smaller casinos here aren't typically open 24 hours a day.
Central City Casinos
Of the six casinos in Central City, five of them are on Main Street, (one is just around the corner). The only non-Main Street area casino is The Grand Z, but it too is just a short stroll from Main Street.
The Grand Z and the Century Casino are the two "fancy," more Las Vegas style casinos. The other four are more cozy (and friendly) casinos located in old historic buildings.
Either way, you'll find everything from traditional coin-in/coin-out slot machines, to video poker to craps, roulette, blackjack and even baccarat. Casinos are allowed to be open 24 hours a day, and there are no betting limits.
Casinos in Central City, Colorado
Central City's six casinos are listed here below:
Century Casino & Hotel
Dostal Alley
Dragon Tiger Casino
Easy Street
Famous Bonanza Casino
Grand Z Casino & Hotel
Central City Casino Map
Each of the six black dice is a location for Central City's six casinos.
Century Casino
With 422 slot machines, the Century Casino is the second largest casino in Central City. In addition, there is a video poker bar, seven black jack tables and one poker table. I've played in the cozy little poker room nook, however I don't believe they are spreading live poker games any longer.
The blackjack tables open up at 11 AM weekdays, (10 AM weekends), and closes at night whenever the casino traffic starts to fall off.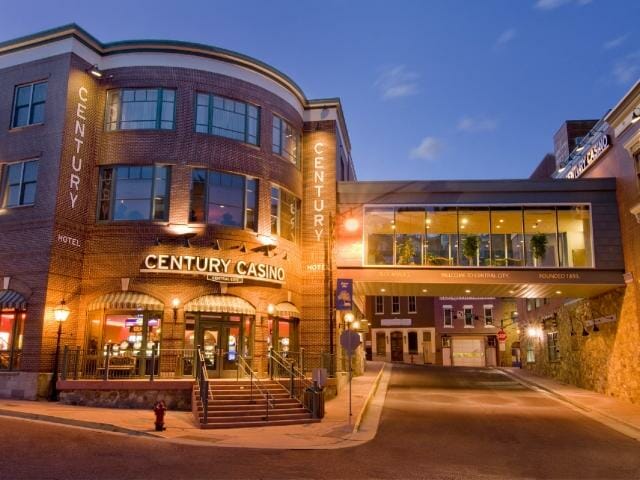 The Century Casino opened in 2016. It has a 26 room boutique hotel. A walkway takes you from their covered parking garage into the casino. There is always free parking.
In addition to the typical casino bars, the casino has the Retro Deli and Tavern, and the delicious (and affordable) Mid-City Grill, which has some all-day breakfast items on their menu.
The casino is open seven days a week, 24 hours a day.
Century Casino Central City Address, Phone & Website
102 Main Street
Central City, CO 80427
Phone: (303) 582-5050
Website: Cnty.com/Central City
Dostal Alley Casino
Opened in 1991, right when casinos became legal in Colorado, the Dostal Alley is locally-owned family-run business formerly home to a rock shop. After all, Central City was founded on the selling of rocks. (Gold is a rock, right?)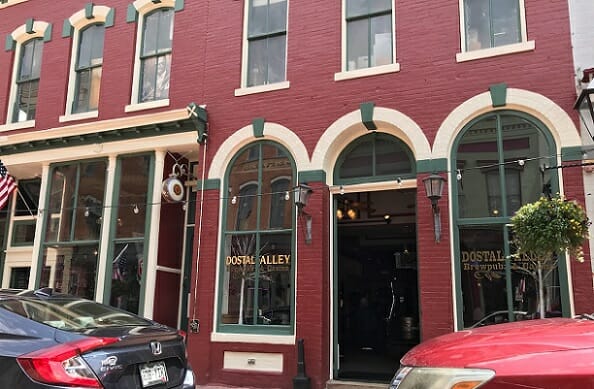 The old, charming two story building has a few slots and video poker machines. In fact, its the smallest casino in Central City with just 38 machines.
And while they don't have table games, they do have an award-winning micro-brewery in the house, severing everything from Gilpin Gold IPA to Shaft House Stout. The brewpub has outdoor patio seating in the back, where you can enjoy on of their signature pizzas.
Dostal Alley Address & Phone
116 Main Street
Central City, CO. 80427
(303) 582-1610
Easy Street Casino
The Easy Street Casino is owned by the same owners who own the "The Famous Bonanza Casino" across the street. The Easy Street only offers slot machines and video poker machines. There are a total of 181 gaming machines here, among which you'll find some of the old school coin in, coin out slots.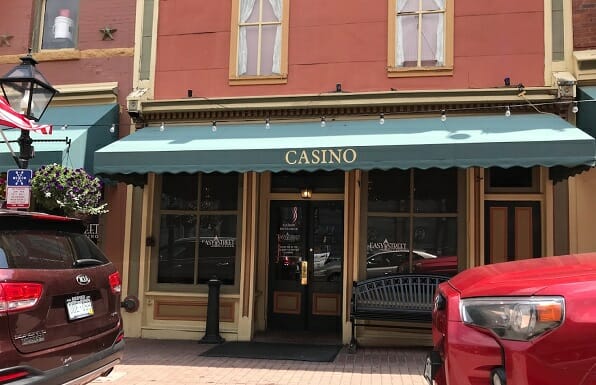 Millie's Restaurant on the second floor serves breakfast, lunch and dinner. The Gold Coin Bar downstairs has an old west saloon vibe and is reportedly the oldest bar in the state of Colorado. Downstairs is an arcade for the kids.
Hours
Easy Street Casino Address, Phone & Website
120 Main Street
Central City, Colorado 80427
(303) 582-5914
Website: Easystreetcentralcity.com
Famous Bonanza Casino
As with their sister casino across the street, the Famous Bonanza Casino is a slots-only place, with 247 slot machines/video poker games to tempt you, including Wheel of Fortune and Triple Strike, among others. They also boast some of the classic coin machines.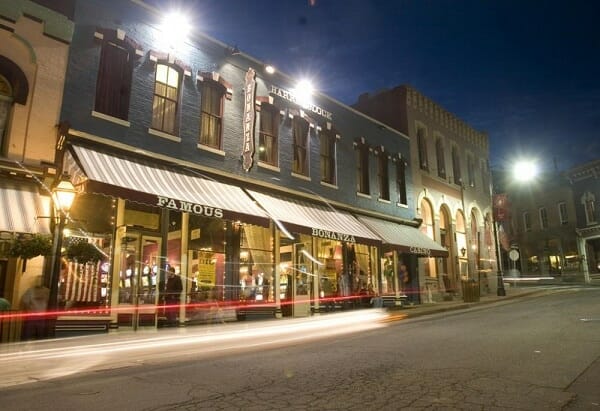 As with the Easy Street Casino, the casino closes at 2 a.m. on weekdays, and at 3 a.m. on Friday and Saturday nights.
Stella's Cafe upstairs is your classic casino cafe restaurant, with the typical selection of burgers, wings, pizza and salad.
Hours
| | |
| --- | --- |
| Sunday – Thursday | 8 AM – 2 AM |
| Friday & Saturday | 8 AM – 3 AM |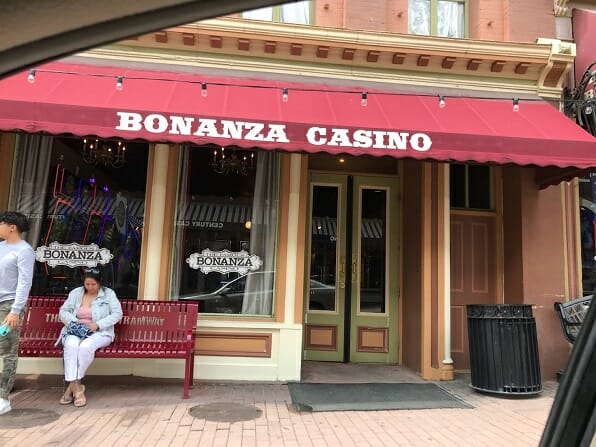 Famous Bonanza Casino Address, Phone & Website
107 Main Street
Central City, Colorado 80427
(303) 582-5914
Website: Famousbonanza.com
Dragon Tiger Casino
Formerly Johnny Z's Casino, the Dragon Tiger is the newest casino in Central City, and is located on Lawrence Street, just steps off Main Street.
Owned by Maverick Gaming, who also own the Grand Z Casino Hotel, this small two casino boasts of having the only baccarat tables in the Black Hawk/Central City area.
Per the Colorado Gaming Commission, the Dragon Tiger Casino has 249 slot machines, including Panda Magic, 88 Fortunes, Buffalo Gold, Dragon Link, among others. You'll also find two blackjack tables, and three baccarat tables. In addition, there electronic table games, and video poker machines.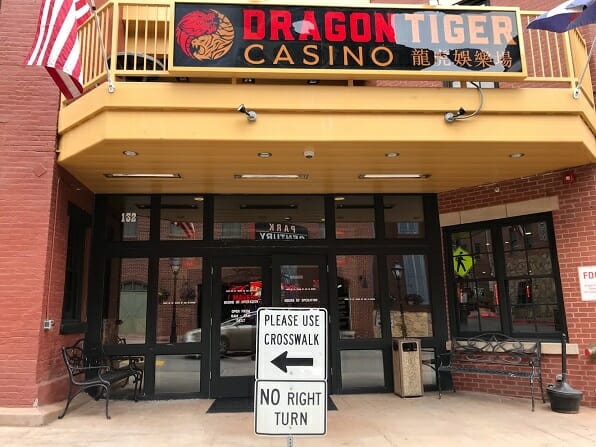 The Dragon Tiger Noodle Co. is the sole restaurant here, where you choose your noodles, protein, broth and vegetables as they prepare it for you as you wait.
Dragon Tiger Casino Address, Phone & Website
132 Lawrence Street
Central City, CO. 80427
(303) 582-5623
Website: Maverickgaming.com/Dragontiger
Grand Z Casino Hotel
Formerly the Reserve Casino Hotel, the Grand Z Casino Hotel in Central City is the much bigger brother to Johnny Z's in Blackhawk, and the Dragon Tiger Casino (also in Central City). At 40,000 square feet of casino floor space, it's the largest casino in Central City.

The multi-level casino has 608 slot machines and electronic video machines, including electronic versions of blackjack, craps and roulette. There are also live versions of games like roulette, craps and blackjack, and they seem to open when the casino is fully staffed.
There's even the Play Mavericks Sports book. (Maverick Gaming owns the Grand Z), with comfy seating and big screens. The kiosks allow you to bet 24 hours a day.
Dining options include the Grand Bistro, which is an upscale steakhouse, (and home to Sunday brunch), and a Starbucks.
The hotel has just 119 rooms though. Downstairs, the Mile High Room, with seating of over 300 guests, is the only entertainment venue of any size in the Black Hawk/Central City area. In recent times, the room has played host to acts like Pam Tillis, Warrant, Ratt, along with a slew of comedians.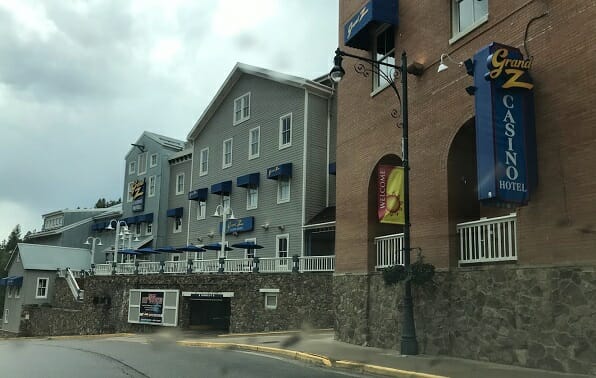 And in a sloping mountain town where level parking is at a premium, The Grand Z is fortunate to offer its patrons 700 parking spaces.
Grand Z Hotel & Casino Address, Phone & Website
321 Gregory Street
Central City, Colorado 80427
(303) 582-0800
Website: Grand Z Casino Hotel
Central City Casino FAQ
History of Central City Casinos
Although the number of Colorado casinos is 36, Central City has just six of these.
If having just six casinos seems small, that's because it is, and less than what most of us thought would be a booming gambling town.
Originally Central City was going to be the main hub for gambling in Colorado. When Colorado voters passed a ballot initiative in November of 1990 to allow small stakes gambling in three small mountain towns, Central City, Black Hawk, and Cripple Creek, it was assumed that the largest, most historic, most well-known town, Central City, would be the dominate leader in the state.
And it was – for awhile.
Founded during the booming Pike's Peak gold boom in 1859, Central City was once home to 10,000 residents. In addition to its beautiful, popular opera house, charming main street, and decades of history, it was in the running to be the new state's capital.
And after the gaming bill's passage in 1990, everything was in place for Central City to take its rightful place as the Las Vegas of Colorado.
Road Woes
The problem was, to get to Central City, you first had to drive through Black Hawk. The only road to the area was the always-crowded, two lane Colorado State Highway 119, which slowly snaked its way up the hill, and was often backed up, due to shuttle buses carrying day gamblers from Denver, or casino employees.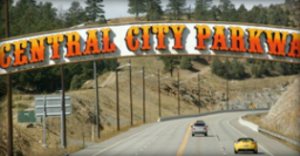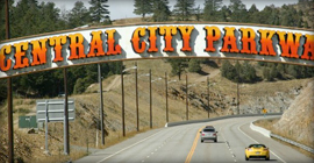 Once in the Black Hawk/Central City area, degenerate gamblers like me, who had just survived a boring 40 minute drive up Hwy 119, were anxious to get their gamble on. Thus, me and my fellow gamblers usually stopped at the first place we could. Back then, it was Colorado Central Station Casino. Although Central City was just 2 miles up the hill, to an anxious gambler itching for the chance to play, that 2 miles may as well be 2 hours.
Another huge factor: Black Hawk didn't have the building height restrictions in place that Central City had, meaning developers were free to take advantage of smaller pieces of land and build upward, making available more casino space, and hotel rooms, and hence, making an investment in Black Hawk more profitable.
All in all, many of the casinos in Black Hawk were built and designed from scratch, intended to resemble more of what you may be familiar with in Las Vegas. Central City casino owners, on the other hand, just remodeled the tiny space in the old historic buildings. While they remain much more charming than many of the bigger Black Hawk casinos, they lack the Vegas-style and pizzazz and size many gamblers have come to want and expect out of a casino experience.
Whereas town officials in Central City wanted to heed the intent of Colorado voters, by preserving the historic nature of the mining town, in Black Hawk, all bets were off (so to speak).
The contrast in building attitudes and historic preservation efforts eventually lead to some hard feelings between the two communities. Bad blood between Central City and Black Hawk has gotten to the point where the long-running free shuttle between towns no longer goes to Central City. More significantly, the multi-million dollar Central City Parkway was built.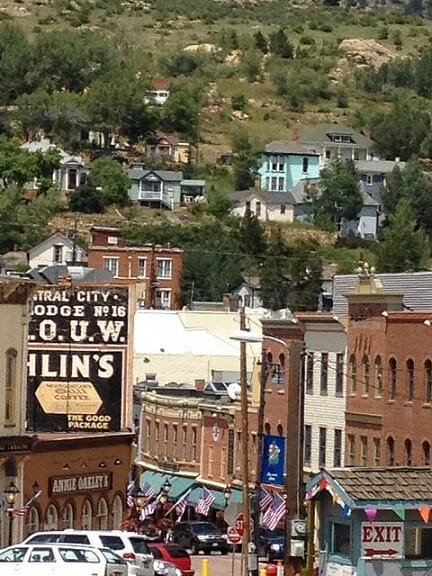 This four lane highway off of Interstate 70 was Central City's return shot, after having watched it's smaller, less prestigious little brother down the road hog all the Colorado gambling glory. The expensive new road shaved a lot of time it took for drivers from Denver, to get to the Central City/Black Hawk area. It seems safer to boot, although the area is notorious for being a speed trap. (At times the 30 mile per hour speed limit for this 4 lane road feels like you're crawling).
Central City's Casino Market
So while preservation buffs may decry the monstrous casinos arising in Black Hawk, and feel it goes against the voters' wishes to keep alive the old time mining spirit and charm of these two neighboring gambling towns, the gambling market has spoken. Black Hawk has 16 casinos versus Central City's 6 casinos.
Central City Casinos That Have Closed
Up until a few years ago, there were eight casinos in Central City.
Doc Holliday's Casino
On June 13, 2013, the general manager of Doc Holliday's Casino announced that the casino would be closed immediately.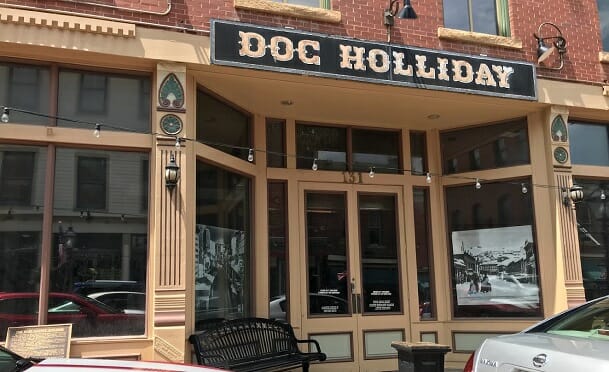 Johnny Z's Casino
Regional casino operator Maverick Gaming purchased Johnny Z's Casino (along with the Grand Z Hotel & Casino and the Z Casino down in Black Hawk), in 2019, after which they converted and rebranded the casino as the Dragon Tiger.
Besides the usual assortment of slots and video poker Johnny Z's Casino had table games with $3 minimum limits.
The Z Cafe upstairs was known for their specials on prime rib. Just $7.77 often.
Crystal Palace Casino
On December 31st, 2013, the Crystal Palace Casino (in between Dostal Alley and Easy Street), had its last day of operation.
Conclusion
Like Doc Holliday's, (pictured above) most of the casinos are on Central City's Main Street. This street looks something right out of an old west movie. I love the look and feel of the street – especially around the holidays, when white snow is falling against the red brick, and the whole scene looks something from Norman Rockwell – if Mr. Rockwell liked to play video poker.
So if you're looking for the big, busy casinos with fancy restaurants and a Las Vegas vibe, you should head down the street to Black Hawk. However if you're looking for a friendlier, more cozy day at the slots, (and you mostly only play slots or video poker), give Central City a try.
(Steve Beauregard is a Denver native and former resident of Idaho Springs. He is doing his best to make the Central City/Black Hawk casinos profitable. He has won four first-place writing awards from the Colorado Press Association. All photos copyright gamboool.com except for Century Casino, the first Bonanza photo, and the first Grand Z photo, which are courtesy of PrNewswire, Colorado.com, and The town of Central City. Bottom downtown Central City photo courtesy of lightwrite via Flickr.)