By Steve Beauregard
(Editor's note: Colorado casinos re-opened on June 17th. In all three towns, capacity is limited to 175 patrons per casino, and there aren't table games in operation – just slots. We'll update this article once more things open up and become available).
Welcome back to Monarch!#ExploreMonarch #BetMonarch pic.twitter.com/C32oqq6sTw

— Monarch Casino Resort Spa (@monarchcasino) June 17, 2020
As a long-time Colorado native, I remember the days when you'd have to fly to Vegas or make a long road trip out of state to get your gambling fix.
Nowadays, there are plenty of gambling options in Colorado, as the Centennial State is home to 36 casinos.
These 36 casinos are located in three different areas of the state: Black Hawk/Central City (by Denver), Cripple Creek (by Colorado Springs), and Southwest Colorado (by Cortez and Durango).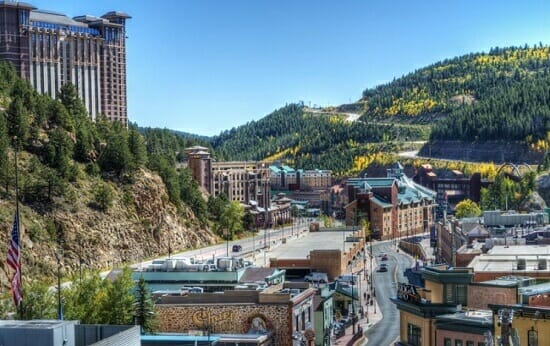 They range from tiny old converted Victorian-era mining buildings with just slots, to modern, spacious hotel casinos offering just about everything you'd find at a Las Vegas Strip resort.
Casinos in Colorado are allowed to offer everything from traditional penny slot machines, to video poker, to popular table games like blackjack, craps, roulette, and live Texas Hold'em. There's now even sportsbooks in Colorado.
And other than what's found at the two Native American casinos in the far southwest corner of the state (which will cover below), these games are regular, traditional casino games.
By that I mean table games have normal, Vegas-style rules. Similarly, the slots and video poker machines are your typical random-number generated games and not the VLT (video lottery terminals), bingo-style electronic gaming machines found in many states – particularly at Indian casinos.
Perhaps the one main quirk with Colorado casinos is that the table maximum limits are $100. While much lower than most areas, it's a nice change from just a few years ago, when the max limits were just $5. Yes, five dollars maximum.
Map of Casinos in Colorado
Below are the only three areas of the state in which you'll find legal casino gambling.
The red star is the Black Hawk/Central City casinos, while the brown star is Cripple Creek. The purple star represents the two Indian casinos near the four corners region.
Colorado Casino Locations
As you can see from the map, most of the state's casinos are situated near populous Front Range cities of Denver/Boulder and Colorado Springs.
Of the three areas in Colorado with casinos, Black Hawk/Central City is by far the most popular, which makes sense, given that it's just a 50 minute drive from Denver to Black Hawk & Central City.
The two historic mining towns in the mountains just west of Denver border each other and combine to account for 21 of the state's 36 casinos. Eighty-two percent of the state's reported gambling revenue comes from this area. (The two Indian casinos do not report gaming revenue)
Black Hawk & Central City
When casinos first opened in the state in the fall of 1991, Black Hawk started off as the smaller little sister to its bigger Central City sibling up the road.
Now however, Black Hawk is the Las Vegas of Colorado.
Its 21 casinos dominate gambling in the Centennial State, with the town capturing 72% of the state's gaming revenue.
These are all within walking distance of each other. And while you won't find the type of shows and entertainment you'd find on the Strip, there are plenty of slots, table games, bars and restaurants for you to enjoy.
Casinos in Black Hawk range from quirky little Mom and Pop casinos like the Sasquatch Casino, to big Vegas-style hotel/casinos like the Ameristar.
Other than the Ameristar, the other big casinos here include the Isle of Capri, Lady Luck, The Lodge, the Monarch and the Mardi Gras. Most of these have hotels, and hundreds (if not thousands) of slot machines, along with all of the traditional table games.
Central City is just up the road from Black Hawk, (1 ½ miles away), and is a quaint, quieter town than its neighbor.
A former mining mecca, there are six casinos in Central City. Most of these are old stores converted into casinos located on the charming historic Main Street.
While not as high-energy as Black Hawk, Central City casinos offer a nice change of pace as well as scenic surroundings.
Cripple Creek
Another charming historic mining town turned into a gambling mecca, Cripple Creek sits near the base of Pikes Peak – about a 45 minute drive from Colorado Springs.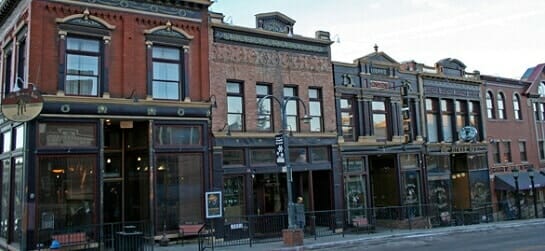 There are nine casinos in Cripple Creek.
As with Black Hawk/Central City, these are all within walking distance, so you can try your luck at a new place if things aren't going your way.
And as with Central City, almost all of these are converted Victorian-era buildings on the city's main street. Two others are more newer, with the newest one, the Wildwood Casino Hotel having been built in 2008.
Southwest Colorado Casinos
Two of Colorado's 36 casinos are on tribal land in the four corners area, in the far southwest part of the state.
These two casinos near Durango & Cortez, Colorado are Native American casinos, named the Ute Mountain Casino (12 miles south of Cortez), and the Sky Ute Casino, (22 miles southeast of Durango), respectively.
While neither casino would be considered extravagant, both offer a variety of slots, video poker machines, table games, and bingo. Both also have hotels.
Best Casino in Colorado
For a lot of us, the best casino is the one you win at!
And truth is, this will be a matter of taste. If you're a small-stakes slots player, you may be most comfortable in one of the charming old Victorian-era casinos in the heart of Central City or Cripple Creek.
Dostal Alley in Central City for example, is a cozy, family-owned brew pub with around 70 slot machines and zero table games. Yet it's a laid back and fun place to hang out while soaking up its historic vibe.
For others who relish the high-volume, high-energy pulse of a more Vegas-style casino, and the corresponding number and variety of games, a bigger, more contemporary casino such as the Isle of Capri may be your favorite.
In terms of number of games, the Ameristar Hotel & Casinos in Black Hawk is the biggest casino in Colorado.
In the Cripple Creek area, readers of the Colorado Springs Gazette consistently vote Bronco Billy's as the best casino in town.
More About Casino Gambling in Colorado
* You do have to be 21 years old to play at Colorado casinos. From my numerous experiences, they are very strict in checking IDs when going into the doors.
* Casinos are allowed to offer free drinks to gamblers.
* Black Hawk, Central City and Cripple Creek had a combined $842 million in gaming revenue last year.
* Most recent records from the Colorado Division of Gaming reveal that the state has just over 12,000 slot machine/video poker machines.
* All total, there are 263 live table games in the state (not counting the two Indian casinos). These include 25 roulette tables, 92 poker tables, 126 blackjack games, and twenty craps tables.
* While there is legal sportsbetting in Colorado, only casinos in Black Hawk, Central City and Cripple Creek have physical sportsbook locations.
(Photos courtesy of Colorado.gov and Visitcripplecreek.com)