Z Casino Black Hawk
Address: 101 Gregory St, Black Hawk, CO 80422
Phone Number: +1 303-271-2500
Website: www.maverickgaming.com/z-casino/
Hours: Z Casino Black Hawk is open Monday 8 AM – 3 AM, Tuesday 8 AM – 3 AM, Wednesday 8 AM – 3 AM, Thursday 8 AM – 3 AM, Friday 8 AM – 3 AM, Saturday 8 AM – 3 AM, Sunday 8 AM – 3 AM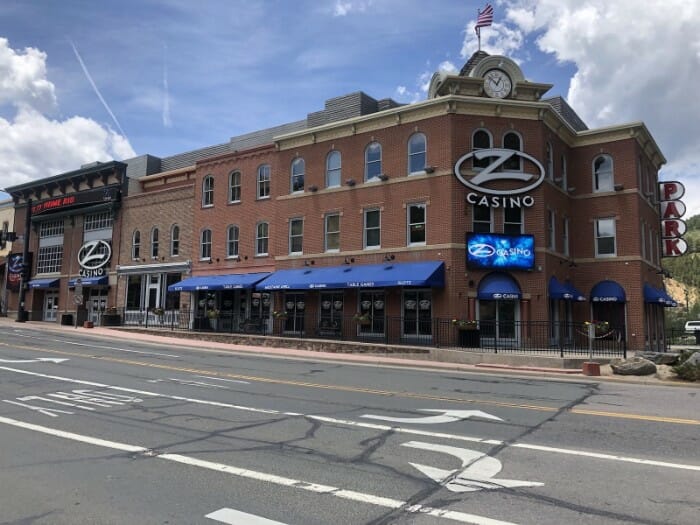 Z Casino Black Hawk is a casino located in Colorado owned and operated by Maverick Gaming, LLC. The casino opened in 1992 as one of the first casinos in Colorado and has been a major part of the Black Hawk casino scene ever since.
It offers over 400 slot machines ranging from penny slots to high-limit games. They do not have any live table games, but they do offer a variety of video poker and other video machines.
For dining, the casino has two restaurants on site. The Mustang Grill serves classic American cuisine, including hamburgers, sandwiches and steaks. They also have a cafe that serves breakfast, lunch and snacks.
For entertainment, it offers a variety of live music and DJs. They also provide weekly gift giveaways and tournaments to keep their guests entertained. So if you're looking for a great night out in Black Hawk, this casino is the place to be.
Guests typically rate this casino with 4 out of 5 stars. One guest said, "I had a great time. The slots were entertaining, the staff was friendly and helpful, and the food at the restaurant was really good."
Another guest commented, "The atmosphere was great. Everyone was friendly, and the casino staff seemed to know what they were doing. I would definitely recommend this casino."
(Related reading: Colorado casinos)
Gaming
Their gaming space consists of over 400 slot machines, video poker and other video gaming machines. They have both penny slots and high-limit games, so there is something for everyone.
Table Games
If you're a fan of casino games, then you might be curious to know what kinds of table games you can play at this casino in Colorado. Unfortunately, at this casino, they only offer slot machines.
While that might be disappointing news for those who love to spin the roulette wheel or play a hand of blackjack, there are still plenty of opportunities to win big on the slots. With more than 400 slot machines available, you're sure to find a game that suits your style.
Slots
This casino is perfect for slot players looking to try their luck and win big. Popular slot machines include:
Queen of the Wild
Zeus
Sun and Moon
Wild Fury
Hot Shots
The Three Fates
Super Red Phoenix
Wheel of Fortune
Sky Rider: Golden Amulet
This casino does not disclose the exact slot machine payback percentage. One guest said, "I've been playing here for a while, and I haven't had too much trouble winning. It definitely varies depending on what game you're playing."
Another guest commented, "I've had decent luck here. I'd say the payback percentage is pretty good. And the staff is always friendly and helpful."
Hotel/Resort
Having an enjoyable and comfortable stay is important when visiting a casino, so it is best for guests to have all the information they need. While there is no hotel attached to the casino, do not worry, as there are several nearby options to choose from.
The Lady Luck Casino, Horseshoe Casino, and Ameristar Casino are all great alternatives to consider. Each hotel has its own unique amenities and atmosphere, allowing guests to find the perfect fit for their stay.
So even if you don't stay at the casino, you'll still be able to enjoy the same great gaming experience with accommodation just minutes away.
Restaurants & Buffets
When it comes to dining at this casino in Black Hawk, visitors have two delicious options to choose from – Z Café and Mustang Grill. Z Café offers a comfortable and casual atmosphere, perfect for grabbing a quick bite or enjoying a meal with family and friends.
Their menu features classic American dishes and a variety of breakfast options, making it a great choice any time of day. Meanwhile, Mustang Grill serves up mouth-watering steaks and seafood in a cozy and rustic setting.
Whether you're looking for a quick bite or a sit-down meal, this casino has something to satisfy everyone's taste buds. So plan your visit and check out one of these great restaurants today.
Pools
While there may not be any swimming pools onsite at this casino, there are still plenty of ways to beat the summertime heat. The casino offers a variety of exciting gaming options, including over 400 slot machines.
Additionally, the casino is located in the heart of Black Hawk, meaning there are plenty of nearby attractions to explore, including hiking trails, scenic drives, and more. So while you may not be able to dip in a pool, you're sure to find plenty of ways to stay cool and have fun at this casino.
Z Casino Black Hawk, CO FAQ
Does Z Casino Black Hawk Have A Sportsbook?
Unfortunately, they do not offer a sportsbook at this time. However, there are still plenty of great ways to win big on the more than 400 slot machines available. For those looking for a fun and exciting gaming experience, they are sure to provide it with its gaming options.
Is Poker Available At Z Casino Black Hawk?
No, there are no live poker tables available at this casino. However, you may easily find video poker games on many slot machines. Additionally, the casino does offer plenty of other gaming options to keep you entertained and help you win big.
What Are The Age Requirements For Gambling At Z Casino Black Hawk?
The age requirement for gambling at this casino is 21 years old. Guests must present a valid ID and credit card upon entry to verify their age. Anyone under the age of 21 will not be allowed to enter or participate in any gaming activities.
Does Z Casino Black Hawk Have An Online Casino?
No, it does not currently offer an online casino. However, guests can still enjoy various gaming options at the physical casino in Black Hawk, Colorado. The casino offers hundreds of slot machines and other fun and exciting gaming activities for guests to partake in.
Is There An Z Casino Black Hawk App?
No, there is no app for this casino. However, the casino does have a website that provides information about its gaming options and other services. Additionally, many of their promotions can be found on this website.
What Is The Dress Code At Z Casino Black Hawk?
The dress code at this casino is casual. Guests are encouraged to dress comfortably and in good taste. Guests may be asked to leave if their attire does not meet these standards. For more information on the casino's dress code, don't hesitate to get in touch with them directly.
Is There An Airport Shuttle Available From Z Casino Black Hawk?
No, there is no airport shuttle service available from the casino at this time. However, visitors can easily get to and from the casino via car or public transportation. Rideshare services such as Uber and Lyft are also popular options for getting around town.
What Is The Smoking Policy At Z Casino Black Hawk?
The casino is a smoke-free facility. Smoking is only allowed in designated outdoor areas and must be done with consideration for other guests. Anyone found smoking indoors will be asked to leave the property immediately.
What Is The Pet Policy At Z Casino Black Hawk?
This casino does not allow pets on the property. Guests are not allowed to bring their pets into any gaming areas or restaurants. Service animals are permitted if they remain on a leash and are always supervised.
Is Wifi Available At Z Casino Black Hawk?
Unfortunately, there is no free wifi available at this casino. Guests who wish to use the internet can purchase a prepaid wifi plan from their mobile service provider. Additionally, they may be able to connect via their own mobile data plan or hotspot.
What Is The Cancellation Policy For Z Casino Black Hawk?
Players may come and go as they please. However, if you need to make changes or cancel your reservation, it is best to call the customer service number on their website before doing so. Cancellations may be subject to a fee and other restrictions.
Conclusion
This casino offers a great option for those looking to enjoy the fun and excitement of gaming. With more than 400 slot machines and other gaming options, guests can easily find something to keep them entertained.
Just remember all their policies and age requirements before entering, as these are strictly enforced. So start planning your trip and head to Z Casino Black Hawk for a night of fun and entertainment!