Lady Luck Casino Black Hawk
Address: 340 Main St, Black Hawk, CO 80422
Phone Number: +1 303-998-7777
Website: www.caesars.com/lady-luck-black-hawk
Hours: Lady Luck Casino is open 24 hours a day, 7 days a week.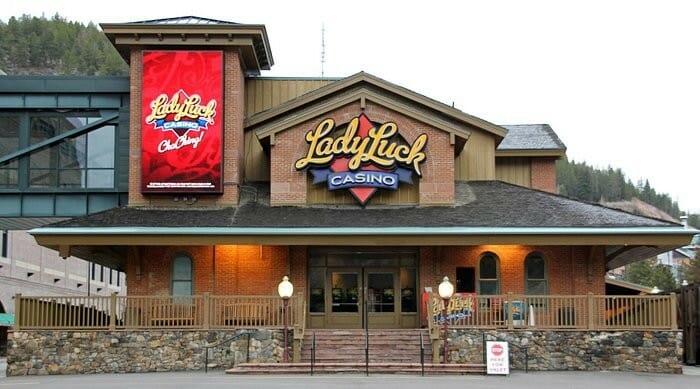 Lady Luck Casino Black Hawk opened its doors in 1993 and has been a popular destination for Colorado locals and visitors ever since. It is owned and operated by Caesars Entertainment, Inc and has been a staple of Black Hawk's downtown area for over two decades.
The casino features over 400 slot machines with games ranging from penny slots to high-limit machines. Additionally, they have a sportsbook for betting on your favorite teams.
They also offer accommodations at their hotel. The hotel features several guestrooms with all the amenities you need for a comfortable stay, such as complimentary Wi-Fi and in-room refreshments.
The casino hotel also has various dining options ranging from casual sandwiches to fine steak and seafood. Guests can also enjoy live entertainment with bands playing regularly in the casino's lounge.
This casino is a great place for anyone looking to have fun and try their luck at the slots or sportsbook. They provide an enjoyable atmosphere with great service, making it well worth a visit.
On popular review sites, such as Google and Tripadvisor, this casino has an average rating of 4.5 out of 5 stars from guests. One guest said, "The staff was friendly, and the atmosphere was great. My husband enjoyed playing blackjack while I played slots."
Another said, "I have been going to this casino for a couple of years now, and it is always dependable with excellent service."
(Related reading: Colorado casinos)
Gaming
The gaming floor in this casino includes a selection of slots, video poker and specialty games. They also have a sportsbook area with TVs that show all the latest games, as well as pool tables in their casino lounge.
Table Games
While this casino is a great place to indulge in slot machines, they do not offer table games. If you're seeking a different gaming experience, there are countless slots, and electronic games to choose from that may tickle your fancy.
The casino also offers a loyalty program where you can earn points and rewards just for playing. With friendly customer service and exceptional dining options, this casino is an excellent destination for your gaming needs.
Slots
If you're wondering which slot machines to try at this casino, look no further. From classic favorites to new machines, there is something for everyone.
One of the most popular choices is Buffalo Grand, a thrilling game featuring buffalo symbols and free spins. For a more wild adventure, check out Wild Zone and Wild Wild Nugget, both packed with bonuses and big wins.
Fans of exotic themes will love Brazil, while Buffalo Gold Collection will satisfy those looking for various features. And for those feeling adventurous, Tarzan and Fireworks Festival offer exciting gameplay and unique bonuses.
As per Colorado law, all slot machines at this casino have a payback percentage of at least 80%. This means an expected return of 80% on every dollar wagered.
Hotel/Resort
Their hotel is right next to the casino, allowing guests to access the hotel and all its amenities easily. The hotel offers affordable rooms with basic amenities such as a flat-screen TV, complimentary Wi-Fi, and daily newspaper delivery.
Some of their room types include:
Deluxe Rooms – features one king or two queen beds
VIP Suites – features one king bed, a bathtub or a walk-in shower and a sitting area
In addition to the standard amenities, guests can enjoy various other facilities. This includes:
Wifi access
Onsite parking
24-hour front desk
Concierge services
Daily housekeeping
Business center
Pet-friendly rooms
Onsite restaurants and bars
Live entertainment
A sportsbook
The cost of staying at this casino varies depending on the type and size of the room. Room rates start as low as $65 per night, excluding taxes and fees. Guests can also enjoy special discounts and promotions when they book directly with the hotel.
Check-in time at Lady Luck is 4:00 pm
Check-out time at Lady Luck is 11:00 am
Restaurants & Buffets
If you're looking for great restaurants in this casino, you're in luck. There are plenty of options, whether you're in the mood for a quick coffee or a sit-down meal. Dash Cafe is a fantastic spot to grab a light breakfast or lunch, with plenty of healthy options available.
Farmer's Pick Cafe is a great choice for those who want to indulge in classic American comfort food. Roxy's Restaurant and Bar is the perfect destination for a memorable dinner.
Of course, Starbucks is always a reliable choice for coffee and snacks, and the Taco Cantina offers an exciting twist on Mexican cuisine. Finally, Roxy Bistrot is a must-visit for those looking for a sophisticated atmosphere and French-inspired cuisine.
Even though there is no buffet here, there are plenty of options to satisfy your appetite. When it comes to food and drinks, this casino has something for everyone.
Pools
While this casino offers plenty of excitement and entertainment for adults, it's worth noting that there are no swimming pools on site. While this may be disappointing news for those hoping to dip on a hot Colorado day, there are plenty of nearby options for water fun.
Just a short drive away, you'll find several public and private pools perfect for families or groups of friends. Whether you're looking for a lazy river or a thrilling water slide, there's something for everyone in the area.
Lady Luck Casino, Black Hawk, CO FAQ
Does Lady Luck Casino Have A Sportsbook?
Yes, this casino has the Caesars Sportsbook located right on the premises. Guests can place bets on their favorite sports teams and enjoy a variety of betting options. They also offer a mobile betting app, allowing guests to bet anywhere in the state.
Is Poker Available At Lady Luck?
Unfortunately, there are no live poker tables at this casino. However, guests can enjoy video poker games available on slot machines in the casino. Video poker is a great alternative for those looking to get their poker fix.
What Are The Age Requirements For Gambling At Lady Luck Casino?
At this casino, guests must be 21 years or older to enter the gaming area and gamble. Minors are allowed in certain casino areas with a parent or guardian present. The minimum age requirement for gambling at this casino is consistent with other Colorado casinos.
Does Lady Luck Have An Online Casino?
No, they do not have an online casino. Guests must visit the physical casino in Black Hawk if they want to gamble. However, they do offer a mobile betting app that allows guests to bet anywhere in the state.
Is There An Lady Luck Casino App?
No, there is no dedicated app for this casino. However, their website offers a mobile version that can be accessed on any device. Additionally, their social media accounts provide up-to-date information on events and promotions.
What Is The Dress Code At Lady Luck?
The dress code at this casino is casual. Appropriate attire includes jeans, t-shirts, and sneakers. Guests should avoid items like shorts, tank tops, and sandals in the casino area. Management reserves the right to refuse entry to those not following this dress code.
Is There An Airport Shuttle Available From Lady Luck Casino?
Yes, they have an airport shuttle available from the casino hotel. Guests staying at the hotel can reserve a shuttle to pick them up from Denver International Airport, which is about one hour away.
The shuttle is free for those who stay at the casino's hotel, but there may be an additional cost for other guests.
What Is The Smoking Policy At Lady Luck?
Smoking is not allowed in the casino area. A designated smoking patio is available for those wishing to smoke while gambling. All guests and staff must adhere to this policy, or they may be asked to leave the premises.
What Is The Pet Policy At Lady Luck Casino?
This casino has a pet-friendly policy that allows guests to bring two pets weighing 50 lbs or less for an additional $50 per stay. This means that you can enjoy all the excitement of the casino with the added comfort of having your beloved pets by your side.
Is Wifi Available At Lady Luck?
Yes, they offer complimentary WiFi throughout the casino, hotel, and surrounding areas. Guests can easily connect to the internet and enjoy a fast browsing experience. If you need further assistance, the friendly staff at the casino are always happy to help.
What Is The Cancellation Policy For Lady Luck Casino?
Cancellations must be made 48 hours before check-in, or the reservation will be charged for one night. Please note that this policy may change depending on special events and promotions. It is best to call ahead and confirm the cancellation policy before making a reservation.
Conclusion
This casino is a great option for those who gamble in Black Hawk, Colorado. They offer all the classic casino games as well as a variety of sports betting options. Additionally, they have an on-site hotel, mobile betting app, and free WiFi throughout the premises.
So no matter what your gaming needs, Lady Luck Casino has something to offer everyone. So join in the fun, and don't forget to bring your pet along for a truly unique gambling experience.