Casinos in Durango, Cortez, CO. & the Four Corners Region
By Steve Beauregard
Tucked away in the remote southwest corner of the state of Colorado, the Four Corners region may be far away from a lot of things, but at least it's near two casinos.
Both are Native American hotel/casinos with slots and table games.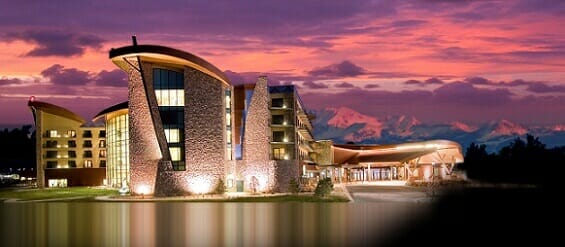 Whether you're staying in Cortez, or Durango, you'll find one of these casinos within a very reasonable drive. (We're talking a half an hour or less).
There are three different areas of casinos in Colorado, but these two featured here are the only ones not situated along the populous front range area of Colorado.
They are the Ute Mountain Casino near Cortez, and the Sky Ute Casino Resort near Durango.
Both casinos require you to be 21 or older to play, however those 18 and up can play bingo. Per their compact with the State of Colorado, the maximum bets in both casinos are $100.
And while there is smoking inside, there are non-smoking areas at both casinos. As typical with many Indian casinos, drinks are not free.
Map of Casinos Near Durango & Cortez
(The red star is the Sky Ute Casino, while the black star is the Ute Mountain Casino)
Sky Ute Casino Resort in Ignacio
The nicest, "fancier" of the two casinos in the Four Corners area, the Sky Ute Casino Resort is located in tiny Ignacio, just 22 miles southeast of Durango.
This equates to roughly a thirty minute drive, assuming good roads, which may not be a good assumption considering Durango's nearby ski area, Purgatory, averages over 21 ½ feet of snow per year.
The resort sits on the Southern Ute Indian Reservation. The small original casino opened in September of 1993, however the current, much larger resort opened in 2008.
Sky Ute Casino Games
For being in the middle of nowhere, the casino/hotel is fairly spacious, as there is 45,000 square feet of gaming space alone.
On this space you'll find 600 slots and video poker machines, with all the new and favorite games, like Wheel of Fortune, Buffalo Stampede and the like. Limits range from a penny to $25 a pull.
The four table games spread are Blackjack, 3 Card Poker, roulette, and craps. Please note however that craps is only offered Thursday through Sunday, from 4 PM to midnight.
Sky Ute's bingo hall has seating for 200, and games are run on Sunday, Wednesday, Thursday and Fridays.
Sky Ute Hotel
Opened as part of the new resort in 2008, Sky Ute's hotel has 140 standard rooms, plus six additional suites.
A nice feature for those of us with kids is the fact Sky Ute welcomes families. Amenities for kids include the 24 lane bowling alley, video game arcade, small playground area, and mini-golf course.
Of course, most kids love to swim, and Sky Ute has a modest indoor swimming pool with a lazy river.
Dining
The four dining options here include a steak house, two other casual sit down restaurants, and a grab-and-go fast casual place.
In addition to the Mouache Capote Spa and Day Spa, there is a gym and small gift shop.
Also on the entertainment front, the resort has both indoor and outdoor entertainment venues. Events range from boxing matches to concert by name acts such as Great White, Slaughter, and The Charlie Daniels Band.
Sky Ute Casino Resort RV Park
Bordering the casino/hotel is a 24 space RV park with full hook-ups. Guests of the RV park have full access to the hotel's pool, gym, and laundry facilities.
Address, Phone & Website
14324 Highway 172 North
Ignacio, Colorado 81137
Phone: (970) 563-7777 or toll free at (888) 842.4180
Website: Sky Ute Casino
As I mentioned, the Sky Ute is the closest casino to Durango, however if you're driving West to Mesa Verde, or just want to try your luck at a different place, you can stop at the Ute Mountain Casino south of Cortez.
The Ute Mountain Casino is 58 miles east of downtown Durango. The drive on Highway 160 takes you past Mesa Verde National Park then onto Cortez.
Assuming decent road conditions, this would be about a 1 hour 15 minute drive from Durango.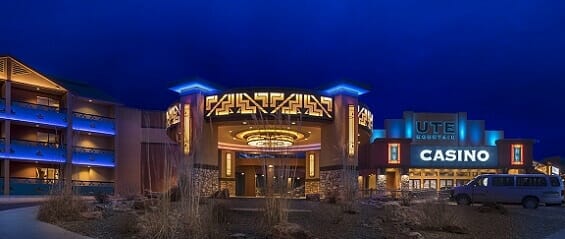 Ute Mountain Casino Hotel
Opened in September of 1992, the Ute Mountain Casino is located on the Ute Mountain Indian Reservation in Towaoc.
The casino is just 12 miles south of downtown Cortez – or about a 15 minute drive.
Nothing fancy here, just an average selection of slot machines, and video poker machines.
Table games include blackjack, roulette, Three-Card Poker and Ultimate Texas Hold'em. On a recent visit, I spotted a craps table, however it wasn't in use and there is no information about craps on Ute Mountain's website.
Interestingly, while they are allowed to have $100 max limit games, the blackjack game I played had a maximum bet of $50.
In addition, Ute Mountain has bingo games running five days a week – Tuesdays and Wednesdays being the exceptions.
Ute Mountain Hotel
Ute Mountain's hotel has just 90 rooms, and there is an RV park with full hook-ups.
Hotel amenities include a small work-out room, and a plain indoor pool with a hot tub and sauna.
The gift shop's webpage states they sell (among other item), souvenirs, Ute Mountain Pottery, and "over 165 brands of the most popular cigarettes."
There's only one restaurant here, Kuchu's but talk about variety. One day they have a spaghetti special, another day boasts the "Trucker's Special" ham and eggs deal, Fridays are a steak and seafood buffet, another day is "Native" themed with mutton stew.
Address, Phone & Website
3 Weeminuche Drive
Towaoc, CO. 81334
Phone: (970) 565-8800 or toll free at (800) 258-8007
Website: Ute Mountain Casino
Distance to Mesa Verde and Four Corners Monument
Mesa Verde National Park's western boundary is just five miles away from Ute Mountain Casino, however that's as the crow flies. Access to the park is a little further.
To actually get into the park, one must enter through the main entrance off of Highway 160 to the North. This means a 23 mile drive through Cortez, then east on Hwy 160. It's about a 35 to 40 minute drive to the Mesa Verde Visitor and Research Center from the casino/hotel.
As for the quirky Four Corners Monument, Ute Mountain is just about a 30 minute drive away (27.8 miles to be exact).
The geographical oddity does have an admission fee. Surprisingly, this concrete marker stuck in the ground actually has opening and closing hours.
Get there after closing time, and you'll be met with closed gates and a stern security guard preventing access – as my family and I painfully discovered.
Hours are seasonally adjusted. I would tell you that – prior to your visit – be sure to check the Four Corners Monument website for hours, but I don't think they have a website.
Other
There are some other casinos in the Four Corners region, but this article is just focused on the two in Colorado. The other three are in Northern New Mexico, just outside Farmington.
Arizona and Utah do not have any casinos near the Four Corners area.
Photos courtesy of each respective casino