Gilpin Hotel & Casino Black Hawk
Address: 111 Main St, Black Hawk, CO 80422
Phone Number: +1 303-582-1133
Website: www.thegilpincasino.com
Hours: Gilpin Hotel & Casino is open 24 hours a day, 7 days a week.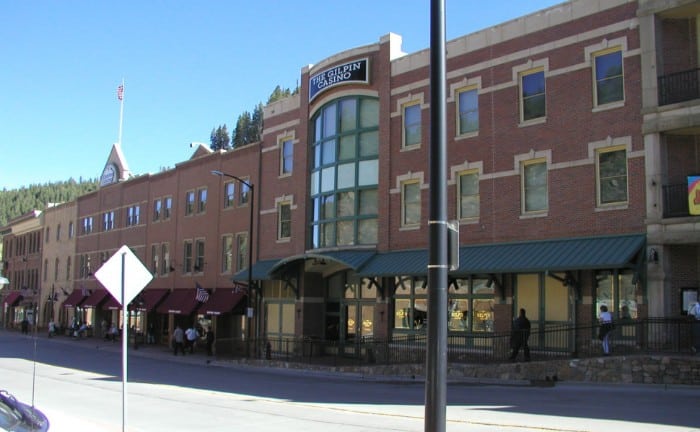 Gilpin Hotel & Casino has been a part of Colorado since its establishment in 1992. It is owned and operated by Jacobs Entertainment Inc., one of the most renowned gaming companies in Colorado.
The casino has over 60 table games and over 370 slot machines, keno machines, and video poker machines. There are also several restaurants, bars, and lounges that offer a variety of entertainment.
Even though there is a hotel in its name, there is actually no hotel at the casino. However, there are several lodging options near the casino, including hotels and cabins. The casino also offers special packages for visitors that include all of their food, beverages, and gaming activities.
It is also a great place for visitors who want to experience classic Americana without having to leave town. Whether you are a serious gambler or just someone looking for fun and entertainment, this casino has something for everyone.
Guests rate this casino with an average of 4.4 out of 5 stars on various review websites. According to one guest, "The gaming floor is huge, with plenty of machines. There are also a lot of restaurants and bars in the area that offer great food and drinks."
Another guest said, "This casino has everything you need for a fun night out – slots, tables, bars, food, and entertainment."
(Related reading: Colorado casinos)
Gaming
Their gaming space is over 8,000 sq/ft and includes over 60 table games and 370 slot machines. They also have keno machines, video poker machines and more for guests to enjoy.
Table Games
If you're looking for fun and excitement, look no further than this casino in Colorado. At this popular destination, you'll find a wide selection of table games. If you're a fan of blackjack, you're in luck.
The casino offers a variety of blackjack tables, including single-deck and multi-deck games. And if you prefer poker, there are plenty of options to keep you entertained.
This casino offers a variety of table game limits and minimums. Most tables have $5 minimum bets, while some offer high-limit games, which can be as high as $1,000 per bet.
Slots
The casino offers many slot machines, including classic 3-reel slots and more modern 5-reel video slots. Some of the most popular games include:
Wicked Winnings
JinseDao Dragon
Heart Throb Lightning
PiggyBankin
Wonder 4Jackpots
Selexion7
Even though the casino does not offer any information about its payback percentage, it is most likely between 80% and 100%, per the Colorado Gaming Commission regulations.
Hotel/Resort
At this casino in Colorado, there is no on-site hotel for guests to stay in. However, this doesn't mean you must worry about finding a place to rest your head. The surrounding area is host to a variety of great accommodations.
If you're in the mood for a little luck, the Lady Luck Casino Black Hawk is nearby. Alternatively, the Grand Z Casino Hotel by Red Lion Hotels offers modern amenities and comfortable rooms.
And, for those who value a cozy environment and a rustic atmosphere, The Lodge Casino could be the perfect option. With so many choices nearby, you will surely find the perfect home base for your time at this casino.
Restaurants & Buffets
If you're looking for a unique dining experience at this casino in Colorado, Lucille Malone's Haunted Kitchen is a must-visit. Legend has it the restaurant is named after a ghostly presence that haunts the establishment to this day.
But don't let that scare you away from enjoying some delicious eats. The menu features a variety of classic American fare with a twist, such as bison burgers and macaroni and cheese topped with truffle oil.
The atmosphere is cozy and inviting, with dim lighting and vintage décor. Be sure to grab a drink at the bar, where you can sample some local craft beers and spirits. And who knows, maybe you'll even glimpse Lucille Malone herself during your visit.
Pools
While this casino may not have any swimming pools on-site, there are plenty of other amenities that make it a great place to stay. Plus, the hotel is in a picturesque mountain setting, making it the perfect place to relax and unwind.
But if you're looking for a place to take a dip, there are plenty of nearby options. Hotels close to the casino include The Lodge Casino, which has an indoor pool area with a hot tub, sauna, and steam room.
So no matter what type of relaxation you're looking for, this casino in Colorado has something to offer. From table games and slots to delicious restaurants and relaxing pools, you'll find it all at this popular vacation spot.
Gilpin Hotel & Casino, Black Hawk, CO FAQ
Does Gilpin Hotel & Casino Have A Sportsbook?
No, they do not have a sportsbook. However, they do offer a wide selection of table games and slot machines for guests to enjoy. There's also an onsite restaurant and bar for guests to take advantage of.
Is Poker Available At Gilpin Hotel & Casino?
Yes, they offer poker games. Multiple tables have limits and minimums, including high-limit games for more experienced players. They also offer regular tournaments for those looking to take their game to the next level.
What Are The Age Requirements For Gambling At Gilpin Hotel & Casino?
To gamble at this casino, guests must be 21 or older. Visitors must provide valid identification when entering the casino floor, and minors will not be allowed on the premises. The casino also offers a bar that only serves alcohol to patrons who are 21 or over.
Does Gilpin Hotel & Casino Have An Online Casino?
No, they do not have an online casino. However, guests can enjoy various table games and slots at their brick-and-mortar establishment. Additionally, they offer poker tournaments and plenty of other entertainment options to keep you occupied during your stay.
Is There An Gilpin Hotel & Casino App?
No, they do not have an app. However, guests can stay updated with their website, which has all the latest promotions, events and more. Additionally, their social media channels are a great way to stay connected and find out what's going on at the casino.
What Is The Dress Code At Gilpin Hotel & Casino?
The dress code at this casino is casual and relaxed. Visitors should refrain from wearing overly revealing or offensive clothing. However, smart-casual attire is accepted for special events or occasions.
Is There An Airport Shuttle Available From Gilpin Hotel & Casino?
No, they do not offer an airport shuttle. However, several nearby transportation companies offer taxis and shuttles to the area. Additionally, guests can arrange for car rentals or ride-hailing services to get them to the casino from their chosen airport.
What Is The Smoking Policy At Gilpin Hotel & Casino?
The casino is a non-smoking establishment. Guests cannot smoke anywhere inside the building, including on their casino floor. However, an outdoor smoking area is provided for those wishing to partake.
What Is The Pet Policy At Gilpin Hotel & Casino?
Sadly, pets are not allowed inside the casino. However, there are several pet-friendly hotels in the area that guests can stay at instead. Additionally, service animals are allowed in the casino as long as they are properly registered and kept on a leash.
Is Wifi Available At Gilpin Hotel & Casino?
Yes, free wifi is available throughout the casino. Guests can connect to their network with ease and stay connected while they're in the area. Additionally, several charging stations are located around the casino floor for guests to use.
What Is The Cancellation Policy For Gilpin Hotel & Casino?
As there is no hotel attached to a casino, guests will need to book their accommodations elsewhere. However, cancellation policies for the casino depend on the type of package booked and the details of each individual visit. It's best to contact customer service for more information.
Conclusion
This casino is a great place to visit for a night of fun and entertainment. Whether you're looking to gamble, have dinner at the onsite restaurant, or enjoy live music, there's something for everyone. Plus, their helpful staff and convenient amenities make it easy to get the most out of your visit.
So, if you're looking for a night of excitement, this casino is the perfect destination! With their wide range of gaming options and other features, you can be sure that your visit to Gilpin Hotel & Casino will be an unforgettable experience.