Red Dolly Casino Black Hawk
Address: 530 Gregory St, Black Hawk, CO 80422, USA
Phone Number: +1 303-582-1100
Website: https://www.thereddollycasino.com/
Hours: Red Dolly Casino is open 8 am – 2 am, 7 days a week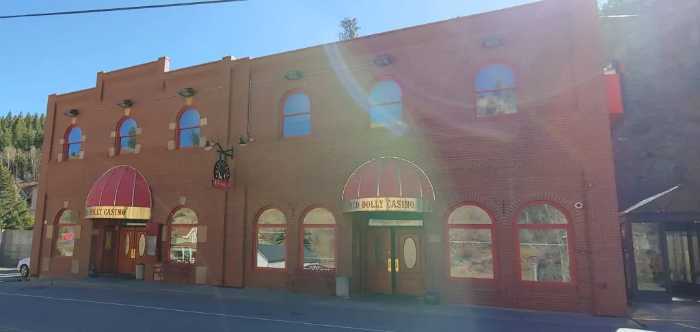 The Red Dolly is a casino located in the town of Black Hawk, Colorado. It is owned and operated by the Isle of Capri Casinos, Inc. The casino has been in operation since 2006.
The casino offers a variety of gaming options, including slots, blackjack, and poker. This Casino is one of the smaller casinos in Black Hawk, but it still offers its guests a wide range of gaming options.
According to TripAdvisor, guests rate the Red Dolly Casino with an average of 3.5 out of 5 stars. They praise the casino for its fun atmosphere and variety of gaming options while noting that the casino is smaller than some of the other options in Black Hawk.
(Related reading: Colorado casinos)
Gaming
This casino offers over 200 slot machines for guests to choose from. A wide variety of slot machines are available, ranging from classic reel slots to video slots. As well as an array of table games, including Blackjack, Poker and Roulette.
Table Games
The casino also offers a wide variety of table games for guests to enjoy. There are staples such as blackjack and roulette, as well as more unique games like Mississippi Stud and Pai Gow Poker.
Whether you're a seasoned gambler or just looking for something new to try, Red Dolly has a game for you. The friendly and knowledgeable staff are always happy to teach you the rules of any game, so you can feel confident and have fun while playing.
Table game minimums vary depending on the game and day of the week. For example, on weekdays, the minimum bet for blackjack is $5, while on weekends, it is $10. The minimums for other games also vary, so be sure to check with the casino before you play.
Slots
This casino is home to a wide variety of popular slot machines. From classic reel slots to the latest video slots, there's something for everyone at Red Dolly. And with over 500 machines to choose from, you're sure to find your favorite.
Here are just a few of the most popular slot machines at this casino:
Wheel of Fortune: One of the most popular TV game shows comes to life in this exciting slot machine game. Spin the wheel and win big prizes!
Cleopatra: Take a journey back in time to ancient Egypt with this popular slot machine game. Spin the reels and match symbols to win big jackpots!
Bonanza: This mining-themed slot machine game is one of the most popular at Red Dolly. Spin the reels and match symbols to win huge payouts!
The payback percentage for this casino's slot machine is not publicly available. However, according to the Colorado Division of Gaming, the average payback percentage for all of the state's casinos is around 89%.
This means that, on average, for every $100 you spend playing slot machines at Red Dolly, you can expect to win back around $89.
Hotel/Resort
Red Dolly Casino is one of the smaller casinos in town. Nevertheless, they offer their guests various gaming options and amenities. The casino floor has over 300 slot machines and 17 gaming tables.
They also have a small sportsbook where guests can place bets on a variety of sporting events. In addition to the gaming options, Red Dolly also offers a restaurant, bar, and live entertainment.
The restaurant serves American cuisine and offers a full breakfast, lunch, and dinner menu. The bar is open late and offers cocktails and a variety of beer and wine. Guests can also enjoy live music on Friday and Saturday nights.
Whether you're looking for a night of gambling or just want to enjoy a meal and some drinks, this casino has something to offer.
Restaurants & Buffets
Looking for a great place to eat in Red Dolly, look no further than Sunrise Restaurant. The menu features a wide variety of delicious options, including steaks, seafood, pasta, and more. They also have a full bar with a wide selection of beer, wine, and spirits.
Sunrise Restaurant is perfect whether you're looking for a quick bite or a leisurely meal. And be sure to check out the specials – they're sure to tantalize your taste buds.
Pools
Unfortunately, the Red Dolly in Black Hawk does not have a pool. However, there are several hotels in the area that do have pools that guests can use. So if you're looking to take a dip, check with your hotel before heading to the casino.
Red Dolly Casino Black Hawk, CO FAQ
Does Red Dolly Casino Have A Sportsbook?
This casino does have an elite sportsbook. This is good news for sports fans looking to place bets on their favorite teams while enjoying all this casino offers.
The sportsbook is situated right in the middle of all the casino action, making it easy to get to and offering a great view of all the games. In addition to a variety of TVs showing different sporting events, the sportsbook also offers a full-service bar and food options.
So whether you're looking to place a bet or just enjoy the game, the Red Dolly sportsbook is the perfect spot.
Is Poker Available At Red Dolly Casino?
Yes, poker is available at this casino. The casino offers both live and electronic poker games, so there's something for everyone. If you're looking for the thrill of competition, you can join one of the live tournament games.
Or, if you prefer a more relaxed atmosphere, you can try your hand at one of the electronic poker machines. Either way, you're sure to have a fantastic time at the casino.
What Are The Age Requirements For Gambling At Red Dolly?
The legal gambling age at this casino is 21. However, if you are willing to gamble with alcohol, the minimum drinking age is only 18. Guests can take advantage of the casino's many gaming options, including slots, table games, and a sports book.
The casino also offers live entertainment and dining options. Whether you're looking for an exciting night out or a relaxing afternoon, Red Dolly is the perfect place to play.
Does Red Dolly Have An Online Casino?
Although this casino does not have an online casino, it does have a sportsbook you can visit in person, offering online live betting.
ELITE Sportsbook is committed to providing our customers with a first-class experience. That's why we offer unique features like our Progressive Parlay and Live Betting.
And if you ever have a feeling that your winning bet might turn against you, our Early Cashout feature is there to help. So whether you're looking to deposit online or take advantage of unique features, ELITE Sportsbook is the right choice for you.
Is There An Red Dolly Casino App?
Currently, there is no Red Dolly App available for download. However, this may change in the future as the casino looks to expand its digital presence. In the meantime, this casino does have a website that can be accessed from most mobile devices.
The website is user-friendly and offers various features, including a listing of upcoming events and promotions, a menu of dining options, and information on hotel accommodations. To access the website, simply open your web browser and type in www.reddollycasino.com.
What Is The Dress Code At Red Dolly Casino?
There is no specific dress code at this casino. However, guests are advised to dress in casual attire. This means avoiding any clothing that is too revealing or overly formal.
Also, guests should know that the casino does not allow outside food or drink. So be sure to leave your picnic baskets and coolers at home.
Is There An Airport Shuttle Available From Red Dolly?
Yes, an airport shuttle is available from this casino. The shuttle runs daily from 8:00 am to 10:00 pm and picks up guests at the Denver International Airport. The service is complimentary for all casino guests.
What Is The Smoking Policy At Red Dolly?
The smoking policy in this casino is that smoking is allowed in designated areas only. These areas are clearly marked and are located on the casino floor. Guests who smoke in non-designated areas will be asked to leave the premises.
What Is The Pet Policy At Red Dolly?
Pets are not allowed on the casino floor or in any of the restaurants. However, service animals are always welcome.
Is Wifi Available At Red Dolly Casino, Colorado?
Yes, wifi is available in this casino. Simply log in with your email address and password to access the internet.
What Is The Cancellation Policy For Red Dolly?
There is no hotel at this casino, so there is no need for a cancellation policy. However, we do recommend that guests call ahead to confirm their reservation at the casino to avoid any inconvenience.
Conclusion
Red Dolly Casino is the perfect place to enjoy a game of chance and an afternoon of relaxation. The casino has something for everyone with its convenient location and various amenities.
So whether you're looking to play a game of blackjack or take a spin on the roulette wheel, Red Dolly is the place for you.