Century Casino Central City
Address: 102 Main St, Central City, CO 80427, USA
Phone Number: +1 303-582-5050
Website: https://www.cnty.com/central-city/
Hours: Century Casino is open 24 hours a day, 7 days a week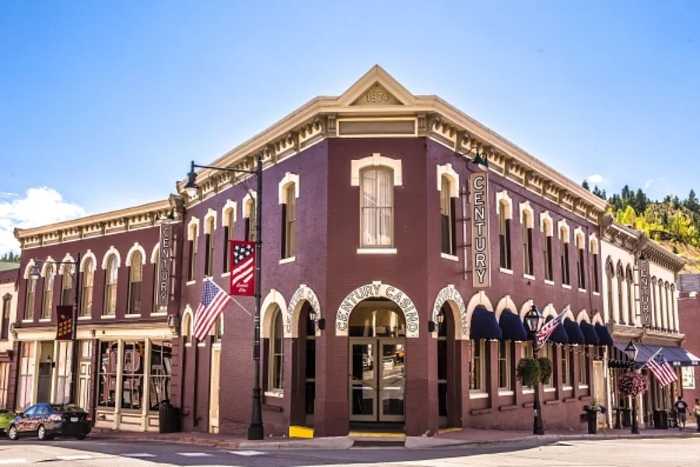 The Century Casino in Central City, Colorado, is a premier gambling destination. Since 1995, the casino has been open 24 hours a day, 7 days a week, offering a variety of table games and slots, as well as poker tournaments and other special events.
It is located in the heart of Central City, just a short walk from the main street. Parking is available on the premises. The casino is committed to providing an enjoyable and safe gambling experience for all of its guests.
A hotel on-site offers guests the convenience of being able to stay and play. The casino also has a number of restaurants and bars so that guests can refuel and relax after a day of gambling.
Whether you are a seasoned gambler or just trying your luck for the first time, the Century is sure to provide an unforgettable experience.
Guests rate Century Casino with an average of 3.5 out of 5 stars. Guests have given the casino high marks for its friendly staff, great gambling options, and convenient location. The casino is a great option if you are looking for a fun place to gamble in Central City.
(Related reading: Colorado casinos)
Gaming
This casino offers 24-hour live gaming with slots, blackjack, poker, and more. Plus, they offer some of the best tournaments in Colorado.
Table Games
Games tables are aplenty at this casino. Whether you're looking for a game of blackjack, roulette, craps, or poker, you're sure to find it here. The casino also offers a variety of specialty games, such as Mississippi Stud and Let it Ride.
If you're feeling lucky, you can try your hand at one of the many slot machines. No matter what your game, you're sure to have a fun and exciting time at this casino.
The table games at this casino minimums vary depending on the game and time of day. However, you can typically expect to find $5 blackjack tables during the week and $10 tables on weekends. The casino also offers a variety of high-limit games, so there is something for everyone.
Slots
If you're looking for casinos in Central City with a wide variety of slot machines, this casino is the place for you. With over 420 slots, including all your favorite classics as well as the latest and greatest video slots, there's something for everyone at this casino.
Here are some of the most popular slot machines:
Wheel of Fortune: One of the most popular TV game shows of all time comes to the casino floor with this classic slot machine. Spin the wheel and see if you can win big.
Ghostbusters: Who ya gonna call? The iconic Ghostbusters are here to help you win big with this fun and exciting video slot machine.
Sex and the City: Fans of the hit TV show will love this fun slot machine, which features characters and locations from the show. Try your luck at hitting it big in Sin City.
These are just a few of the popular slot machines at this casino. So head on down and try your luck today.
The payback percentage for slot machines at this casino is 92.5%. This means that for every $100 you spend, you can expect to win back $92.50, on average. However, it is important to note that this is just an average, and your actual results may vary.
Hotel/Resort
Nestled in the historic mining town of Central City, Colorado, this casino offers visitors a unique gaming and entertainment experience. From slots and table games to live entertainment and delicious dining, there is something for everyone at Century.
In addition to the casino floor, guests can enjoy the on-site hotel, restaurant, bar, and events center. The hotel features comfortable rooms and suites, an indoor pool, a hot tub, and a fitness center.
The restaurant offers a menu of American favorites, while the bar features a selection of local beers and handcrafted cocktails. The events center hosts a variety of live shows and events throughout the year.
The cost of a room at this casino ranges from $69 to $129 per night. This rate includes access to the casino and the hotel's amenities.
So if you're looking for a fun and affordable place to stay in Central City, be sure to check out this casino.
Check-in time at Century Hotel is 4:00 pm
Check-out time at Century Hotel is 11:00 am
Restaurants & Buffets
There's no need to go off-site when you're looking for a great meal here at Century. The Mid City Grill is perfect for breakfast, lunch, or dinner and offers a quiet escape from the gaming action.
If you're in search of a quick bite or pick-me-up, our Retro Deli & Tavern has got you covered with delicious options like our noodle bar. And don't forget to check out the Video Poker Bar for clean and safe refreshments available 24 hours a day.
No matter what your taste, they've got something for everyone here at Century.
Pools
The indoor pool at this casino is the perfect place to relax and unwind. With a heated pool, hot tub, and a spacious sundeck, there are plenty of ways to enjoy the water.
The pool area also features a state-of-the-art fitness center, so you can stay fit and healthy
Century Casino Central City, CO FAQ
Does Century Casino Have A Sportsbook?
Yes, this casino has a sportsbook. They offer various betting options for all your favorite sports, including football, basketball, baseball, and more. You can also place bets on horse races, boxing matches, and more.
The sportsbook is located in the casino adjacent to the main gaming floor. In addition to the sportsbook, they also offer a full-service bar and restaurant. So whether you're looking to place a bet or just grab a bite to eat, Century has you covered.
Is Poker Available At Century Casino?
Yes, poker is available at this casino. They offer a range of different poker games, including Texas Hold'em, Omaha, and Seven Card Stud. There are also weekly tournaments with prizes up for grabs.
The casino has a dedicated Poker Room that is open 24 hours a day, 7 days a week. So whether you're a seasoned pro or just starting out, there's sure to be a game that's right for you.
What Are The Age Requirements For Gambling At Century?
The legal gambling age at this casino is 21. You must be 21 or over to enter the casino, and you will be asked to present a valid ID if you appear to be under the age of 21. Additionally, you must be 21 or over to play any of the casino games, including slots, table games, and poker.
Does Century Have An Online Casino?
At this time, this casino does not have an online casino. However, they are committed to providing their guests with the best possible gaming experience and are continually exploring new ways to do so.
In the meantime, they offer a variety of exciting casino games and slots that can be enjoyed in person at their conveniently located casino. They also provide a variety of helpful services, such as free parking and complimentary drinks, to make your visit as enjoyable as possible.
So whether you're looking for an online casino or a traditional one, Century is sure to have what you're looking for.
Is There An Century Casino App?
The launch of the Mobile App Rewards in the Palm of Your Hand is an important milestone for Century Casinos.
This new feature allows our guests to connect with their Winners' Zone account from their mobile device and have all the information they need about their account, upcoming offers, and our latest promotions and events – right at their fingertips.
With this new app, our guests can easily check their current status, view exclusive offers, and check their balances – making it easy to enjoy all the benefits of being a Century's guest.
Log in today and see how easy it is to connect with your account and take advantage of everything we have to offer.
What Is The Dress Code At Century?
There is no set dress code at this casino, but they do ask that you dress in a manner that is respectful of others. This means no offensive clothing, bare feet, or excessively casual attire.
They also ask that you refrain from wearing hats or sunglasses inside the casino. So whether you're coming for a night out on the town or just to play some casino games, be sure to dress in a comfortable and presentable way.
Is There An Airport Shuttle Available From Century Central City?
Yes, there is an airport shuttle available from this casino. The casino is located just minutes from the Denver International Airport, making it easy to get to and from the casino. The shuttle runs 24 hours a day, 7 days a week, and is complimentary for all guests of the casino.
What Is The Smoking Policy At Century Hotel & Casino?
This casino is a non-smoking casino. This means no smoking is allowed inside the casino, including in the gaming areas, restaurants, and bars. There is a designated smoking area outside of the casino, where guests are welcome to smoke.
What Is The Pet Policy At Century Resort?
Pets are not allowed inside this casino. This includes the casino, hotel, restaurants, bars, and all other areas of the property. Service animals are exempt from this policy and are welcome inside the casino.
Is Wifi Available At Century Hotel & Casino Central City?
Yes, complimentary WiFi is available throughout this casino. This means you can stay connected while you're gambling, dining, or exploring the property. So whether you're checking your email, browsing the web, or streaming your favorite show, you'll be able to do so without any issue.
What Is The Cancellation Policy For Century?
The cancellation policy for this casino is as follows:
-All reservations must be canceled at least 24 hours prior to arrival to avoid a charge of one night's room and tax.
-No-shows will be charged the full amount of their reservation.
Conclusion
Century Casino is sure to have what you're looking for, whether you're looking for a traditional casino experience or an online one.
With a convenient location, helpful services, and a variety of gaming options, this casino is a great choice for any gambler. So if you're in the area, be sure to check out Century in Colorado. You won't be disappointed.