Midnight Rose Hotel & Casino Cripple Creek
Address: 256 E Bennett Ave, Cripple Creek, CO 80813
Phone Number: +1 719-689-0303
Website: www.triplecrowncasinos.com/midnight-rose-hotel-casino/
Hours: Midnight Rose Hotel & Casino is open 24 hours a day, 7 days a week.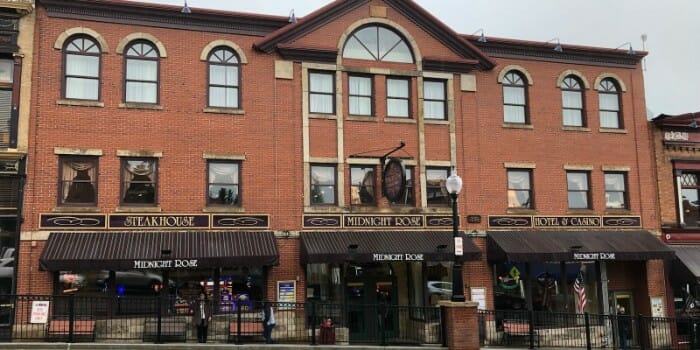 The Midnight Rose Hotel & Casino in Cripple Creek is a popular destination for visitors from all over the country. The casino was opened in 1994 by Triple Crown Casinos and has been in continuous operation ever since.
The casino features over 300 slot machines ranging from classic favorites to new cutting-edge games. They currently do not have live table games but still offer a great selection of slots and video poker machines.
The casino also has an on-site restaurant and bar with creative menu options to satisfy any appetite. The hotel offers comfortable accommodations in each of the 60 rooms, as well as free internet access and a hot tub.
For entertainment, the casino hosts live entertainment on select nights. Additionally, they have a variety of special events, from comedy shows to live music, that are sure to make for an enjoyable evening.
Whether you're looking for the thrill of gambling or just a relaxing weekend away, this casino in Cripple Creek will surely be a great place to stay. From the friendly staff to the modern rooms, this hotel and casino will surely make for an enjoyable stay.
According to guest reviews, this casino hotel in Cripple Creek has a 4.4/5 star rating. One guest said, "The staff was friendly and accommodating, the rooms were clean and comfortable, and the casino had plenty of entertainment."
Another guest said, "I really enjoyed my stay at this hotel. It was conveniently located in Cripple Creek, and I liked the amenities they offered. Would definitely recommend it."
(Related reading: Colorado casinos)
Gaming
This casino features over 300 slot and video poker machines. Additionally, the casino offers various promotions to keep customers entertained throughout their stay.
Table Games
If you love table games, you may wonder what games you can play at this casino in Colorado. While they offer various slot machines, unfortunately, table games are unavailable. However, don't let that discourage you from visiting the casino.
With their comfortable accommodations and top-quality amenities, you will surely find plenty of other things to enjoy during your stay. So, whether you're a seasoned gambler or just looking for a fun getaway, this casino is definitely worth checking out.
Slots
The casino in Cripple Creek is home to various popular slot machines. From classic favorites to new cutting-edge games, you will surely find something that suits your gambling needs. Popular slots at this casino include:
Buffalo Grand
Britney Spears
Wheel of Fortune
Game of Thrones
Dragon Spin
Wild Panda
Bier Haus
Unfortunately, this casino does not publish its slot machine payback percentage. However, Colorado's Gaming Commission requires all casinos in the state to have at least an 80% payback percentage on their slot machines.
Hotel/Resort
If you're searching for a comfortable and modern hotel during your visit to Cripple Creek, look no further than this casino hotel. With 60 rooms to choose from, each complete with either a queen or king bed, you'll find yourself immersed in relaxation and comfort during your stay.
Additionally, the casino offers a variety of amenities to ensure a great stay. These include:
Wifi access
Parking on-site
24-hour front desk
Concierge services
Housekeeping
Onsite dining
A hot tub
Live entertainment and shows
Banquet facilities
The cost to stay at this casino varies depending on the season and day of the week. Generally, the cost per night ranges from $159-169. During peak season periods and holidays, prices may increase accordingly.
Check-in time at Midnight Rose is 4:00 pm
Check-out time at Midnight Rose is 11:00 am
Restaurants & Buffets
Looking for a great dining experience at this casino? Look no further than Dynamite Dick's. This restaurant offers a range of delicious options, including juicy burgers, seafood, steaks, and more. Whether you're in the mood for a hearty meal or a lighter bite, Dynamite Dick's has you covered.
With a friendly and helpful staff, you will feel welcomed and satisfied when you dine at this popular establishment. So if you're staying at this casino or just passing through, be sure to stop by Dynamite Dick's for a meal you won't forget.
Pools
While this casino in Colorado has no onsite swimming pools, there are still plenty of ways to beat the heat during your stay.
You can explore the stunning natural scenery in the area, take a refreshing dip in one of the nearby lakes or rivers, or indulge in a cold drink at one of the hotel's many bars.
Plus, the hotel's convenient location connects you to various attractions, from hiking trails and scenic drives to museums and galleries. So, even though there isn't a pool on site, you will find plenty of ways to stay cool and entertained during your next Colorado vacation at this casino.
Midnight Rose Hotel & Casino, Cripple Creek, CO FAQ
Does Midnight Rose Hotel & Casino Have A Sportsbook?
Unfortunately, they do not have a sportsbook. However, they have other gaming options onsite that will surely keep you entertained during your stay. Additionally, they are close to several other casinos in the area that do offer sports betting.
Is Poker Available At Midnight Rose?
Unfortunately, they don't offer any live poker games at the casino. However, they do have a range of slot machines and other gaming options available. For those looking for more traditional poker, there are several other casinos nearby that offer live tables.
What Are The Age Requirements For Gambling At Midnight Rose Hotel & Casino?
The minimum age to gamble at this casino is 21 years old. All guests must present valid government-issued identification upon entering the casino. Anyone under the age of 21 will not be allowed to enter, even if they are accompanied by an adult.
Does Midnight Rose Have An Online Casino?
No, they do not currently have an online casino. However, they do offer a variety of gaming options onsite for guests to enjoy during their visit. Additionally, many other casinos in the area do offer online gambling options for customers to take advantage of.
Is There An Midnight Rose Hotel & Casino App?
No, there is not currently an app for this casino. However, they offer a website with information about their services and amenities. Additionally, you can find helpful reviews and ratings of the casino from customers who have visited in the past.
What Is The Dress Code At Midnight Rose?
The dress code at this casino is casual, so you can wear whatever you feel comfortable in while visiting. However, it is important to note that while the dress code is fairly relaxed, they do not allow guests to wear any clothing with offensive language or graphics.
Is There An Airport Shuttle Available From Midnight Rose Hotel & Casino?
No, there is not currently an airport shuttle available from this casino. However, they are located conveniently close to the Colorado Springs Airport. Visitors can easily take a taxi or rideshare service to get to and from the airport quickly and safely.
What Is The Smoking Policy At Midnight Rose?
The casino is a non-smoking facility. However, they do have designated outdoor smoking areas where guests can go to enjoy their cigarettes or cigars. Additionally, they offer complimentary ashtrays that are available for use in these areas.
What Is The Pet Policy At Midnight Rose Hotel & Casino?
Sadly, pets are not allowed inside the casino or the hotel. However, there are several pet-friendly lodging options located near the casino for visitors who would like to bring their furry friends with them on vacation.
Service animals are welcome at the casino and hotel as long as they remain under control at all times. Additionally, service animals must be registered with the hotel upon arrival.
Is Wifi Available At Midnight Rose?
Yes, wifi is available free of charge throughout the casino and hotel. Additionally, there are several designated areas in the lobby where guests can utilize their laptops or other devices to stay connected during their visit.
What Is The Cancellation Policy For Midnight Rose Hotel & Casino?
Guests are allowed to cancel their reservations and receive a full refund if they do so 24 hours before the check-in time. However, cancellations made after this time will be charged a cancellation fee based on the rate they have booked.
Conclusion
This casino hotel is a great option for anyone looking for a fun gaming experience in the Colorado Springs area. With its wide range of amenities and convenient location, it's sure to please all visitors.
Additionally, they offer free wifi throughout the casino and hotel and other great features like complimentary ashtrays for smokers and 24-hour cancellation policies. So, make sure to check out all that Midnight Rose Hotel & Casino has to offer the next time you're in town!