Johnny Z Casino Central City
Address: 132 Lawrence St, Central City, CO 80427
Phone Number: (303) 582-562
Website: N/A
Hours: Johnny Z Casino is open 24 hours a day, 7 days a week.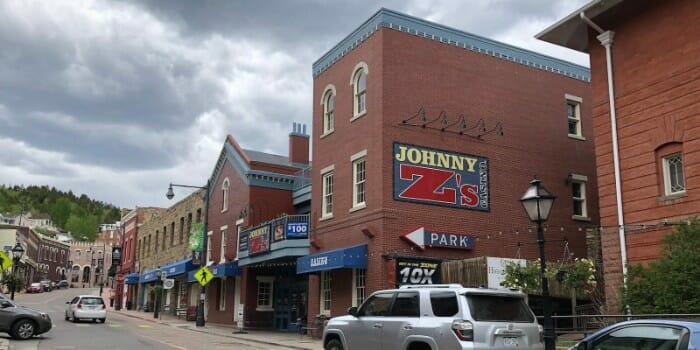 Johnny Z Casino is a staple of the historic Central City gaming scene. Located on Lawrence Street, it is one of the most popular gaming establishments in the town. Founded in 2010, it has been a mainstay of the city ever since.
Notable for its vintage look and long-standing tradition, it offers slots and electronic gaming with tournaments and promotions that will surely please any gambler. Its wide variety of entertainment options and generous rewards make it a great place for a night out or a weekend getaway.
They also host special events throughout the year, such as holiday parties and live music. The staff is friendly and knowledgeable about the latest gaming technology, so there's never a dull moment here.
They also have an onsite restaurant, providing delicious meals and drinks to patrons. With excellent customer service and attention to detail, this casino is the perfect place for a night of gaming adventure.
This casino has a 4.5-star rating on Google and TripAdvisor. One guest commented, "I love going to Johnny Z Casino. The atmosphere is great, the staff is friendly and helpful, and the games are always fun."
Another wrote, "One of the best casinos I've ever been to. The staff is friendly, and the drinks are always cold. I highly recommend this place."
(Related reading: Colorado casinos)
Gaming
Their gaming space is equipped with more than 350 video slots and electronic table games. Also, they have multiple promotions and tournaments to keep players entertained.
Table Games
While this casino in Colorado may not offer any table games, they have plenty of options for those who love slot machines. From classic reels to the latest video slots, this casino has it. With a friendly and helpful staff, they can assist you in finding the perfect slot game to play.
Whether you prefer penny slots or high-limit machines, there are plenty of choices to meet your gaming needs at this casino.
Slots
This casino has a variety of slot machines to choose from, and some of the most popular ones include:
China Mystery
Double Diamond
Fireball
Ghostbusters
The Mighty Atlas
Pinball
Quick Hit Platinum
Rawhide
Snow Wizard
This casino does not provide information regarding its slot machine payback percentage. Nonetheless, it is mandatory for casinos in Colorado to have a payback percentage of at least 80%.
Therefore, you can assume that the slot machines at this casino have a payback percentage above this minimum requirement.
Hotel/Resort
If you're planning on visiting this casino in Colorado, you might be wondering where to stay. While there's no hotel attached to the property, there are several options nearby that you can consider.
For starters, the Lady Luck Casino Black Hawk offers a great location, with easy access to other casinos and entertainment options. The Midnight Rose Hotel & Casino is another solid choice, offering comfortable rooms and a variety of amenities.
Additionally, the Grand Z Casino Hotel by Red Lion Hotels is a popular option, known for its spacious rooms and friendly staff. No matter which hotel you choose, you're sure to have a great time during your visit to this casino.
Restaurants & Buffets
If you're looking for a tasty meal while visiting this casino, be sure to check out the various dining options available. Two dining options that stand out are Z Cafe and Z Grill. With a focus on fresh and locally-sourced ingredients, both restaurants offer a diverse menu to satisfy any craving.
The Z Cafe offers casual breakfast and lunch options, as well as fresh baked goods and coffee throughout the day. For a heartier meal, the Z Grill is the perfect choice.
This restaurant boasts a variety of classic American cuisine, including juicy burgers and steaks, as well as plenty of vegetarian options. Whether you're in the mood for a quick bite or a full-on dining experience, checking out Z Cafe and Z Grill at this casino is a must.
Pools
Are you planning a trip to this casino in Colorado? While there are no swimming pools onsite, there are plenty of other exciting activities to keep you entertained. With a wide variety of slot machines, you will surely find something that suits your taste.
When you need a break from gaming, you can visit the casino's restaurant for delicious food or check out the nearby shops and attractions. Plus, the friendly staff is always happy to provide recommendations and answer any questions you may have.
Johnny Z Casino, Central City, CO FAQ
Does Johnny Z Casino Have A Sportsbook?
Unfortunately, this casino does not have a sportsbook. However, they offer multiple slots and electronic games to keep players entertained. Additionally, they have various dining options at their on-site restaurant and multiple nearby attractions to explore during your stay.
Is Poker Available At Johnny Z?
No, there are no live table games at this casino. However, there are a couple of video poker machines available in the casino. Additionally, you can find a variety of slot and electronic gaming options to choose from.
What Are The Age Requirements For Gambling At Johnny Z Casino?
To gamble at this casino, you must be 21 years of age or older. All players must present valid identification when entering the casino. It is the responsibility of all players to ensure that they meet the minimum gambling age before participating in any gaming activities.
Does Johnny Z Have An Online Casino?
No, they do not have an online casino, and you must visit their physical casino in Central City, Colorado, to gamble. They offer a variety of slot and electronic gaming options as well as on-site restaurants and nearby attractions.
Is There An Johnny Z Casino App?
No, they do not offer an app at this time. For more information about their services, you can contact them directly. Additionally, there are various websites and apps available that provide information about casinos and gambling activities across the state.
What Is The Dress Code At Johnny Z?
The dress code at this casino is just casual. However, guests are encouraged to wear comfortable clothing and shoes appropriate for the venue. Additionally, guests should adhere to any dress code restrictions indicated by signs or posted in the casino lobby.
Is There An Airport Shuttle Available From Johnny Z Casino?
No, there is no airport shuttle available from this casino. However, they do offer free parking for patrons who are driving to the casino. Additionally, there are several nearby taxi and ride-sharing services that can provide transportation to and from the casino.
What Is The Smoking Policy At Johnny Z?
This is a non-smoking casino. Smoking is not permitted anywhere inside the building, and there are designated outdoor smoking areas for patrons who wish to smoke. Additionally, tobacco products and e-cigarettes are not allowed in any area of the casino.
What Is The Pet Policy At Johnny Z Casino?
Pets are not permitted inside the casino. Service animals are allowed if they have proper documentation and follow the casino's rules. Pets must be kept on a leash at all times when outside of the building.
Is Wifi Available At Johnny Z?
Unfortunately, this casino does not offer Wi-Fi access. Additionally, all cell phone usage is prohibited inside the casino. Patrons are encouraged to use their phones in designated outdoor smoking areas only and must turn them off before entering the building.
What Is The Cancellation Policy For Johnny Z Casino?
As there is no hotel on-site, there is no cancellation policy. However, all players must adhere to the casino's terms and conditions when participating in gaming activities. Additionally, guests should contact the casino directly if they have any questions or concerns about their visit.
Conclusion
This casino is the perfect destination for those looking for an exciting gaming experience. This casino offers a variety of slots and electronic games, on-site dining options, nearby attractions, and free parking.
Additionally, they have a strict age requirement for gambling and other policies to ensure all guests have a safe and enjoyable time. If you are looking for a great night out in Central City, Colorado, Johnny Z Casino is the place to be.