How Far is Denver to Black Hawk & Central City Colorado? Driving Distance & Directions
By Steve Beauregard
The drive from Denver to Black Hawk/Central City is 40 miles, or roughly 50 minutes.
Here we're talking about starting from downtown Denver. Obviously it would take you a little longer when starting out from east Denver, and shorter if you're leaving from the West Denver/Lakewood area.
As mentioned, the drive will normally be in the 50 minute range, depending on weather. This being the Rockies, it can drop a foot of snow in April or even Mid-May, making the commute a lot longer and more dangerous.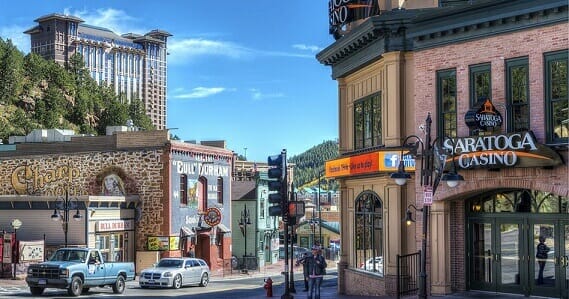 The best, fastest, and easiest way to get to the Black Hawk casinos and Central City casinos, (the two towns are just 1.5 miles apart), is to take Interstate 70, (or I-70 west), 31 miles to the Central City Parkway.
From there it's just nine miles over the hill into Central City/Black Hawk area.
One warning: the Central City Parkway is a notorious speed trap – made all the worse by the excruciatingly low speed limits they've set up. We're talking a 4 lane highway with 30 miles per hour limits in some areas. Combine that with excitable, anxious gamblers dying to start playing, and you have yourself a great source of additional municipal revenue in the form of speeding tickets.
(Above is the Google Maps Route from Denver "A" to Central City "B" then Black Hawk "C" via I-70)
Denver to Black Hawk Alternative Route
Another warning I have for those of you driving from Denver to Black Hawk is that some GPS and mapping systems have been wrong. I've seen both Google Maps and Mapquest recommend an alternative route, US Highway 6, which is the highway leading out of Golden.
According to the MapQuest and Google Maps, this Highway 6 route, (which turns into Highway 119), is just 35 miles and takes just 46 minutes, meaning it will save you three minutes and five miles from my recommended route. Maybe it will, if you're lucky.
The truth is, US Highway 6, is a curvy, usually-crowded, winding two lane highway that meanders its way up Clear Creek Canyon. It's scenic, and pretty, but it's not always fast.
First off, the highway is two lane. You may be ready to begin your day of gambling, only to find yourself stuck behind some terrified flatlander (our Colorado term for someone from a state without mountains), who insists on driving 10 miles per hour, either out of fear, or because they want to take in all the scenery. You can do the math at home of how long it would take to drive 35 miles going 10 miles per hour would be.
That's perhaps an extreme example, but I've been stuck countless times in Clear Creek Canyon behind such a driver. But if the slow drivers don't get you, the slow buses may.
Having a population of just 118 people means that most of Black Hawk casino employees live in the Denver metropolitan area. And these folks, for the most part, take employee-provided shuttles. These buses don't speed up the mountain, and getting stuck behind them can be frustrating too.
There are also a number of regular buses that take gamblers to and from Black Hawk, further clogging the highway.
Lastly, there is the matter of rockslides. Granted, major vehicle-damaging rockslides don't occur frequently in Clear Creek Canyon, but they happen enough where it has to be a concern. The regions' weather cycle of freezing weather, followed by sunshine, followed by moisture helps mother nature loosen the rocks and boulders on the hillsides towering above the highway. Just one of these can cause either serious injury, death, or even worse: a delay in your day of slot play.
Once you're stopped in traffic, as CDOT (Colorado Department of Transportation) spends the next six hours removing a boulder, you'll wish you took Interstate 70 instead.
So unless you happen to be in the Golden area, perhaps taking a tour of the Coors Brewery, skip this ill-advised route.
Driving Distance and Directions from DIA (Denver International Airport) to Black Hawk.
This will take a little longer than the trip from downtown Denver. That's because DIA is located in Kansas. OK, not really. But if feels that way – especially when you're flight leaves in 1/2 hour and your driving for what seems like forever.
DIA is far to the north and east of the Denver, so there'll certainly be more driving. Still, it's manageable. If you go the way I recommend, staying on the well-maintained and usually speedy Interstate 70, you'll get there in just over an hour.
Google map estimates this 61 mile trip will take you 1 hour and 9 minutes, and I can't argue with that.
What I can argue with is their recommended route. Again, there top choice is for you to go meandering around the streets of Golden and up the highway. Doing all of this will save you exactly one minute of time vs. going the I-70 route. And that's assuming everything goes perfectly and you're not stuck behind grandma going 15 m.p.h. in her Buick.
So leaving from Denver International Airport, you'll want to go south on Pena Boulevard to Interstate 70. From there you'll drive past Denver and into the mountains for about 53 miles until you get to the Central City Parkway. From there you're just 11 miles away from Central City, and from there, you're just over a mile downhill to Black Hawk.
Distances from other Colorado towns to Black Hawk
Boulder, Colorado: 35.7 miles up Highway 119. But don't let the short distance fool you. It will take you about an hour up the hill.
Ft. Collins, Colorado: 91 miles driving the fastest, non-scenic route on I-25 to Golden, then up Highway 6. (Roughly an hour and 40 minutes if you're not stuck behind a rock or a bus).
Colorado Springs: First off nearby Cripple Creek offers gambling, and is much closer, at just 44 miles around Pike's Peak, (or roughly just over an hour). Nevertheless, if you want to Central City/Black Hawk, go, here is the distance and directions from Colorado Springs to Black Hawk and Central City.
Photos courtesy of the City of Black Hawk