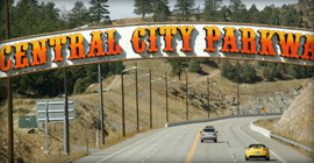 By Steve Beauregard – It's approximately 107 miles (or 172 kilometers) from downtown Colorado Springs to Blackhawk, Colorado. And since Central City is just up the hill along the way, it's only 105 miles from Colorado Springs to Central City. In normal traffic and weather conditions, it would take you just under two hours (about an hour and 50 minutes specifically), to get there.
With only three towns in Colorado allowed to have casino gambling, Black Hawk and Central City are very popular with residents and visitors along what's known as Colorado's "Front Range" – the populated corridor running from Pueblo on the southern end, up to Colorado Springs, Denver, Boulder, Loveland, then Ft. Collins at the northern side.
Oddly enough, Black Hawk and Cripple Creek draw a lot of visitors from the Colorado Springs area, even though the third legal gambling town in Colorado, Cripple Creek, is much closer. (Go here to see the distance from Colorado Springs to Cripple Creek).
Nevertheless, if you're traveling from Colorado Springs and looking to get your gamble on in either Black Hawk or Central City, the route is fairly simple.
Get on Interstate 25 going North. Through Colorado Springs, Interstate 25, (or I-25) is also known as the Monument Valley Highway, and the Ronald Reagan Highway.
Once on I-25 going north, it's 52 miles from downtown Colorado Springs to south Denver.
At Exit 194, you'll want to take C-470 West. It's also called "CO-470" I believe. Either way, you'll want to make sure you're going west on 470. If memory serves, the large green signs will say "Grand Junction." It's pretty clearly marked.