Distance from Colorado Springs to Black Hawk & Central City
By Steve Beauregard
It's approximately 107 miles (or 172 kilometers) from downtown Colorado Springs to Black Hawk, Colorado. And since Central City is just up the hill along the way, it's only 105 miles from Colorado Springs to Central City.
In normal traffic and weather conditions, it would take you just under two hours (about an hour and 50 minutes specifically), to get there.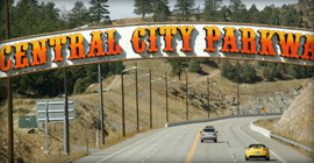 With only three towns in Colorado allowed to have casino gambling, Black Hawk and Central City are very popular with residents and visitors along what's known as Colorado's "Front Range" – the populated corridor running from Pueblo on the southern end, up to Colorado Springs, Denver, Boulder, Loveland, then Ft. Collins at the northern side.
Oddly enough, Black Hawk and Cripple Creek draw a lot of visitors from the Colorado Springs area, even though the third legal gambling town in Colorado, Cripple Creek, is much closer. (Go here to see the distance from Colorado Springs to Cripple Creek).
Nevertheless, if you're traveling from Colorado Springs and looking to get your gamble on in either Black Hawk or Central City, the route is fairly simple.
Get on Interstate 25 going North. Through Colorado Springs, Interstate 25, (or I-25) is also known as the Monument Valley Highway, and the Ronald Reagan Highway.
Once on I-25 going north, it's 52 miles from downtown Colorado Springs to south Denver.
View Larger Map
At Exit 194, you'll want to take C-470 West. It's also called "CO-470" I believe. Either way, you'll want to make sure you're going west on 470. If memory serves, the large green signs will say "Grand Junction." It's pretty clearly marked.
From C-470, it's exactly a marathon to the next turn off. And by that I mean it's exactly 26.1 miles before you'll go west on Interstate 70. Before you do, however, you'll pass the turnoff to the world famous Red Rocks Amphitheater. If you have the time, definitely check it out, as it will only be a few miles off of C-470.
So as I mentioned, 26.1 miles after you left I-15, you'll get in the westbound exit for I-70. Again, look for the large green signs saying "Grand Junction."
Once you're headed westbound on Interstate 70, it's just 17 miles to the Central City Parkway. This drive from Denver to the Central City Parkway is pretty steep, and can get very crowded and hectic at times. Don't let the rush of excitement at being able to gamble soon distract you from your driving. I'm not preaching – this is a reminder to me as much as anyone.
So 17 miles from Denver, you'll see the signage directing you to the Central City Parkway. Please note: this is a rare case where directions from Google Maps and other mapping systems are wrong.
If you type in "Black Hawk" into your GPS, some mapping systems will tell you to exit at Highway 6. This highway exit is about one mile before you get to the Central City Parkway, and trust me when I say it's by far the slower route. Taking the Central City Parkway instead of the curvy, winding Highway 6 will get you to both Black Hawk and Central City much, much quicker than the computer-recommended Highway 6.
In addition to having more lanes, the parkway is short cut, sending you over the mountain, rather than driving around it. I'm not even mentioning the possibility of you getting stuck behind an RV going 3 miles per hour on the two lane Highway 6.
(Read more: How Many Casinos are there in Black Hawk?)
Once on the Central City Parkway, (about one mile past the Highway 6 temptation), it's a smooth 8 mile drive into Central City. I say "smooth" but it's slow, as the speed limit is frustratingly low. Be sure to follow it though, as the Parkway is a notorious speed trap.
The Parkway is full of casino billboards, with their giant steak specials, or slot promotions, so that always helps you get in the mood too.
The Parkway will eventually wind into a two land road called Nevada Street. This street leads you down into the charming town of Central City. You'll see plenty of casino and city parking facilities to use.
If you want to head into the larger casino town of Black Hawk, simply stay on Nevada Street and take a right on Gregory Street. Gregory Street will lead you down into Black Hawk, and it's just 1 and 1/2 miles away.
From big time poker tournaments (the Heartland Poker Tour stops there twice a year), to brand new spacious, luxurious casinos, Black Hawk offers some things not found in nearby, slower-paced Cripple Creek, making the 107 trek from Colorado Springs to the Black Hawk/Central City a worthwhile journey.