Horseshoe Black Hawk Casino Hotel
Address: 401 Main St, Black Hawk, CO 80422
Phone Number: +1 800-843-4753
Website: www.caesars.com/horseshoe-black-hawk
Hours: Horseshoe Black Hawk Casino Hotel is open 24 hours a day, 7 days a week.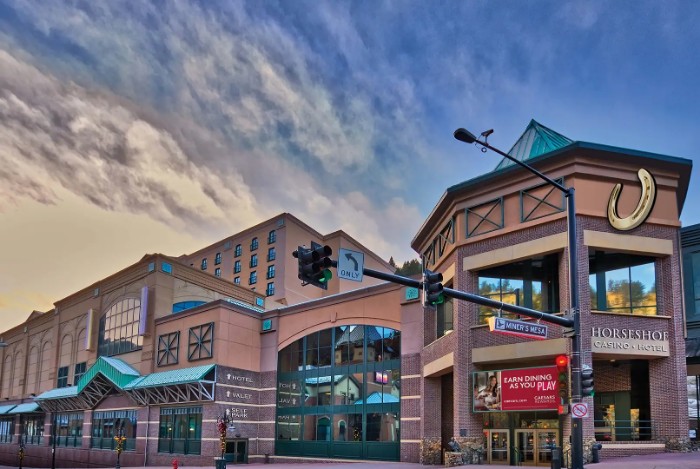 Horseshoe Black Hawk Casino Hotel has been a fixture in the historic mining town of Black Hawk since its construction in 1998. It was known before as Isle Casino Hotel Black Hawk and was rebranded to its current name in 2022.
Today, the property feature a full-service casino with over 900 slot and video poker machines and live table games like blackjack, craps, roulette, and baccarat. They also offer multiple promotions and tournaments throughout the year.
The hotel offers a variety of amenities, such as a business center, in-room dining, dry cleaning service, concierge services, and valet parking. The property also has several restaurants, including Roxy's Restaurant.
For entertainment, they also host live entertainment and concerts ranging from country to rock, blues, and hip hop. There is also a large lounge area with several televisions for sports watching.
So whether you're looking to try your luck at the tables or relax and enjoy the sights and sounds of Black Hawk, this casino hotel is the perfect place for a one-of-a-kind experience.
On several review sites, including Tripadvisor and Google Reviews, this casino has received a 4.5 out of 5-star rating from guests. One guest said, "The hotel is beautifully decorated, and the rooms are very comfortable."
Another guest commented, "The staff was very friendly and helpful, the casino had plenty of options to try your luck at, and the restaurants offered delicious food."
(Related reading: Colorado casinos)
Gaming
Their casino floor features over 900 slot and video poker machines, in addition to live table games such as blackjack, craps, roulette, baccarat and more.
Table Games
When it comes to table games, this casino in Colorado offers a diverse selection to keep you entertained. Whether you're a seasoned pro or a beginner, you'll find something to enjoy here. Try your hand at blackjack, a classic game of chance that requires skill and strategy.
Craps is another popular choice, where players roll dice to determine their fate. If you're feeling lucky, give roulette a spin and watch the wheel determine your winnings. And for those looking for something a little more sophisticated, try baccarat.
The minimums vary depending on the table game you're playing and the time of day. However, generally speaking, the minimums range from $15 to $25 for most games throughout the day.
Slots
This casino also offers a variety of slot machines, from classic 3-reel and 5-reel games to the latest video slots. Popular titles include:
Wheel Of Fortune Duo
Jackpot Inferno
Pharaoh's Fortune
Da Vinci Diamonds
Genie's Riches
Emperor Penguin
Betty White
Elvis Shake Rattling Reels
The minimum slot machine payback percentage set by the Colorado Division of Gaming is 80%. Although this casino does not offer any information on the exact percentages, it is believed to be higher than the minimum.
Hotel/Resort
If you're looking for a luxurious stay in Black Hawk, look no further than this casino hotel. Each room features a flat-screen TV, free Wi-Fi, and in-room dining service.
Room types include:
Luxury Rooms – features one king or two queen beds
Junior Suites – features one king bed, a separate sitting area, and a dining area
Executive Suites – features one king bed, a separate sitting area, a workstation and a dining area
Also, this casino hotel offers a variety of amenities, including:
Internet access
Free valet and self-parking
Concierge services
Daily housekeeping
24-hour front desk
Meeting rooms
Banquet facilities
Pet-friendly rooms
A business center
Onsite restaurants and bars
Live entertainment and shows
The cost of a stay at this casino hotel depends on your room type and the number of days you plan to stay. Prices start from $74, excluding taxes and fees. Special rates may be available for certain dates and room types, so it's best to check the website for more information.
Check-in time at Horseshoe Black Hawk is 4:00 pm
Check-out time at Horseshoe Black Hawk is 11:00 am
Restaurants & Buffets
If you're looking to dine at this casino hotel, you have a few great options. For a comforting and delicious homestyle meal, try the Farmer's Pick Café.
Looking for something a bit more upscale? Head to Roxy's Restaurant and Bar or Roxy Bistrot for elevated American fare with a touch of European influence. And for those craving Mexican cuisine, Taco Cantina is your go-to spot.
And if you're a lover of breakfast or brunch, Dash Cafe is open 24/7 and serves up delicious morning favorites all day. No matter what you're in the mood for, the restaurants at this casino are ready to satisfy your appetite.
Pools
While staying at this casino hotel in Colorado, guests may be disappointed that there are no swimming pools onsite.
However, fear not, as there are still plenty of ways to enjoy yourself in this beautiful area of the United States. Being surrounded by mountains and natural landscapes, there are many outdoor activities to take advantage of such as hiking and exploring the local scenery.
Additionally, guests can indulge in the various dining and entertainment options available inside the hotel, including their bustling casino floor. While a dip in the pool may be missed, there are plenty of other ways to make the most of your stay at this casino.
Horseshoe Black Hawk Casino Hotel, CO FAQ
Does Horseshoe Black Hawk Casino Hotel Have A Sportsbook?
They have Caesars Sportsbook, a full-service sportsbook that offers betting on all major sports and events. Guests can place bets at kiosks in the casino or download the BetMGM app to bet from anywhere in Colorado.
Is Poker Available At Horseshoe Black Hawk?
Yes, they offer multiple poker variations, including Texas Hold'em, High Hand, Bad Beat and more. They host daily tournaments and special events throughout the year for more experienced players.
What Are The Age Requirements For Gambling At Horseshoe Black Hawk Casino Hotel?
The minimum age to gamble and enter the casino is 21. Guests must present a valid form of identification at the entrance. Minors may not accompany adults onto the gaming floor or participate in other gambling activities.
Does Horseshoe Black Hawk Have An Online Casino?
No, they do not have an online casino. Guests must visit the physical location to gamble and participate in any of their games or promotions. They may offer online gambling once it is approved by the Colorado Division of Gaming.
Is There An Horseshoe Black Hawk Casino Hotel App?
No, there is no official Horseshoe Black Hawk Casino Hotel app. However, they do offer the BetMGM sports betting app, which allows guests to place bets on all major sporting events and games from anywhere in Colorado.
Additionally, guests may visit their website for more information about upcoming events, promotions, and offers.
What Is The Dress Code At Horseshoe Black Hawk?
The dress code at this casino hotel is casual. Guests should avoid wearing offensive or revealing clothing and are encouraged to wear appropriate clothing for a public setting. All guests must wear closed-toe shoes while on the casino floor.
Is There An Airport Shuttle Available From Horseshoe Black Hawk Casino Hotel?
No, there is no airport shuttle service available from this casino hotel. However, guests can use public transportation or arrange a private transfer to and from the casino. Taxi and ride-sharing services like Uber and Lyft are available throughout the area.
What Is The Smoking Policy At Horseshoe Black Hawk?
The casino has a strict no-smoking policy. Guests cannot smoke or vape on the gaming floor, in hotel guest rooms, or in any outdoor area. They offer designated smoking areas outside of the building for guests who wish to smoke.
What Is The Pet Policy At Horseshoe Black Hawk Casino Hotel?
For a small fee of $50 per accommodation per night, your pet can stay with you in their comfortable rooms. Their team has worked hard to ensure that your stay is as pleasant as possible, both for you and your pet.
Is Wifi Available At Horseshoe Black Hawk?
Yes, this casino offers free Wi-Fi in all hotel rooms and public spaces. The wifi can be accessed anywhere on the property. Guests can connect their devices to the casino's free public network to easily access news, social media, and more.
What Is The Cancellation Policy For Horseshoe Black Hawk Casino Hotel?
Guests may cancel their reservation for free up to 48 hours before the scheduled check-in date. Any cancellations after this time may be subject to a fee equal to one night's stay. Guests are encouraged to call ahead and confirm any changes or cancellations.
Conclusion
This casino hotel offers a wide range of entertainment, gaming, and amenities for guests to enjoy. With various games, betting options, and promotions available, there is something for everyone at this casino hotel.
Guests can take advantage of the free Wi-Fi, pet-friendly accommodations, and other services offered by this casino hotel. Whether you're looking to gamble, relax, or have a good time, Horseshoe Black Hawk Casino Hotel is the perfect destination for everyone.