McGill's Hotel & Casino Cripple Creek
Address: 232 E Bennett Ave, Cripple Creek, CO 80813
Phone Number: +1 719-286-6100
Website: www.triplecrowncasinos.com/mcgills-hotel-casino/
Hours: McGill's Hotel & Casino is open 24 hours a day, 7 days a week.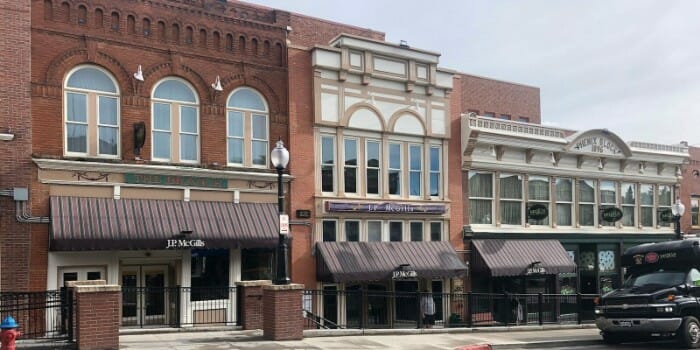 McGill's Hotel & Casino has a long and rich history in Cripple Creek, Colorado. The original hotel was built in 1997 by Triple Crown Casinos, a group of local investors. Since then, it has grown to become one of the largest casinos in the area and is still owned by Triple Crown Casinos.
The casino floor features over 280 slot machines, video poker and more. There is also a full-service bar and restaurant. Along with this comes various entertainment options, including live music and comedy acts.
In addition to the casino and dining options, it has a hotel with 60 rooms and suites. Plus, with multiple amenities and services, including an on-site spa and salon, it's no wonder why this casino is a popular destination.
So whether you're looking for a night out on the town or just some fun and relaxation, this casino has something to offer everyone. From the gaming floor to the entertainment and dining, there's something for everyone at this casino hotel.
This casino has an average rating of 4 stars out of 5 on popular travel websites such as TripAdvisor and Booking.com. One guest said, "The hotel was excellent; the staff were friendly and helpful. The casino had plenty of slots and tables to choose from."
Another guest commented, "The hotel is very clean and well-kept. The pool area was great too. The casino floor offered a variety of games to choose from. I had a great time."
(Related reading: Colorado casinos)
Gaming
Their gaming floor comprises 281 slot machines, video poker and more. In addition to this, they offer various promotions and bonuses for gamers.
Table Games
While this casino will provide a fun and exciting gaming experience, it's important to note that its offerings are solely focused on slot machines. While table games may not currently be available, the array of slot machine options will definitely keep visitors entertained.
Plus, with friendly staff and a welcoming atmosphere, this casino is the perfect place for anyone looking to try their luck and have a great time.
Slots
The casino floor offers over 700 slot machines, so there is something for everyone. From classic three-reel slots to the latest video slots, you're sure to find a favorite.
Some of the popular slot titles include:
Buffalo Grand
Cleopatra
Britney Spears
Game of Thrones
Mega Moolah
Dragon Spin
Wild Panda
Thunderstruck II
Bier Haus
As per Colorado's gaming regulations, all slot machines in the casinos must have a minimum payback of 80%. This casino is no exception, so when you're playing at this casino, you can expect to get fair and competitive returns from your slots.
Hotel/Resort
The property also offers a luxurious stay for its guests. With 60 rooms and suites, each equipped with modern amenities, it's the perfect place to rest and relax.
Room types include:
King Bed – features one king bed
Queen Bed – features one king bed
Double Queen Bed – features two queen beds
The hotel offers a variety of amenities, including:
Free Wi-Fi
Parking onsite
24-hour front desk
Housekeeping
Concierge services
Full-service bar and restaurant
Meeting rooms
Live entertainment
Banquet facilities
Room rates are based on availability and vary by season. However, you can expect to pay at least $159 per night, excluding taxes and other fees.
Check-in time at McGill's is 4:00 pm
Check-out time at McGill's is 11:00 am
Restaurants & Buffets
Looking for a great meal in this casino? Look no further than Pint & Platter. This cozy restaurant serves up delicious comfort food with a contemporary twist.
Their menu features classic dishes like burgers and fries, as well as more unique options like their famous mac and cheese with bacon. And, of course, the perfect complement to any meal at Pint & Platter is one of their carefully crafted cocktails or local beer selections.
Whether you're looking for a casual lunch, a romantic dinner, or a place to catch up with friends, Pint & Platter has something for everyone. So why not stop by and see what all the fuss is about?
Pools
While this casino may not have any swimming pools on its property, there are still plenty of ways to stay cool and beat the Colorado heat during your stay.
You can dip in the nearby hot springs, go rafting down the river, or even rent a kayak or paddleboard and explore the beautiful lakes in the area. Plus, the hotel's prime location means you'll have easy access to all the best outdoor recreational activities that Colorado has to offer.
So don't let the lack of on-site swimming pools deter you from booking your stay at this casino – there's plenty of fun to be had both in and out of the water.
McGill's Hotel & Casino, Cripple Creek, CO FAQ
Does McGill's Hotel & Casino Have A Sportsbook?
Unfortunately, the casino does not currently offer a sportsbook. They do, however, have an extensive selection of slot machines. Plus, the hotel offers a variety of amenities for those looking to relax and recharge after a long night at the casino.
Is Poker Available At McGill's?
No, they only offer video poker, a game of luck rather than skill. This is a great option for anyone who wants to play cards but doesn't have the required skills for traditional poker. However, there are plenty of other activities, such as slots and table games, available at this casino.
What Are The Age Requirements For Gambling At McGill's Hotel & Casino?
The minimum age for gambling at this casino is 21 years old. All visitors must present valid photo identification upon entry to the casino and will be asked to provide proof of age. If a minor is found on the premises, they must be accompanied by an adult 21 years or older.
Does McGill's Have An Online Casino?
No, they do not offer an online casino. You will need to visit the hotel in person to take advantage of their selection of slot machines and other games. They do, however, offer a rewards program that can help you get fair and competitive returns from your slots.
Is There An McGill's Hotel & Casino App?
No, the casino does not have an app at this time. However, they provide plenty of helpful information about their services and amenities on their website. And they have social media accounts that can help you stay connected.
What Is The Dress Code At McGill's?
The dress code at this casino is casual. You should dress comfortably and neatly, but no formal attire is required. However, if you're planning to enter the casino floor, it is recommended to dress more formally out of respect for other players and staff.
Is There An Airport Shuttle Available From McGill's Hotel & Casino?
No, there is no airport shuttle service offered to or from this casino. However, there are plenty of transportation options available in the area that can help you get to and from the hotel. You can also use a ride-sharing app like Uber or Lyft for added convenience.
What Is The Smoking Policy At McGill's?
This casino allows smoking in outdoor areas designated for smoking. Inside the hotel, all public areas and guest rooms are non-smoking. Guests are encouraged to smoke only in designated outdoor spaces outside the casino floor.
What Is The Pet Policy At McGill's Hotel & Casino?
Sadly, pets are not allowed on the premises. However, there are plenty of pet-friendly hotels in the area that you can book during your stay. You can also contact a local pet-sitting service if you wish to bring your furry friend with you.
Service animals are always allowed. However, the hotel may require paperwork for verification purposes. Please get in touch with them directly for more information on their specific policies or requirements.
Is Wifi Available At McGill's?
Yes, free Wifi is available throughout the hotel and casino floor. Guests can connect to the network by using the login credentials that will be provided upon check-in. The wifi speed is fast and reliable, so you can easily keep up with your online activities while you're there.
What Is The Cancellation Policy For McGill's Hotel & Casino?
Guests can cancel their reservation without penalty up to 24 hours before the arrival date. After that, they may be charged a cancellation fee depending on the circumstances and the length of stay.
Conclusion
This casino hotel offers plenty of activities and amenities that will keep you entertained during your stay. From their rewards program to the free Wifi, visitors can enjoy a great experience with no hassle.
You just need to make sure that you follow the age requirements and other policies for a smooth visit. So if you're looking for a fun night out or an exciting escape, McGill's Hotel & Casino is definitely worth checking out!