Ameristar Black Hawk Buffet – 2023 Price, Hours & Menu for the Centennial Market
After shutting down for Covid, the popular and gut-busting Ameristar Centennial Buffet transformed into the Centennial Market.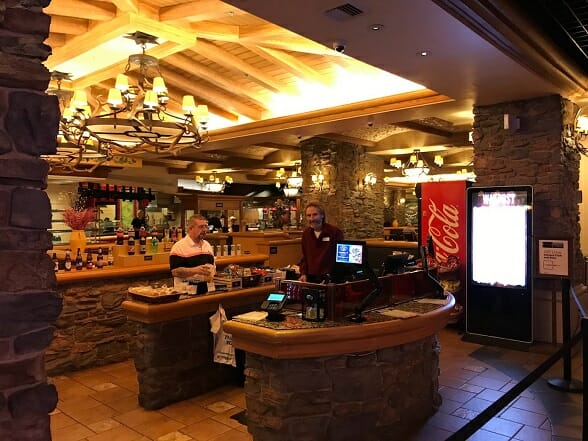 Instead of a traditional casino buffet, there are now five fast-casual restaurants in what is now basically Ameristar Black Hawk's Food court:
The Waypost Deli
Sabrosa (Mexican food)
Asian Station
Lucky Scoop Ice Cream
Smoke Mountain barbecue.
Centennial Market at Ameristar Black Hawk
Those of you who get up the hill early, will have to wait to eat at the Centennial Market. That's because, other than the Waypost Deli (which opens at 11 AM), the other options do not start serving until 4 PM.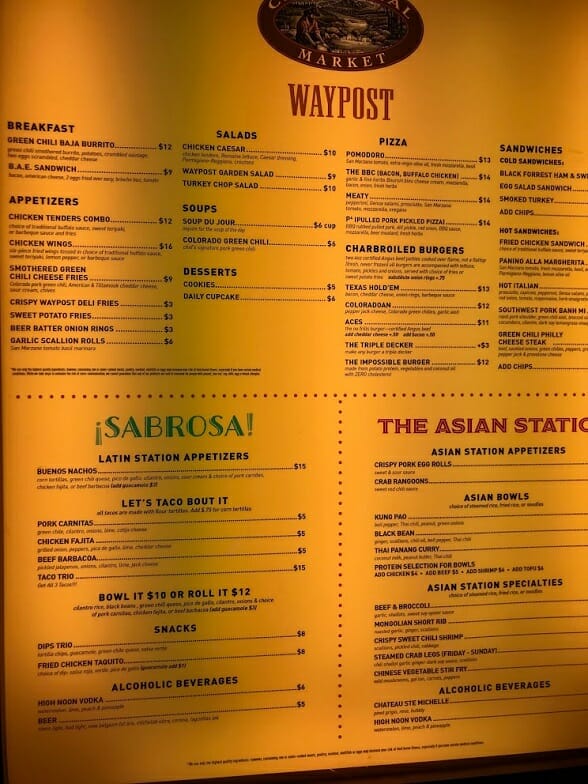 Most close at 10 PM, except for the Waypost, which closes at 6 AM on weekends.
Personally I really miss the buffet. It was affordable and seemed to be a step above the typical casino buffet. We don't know if or when the popular Centennial Buffet will re-open, but we'll update this article once it does. Until then, below is the original pre-Covid article about the Centennial Buffet.
Original Ameristar Buffet Article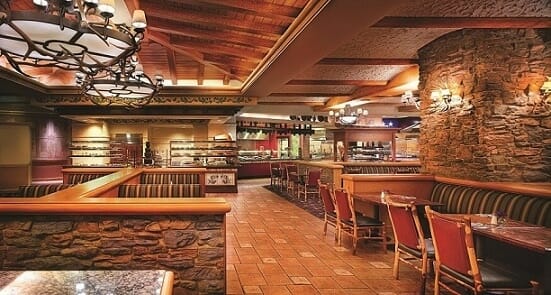 Editor's note: Below is our original write-up of Ameristar Black Hawk's buffet.
With a 536 room hotel, over 1,200 slot machines, and 55,000 square feet of casino space, the Ameristar Casino Resort Spa in Black Hawk is the most "Las Vegas" style casino in Black Hawk. Or all of Colorado for that matter.
That Vegas feel extends to the resort's dining options, where you'll find a fairly reasonably-priced buffet called the "Centennial Buffet." (Colorado is nicknamed the "Centennial State.")
Much like the Ameristar itself, the Centennial Buffet is Colorado-themed, which is to say there's lots of stacked rocks, logs, and wrought-iron fixtures, all of which combine to give the restaurant a décor you might describe as "contemporary rustic."
The restaurant is located on the main ground level, right off of the casino floor.
As with most casinos buffets, lines getting in can get long on Friday and Saturday nights. Here, those two nights (along with Sunday night) are called the "Seafood Celebration," and your admission entitles you to all-you-can eat crab legs.
There are crab legs offered during the weeknight dinner buffet, unfortunately it will cost you an additional fee, and the amount of crab you get is limited. (More on that below)
Please also note that the Ameristar Black Hawk does not offer a breakfast buffet during the weekday. Also, they recently eliminated the Monday and Tuesday lunch and dinner buffets. I'm not sure if they will start these up again, but if they do, I'll update this accordingly.
Ameristar Centennial Buffet Prices & Hours
Below are prices when you show the Ameristar Casino's player's card, called the mychoice card.
Lunch
Wednesday – Friday (11 AM to 3 PM) – $14.99
Champagne Brunch
Saturday & Sunday (9 AM to 2 PM) – $20.99
Dinner
Wednesday & Thursday (4 PM to 9 PM) – $21.95
Friday (4 PM to 10 PM) – $33.95
Saturday (3 PM to 10 PM) – $33.95
Sunday (3 PM to 9 PM) – $33.95
On Friday, Saturday and Sunday nights, the buffet price includes all-you-can eat crab legs.
This does not occur on weeknights. However you can pay more to have what Ameristar calls a "Crab buy-up" option. On these nights, you can pay an additional $12.95 to receive one pound of crab.
The champagne brunch on weekends is exactly that, as it includes unlimited glasses of champagne and/or mimosas.
Also, as a very generous gesture, the Ameristar gives a 25% discount of the price of all buffets to all active and retired military personnel. (You must show a military i.d.).
(Related: Monarch Casino Buffet: Prices and Hours)
Ameristar Black Hawk Casino Buffet to Go
Should you not want to sit down and eat in the restaurant, you can get your buffet to go with what they call the Fast Feast Buffet.
With this option, you get a container in which you fill it up with whatever you like, other than crab legs. This is a one time fill up.
Prices are $15.95 for brunch, $10.99 for lunch, $17.95 for weekday dinners, and $21.95 for weekend dinners.
Kid's Prices
While the buffet used to allow kids, (my five and seven year olds enjoyed the dessert section tremendously), that is no longer the case.
On their buffet page, the Ameristar states that only those 21 years and older can dine at the buffet. Previously kids were charged $3 less than adults, with those 3 and under eating free.
Now however, (perhaps due to Colorado Gaming Commission crackdowns on underage gambling), the Ameristar (along with every other casino in Black Hawk), is VERY strict with anyone under 21 year of age in or around the casino.
In fact, anyone 20 years or under cannot even go on the main level of the resort between 9 PM and 7 AM. Other casinos, such as the Mardi Gras across the street, don't even let kids inside the building at all.
Ameristar Buffet Menu Items
There are nine different food stations. Here's a small sample of what you'll typically find:
American: Comfort food: mashed potatoes and gravy, corn on the cob, roast beef, fried chicken, mac n' cheese.
Seafood – Peel and eat shrimp, mussels, gumbo.
Carving – Prime rib (dinner only I believe), kielbasa sausage.
Italian – Pizza, pasta dishes.
Asian – Pho station, crab wontons, sweet and sour pork, tofu with mushrooms.
Mexican – Tamales, make-your-own taco bar.
Salad Bar – Your typical salad bar offerings, along with soups and pre-made salads.
Bread Station – Bread! And pastries during the weekend brunch.
Dessert bar – Cheesecake with your choice of fruit toppings, crème brulee, carrot
cake, chocolate chip cookies, and self-serve ice cream. A nice touch here is the chocolate fountain and strawberries for dipping.
Centennial Buffet Phone Number
(719) 946-4080
Overview
All in all, the Centennial Buffet seems to be a decent buffet.
In addition, it has a very nice warm and comfortable setting, as opposed to some of the more sterile cattle-call type of buffet environments I've visited.
The Ameristar's main buffet competition in Black Hawk and Central City are ones across the highway found at the Mardi Gras Casino and down the road at the Isle of Capri Hotel & Casino. The Centennial holds its own against these two, even though they appear to be priced a little higher than these two casino buffets.
The other main drawbacks are the long Friday/Saturday night lines, and the crab add-on during weeknight dinners.
Like many of you, I'd rather have the admission price raised and have it include crab. I'm so cheap I won't pay extra for the crab. Then I'll sit and eat my meal, l watch people walk by with a pound of crab then get jealous. But maybe that's more of my psychological problem than the Ameristar's.
(By Steve Beauregard. Photo courtesy of the Ameristar Black Hawk.)