Monarch Casino Buffet Black Hawk 2023 Hours, Prices & Menu
By Steve Beauregard
As the first casino you see coming into Black Hawk from Highway 119, the newly remodeled and expanded Monarch Casino is an impressive resort.
It boats a towering 23 story hotel, 516 rooms, 900 slot machines, 24 table games and perhaps the best buffet in Black Hawk. (Especially now that the Centennial Buffet at the Ameristar is no longer).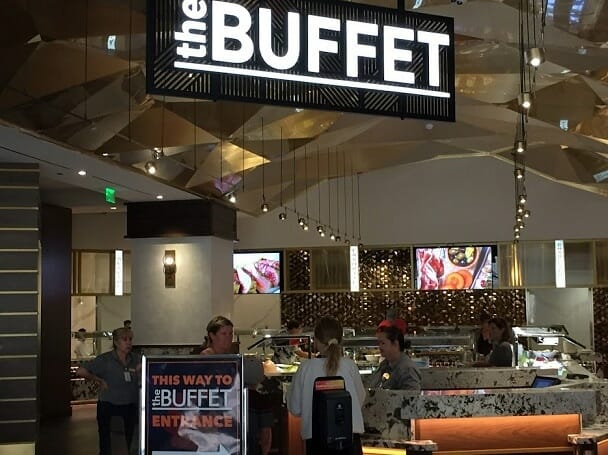 Located on the third level, just a quick escalator ride above the gaming floors, Monarch Casino's buffet, (simply called "the Buffet") has a gorgeous, contemporary décor, and plenty of options for all tastes.
It's not cheap by any means, but if you love the try-everything, lingering style of dining a buffet offers, the Buffet at Monarch may be for you.
Monarch Casino Buffet Prices & Hours
Currently there isn't a weekday breakfast buffet. Updated prices and hours are as follows:
| | | |
| --- | --- | --- |
| Lunch | Monday – Friday: 11 AM – 2:30 PM | $28.99 (kids $19.99) |
| Weekday Dinner | Monday – Thursday: 4 PM – 9 PM | $53.99 (kids $27.99) |
| Weekend Dinner | Friday, Saturday & Sunday: 4 PM – 11 PM* | $58.99 (kids $32.99) |
| Brunch | Saturday & Sunday: 9:30 AM – 2:30 PM | $58.99 (kids $32.99) |
* Please note the Sunday dinner ends at 10 PM. Also, these prices do not include tax or tip. Lastly, children's prices apply to those 4 to 10 years of age.
As for the setting? Beautiful. The dining room is spacious, with lots of TVs showing sports. The various station areas can get crowded, but were found to be very clean and presentable. (At least on my recent visit).
Other than the dessert section, almost all of the items are self-serve portions in large pans or steam trays, as opposed to the small plate serving style that has become more popular at Las Vegas casino buffets – especially post Covid.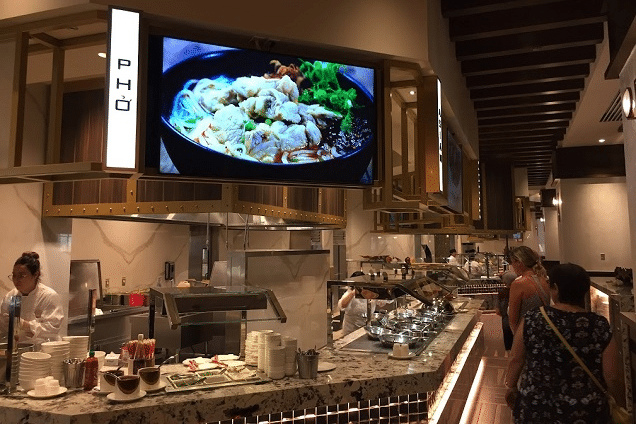 Drink service however, is still handled by wait people, rather than being self-service. Our waitress was especially friendly and efficient.
Monarch Buffet Menu Items
The Buffet offers seven different stations: Asian, Mexican, a Carving station, American, Salad Bar, Italian and Dessert.
The stations and selection of menu items will vary based on the time of day. For example, a Mongolian grill made to order option is available only during the dinner buffet (along with crab leg and lobster options), but here are standard dishes you will find at lunch and dinner buffets.
Salad Bar
The first station you see upon entering, the horseshoe-shaped salad bar has two types of lettuce and all of the toppings you'd want (i.e. olives, cheese, sunflower seeds, croutons, etc.).
The eight different dressings available are ranch, honey mustard, Caesar, sesame, blue cheese, thousand island, Italian, and a balsamic vinaigrette.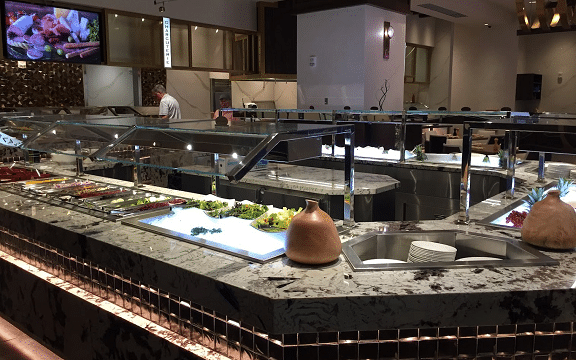 Soups, (on this day) including clam chowder, but I believe those will rotate. On the opposite side of the salad bar were your standard pasta salads, potato salads and the like.
Rounding out the salad bar were a fruit and yogurt area, with strawberries, blueberries, watermelon, pineapple and cantaloupe.
(Related Article: Casinos in Colorado)
Asian Station
To the far left of the buffet, the Asian area starts with made-to-order Pho. You watch and wait as the chef prepares your selected protein, broth and ingredients. This was far and away my wife's favorite dish at the entire Monarch Buffet.
You'll also find Thai chicken wings here, vegetable spring rolls, stir fried mixed vegetables, lo mein, and sweet & sour chicken.
Mexican Station
There's not a lot here, but I found the chicken tamales to be good (be sure to unwrap the husk as this gringo forgot to do:)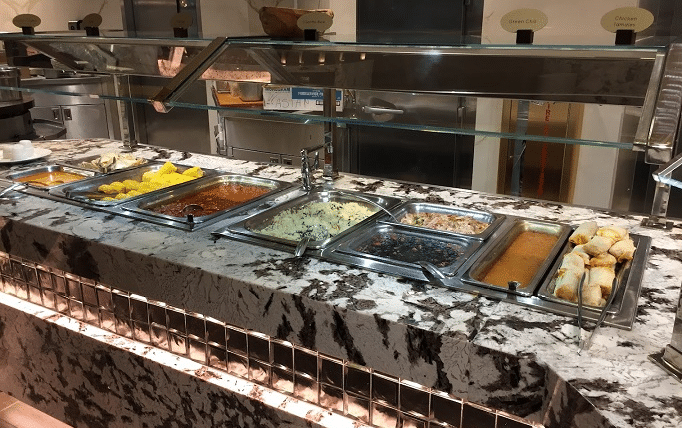 There are chips, along with qeuso dip, black beans, cilantro rice and green chili. A sign above the corn said "elote" which I understood to be Mexican grilled street corn, however this corn on the cob tasted like your typical boiled un-flavorful corn.
Carving Station
The highlight at lunch and dinner may be the prime rib. The chef was even kind enough to grill my piece to my preferred "well-done." There was au jus of course, along with a couple of different kinds of horseradish, gravy, and some type of jelly glaze.
Here you'll also find kielbasa, and carved ham, if I remember correctly.
American Station
I call this "American" as there were barbecue ribs, fried chicken, and mashed potatoes and gravy. Included here were baked potatoes with all the usual toppings you would want (sour cream, cheese, hives, bacon bits), and pre-cooked mini-baked potato slices.
Italian Station
The least impressive area (in my view), this small section to the far right of the buffet offered a couple of varieties of wood-oven fired pizza, mussels, sausage and peppers, meat lasagna, and a vegetable medley.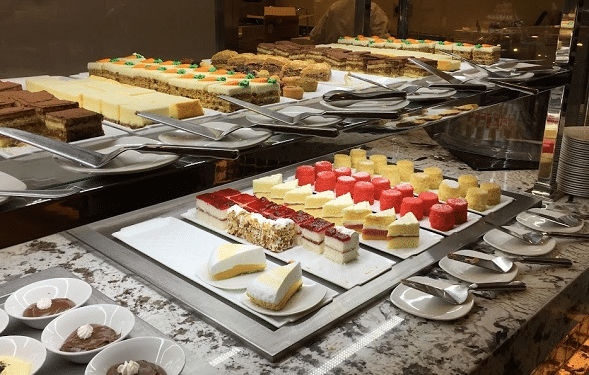 Dessert Station
The Monarch didn't hold back on the sweets, and if you can't satisfy your sweet tooth here, you may be too picky.
The hand-scooped gelato area was a hit with my family. There are six flavors, chocolate chip, vanilla, cookie, banana, coffee and pistachio. Toppings included Butterfinger, sprinklers, white chocolate chips and the like.
If you prefer ice cream, there is a soft-serve machine with cones.
Non-frozen desserts include a variety of cakes and pies on small plates, including tiramisu, pudding, lemon merengue pie, carrot cake and more. There were also a sugar-free cherry pie and a sugar-free apple pie.
On the opposite end of the sugar-free spectrum were these cute, individual sized plates of pink cotton candy, along with the usual assortment of cookies.
Dinner Buffet Menu & Lobster and Crab Options
The pricier dinner buffet will have options not available at lunch. These include roasted turkey, duck, oysters on the half-shell, sushi, and other pasta dishes.
While the dinner buffet does offer crab legs and lobster – those specialty seafood dishes are not all-you-can eat.
My understanding (but please ask the hostess ahead of time to confirm), is that at the dinner and brunch buffets, you get a ticket for one lobster tail and one ½ pound of crab legs.
The Monarch Buffet price sheet out front reads as follows:
"Additional 4oz Cold Water Lobster Tail – $9.99

Additional 1 lb Opilio Crab Clusters – $9.99"
Brunch
In addition to many of the same lunch items mentioned above, the brunch buffet will have your typical selection of eggs, bacon, chicken fried steak, cinnamon rolls, and pastries. There is a made-to-order omelet station.
Monarch Black Hawk Buffet Phone Number & Website
Website: The Buffet at Monarch Casino
Phone: (303) 996-2005
(Photos copyrighted by gamboool.com)