Welcome to Fabulous Las Vegas Sign – The Ultimate Guide
It's one of the most famous signs in the world, with an image that conjures up fun and excitement. With a unique design that is recognizable by people throughout the world, this iconic landmark has been welcoming visitors into Las Vegas since 1959.
It's the "Welcome to Fabulous Las Vegas" sign, on the southern end of the Las Vegas Strip. I get a little smile every time I see it, especially when I see it in person.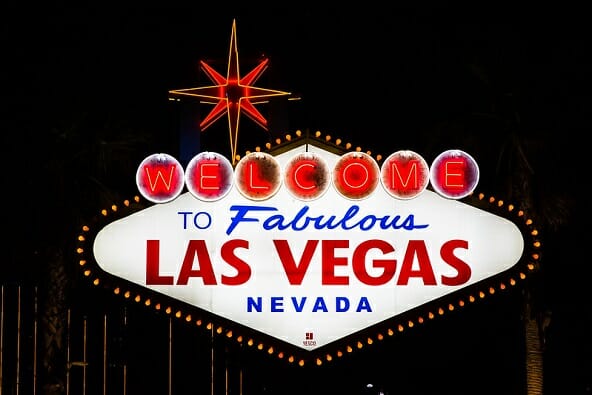 And when you see it after a long tiring drive from Southern California, it's like what sailors must have thought after seeing a beaming lighthouse after being lost at sea.
If you haven't seen the Las Vegas sign in person, you've undoubtedly seen countless re-creations of its image on shirts and other souvenirs, as the sign has come to represent Las Vegas itself. In 2009, it was officially listed on the National Register of Historic Places.
On the front of the sign, it reads, of course, "Welcome to Fabulous Las Vegas," while the back side offers a message for people leaving town: "Drive Carefully Come Back Soon."
Welcome to Fabulous Las Vegas Sign Location
Originally designed to welcome people driving in on the highway from southern California, the Welcome to Las Vegas sign was built in 1959, on what was then the outskirts of town. Today, that same location is considered to be the extreme southern end of the Las Vegas Strip, and less than a mile south of Mandalay Bay.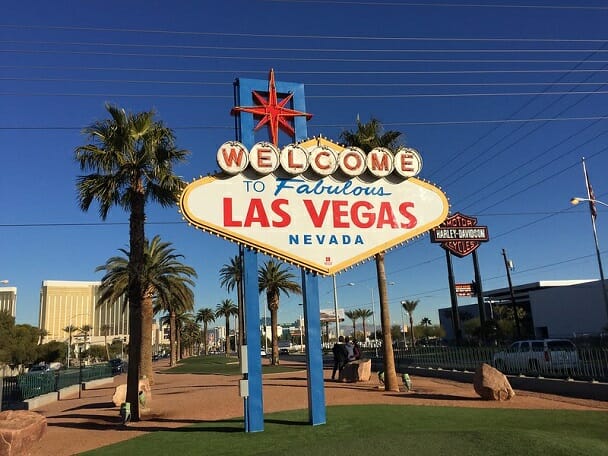 While the Las Vegas Strip does not have an official boundary, many people consider the Welcome to Las Vegas sign to be the unofficial southern boundary of the Las Vegas Strip.
Oddly enough, the sign isn't even in Las Vegas! Like much of the Strip, the sign is actually located in the township of Paradise, Nevada. However I think we can agree that "Welcome to Fabulous Paradise, Nevada" just doesn't have the same ring to it.
Getting There
Over the years, Las Vegas authorities have made visiting the sign increasingly easier to visit.
The sign sits in the median of Las Vegas Boulevard. The beautiful Bali Hai golf course – one of two golf courses on the Las Vegas Strip – is across the street to the west. Harry Reid International Airport is to the east, although you cannot easily walk from the airport to the sign.
(The red dot represents the exact location of the "Welcome to Fabulous Las Vegas" sign)
Despite being smack dab in the median of one of the busiest streets in the United States, the area around the sign is now very pedestrian friendly, with stop walks having been installed in 2015.
There is almost always at least a few people out in front of the sign, regardless of the time of day.
A couple of Tips
1. Typically people line up single-file to wait for their opportunity to have their photo taken in front of the sign. Unless you stop by at say, 4 in the morning, you're almost certainly going to have someone there to use your phone or camera to take your photo. And this being Las Vegas, you're often likely to see an Elvis impersonator, and/or a wedding party stopping at the sign.
You don't necessarily have to wait in a long line to get your selfie, however. The line is for photos taken directly in front of the sign. You can always scoot to the side of the sign for your selfie, making sure not to get in the way of those who have been patiently waiting for a full frontal shot.
2. Often there will be the aforementioned Elvis impersonators and/or showgirls there, offering to pose with you in front of the sign to add an even more "Vegasy" vibe to the picture.
These performers aren't associated with the sign in any formal capacity, nor are they hired by the city. They're strictly independent freelancers who work on tips. You certainty don't need them in your photo, however if you do, be sure to tip them accordingly.
Welcome to Fabulous Las Vegas Sign Parking
For most of its existence, there wasn't any parking at the sign. In 2008, however, a small 10 space parking lot opened.
Due to overwhelming demand the lot was expanded in 2015. Now there are 33 parking spaces, not including parking areas for tour buses.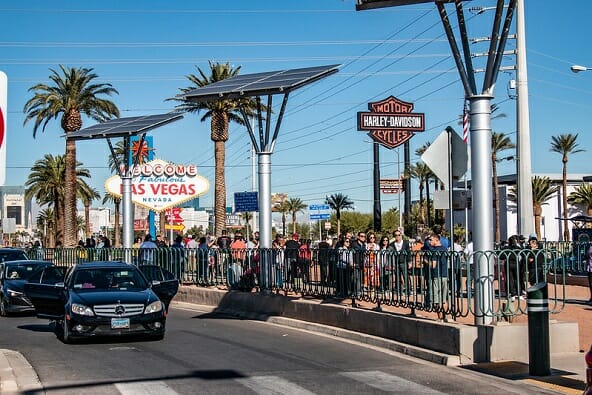 Your chances of scoring one of these parking spots can vary wildly. I've seen the parking area jam-packed with long lines to have a picture taken in front of the sign, and I've seen the lot completely empty as well.
You can be sure that on the afternoon of busier three-day holiday weekends, such as Memorial Day, July 4th, etc., the sign and parking area will be busier, than say, at 8 AM on a random Tuesday.
Once there, you'll find a meandering sidewalk leading to the sign, along with artificial turf, and probably, a crowd.
Welcome to Fabulous Las Vegas Sign Address
5100 S. Las Vegas Boulevard
Las Vegas, NV. 89119
Directions to the "Welcome to Fabulous Las Vegas" Sign
The large sign is right on Las Vegas Boulevard, so it's impossible to miss. However if you are exiting Interstate 15 off of Russell Road, you'll want to take a right (south) at Las Vegas Boulevard.
When driving to the sign, you can only access the parking lot when going south – that, is when driving away from the casinos. There is no parking lot turnoff when going north towards the Strip.
If you are walking to the sign, there are sidewalks and pedestrian crosswalks on both sides of the sign.
The sign at night
The sign is lit brightly at night of course, compliments of three 25 foot tall solar panels just to the southwest of the sign. The solar-powered lighting system was installed in 2014.
Can you Walk to the "Welcome to Las Vegas Sign" from the Strip?
Yes you can, from some resorts. For example: a walk from Mandalay Bay Hotel & Casino to the sign is 8/10th of a mile, and would take you around 15 to 20 minutes to walk.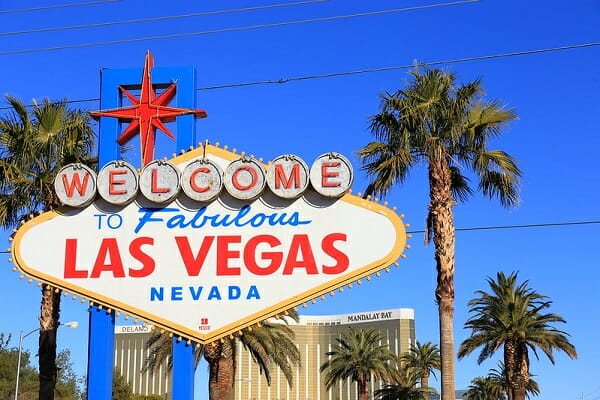 From other Strip properties however, it can get to be a pretty long haul. From Caesars Palace or the Flamingo, for example, the sign is 2.5 miles away, or roughly an hour long walk. There are bicycle racks there as well.
Other distances from Las Vegas Strip Casinos to the Welcome to Las Vegas Sign are below.
These are distances when walking on the Strip sidewalk to the sign, and do not factor in taking one of the free casino trams available, such as the tram from Aria to Park MGM or the tram from Excalibur to Mandalay Bay, both of which would reduce the walking distance significantly.
Aria: 2.1 miles
Bellagio: 2.2 miles
Caesars Palace: 2.5 miles
Circus Circus: 4.1 miles
Cosmopolitan: 2.1 miles
Cromwell: 2.3 miles
Excalibur: 1.3 miles
Fremont Street (Downtown Las Vegas): 6.7 miles
Flamingo: 2.4 miles
Harrah's: 2.7 miles
Linq: 2.6 miles
Luxor: 1 mile
Mandalay Bay: 8/10th of a mile
Mirage: 2.9 miles
Park MGM: 1.7 miles
Palms: 3.7 miles
Paris/Ballys: 2.2 miles
Planet Hollywood: 2 miles
Resorts World: 4.1 miles
Rio: 3.4 miles
Sahara Las Vegas: 4.5 miles
The Strat: 4.8 miles
T.I. (Treasure Island): 3.1 miles
Venetian/Palazzo: 2.9 miles
Virgin Hotels Las Vegas: 2.9 miles
Westgate: 4.6 miles
Wynn/Encore: 3.4 miles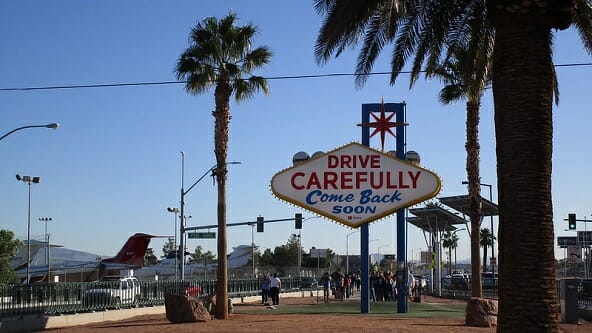 Las Vegas Sign FAQ
History of the "Welcome to Las Vegas Sign"
The sign was erected in 1959. It was designed by Betty Willis. According to this Los Angeles Times story, the sign was designed to look like a hotel room key and cost $4,000 to install.
Other Welcome to Las Vegas Signs
Another smaller, "Welcome to Fabulous Las Vegas Sign" is a road-fronting replica found on the Boulder Highway, far east of the Strip, close to the Eastside Cannery Hotel and Casino and Sam's Town. It's approximately a 10 mile drive from the original on the Strip.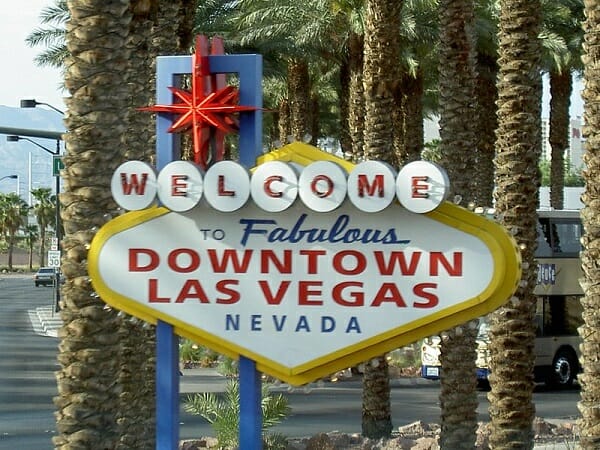 A third, smaller version of the sign was installed in 2002 near the Stratosphere Hotel & Casino. However that one read, "Welcome of Fabulous Downtown Las Vegas," as it fronted the road leading towards the casinos and hotels on Fremont Street. This sign was located at the intersection of Las Vegas Boulevard and 4th Street. It did not have parking, nor was it pedestrian-friendly.
According to this story in the Las Vegas Review Journal, the sign was destroyed in July of 2016, when an errant driver drove his truck into the sign.
A New Resort Close to Sign
A new $500 million dollar resort is currently under construction just steps north of the sign. When opened in 2024 the new Dream Las Vegas Hotel & Casino will easily be the closest casino to the sign.
Conclusions
For many, a photo of themselves in front of the "Welcome to Fabulous Las Vegas" is a must-have reminder of their trip to Sin City. Best of all, unlike almost everything else in Las Vegas, it's free!
Steve Beauregard has been gambling in Las Vegas since the late 1980's. (And legally since the 1990's.) His writings have previously appeared at the DenverPost.com, PokerNews.com, and he has won four first-place awards from the Colorado Press Association. Photos courtesy of Joao Carlos Medau, Reinhard Link Ray Bouknight, Wilson Hui, Han Zheng, and Dan4th Nicholas via Flickr.