4 Public Golf Courses Near the Las Vegas Strip
With an abundance of sunshine, good weather, and over 70 courses, Las Vegas is as much as a golf mecca as it is a gambling haven.
And getting away from the smoke and noise and crowds on the Strip to play a round, or even a quick nine is a refreshing change of pace from the typical Sin City craziness.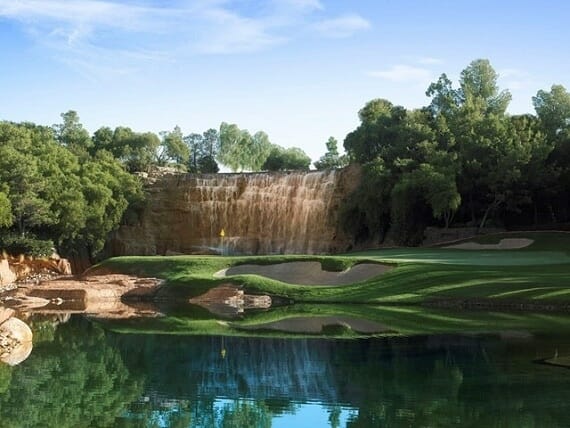 Of the 70-plus courses around the Las Vegas Valley, most are public, with several within close distance of the Las Vegas Strip.
In fact, there are four public golf courses within a fifteen minute drive from the Strip.
By "public" course, here we're talking about a course where anybody off of the street can play – no invitation or membership required.
Thus, we're including both municipal courses as well as privately-owned courses open to the public.
Map of Golf Courses in Las Vegas Near the Strip
(The black flags represent the four courses within a fifteen minute drive of the Las Vegas Strip).
Closest Golf Course to the Las Vegas Strip
As you can see from the map above, there are actually two golf courses on Las Vegas Boulevard (the formal name for the Strip). These are the Wynn Golf Club and the Bali Hai Golf Club.
Wynn Golf Club
Want to play golf without having to drive or Uber to a course? You can do this if staying at or near the Wynn Las Vegas on the north end of Las Vegas Boulevard
If fact, this is the only Strip option for those of you wanting to go from blackjack to black tees in five minutes.
Back in the day, several Strip casinos (The Aladdin and the Dunes for example), used to have their own courses. Now however, the fabulous course at the Wynn/Encore is the only Strip casino where you can play golf.
It's also that rare course to have come back from the dead.
This course was closed in 2017 and was scheduled to be redeveloped into convention center space with a lagoon and entertainment/dining venues.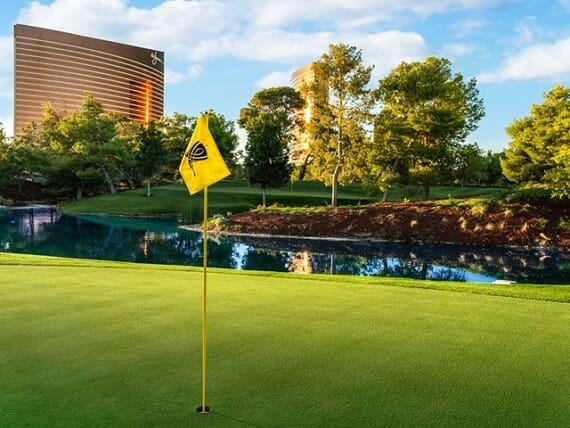 However plans for the development were scrapped, and the re-designed course reopened in October 2019.
This 6,722-yard, par-70 championship course designed by Tom Fazio and his son boasts water features and fairways and foliage so plush, you'll almost forget you're in the middle of the desert.
Pictured further above, for example, is the signature, Instagram-worthy 18th hole – a 249 yard par 3 fronting a gorgeous waterfall. This setting will either be a fantastic cap to a great round, or a perfect spot to throw that wedge that failed you. (Please don't throw the loaner clubs).
Anyone can play here, but guests staying at the Wynn or Encore get a leg up on tee time reservations.
Those staying at the hotel can book tee times up to 90 days in advance. Everyone else can book a spot 30 days ahead of time.
Need clubs? The Wynn Golf Club provides a free rental of Calloway clubs as part of your green fees. About those green fees. Are you sitting down?
The standard rate is an eye-popping $550.
Summer rates go as low as $300 during a weekday, and $375 on weekends. All of these include a cart and caddie.
Wynn Golf Club Tee times
Phone (702) 770-4653

Website: Wynn Golf Club
Bali Hai Golf Club
A rocking playset booming from speakers. Jello shots. Gorgeous models following you around.
A Sin City strip club?
No. It's golf. Vegas style.
Less than 1,000 steps from the Las Vegas Strip (they've counted), sits the Bali Hai Golf Club, in the shadow of Mandalay Bay on the far southern end of Las Vegas Boulevard.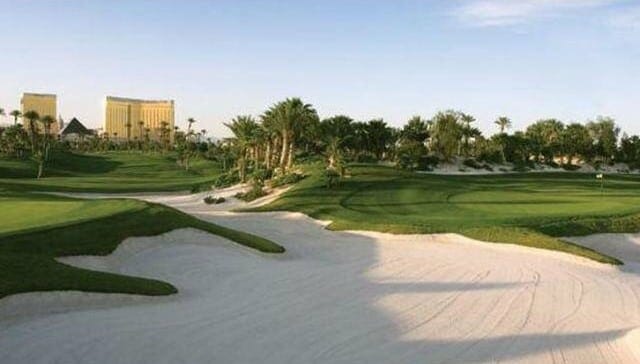 In fact, per Google Maps, it's just a 16 minute walk from the lobby of Mandalay Bay (or the Delano or Four Seasons) to the Bali Hai clubhouse.
While this par 71, 7,002-yard, Indonesian-themed course happens to be right across the Strip from McCarran International Airport, you probably won't notice the planes overhead – what with the soaring palms, numerous lagoons, white sand, and ParMates to distract you.
That's right. ParMates – a heavenly mix between a caddy and a Playmate. These ladies don't carry your bags (they'll be on the cart), however they will clean your clubs, repair your divots, and provide a lot more eye candy than you usually get playing with your brother-in-law back home.
As for the cost of having a ParMate accompany you? I'm not sure, and I'm afraid to check, lest my wife check out my browsing history. Nevertheless, a few years ago they cost $225 per ParMate (not including tip). This cost is on top of your round of golf.
The green fees themselves are seasonally and time adjusted, however a cost of $160 is common. You can really save if you're willing to play during off-times.
For example, during an afternoon during a weekday in the summer, I've seen $99 prices. These fees include cart rental. There are discounts for Las Vegas locals. Also, Calloway clubs are available for rent, and they include golf shoes.
Bali Hai is a natural for bachelor parties, and they have special packages that include your 18 hole round, cart, ParMates, Jell-O shots and more.
Bali Hai Golf Club Tee times
Phone: (888) 427-6678

Website: Bali Hai Golf Club
Las Vegas National Golf Club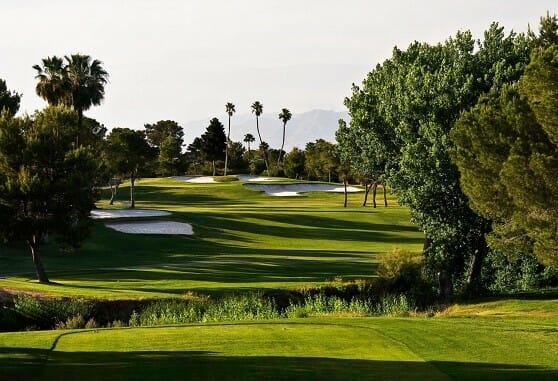 Want to play where Tiger captured his first PGA Tour victory?
How about walking the same fairway where FBI agents landed their surveillance plane while monitoring Ace Rothstein (played by Robert De Niro), in the classic Vegas movie, "Casino"? Or how about enjoying a post-round cocktail in the same clubhouse where the Rat Pack gathered around a piano for booze-filled, spontaneous shows?
Try the Las Vegas National Golf Club.
Opened in 1961, this classic 18 hole, par 72 course is full of history, and is located just 4 miles east of the Strip. However Vegas traffic ensures this to be a 15 minute drive.
Here you'll find hundreds of soaring palms and other trees, sand, water, five Par 3's and green fees ranging from a low of $39 in summer afternoons, up to a still reasonable $139 during mornings in the spring.
There are discounts for residents of Clark County, as well as for seniors and casino employees.
Las Vegas National Golf Club Tee Times
Phone: (702) 889-1000
Website: Las Vegas National Golf Club
Closest Municipal Golf Course to the Las Vegas Strip
Las Vegas Golf Club
Many of us who grew up playing on a muni have a soft spot for these not-so-spectacular, but more affordable courses, and fortunately there's one close to the Strip.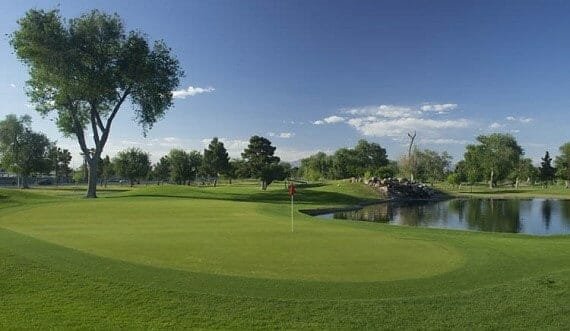 Whether you're getting killed at the tables, or simply on a budget, you can still play golf reasonably cheap at the Las Vegas Golf Club. In fact, you play this course ten times for what it would cost you to play one round at the Wynn Golf Club.
Standard rates are $59 for 18, (going down to $45 at times), however I've seen late afternoon summer rates as low as $35. Fees include a cart.
This 18 hole (par 72) municipal course boasts and wide open fairways and spacious greens – meaning you may save strokes here, as well as dollars.
It's the oldest course in Las Vegas, and the closest one to downtown Fremont Street by driving time.
Located 8 miles northwest of the center of the Las Vegas Strip the Las Vegas Golf Club is just a 15 minute drive from resorts like the Flamingo, Linq, or Harrah's.
Las Vegas Golf Club Tee Times
Phone: (702) 646-3003
Website: Las Vegas Golf Club
Some Private Golf Courses Nearby
On the map above, you'll see a tantalizing patch of greenery between the Wynn Golf Club and Las Vegas National flags near the Westgate Hotel & Casino. It's the Las Vegas Country Club.
The Las Vegas Country Club is private, however, and not open to the general public.
Similarly, the 27 hole Spanish Trail Country Club (designed by Robert Trent Jones Jr. and past host for several PGA Tour events), is a private club.
It's located just 5 miles west of the Strip, or roughly a 20 minute drive from south Strip properties like the MGM Grand.
(By Steve Beauregard. Photos courtesy of Wynn Las Vegas' media page, Las Vegas National Golf Club, Visit Las Vegas, and the Las Vegas Golf Club).