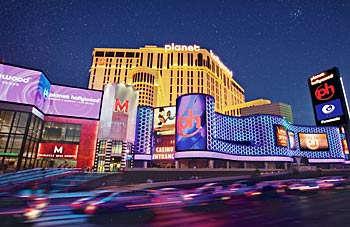 By Steve Beauregard
The Planet Hollywood Resort and Casino is slick and happening, and bold, and loud, and (while it's a little too much for this middle-aged mid-Westerner), it has a great location and vibe for those of you able to party in Las Vegas for days on end.
My age is beyond the target demographics of this mid-strip resort, and as a result, I just can't get comfortable here. The assault on your senses begins outside on the strip, where the enormous, 57 foot high ribbon LED sign that winds itself along the part of the strip that fronts the hotel. Below that is the 600 foot long "ticker" that advertises shops, shows and games inside. It reminds me a little of Times Square.
The casino floor is spacious, (around 3 acres), and has colorful patterns in the floor, bright pink and neon, walls of LED lights, and overall gives the appearance you're in a nightclub. While modern and hip, the Planet Hollywood reminds me an old school Vegas casino in the sense that it's devoid of any sort of light colors or natural light. The Bellagio conservatory this is not.
After numerous reincarnations, Planet Hollywood Resort and Casino still really hasn't settled on a theme yet. Since transitioning from the Arab-themed "Aladdin" they tried to fashion a resort like a giant Planet Hollywood restaurant. That concept didn't take off, so they made the place more edgy and hip. There's no real sense of "Hollywood" at the Planet Hollywood, other than the fact the rooms have some touches of minor movie memorabilia in them.
Speaking of which: much of the filming for the movies "21" and "What Happens in Vegas" took place here. As have several Miss America pageants, and the TV reality competition, "America's Got Talent." Don't let that keep you away though.