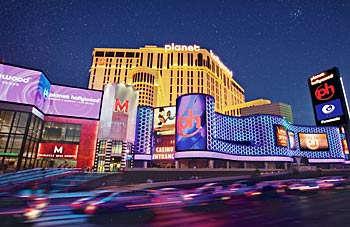 By Steve Beauregard
The Planet Hollywood Resort and Casino is slick and happening, and bold, and loud, and (while it's a little too much for this middle-aged mid-Westerner), it has a great location and vibe for those of you able to party in Las Vegas for days on end.
My age is beyond the target demographics of this mid-strip resort, and as a result, I just can't get comfortable here. The assault on your senses begins outside on the strip, where the enormous, 57 foot high ribbon LED sign that winds itself along the part of the strip that fronts the hotel. Below that is the 600 foot long "ticker" that advertises shops, shows and games inside. It reminds me a little of Times Square.
The casino floor is spacious, (around 3 acres), and has colorful patterns in the floor, bright pink and neon, walls of LED lights, and overall gives the appearance you're in a nightclub. While modern and hip, the Planet Hollywood reminds me an old school Vegas casino in the sense that it's devoid of any sort of light colors or natural light. The Bellagio conservatory this is not.
After numerous reincarnations, Planet Hollywood Resort and Casino still really hasn't settled on a theme yet. Since transitioning from the Arab-themed "Aladdin" they tried to fashion a resort like a giant Planet Hollywood restaurant. That concept didn't take off, so they made the place more edgy and hip. There's no real sense of "Hollywood" at the Planet Hollywood, other than the fact the rooms have some touches of minor movie memorabilia in them.
Speaking of which: much of the filming for the movies "21" and "What Happens in Vegas" took place here. As have several Miss America pageants, and the TV reality competition, "America's Got Talent." Don't let that keep you away though.
PH (as it's called) has 1,200 slot machines and over eighty table games, including the fun mini baccarat. Try it! Your money lasts awhile because of the decent odds. The house's edge on baccarat is just a tad over 1%, making it one of the most player-friendly casino games available. Plus you'll feel like James Bond. (Unless you're wearing one of those "Free Mammograms" t-shirts).
As if there weren't enough distractions in a casino to keep you from focusing on the count when playing blackjack, Planet Hollywood has the sexy "Pleasure Pit." This is a section of the casino where the dealers wear smoking hot lingerie. (The dealers are women). Go-Go dancers provide additional eye candy to keep you occupied in between shuffles.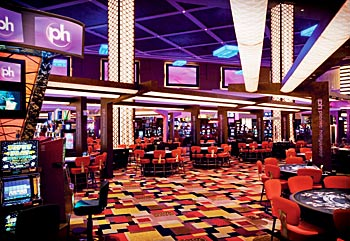 For high rollers, there's the London Club. If you have to ask about the minimum bets, you can't afford it.
As for their sports book? It's called the Playing Field Race and Sports Book. With about fifty seats, it's small, by Las Vegas standards.
(Go here to get the distance from MGM Grand to Planet Hollywood)
The modest poker room has 11 tables. They run $1/$2 No limit Texas hold'em, along with some small, low buy-in daily tournaments. I found the competition there pretty weak, but then again, the people I played against probably thought I was weak.
On to the hotel, which has 2,567 rooms, all of which have some type of interesting movie memorabilia in them. Many have outstanding views of the Bellagio fountains, and since this hotel is fairly new, the rooms are clean and look sharp.
Some of you may recall the tall blue hotel behind Planet Hollywood. It has the red fin sticking out of it. Remember? It used to be called the PH Tower, and was associated with the Westgate timeshare business. It has since been converted to Elara, a Hilton Grand Vacations Hotel. I don't know if it's still part of Planet Hollywood.
Official website: www.PlanetHollywoodResort.com
The hotel's swimming pool, what they call the "Pleasure Pool" is nothing to write home about. They brag that the pool features, "Las Vegas' top DJ's," so if you ever get tired of the exceedingly loud, pulse-pounding music inside, you can go outside for a relaxing swim, and be inundated with exceedingly loud, pulse-pounding music out there, instead. (Can you tell I'm getting old?)
Notable restaurants at the PH include the well-reviewed Strip House, Gordon Ramsay "Burgr," Planet Dailies, Pin-Up Pizza, Earl of Sandwich, P.F. Chang's, and Koi, which serves sushi and other Japanese dishes. I mention Koi, because it and its cousins in New York and L.A. have become celebrity hotspots. The restaurants have been mentioned in People and US magazines for celebrity sightings.
Those of you wanting cheaper eats can check out the Spice Market Buffet (just so/so compared to the wonderful Bellagio buffet across the street), or the famous import from L.A.: Pink's Hot Dog stand.
As for entertainment, the PH is far down on my list of places to check out a show. There are no Cirque shows here, but Brittany Spears has signed a long-running engagement to perform.
The "Axis Powered by Monster" theater hosts one night, or limited engagement runs of everything from Larry the Cable Guy, to singer Marc Anthony, to "America's Got Talent Live."
Miracle Mile Shops
Steps off the strip, you are bombarded with ads for the Miracle Mile by the long, neon, constantly-changing billboard out front that attacks the visual senses of anyone within a block of the place.
The Miracle Mile shops, formerly known as The Desert Passage mall, has around 170 stores.
Sammy Hagar's Cabo San Lucas mainstay, Cabo Wabo Cantina has been recreated here. For my fellow craft-beer lovers, the Sin City Brewing Co features locally made microbrews. There's also a Panda Express, because apparently you can't find those anywhere else.
The Miracle Mile Shops at Planet Hollywood have, (and I'm hesitant to bring it up here), a fountain show. Bragging about your hotel's fountain show when you are across the street from the Bellagio is like bragging about how good looking you while seated next to Brad Pitt. What I'm trying to say is that you don't have to put this show down on your list of "Must See" Las Vegas attractions. They do have fog, however.
Slightly more impressive (and I realize that's not saying much), is the rainstorm show that goes off every half-hour. It has thunder, and lightening, fog and rain. I thought it was sort of cool. Then again, I was drunk.
Planet Hollywood's History
Planet Hollywood sits on the site of the old Aladdin Casino, which has a storied past – in a good way. For example, Elvis was married there, and the resort was once owned by "Mr. Las Vegas" himself: Wayne Newton. Nevertheless, the aging resort was imploded on November 25, 1997, during the huge Las Vegas strip building boom of the late 1990's.
In its place, the new, larger Aladdin was built, opening in August of 2000. The concept really didn't take off, which surprised a lot of people who thought that an Arab-themed resort would do well in post- 9/11 America. After a few years of financial issues, ownership sold it to the outfit that ran the Planet Hollywood chain of restaurants, and the organization completed a rebranding of the resort in 2007. Ironically, Planet Hollywood does not have a Planet Hollywood restaurant. (There is one down the street at Caesars Palace).
Planet Hollywood Address and Phone:
3667 Las Vegas Blvd. South
Las Vegas, NV 89109
Phone: 702-785-5555
Toll Free: 1-866-9197472