Best Cheap Breakfast on the Las Vegas Strip 2023
Updated January 6th, 2023
While not gone entirely, the days of incredibly cheap casino restaurant breakfast deals up and down the Las Vegas Strip are pretty much a thing of the past.
There are, however, a few select deals found on the Strip that will enable you to eat a decent, yet cheap breakfast.
First off, by "cheap," I'm not talking about under $15, or even under $10. For cheapskates like me, a cheap Las Vegas Strip breakfast is defined as around five bucks.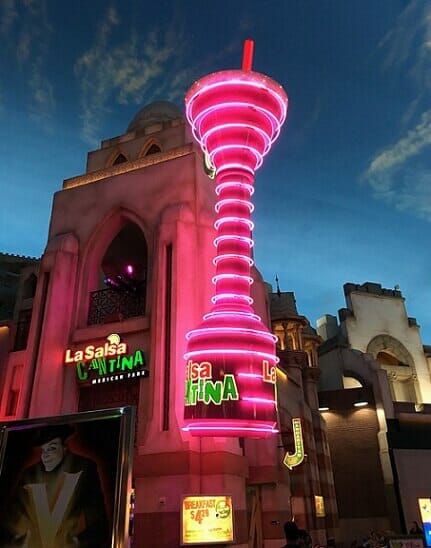 I'm also talking about sit down restaurants.
There are numerous McDonalds along the Strip where you can get your cheap fast food breakfast, but in this article, we're sticking with places where you sit down, are served, and can enjoy a leisurely morning meal that doesn't involve a paper sack.
Casino Restaurants Aren't Cheap
The key to finding a cheap casino restaurant breakfast, is to avoid casino restaurants. By that I mean the hotel/casino owned restaurants or coffee shops found easily on the main floor of every casino on the Las Vegas Strip.
Due to their prime locations, these hotel-owned restaurants always have a steady business, and will always have the financial backing of their parent casino. Thus, there is no great incentive from them to offer incredible service or deals, as they are always guaranteed to have business.
The key, then, is to seek out the places competing for your meager breakfast dollars. And the place where numerous independent restaurants have to compete against each other is in the various shopping malls attached to casino/hotels along Las Vegas Boulevard.
Cheap Breakfast Las Vegas Strip 2023
The Holy Grail of cheap Las Vegas Strip breakfast deals can be found at the Miracle Mile Shops at Planet Hollywood.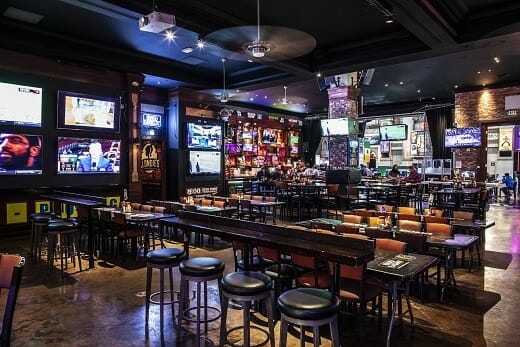 The deals can be found at the numerous sidewalk cafe type restaurants all along the indoor Miracle Mile Shops. The deals start off good with the front facing restaurants, but get even better the further back you walk. The two best breakfast deals on the Las Vegas Strip can be found at:
La Salsa Cantina
Blondies
Both are at the very back of the mall, and both of these complete for the title of "The cheapest breakfast on the Las Vegas Strip."
La Salsa Cantina Breakfast Special
Just across the indoor "street" from Blondies is La Salsa Cantina.
For $4.79, you get two eggs cooked any way you like, your choice of bacon, ham or sausage, two tortillas (your choice of corn or flour), and potatoes.
The warm tortillas are a very nice touch, and there are a couple of different hot sauce options at the table to spice it up a bit.
A cup of coffee at La Salsa Cantina is $2.79 additional.
The special is offered seven days a week. Keep in mind however, this breakfast special ends at noon. (They open at 9 AM).
We sat on the little patio overlooking the Miracle Mile walkway, and really enjoyed both our meal, atmosphere, and excellent service.
Bloody Mary and Breakfast Drinks Special
The La Salsa Cantina still has (as of late November 2022), a 99 cent Bloody Mary special. They aren't very big, (six ounces I think), but for less than a buck, your expectations should be low. You can choose to get the bigger Bloody Mary for $5.
Before tip, but after tax, the whole meal (with the small Bloody Mary thrown in) is less than $6.50, and these days in Las Vegas, that's hard to beat. The day before, I dropped ten bucks for a coffee and bland yogurt parfait at the walk-up deli at the Flamingo. So the deal at La Salsa Cantina is definitely worth a little extra walk.
The Breakfast Drinks for $4.95 include the following:
Baileys & Coffee
Avion Tequila Sunrise
Absolut Peppar
Bloody Mary
Mimosa
Avion Breakfast Margarita
Previously there were two other convenient La Salsa Cantina restaurants with cheap breakfast deals. There was a cousin to La Salsa Cantina (called La Salsa Fresh Mexican Grill) located at the Forum Shops at Caesars Palace, however it has since closed.
In addition, the Salsa Cantina restaurant location at the Showcase Mall near the MGM Grand closed a few years ago.
Blondie's Breakfast Special
Blondie's is a fun sports themed restaurant, with very pretty waitresses dressed like cheerleaders.
As of this update, their on-again, off-again breakfast special is back on, seven days a week, making it one of the least expensive breakfast on the Las Vegas Strip. A call to Blondies confirmed the special runs from 7 AM to 11 AM.
For just $4.99, you can get 2 eggs, bacon or sausage, and breakfast potatoes (the skillet kind with green peppers and onions).
If you want to make it a breakfast burrito, it's $5.99. The catch here is that coffee runs for over $4.00
They recently still had a $2.99 cent Bloody Mary special. Meaning you could get breakfast and a Bloody Mary for a total of $9.08 after tax.
In addition, the menu recently boasted Skyy Vodka Bloody Marys and Bloody Marias specials for just $5.00.
Ocean One Bar & Grille
Another good breakfast deal is also in this mall area, just down the indoor walk from La Salsa Cantina and Blondies. It's called the Ocean One Bar & Grille and it may be the best lunch deal in Las Vegas, with $4.99 meals.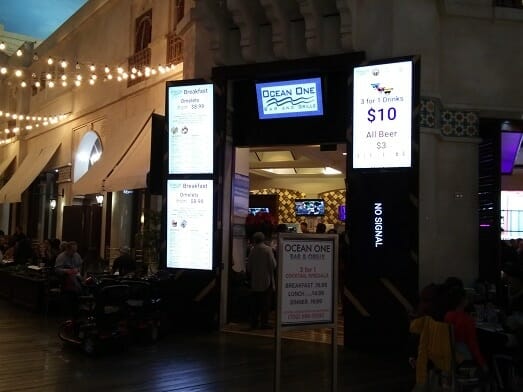 For their breakfast special, they have a $5.99 breakfast deals. These include your standard two eggs, bacon, toast and potatoes meal, but there's also a $5.99 pancake special that includes your choice of ham, bacon or sausage.
They also have 3 for 1 drinks, all day, every day for $12.
PBR Rock Bar & Grill Breakfast Deal
In front of the Miracle Mile shops, facing the Strip, former PBR Rock Bar & Grill was a fun, rockin' country themed bar and restaurant with both a mechanical bull and an incredible breakfast deal.
However it has since closed, and obviously off our list of top breakfast deals. Before the Covid-19 shut down, they had a $4.95 breakfast special, which included two eggs, your choice of bacon or sausage, mixed fruit, and your choice between two pieces of either wheat or Texas toast. The deal was good until noon.
(By Steve Beauregard. Photo courtesy of Blondies Media page and Jared via Flickr.