Best Cheap Place to Eat Lunch on the Las Vegas Strip 2023
In a town that's constantly trying to take all your money – be it through machines, table games, resort fees or parking fees – it's nice to know there's at least still some old school Las Vegas dinning values to be found on the Strip.
Below is my opinion of the best cheap lunch option on the Las Vegas Strip. I'm talking about a sit-down lunch in a restaurant. (I have zero affiliation with them).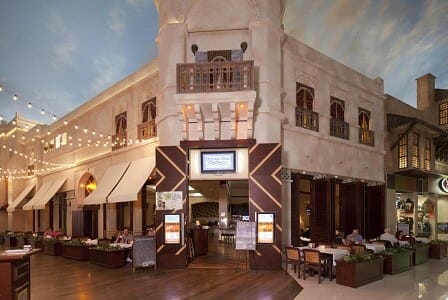 Of course there there are still $2.99 footlong hot dog deals that can be found, cheap food courts with plenty of fast food options available on Las Vegas Boulevard, including McDonald's, a huge Taco Bell, In-N-Out Burger and the like.
However here we're talking about a regular, relaxing sit-down meal with table service.
Cheap Lunch on the Las Vegas Strip
In that vein, the cheapest lunch on the Strip is found at the Ocean One Bar and Grille in the Miracle Mile Shops at the Planet Hollywood Hotel & Casino.
Unbelievably, the Ocean One still serves $5.99 lunches. They do this in a pleasant and clean setting as well, versus the dive bar feel you'd expect for a lunch under five bucks.
Another great feature of this deal is that you have variety. It's not just one "special" for $5.99. There's everything from a Buffalo Chicken Wrap, to a half pound sirloin hamburger, grilled salmon dish, marinated flank steak and Caribbean Mahi – all under six bucks.
Las Vegas Cheap Lunch Deal Menu
Ocean One's list of twenty-four different $5.99 meals include the following:
Starters
Spinach & Artichoke Dip
Tuna Tartare
Crispy calamari
Buffalo wings
Tacos – Grilled chicken/Mahi mahi/beef
Salads
Southwest Chicken Salad
Island Salmon Salad
Sandwiches and Wraps (These all come with your choice of French fries, or black beans & rice.)
Half-pound sirloin burger
Buffalo Chicken Wrap
Caribbean Mahi
Grilled Chicken Club (with apple wood smoked bacon & Swiss cheese)
"Chef's Specialties" (Most of these come with either mixed vegetables, mashed potatoes, or both.)
Grilled Salmon with lemon herb sauce
Marinated skirt steak with cabernet sauce
Orecchiette pasta (artichoke hearts, spinach, onion & tomatoes, in a lemon garlic sauce)
Chicken Penne pasta (chicken, mushrooms, tomatoes, in a Pomodoro sauce)
Spaghetti and Meatballs
Again, even the Chef's specials are just $5.99.
Ocean One's Cheap Drink Special
If having the cheapest lunch on the Las Vegas Strip wasn't enough, Ocean One has cheap cocktails too!
They advertise their "Always Three for One" deal, in which you get to choose three drinks for $12.
Alcohol brands include Ketel One, Captain Morgan, Bacardi, Beefeater, Jose Cuervo, Jack Daniels and the like.
Choose a mixed drink, or have some frozen favorites like pina Coladas, strawberry daiquiris, etc. There are varieties of red and white wines included in the 3 for 10 deal, including Kendall Jackson brands.
Of course, you can always get beer instead. Choices include your usual domestic brands, (Coors, Bud, etc.) a couple of craft beers (Sierra Nevada), and imports like Heineken, and Stella Artois, among others.
You can also mix and match all of these drink choices.
Location
Ocean One Bar & Grill is close to the Harmon Avenue entrance into the Miracle Mile Shops. When coming into the mall from the Strip, you'll want to go past PBR Rock Bar and the Earl of Sandwich, (another fairly reasonable lunch option), and take the first available right.
If you circle around the Miracle Mile shops, you'll come across the V Theater area, where you'll see La Salsa Cantina, and Blondie's Sports Bar, both of which compete for the title of Best cheap breakfast on the Las Vegas Strip.
For their part, Ocean One is almost the cheapest breakfast, as they have $5.99 egg breakfast, and a $5.99 pancake breakfast deal to choose from.
Ocean One Bar & Grille Hours
7:30 AM to 11:30 PM, seven days a week.
(By Steve Beauregard. Top photo courtesy of Edgar Zuniga Jr. via Flickr. Bottom photo courtesy of Ocean One Bar & Grill's website.)