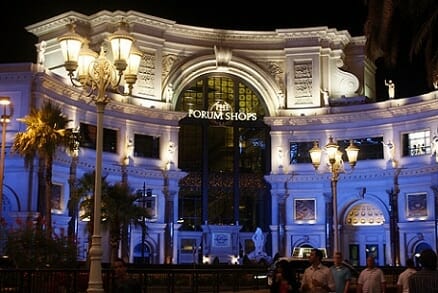 By Steve Beauregard (Updated February 2017)
In years past, a casino executive who suggested their Las Vegas resort develop a large section of potential gaming space into a shopping mall would have gotten either a drug test or a pink slip.
Yet with the opening of the Forum Shops in 1992, Caesars Palace's then-unique concept of adding a world-class shopping mall that competes for tourist dollars just steps away from the noisy slots and pit games has turned into a remarkable success, while revolutionizing the hotel/casino industry forever.
Whether it's because the incredible shopping mall is a draw for gamblers, or if it's simply another revenue source for the casino, the still-somewhat novel idea of encouraging patrons to walk away from their casino into a retail environment has been proven to work for Caesars Palace.
The Forum has over 600,000 of retail space, including 160 shops and 12 restaurants.
In terms of revenue per square foot, it is the most profitable shopping area in the United States. It's run by the Simon Property Group, which calls itself the largest real estate company in the world. By my count, they own 344 malls in the United States, including the Forum Shops.
Here you can break out the Visa and shop purchase authentic wares from famous designers like Gucci and Louis Vuitton. Other notable retailers include Versace, an Apple store, and Tiffany.