Updated January 7th, 2021
With 3,960 hotel rooms, a spacious, always-bustling casino, a hot nightclub, popular concert venue, and the world's most successful shopping mall, Caesars Palace has an extraordinary demand for parking.
Fortunately, this is adequately met most of the time, thanks to the massive 8 story Caesars Palace self-parking garage attached to the resort on the west side of the casino.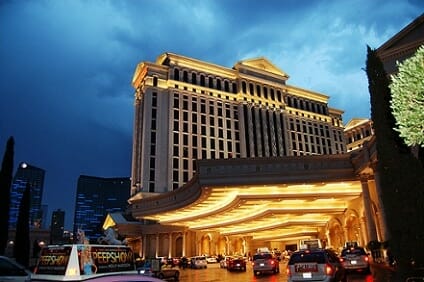 Although eight stories in eight, in reality, only levels 3 through 8 are actually self-parking for guests. Other levels are for valet parking. (More on that in a second).
From the parking garage, access to the casino is made via some nice elevators located on the east side of the garage. I say "nice" because they seem classier and cleaner than many of the normal casino elevators I've taken.
Clearance for self-parking at Caesars Palace is 6 feet, ten inches in height. The employee parking garage at Caesars is across the street to the north, at the corner of Jay Sarno Way and Frank Sinatra Drive. I only mention this because on busy occasions, a couple of levels of the employee parking garage is made available for the public.
There are usually plenty of spaces to be found (even if you have to drive up to the upper levels), and at night, all levels are very well lit.
Caesars Palace Parking Fee
After taking little break from parking fees since re-opening, Caesars re-instituted paid parking. Current rates are as follows:
0-60 Minutes: Free

1 to 4 Hours: $15

4 to 24 Hours: $18

Each additional 24 Hours: $18
Free Parking at Caesars Palace
Self-parking is completely free to all hotel guests. In addition, Caesars Rewards members at Platinum, Diamond or Seven Stars receive complementary parking, as do Nevada residents with proper I.D.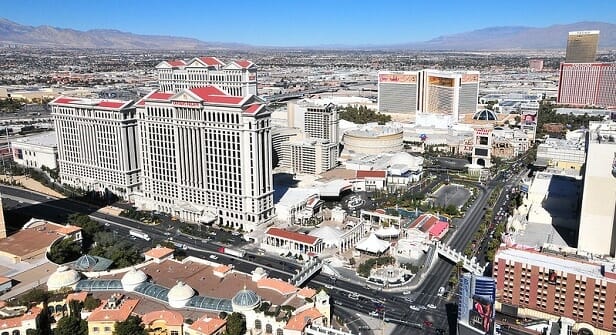 For those of you who have to pay, you will receive a ticket when entering the parking garage, and you'll pay by kiosk before leaving.
Caesars Palace Parking Map
(Here's a map of the Caesars Palace parking areas. Red Star = self parking garage. Black = Forum Shops Valet Parking. Blue = Main Hotel Valet. Green = Colosseum & Omnia Valet Parking)
Caesars Palace Valet Parking Fee
You'll want to keep the valet ticket you receive when arriving, in that you'll scan it and pay your valet fee at a kiosk before the valet is able to retrieve your vehicle.
Please note that you cannot add a tip at the kiosk; valets only accept cash.
Up to 2 Hours: $20 (weekday) and $25 on weekends.

2 to 4 Hours: $25 (weekday) and $30 on weekends.

4 to 24 Hours: $30 (weekday) and $35 on weekends.

Over 24 Hours: $30 for each additional weekday and $35 on weekends.
Hotel guests will have to pay valet parking. However as with the self-parking, valet parking is free for anyone with a Caesars Rewards card status of Platinum, Diamond, or Seven Stars.
Also, on Holidays and during special events, Caesars Palace says that valet parking rates will be $5 higher than the weekend rates.
Some other notes:
* For hotel guests, the valet parking fee will be automatically charged to your room.
* Valet parking for oversized vehicles is $30 per day (I believe).
* Everyone, (including hotel guests) staying at one Caesars Entertainment hotel will have to pay the full valet parking fee at any other Caesars Entertainment hotel they visit. Even on the same day.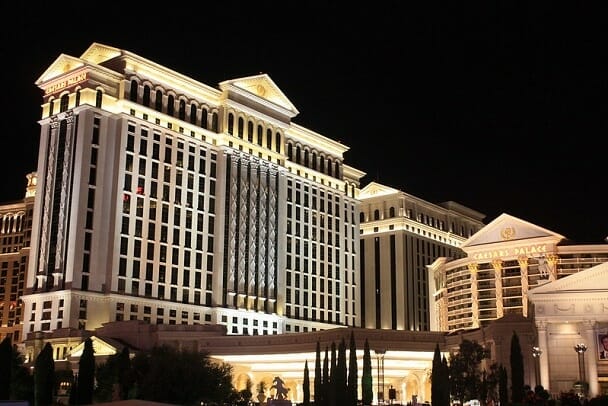 * Hotel guests will have in-and-out valet parking privileges at Caesars Palace, however non-hotel guests will have to pay a new valet parking fee each time.
In other words, if you're just visiting Caesars Palace for a couple of hours on a Saturday and valet park for $25, but then have to pick up a friend at the airport, you'll get charged another $25 if you drive back to Caesars Palace and valet park. Even on the same day.
Directions to the Caesars Palace Self-Parking Garage
There are two ways to get to the self parking lot at Caesars Palace: from the Strip, or from behind the hotel on the much less busy Frank Sinatra Drive.
**From the Las Vegas Strip**
The main, very busy entrance to Caesars is on Caesars Palace Drive, which is basically right under the large "Caesars Palace" sign. When entering this drive, you'll want to take a right. Follow the signs, past the first Forum Shops valet on your right, under and past an overhead bridge, through an underpass, until you get back outside where the road leads to a stop sign.
You'll see the large Caesars Self Parking garage on your left. So take a left into the garage, where you'll want to stay in your right lane, following the self-park signs.
**From Frank Sinatra Drive**
This one's easy. From Frank Sinatra Drive, just turn into Jay Sarno Way. This road does not go anywhere else, so you have to go east on it. You'll immediately see the parking garage on your right.
Forum Shops Parking and Valet
The Forum Shops at Caesars Palace does not have a separate parking garage. Rather, you'll just use the 8 story self-parking garage used by casino and hotel guests.
The nice thing about parking here, is that once you take the elevator to the casino level, it's just a quick left turn and very short walk through a little bit of the casino before you are officially in the Forum Shops area.
Alternatively, you may wish to use one of two different valet stands for the Forum Shops.
The first one is outside. When going south on Las Vegas Boulevard, you'll take the first right after the Forum Shops, then another right, following the signs to the Forum Shops Valet.
The second valet is under the bridge, on your way to Caesars self-parking. Here's you'll go into the resort from the Strip in the main entrance (Caesars Palace Drive), taking the first right then continuing a little further on the road (Jay Sarno Way). The well-lit valet parking area will be easily seen on your right.
Valet Parking at the Forum Shops is free. This was confirmed by a call to the Forum Shops in January 2020. (Previousy it was $7 per day, (per their website).
Colosseum Parking and Valet
When attending a show or concert at the Colosseum, you'll use the same Caesars self parking garage as guests and visitors of the hotel and casino use.
However if you wish to use the valet, the Colosseum has a separate valet for concert attendees. You'll find this valet in the regular 8 story parking garage, and you'll enter the parking garage the same way as if you were self-parking. However instead of taking a right for the self-parking, you'll stay to the left, driving under the sign that reads, "Colosseum Valet."
Caesars Palace Hotel and Casino Valet Parking
In addition to the Forum Shop valet parking and Colosseum valet parking, Caesars Palace Hotel itself has two valet areas: (1) the main valet parking area in front of the hotel, by the famous fountains, and (2) The Augustus Valet off of Flamingo Road.
1) Main Hotel Valet
From the Strip, you'll turn into the main entrance, Caesars Palace Drive. From there, go left to the front hotel entrance. You'll pass the line of taxis on your right, and signage will point you to the valet. This is the area where the guys in "The Hangover" learned they had stolen a police car. Hopefully your experience will be better.
2) Augustus Valet
This valet parking area is off of Flamingo Road. This special valet parking area is only available to Caesars Rewards members at the Diamond or Seven Stars levels, as well as those dining at Guy Savoy. Those using the Spa may also access this valet.
(By Steve Beauregard. Photos courtesy of Britt Reintz, David Herrera, and Mike McBey via Flickr).