How Much Does the Las Vegas Strip Monorail Cost? – 2023 Ticket Prices & Map
It may surprise you to learn how much the Las Vegas Strip Monorail costs: just $5 for one ride.
There are actually four monorails on Las Vegas Boulevard: three free Las Vegas Strip trams on the west side, and the long, main one on the east side, which we are discussing here.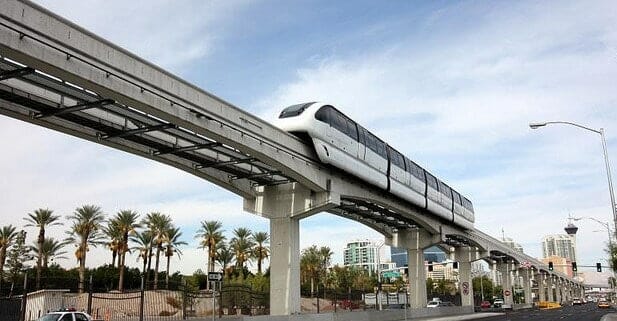 This main one, running the length of the east side of the Strip is officially called the Las Vegas Monorail.
Las Vegas Monorail
It runs 3.9 miles, beginning at the MGM Grand on the south end, going all the way north to the Sahara Las Vegas on Sahara Avenue. It has stops at the Paris Hotel and Casino, the Flamingo Hotel and Casino Las Vegas, and Harrah's, among others.
The Las Vegas Monorail was has its origins going back to 1993, when it consisted of a one-mile stretch of track that ran trains from the MGM Grand to Bally's. The full strip-long Las Vegas Monorail opened on July 15, 2004.
As a not-for-profit entity, the system was built entirely with private money. A main contractor on the project, Bombardier, helped develop the smooth-running monorail system at Walt Disney World in Orlando, Florida.
In addition to being the only private public transportation system in the US, the Las Vegas Monorail is the first public monorail system in the world that does not have drivers. Like the Strip itself, the monorail is not actually in the city of Las Vegas' city limits.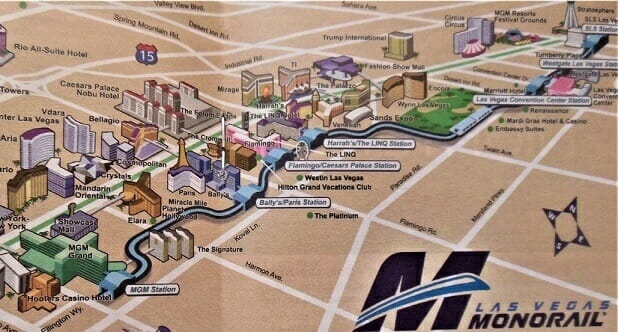 The entire run from MGM Grand to the Sahara Station takes 15 minutes, and the trains are air-conditioned to help fight those notorious Las Vegas summers.
The number of trains running varies, but generally, a train will arrive between every 5 to 10 minutes (more like every five minutes during busy times). The trains can reach speeds up to 50 miles per hour. Try reaching those speeds on the Strip in a Taxi or Uber.
Las Vegas Monorail Ticket Prices
You can purchase either mobile tickets or physical ones, but there is now a discount for most rides, for using your phone. Current LV Monorail prices are as follows:
| | | |
| --- | --- | --- |
| | Paper Ticket | Mobile Ticket |
| Single Ride | $5 | $5 |
| 24 Hour Pass | $15 | $13.45 |
| 2 Day Pass | $26 | $23.75 |
| 3 Day Pass | $32 | $29.95 |
| 4 Day Pass | $39 | $37 |
| 5 Day Pass | $47 | $44.50 |
| 7 Day Pass | $62 | $57.50 |
You can purchase tickets online here: https://tix.lvmonorail.com/purchase, which you'll then scan at the Monorail station.
Keep in mind that a 24 hour pass is exactly that: meaning it expires exactly 24 hours from the time when you enter through a fare gate. Your ticket will no longer allow you through the metal gates one minute after your 24 hours is up. The same applies for the other passes, as they are based on the exact time when you insert your pass to get through the gate for the first time.
Also, children 5 and under are free. You can purchase tickets at each of the seven monorail stops, or mobile tickets online on your phone or through the system's website.
The little kiosks at each stop can accept cash and your debit or credit card. Sorry, but don't take the leftover chips you found in your pocket from the previous night's blackjack session.
The monorail's official website boasts that during popular conventions, it transports around 70,000 people to and from the Las Vegas Convention Center.
Overall, however, the system has been a disappointment in terms of expectations. Developers had originally envisioned a much more popular and busier passenger count. The Las Vegas Monorail's failure to attract more riders has prevented further expansion to the north. In fact, in 2013, the system's operating company came out of an organized bankruptcy.
A Good Alternative
Yet while it has its share of detractors, I am not among them. The Strip Monorail is great, especially if you happen to be staying at a distant, east strip side hotel and are attending a convention. My wife and I stayed at the MGM Grand, and our trips to the Las Vegas Convention Center were very quick and convenient, with little walking involved.
Yes, you would save money by heading out to the strip and taking the Deuce, which is the Las Vegas transit authority's bus system, but the monorail saves you a lot of time, and walking, while letting you beat those Las Vegas days when the thermometer hits 107.
One Drawback
The main drawback to the monorail is its lack of convenience to west side casinos.
What I mean by that is, that the actual stops themselves are on the far eastern side of the east side hotels, meaning you would have about a block-long walk to get from the station to the Strip. From there you have to cross the Strip and have the long walk into the entrance of the east side casinos, (Bellagio, Caesars Palace, etc.) In many cases, it's simply easier to use the Strip sidewalks than the Monorail.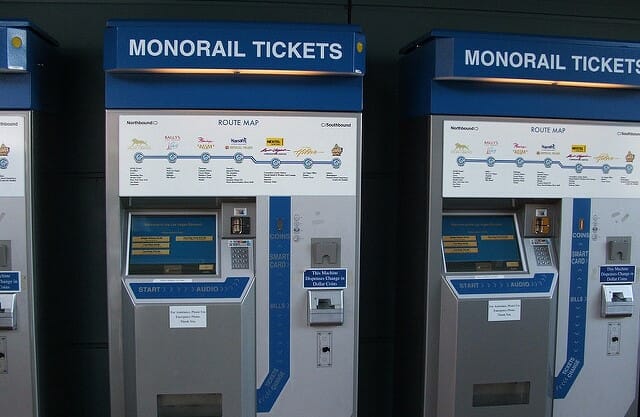 However it's almost never faster to take a Strip Taxi or Uber/Lyft. So while it hasn't been as popular as organizers imagined, the system still gets its share of riders while helping reduce car and bus pollution. Recently the Las Vegas Monorail announced it had also just celebrated it's 74th millionth passenger.
Las Vegas Monorail Hours of Operation
Trains run as follows, 365 days a year:
| | |
| --- | --- |
| Monday | 7 AM to Midnight |
| Tuesday – Thursday | 7 AM – 2 AM |
| Friday – Sunday | 7 AM – 3 AM |

Las Vegas Monorail Station Stops
There are seven different stops on the route. Here they are, beginning at the south and going north:
MGM Grand Station
Horseshoe / Paris Las Vegas
Flamingo / Caesars Palace
Harrah's / The Linq
Las Vegas Convention Center Station
Westgate
Sahara Las Vegas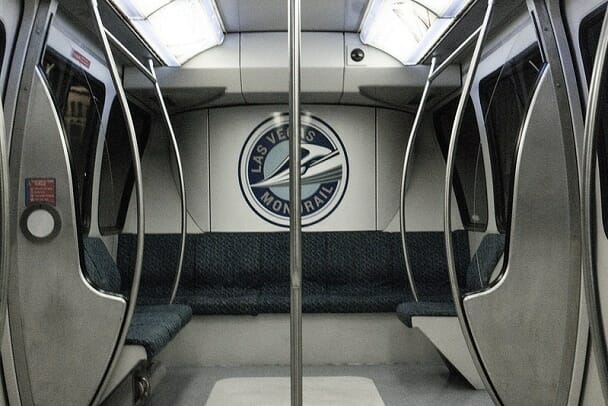 While earlier plans way back in 2004 called for an extension of the monorail to Fremont Street, or old downtown Las Vegas, more recent focus has been directed towards extending the line south to McCarran International Airport. Plans have been developed, but funding as not been secured for this extension, as monorail management is relying on federal transportation monies. As you might imagine, taxi companies are fighting these efforts tooth and nail.
LV Monorail Address Phone & Website
Contract info for the monorail are as follows:
3770 Howard Hughes Parkway, Suite 295
Las Vegas, NV 89169
Phone: (702) 699-8299 (Hours are 10 AM to 6 PM daily, Pacific time)
Email for any issues: customerservice@lvmonorail.com
Website: LVMonorail.com
Las Vegas Monorail to Mandalay Bay
In addition, the Las Vegas Monorail group had announced plans to extend the line south past MGM Grand to Mandalay Bay. Approval and plans were in place, however governmental financing issues have caused the extension to be delayed and likely scrapped completely.
This new extension would have been a wonderful way for folks staying on the Strip to get to the new Las Vegas Raiders Allegiant Stadium very easily, as the Mandalay Bay monorail stop would be just a 10 to 15 minute walk to the stadium entrance.
However there still remains a free tram from the Excalibur Casino to Mandalay Bay.
(By Steve Beauregard. Photos courtesy of Jon Konrath, Michael Dorausch, and Jason Cipriani via Flickr.)