Las Vegas Raiders Allegiant Stadium Location, Map & Distance from the Strip
After two years and $2 billion dollars, the Las Vegas Raiders' new stadium, Allegiant Stadium, is complete and one of the gems of American stadium architecture. (And this is coming from a Bronco fan). Allegiant Stadium seats 65,000 people and hosts the Raiders, UNLV football games, the Las Vegas Bowl, The Pac-12 Championship, concerts, an upcoming Super Bowl and other events.
The 10-story black-sided domed stadium, (nicknamed "The Death Star,") is a beautiful, light filled palace – all thanks to its clear plastic roof and giant retractable side windows.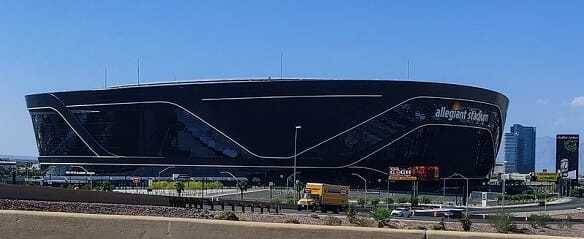 It's also just a very short walk from the Las Vegas Strip. In fact, the stadium entrance is just a .7 mile walk from the Las Vegas Strip.
Allegiant Stadium is just across Interstate 15 from Mandalay Bay – the southernmost casino on the Las Vegas Strip. More specifically, the stadium is located on 63 acres of land at the intersection of Interstate 15 and Russell Road, just west of the Strip.
The strip of land is fairly long and narrow, however the actual stadium is on the northern end of the parcel, and very close to I-15.
Las Vegas Raiders Stadium Location Map
(The black star represents the North Las Vegas Raiders stadium entrance. The purple is the Excalibur-Luxor-Mandalay Bay tram stop. The blue beer mug shows you the Bud Light Beer Garden tailgate party.)
What all this means is that walking to the Raiders Stadium from the Las Vegas Strip is fairly easy, and faster (and cheaper) than driving to the game.
Perhaps this is why professional parking consultants hired by the Raiders estimate that during home games, 30,000 people will walk to the stadium from the Strip.
Walk from Las Vegas Strip to Raiders Stadium
While it happens to be on the other side of the interstate, the Raiders new stadium is very pedestrian friendly. You won't need a car, taxi, Uber or Lyft to get to the stadium from the Strip, however the complex has been designed to handle an abundance of ride sharing vehicles.
W. Hacienda Avenue is the road that bisects the Luxor and Mandalay Bay. The north stadium entrance is just a few hundred feet south of W. Hacienda Avenue, meaning it's a very short walk for those of you starting from the Mandalay Bay Hotel and Casino.
In fact, a walk from inside Mandalay Bay to the stadium takes between 10 and 15 minutes.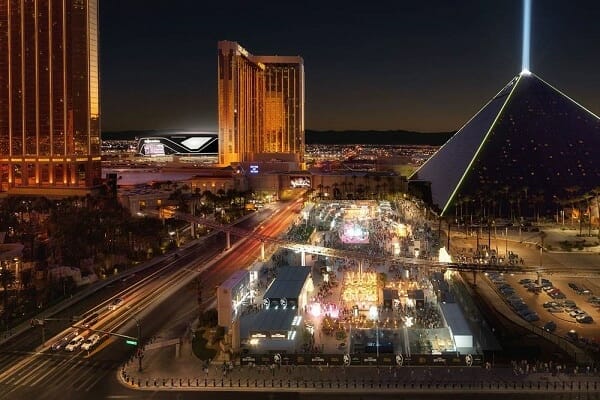 This major street, Hacienda Avenue, is closed to vehicles (from Polaris Avenue to the Las Vegas Strip), on game days.
In addition, there is also a brand new 30 foot wide pedestrian-only bridge going over I-15 to the stadium, making things much faster (and easier) for walkers and tailgaters and those of you enjoying pre-game parties on the Strip.
So the walk from the Las Vegas Strip at Mandalay Bay to the Raiders stadium will take you roughly 15 minutes, unless you're like me and stop by a Wheel of Fortune machine.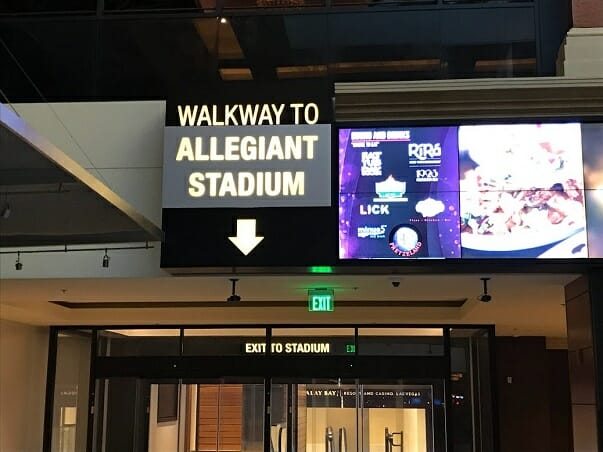 Trams from the Strip to Allegiant Stadium
Those of you staying at resorts like the Mirage, Caesars Palace, T.I., Bellagio, Cosmopolitan or Aria could take some of the free Las Vegas trams to get from your hotel to close to the Excalibur.
Combine that with the free tram that runs from the Excalibur to Mandalay Bay, means getting to Mandalay Bay will be very easy from all hotels on the Strip, even though the trams should be very busy on game days.
Stadium Walk Tailgate Party at the Luxor
The beer mug you see on the map above is the Luxor's tailgate zone. Called the Bud Light Beer Garden, it's free to enter.
This 130,000 square foot area at the corner of the Strip and Hacienda is buzzing on game days, with lawn games, DJ's, bands, food and beverage vendors, restrooms, temporary covered buildings and more.
MGM says food and drink vendors with kiosks include MGM Resort restaurants like, Beerhaus, Diablo's Cantina, International Smoke and Public House.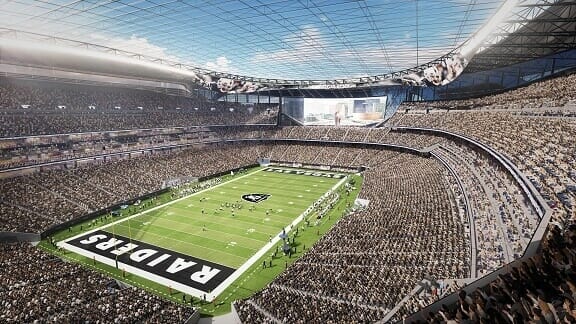 This party area is open four hours before game time, and stays open until the game is over.
Las Vegas Raiders/Allegiant Stadium Events
In addition to the normal slate of 10 home games for the Raiders (8 regular season games and 2 preseason games), stadium authorities have continued to book a steady stream of high-profile events. (I may receive a commission should you purchase tickets through the links below).
You can find tickets to Raiders home games here: LV Raiders Tickets
Here's a list of other notable events scheduled for Allegiant Stadium:
The 2023 East-West Shrine Bowl on 2/2/23.
2023 Pro Bowl Games. The actual game is no longer played, but there are other competitions.
Taylor Swift – The Eras Tour: March 24th and 25th, 2023. Ticketmaster didn't have them available when I checked, but Vivid seats had them here: Taylor Swift Las Vegas
Red Hot Chili Peppers – April 1st, 2023.
UNLV Rebels Football Games
The University of Nevada Las Vegas also calls Allegiant Stadium their home – moving out of their Sam Boyd Stadium digs east of town.
UNLV's first game at Allegiant took place on October 31st, 2020, against Nevada. Two thousand fans were allowed inside.
Super Bowl LVIII at Allegiant Stadium
The biggest sporting event in the United States will take place at Allegiant Stadium on February 11, 2024, when Las Vegas gets to host Super Bowl 58.
Parking at Allegiant Stadium
While it seats 65,000 people (not to mention thousands of stadium workers, media members, etc.), there are only 13,000 parking spaces right at the stadium.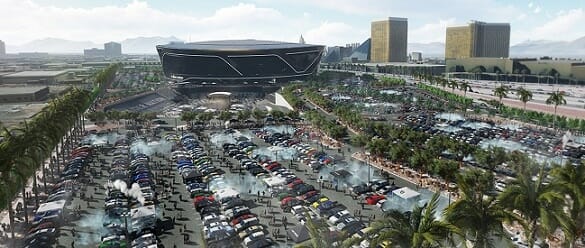 The Stadium authority states that (including the 13,000 at the stadium), there are 35,000 parking spaces within a one mile radius of the stadium.
Another 10,000 spaces are further away off-site, (at Warm Springs Road and Las Vegas Boulevard for example), however free shuttles are available to transfer fans to the stadium gates.
If you only want to park and walk, (avoiding shuttles), your Allegiant Stadium Parking options (other than the limited very expensive spaces on the stadium grounds) include:
Las Vegas Village Parking (Brown "P" on map)
The owner of this parcel, MGM Resorts, has made Las Vegas Village available for parking on game days.
Las Vegas Village is across the Strip from the Luxor and makes for an easy walk (18 minutes by one estimate), to the stadium. It was the site of the horrific Route 91 Harvest Festival shooting in October of 2017. Due to that sensitivity, MGM officials say that tailgating will not be allowed on this site.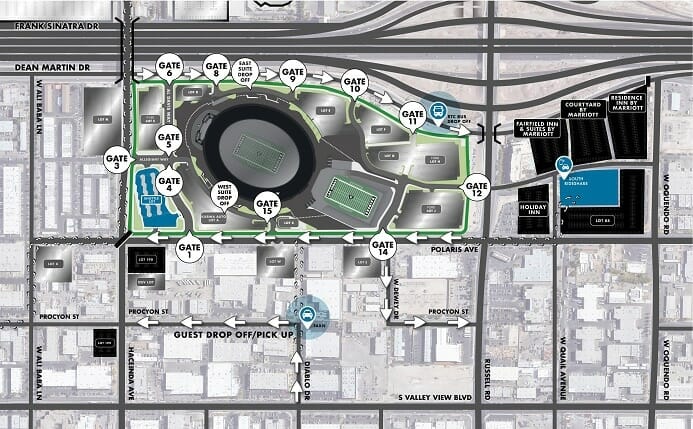 According to a story by Mick Akers in the Las Vegas Review-Journal, this site, (and the four surrounding lots near it) are currently able to handle nearly 12,000 vehicles.
Since this is an MGM Resorts property, parking is be completely free as a gesture of goodwill to the community.
Just kidding. The company that introduced wide-spread paid parking to the Las Vegas Strip gets their share from this empty space. A recent search for parking here for the Raiders/Ravens game in September 2021 showed a rate of $52 for this lot.
Valley View & Reno (Pink dot on map)
This 17 acre lot northwest of the stadium at the corner of S. Valley View Blvd and W. Reno Avenue was purchased by the Las Vegas Raiders in 2019 and has room for 2,700 parking spaces.
The aforementioned talented Las Vegas Review-Journal reporter, Mick Akers, reported that he made the walk from here to the stadium in just eight minutes. SpotHero shows spaces here going for $60 on Raiders game days.
(Here's a quick video showing you the walk from Mandalay Bay to Allegiant Stadium)
Other spaces include one at Diabo and S. Valley View Road ($100 for a Raiders game on SpotHero), and 3725 W Russell Rd ($60).
In addition to these "walkable" parking lots, the Raiders have announced several different park 'n ride parking lots further away from the stadium, in which shuttles whisk you to Allegiant. These lots including a spacious one at the Orleans Hotel & Casino.
Hotels Near Allegiant Stadium & Parking Fees
Based on walking distance measurements starting from inside the hotels (via Google maps), the closest hotels to Allegiant Stadium, (in order of proximity), are as follows:
Luxor – .5 miles
Mandalay Bay – .7 miles
Excalibur – .8 miles
Tropicana – 1 mile
NY-NY Hotel & Casino – 1.1 miles
MGM Grand – 1.2 miles
While Mandalay Bay is the closest hotel to Allegiant Stadium as the crow flies, you have to walk a tad north from the hotel to get to Hacienda and over to the stadium, making the Luxor, the hotel with the shortest walk to Allegiant Stadium.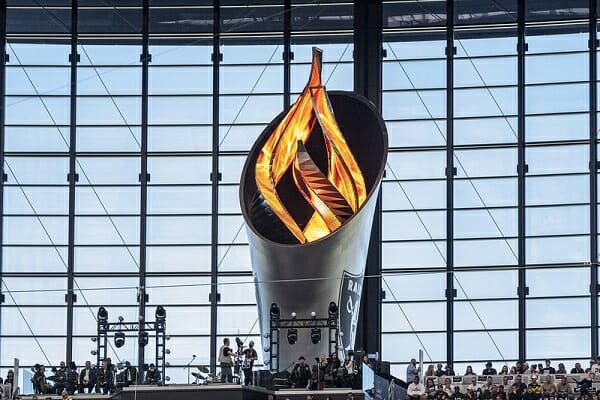 Keep in mind, parking at these resorts costs a lot more than normal on Allegiant Stadium event days. A recent search for Raider's game-day parking showed the following rates (subject to change based on demand):
Excalibur Parking: $65
Mandalay Bay Garage: $75
Mandalay Bay Convention Center area: $70
Can you walk to Allegiant Stadium from The Orleans?
This affordable, fun casino just off the Strip is a little northwest of Allegiant Stadium. You can make the walk, but it's not a short one.
In fact, it's 1.8 miles from The Orleans to Allegiant Stadium. Google maps estimates the walk would take 35 minutes.
The first Raiders' Game in Las Vegas
The very first Raiders game at Allegiant Stadium was supposed to be a pre-season game on August 27th, 2020 against the Arizona Cardinals. However the NFL cancelled the pre-season.
Instead, the first home regular season game was a Monday Night Football spectacular that closed out the second week of the season. On September 21st, 2020 at 5:15 PM, the New Orleans Saints took on the Raiders for the Raiders' official Allegiant Stadium debut.
Unfortunately, the Raiders did not allow fans in 2020 to welcome in the new stadium.
Allegiant Stadium Address, Phone & Website
3333 Al Davis Way
Las Vegas, NV 89118
1-(800)-RAIDERS
Website: AllegiantStadium.com
Las Vegas Stadium FAQ
More About Allegiant Stadium
The stadium was built by an experienced sports stadium construction company called Mortenson Construction, out of Minneapolis, Minnesota. They've built hundreds of venues over the years, including the dazzling U.S. Bank Stadium in Minneapolis.
Allegiant Stadium has an in-stadium sports betting lounge called MGM Club.
The makeup of Allegiant Stadium's actual field depends upon who is playing. During UNLV games, the artificial turf will be used, whereas all Raiders games are played on natural grass.
In fact, the grass has been grown outside, and will remain outdoors on a giant, 4 foot deep movable platform on the south end of the stadium when games are not taking place. Four different types of grass were grown outside the stadium to see which grass grew best in this environment.
The proposed extension of the Las Vegas Monorail to Mandalay Bay has been shelved. Originally expected to be completed in September of 2020, in time for a regular season home opener, the authority that operates the monorail was unable to get Nevada governmental approval for bond financing.
Originally scheduled to cost $1.8 billion, the stadium ended up costing a little over $1.9 billion dollars.
Allegiant Stadium History
Construction on the stadium began in September 2017.
In addition, to the new stadium, the Raiders have completed a new headquarters and team practice facility in nearby Henderson, Nevada, at a cost of $100 million dollars.
The headquarters includes a three-story office building, a retail store where you can buy all things Raiders, and a 150,000 square foot fieldhouse.
The stadium's inaugural event was scheduled to be a Garth Brooks concert for August 22nd, 2020. It sold out in less than two hours! The rescheduled date of February 27th, 2021 was moved again, to Saturday, July 10th, 2021, when Brooks was the headliner at Allegiant's first large-scale event.
A few weeks prior, on July 3rd, 2021, electronic music artist Illenium played to a half-packed house of an estimated 35,000 attendees in the very first concert at Allegiant Stadium.
The first sold-out sporting event at this football stadium was football of a different kind. On August 1st, 2021, soccer's CONCACAFF GOLD Cup took place, with team USA defeating Mexico, 1-0.
(By Steve Beauregard. Photo courtesy of Tomas Del Coro, MGM Resorts, MANICA Architecture, torch from All-Pro Reels via Flickr and Allegiant Stadium)