Restaurants In Caesars Palace Las Vegas
Not including its food court, two Starbucks and a grab-n-go pastry shop from celebrity chef Guy Savoy, ten restaurants (and one great buffet), satisfy hungry patrons at Caesars Palace, including two from Gordon Ramsay. So if you're wondering about your sit-down restaurant options at Caesars Palace Las Vegas, here's a brief rundown of each.
Amalfi
Celebrity Chef Bobby Flay replaced his long-running Mesa Grill (opened in 2004), with this upscale, Mediterranean-themed restaurant.
Opened in 2021, the beautiful 9,000 square foot digs include bar and lounge seating. The menu is dominated by Italian seafood offerings, including a Squid Ink Fettucine ($38), Paccheri (rockfish, cherry tomatoes, saffron) for $36, and "Market driven whole fish and shellfish."
The 24 ounce bone-in Rib-eye will set you back $78.
Website: Amalfi by Bobby Flay
Bacchanal Buffet
The spacious and famous Bacchanal Buffet, (which recently underwent a $2.4 remodel) has taken its place as one of the top two or three buffets in Las Vegas.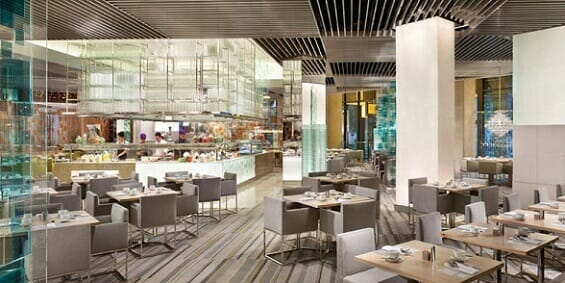 It's pricey, but USA Today has ranked it as the best in town.
The Bacchanal Buffet offers up over 500 different dishes, and has nine cooking stations, or what they call, "show kitchens." These include all of the usual suspects, like a Mexican station, Italian, Chinese, Japanese, American, a wonderful seafood area, deli station, pizza and of course, dessert.
Taking a cue from the Wicked Spoon Buffet at the Cosmopolitan, the Bacchanal serves dishes in individual portions, rather than the huge metal trays that we've all come to associate with buffets. From gourmet sliders to freshly-made salads, crab legs to exotic cakes, if you can't find what you want here, you're just too picky.
The phone number for the Bacchanal Buffet is 702-731-7778. You can make reservations via the Open Table link on their website here:
Beijing Noodle No. 9
You pass some large aquariums on your way inside to this Northern Chinese cuisine outpost. Although it's described as casual, you'll be impressed by the unique and beautiful nearly all-white decor.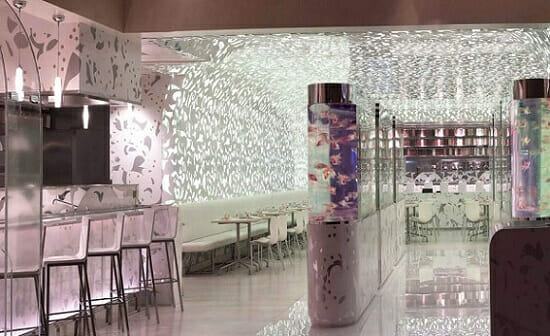 Specialties here include braised pork belly, and Xaio Long Bao soup dumplings.
Gordon Ramsey Pub & Grill
This is an English pub that seats about 300 people. It's described as a very "authentic" pub with an extensive beer menu, with 36 beers on tap. You'll find burgers, salads, shepherd's pie, bangers and mash and the like.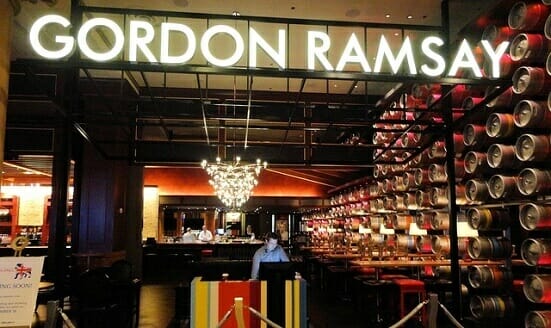 Specialties include Yorkshire Ale Batter Fish and Chips, and English Beer Steamed Clams.
Mr. Chow
Mr. Chow is an upscale Chinese restaurants with locations in London, New York, Los Angeles, South Beach and Malibu.
You know it's upscale when you access the restaurant via private elevators off of the casino floor.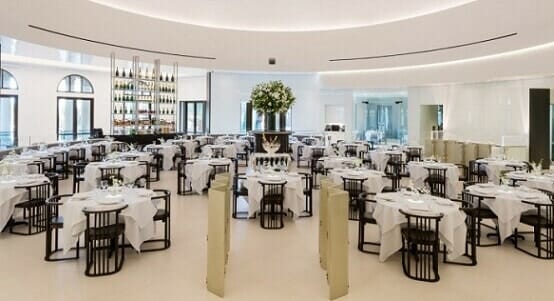 The 250 seat restaurant has seating overlooking some of Caesar Palace's gardens and swimming pools. The signature dish is the Beijing Duck.
The extensive drink menu is heavy on champagne, as Mr. Chow's outer locations are famous for the champagne trolley.
Perhaps the signature drink is the Chow-lini for $20, described as "House made peach foam & Moet & Chandon Champagne."
(Related: Mirage restaurants)
Gordon Ramsay's Hell's Kitchen
Located actually in front of Caesars Palace, just off the Strip, the celebrity chef's second, highly-anticipated new restaurant at Caesars opened in January of 2018.
The 8,000 square foot building has two different bars, two dinning rooms, room for 300 patrons, and offers floor-to-ceiling window views out onto the Las Vegas Strip.
Some samples from the menu include a Scampi prawn flambé appetizer (Garlic white wine sauce, drawn butter) for $24, while main courses include the signature Beef Wellington (Potato puree, glazed root vegetables, red wine demi-glace) for $49 and the Crispy skin salmon (Beluga lentils, shaved fennel salad, citrus herb beurre blanc) for $21.
NOBU Restaurant
This edition of the famous upscale Japanese sushi joint is in the NOBU Hotel, which is the new "hotel within a hotel" at Caesars Palace that opened February 4, 2013. The NOBU restaurant portion itself is said to be the largest NOBU in the world, at nearly 12,000 square feet, with room for 327 patrons. So it's got that going for it.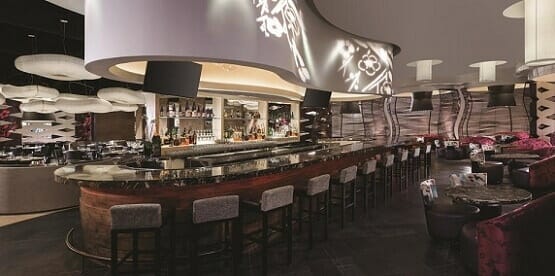 Old Homestead Steakhouse
This is Caesar's requisite old school steakhouse. Every casino has to have one, and this is Caesar's version. As for prices? I saw a $27 item, which wasn't too bad. Of course, it was an appetizer. The 14 ounce New York strip steak with jumbo shrimp scampi runs $94. The Colorado rack of lamb goes for $58.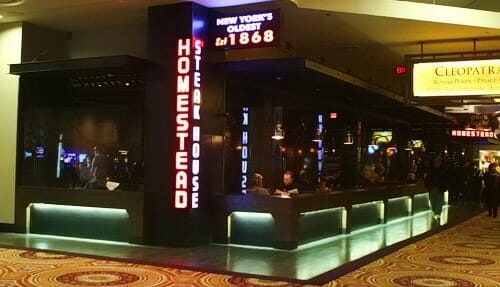 Some other samplings from their dinner menu:
The 'Gotham' Ribeye Steak: on the bone 24 oz. $82
Atlantic Salmon: Buckwheat noodles, shiitake mushrooms. $42
Restaurant Guy Savoy
Guy Savoy has won tons of other prestigious awards and designations, so if you have the means and the appetite for upscale French cuisine, this is your place.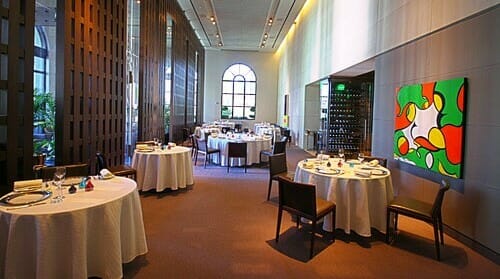 The carte menue includes dishes such as:
Lobster, Heirloom Carrots, Chanterelles and Jus au Vin Jaune for $125, and "Wild Squab, Pheasant, Duck, Foie Gras and Cabbage 'Marmite', Light Game Jus" for $120.
There is also a separate caviar room.
While not listed here, (since its not a sit-down restaurant), Caesars Palace is also home to Brioche by Guy Savoy. This is a less-expensive option. The grab-and-go stand near the main valet area: features, "..delectable tastes of this flaky French pastry that can be stuffed with mushrooms, Parmesan and nuts, or sweet candied fruit and pralines."
Cafe Americano
This is the requisite casino coffee shop that is centrally located in the main lobby area. As you walk in from the Strip, it's immediately to your left.
It's open 24 hours a day. Unlike the traditional casino coffee shops of yesterday, you won't find cheap steak and eggs specials here however. In fact, the standard three eggs, bacon, potatoes and toast breakfast will run you $23.
The menu is pretty diverse, with everything from standard American fare of burgers and fried chicken, to tacos to pan roasted salmon and shrimp n' grits. Breakfast is served here 24 hours a day.
Terraza by Cafe Americano
This is the 24 hour adjacent outdoor patio version, boasting 20-something tables, numerous TVs and bar seating.
Regular menu items range from Korean Fried Chicken steamed buns, to mini-calzones, to steak sandwiches to more healthy quinoa bowls.
Pronto by Giada
Although it's not a traditional sit-down restaurant (you order at a counter then seat yourself), the Food Network's newest Strip offering is right in the heart of restaurant row, across from Roa's and the Bacchanal Buffet. This fast-casual restaurant is Giada's second foray into the Las Vegas restaurant scene. Her "Giada's" across the Strip at the Cromwell has been a hit since day one.
Opened in 2018, Pronto's menu blends Italian with California influences. The Pronto Wine Bar offers 40 different California or Italian wines by the glass.
Pronto features made-to-order smoothies and breakfast sandwiches in the morning, while luch and dinner offerings include, "fresh-pressed paninis, salads, De Laurentiis' twist on sandwiches with her lobster roll and gooey grilled cheese, antipasti and formaggi and salumi platters."
Next to the order stand is the Counter Culture, where you can order coffee and gelato.
Similarly, this area is not home to a sit-down restaurant, however the rehabbed, revamped food court space gives one plenty of fast-casual dining options.
The Forum Food Hall is home to eight walk-up restaurants. These include Bobby's Burgers (by Bobby Flay), The Halal Guys (gyro and chicken), Crepes & More, Earl of Sandwich, TaCo (yes that's the name), Tiger Wok & Ramen, Difara Pizza, Smoke & Sizzle ("All-American barbecue"), and a Starbucks.
Searsucker
(As of this update in December 2021, Searsucker remains closed and rumors abound. We'll update this when more information becomes available).
This Brian Malarkey restaurant is described as a "contemporary spin on American classic comfort foods," and is set in a laid-back, retro American-type atmosphere.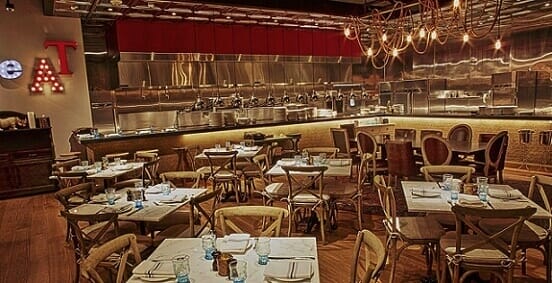 Situated close to the new Omnia nightclub, it has a large selection of appetizers and specialty desserts and cocktails in hopes of drawing in a very late night crowd, in addition to the normal regular dinner hour crowd.
Specialties here include a 38 ounce bone-in rib-eye as well as the delicious-sounding "beer-braised short rib + horseradish + fried onions with pan sauce and butter potato."
Other menu items range from the drunken skirt steak, beer marinade, grilled, crispy potatoes $29, to the pork butt whiskey apples, brussels sprouts, prosciutto $26.
On the Way
Dominique Ansel Bakery (Coming Summer 2022)
The James Beard-winning chef (and inventor of the Cronut), opens his Las Vegas outpost here in the summer of 2022.
Restaurants at Caesars Palace that Have Since Closed
Below are original write-ups of restaurants at Caesars Palace that have closed down.
Rao's (Opened December 2006. Closed in late November 2021)
Another Big Apple import is Rao's. It's a well-regarded Italian restaurant. The other Rao's, built in 1896, the New York landmark has been featured on the Travel Channel.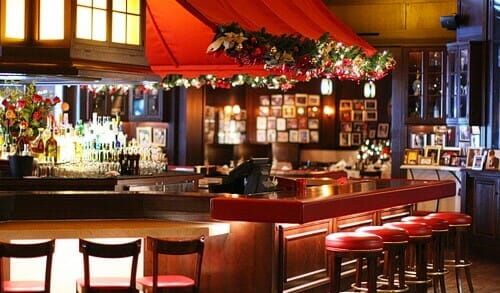 Some samples from the dinner menu: LINGUINE AND CLAMS: Manila Clams, Garlic, White Wine, Red Pepper Flakes, Parsley, Choice of Red or White Sauce. $30 and CHICKEN SCARPARIELLO: Sautéed Bone-In Chicken, Italian Sausage, Hot & Sweet Cherry Peppers, Yellow & Red Bell Peppers, Oregano, White Wine Sauce. $36
Mesa Grill – Opened in 2004. Closed in November of 2020.
Celebrity chef Bobby Flay has had a long successful run with this popular southwestern restaurant.
It has some unique twists on traditional southwestern fare, along with a large variety of tequilas. Signature dishes include the lobster tacos, and the tiger shrimp roasted corn tamale.
Mesa Grill is by the sports book and the entrance to the Colosseum. As for the dress code? The website instructs you to "Dress smart."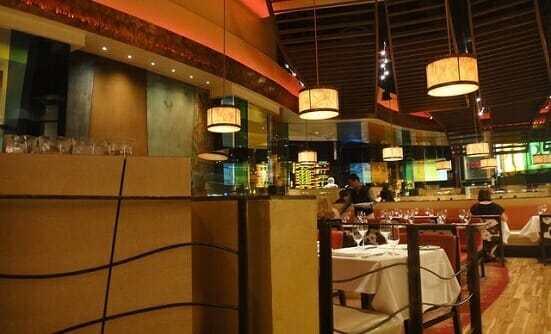 Some items from the dinner menu:
NEW MEXICAN SPICE RUBBED PORK TENDERLOIN: Bourbon – Ancho Chile Sauce
+ Sweet Potato Tamale with Crushed Pecan Butter. $37
CASCABEL CHILE CRUSTED RABBIT: Butternut Squash Cous Cous, Caramelized Shallots, Sage + Hot and Sweet Pecans $39.
This pricey café sat the little building between the strip and the fountains in the spot that is now Hell's Kitchen.
It was a New York City import, notable for its fancy and unique desserts, like their frozen hot chocolate and a gigantic cake/ice cream/Oreo combo (called the Treasure Chest) that cost $88. It had 12 scoops of ice cream, and "edible gold," in case you insist that your dessert come with indigestible precious metals.
Central by Michael Richard – which opened in July of 2011 to much fanfare, closed in December of 2014.
Central was "centrally" located in the lobby, but didn't get great remarks, especially considering their prices. This place was open 24 hours a day and served classic American comfort food with a few twists.
Empress Court

Let's see, $100 bowls of soup, fish dishes that can run into the hundreds of dollars. Shark fin soup. An elevator that takes you up to the restaurant from the busy Caesars floor below. Welcome to Empress Court, an upscale Chinese restaurant with menu prices that will burn that cash in your wallet faster than an unfriendly $5 Wheel of Fortune slot machine at 5 credits a spin. Empress Court specializes in seafood with a Cantonese flair. Many of the items are "MP" or "Market Price," meaning if you have to ask…. Back to the C-Note Soup: the Birds Nest with Egg White in Coconut Milk costs $100. Every casino tries to woo wealthy Asian gamblers to drop a boatload in their gaming pits. I guess this is where these whales get comped for supper.
Hyakumi (Closed May 2013)
There's a tree! In the restaurant! There are also Teppanyaki style cooking areas. For those of you like me who don't get out much, and who are wondering what in the hell "Teppanyaki" style cooking is, think of Benihana.
Hyakumi also specializes in fresh seafood and sushi, and is fairly reasonable price-wise.
Munchbar (Closed August 2014).
More of my style, as this has by far, the cheapest eats in Caesars. Lots of comfort food here and simple but fun dishes I'm dying to try, like the mini snow crab hoagies, or the "tiny grilled cheese sandwiches with tomato dipping sauce." Plus you have to love a place where they brag that the sandwich is served with Cheese Whiz.
Cypress Street Marketplace – This is a casual, almost food-court type of setting near the Forum Shops. It's decked in a sort-of Italian park theme. Here you grab a seat, then choose from nine different stations, including Tex-Mex, burgers, Ah-So's sushi and other Asian dishes, barbeque, simple seafood dishes and more. Caesars' website states that an average meal will run you $15 bucks here.
Stripside Cafe and Bar (Closed in the fall of 2017)
The newest restaurant at Caesars Palace is family-friendly, and offers up great views from its patio seating. In addition to their all day breakfast menu, Stripside serves everything from wings, to nachos, pizza, sandwiches, and more.
The dessert menu includes six different milkshake mugs, and six different flavors of sundaes. The cocktails here run $15 each.
This restaurant, however, is not long for this Earth. In April 2017, Caesars Entertainment announced a new restaurant by Gordon Ramsay would open at the Stripside spot sometime in "the winter."
Payard Patisserie & Bistro (Closed in November 2017)
Personally I tend to avoid any place that I cannot pronounce, but this restaurant/bakery is perfect for those of you like my wife – people who can make an entire meal out of nibbling on a variety of sweets and pastries.
Here you can sit down and have a meal, or purchase some chocolates or coffee drinks to go. They also serve regular food in a standard sit-down restaurant setting. The dinner menu shows items like braised short ribs ($30) and roasted chicken ($16).
The Romaine Empire (Closed in Spring 2018)
A make-your-own salad place in the Forum Food Court.
Smashburger (Closed in 2020)
This tasty fast-food burger joint with the delectable salty, rosemary and olive oil french fries was situated in the food court, but was replaced by Bobby Flay's "Bobby's Burgers."
(By Steve Beauregard. Photos courtesy of gamboool.com, Caesars Entertainment, Jim G, and Calgary Reviews via Flickr).