Mirage Las Vegas Restaurants & Hours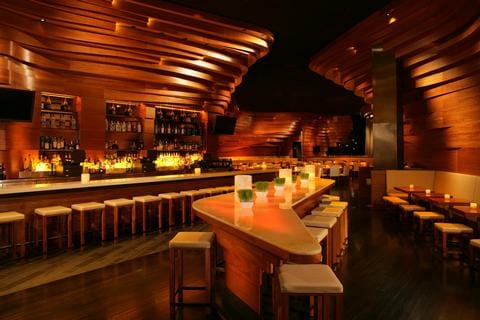 By Steve Beauregard
In total, The Mirage Hotel and Casino in Las Vegas has 16 different dining options.
These range from frozen yogurt stands, to highly-regarded steak houses run by celebrity chefs.
The Mirage's 16 eateries break down as follows: 11 full-service restaurants, one buffet, and four counter service stands (i.e. Starbucks and the like).
Here's a quick rundown of the Mirage's 16 restaurants:
Tom Colicchio's Heritage Steak
The former "Top Chef" serves up meat here, and lots of it. All cooked over fire or in a wood oven as diners inside the 220 seat restaurant enjoy a contemporary dark wood, (yet open) surroundings.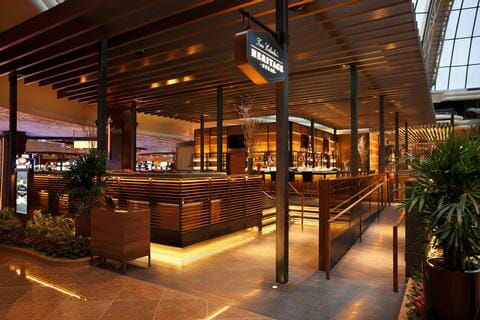 Diners start with the free bread and beef jerky. It may sound odd, but it seems to work.
Appetizers include the popular charred octopus, and chilled bison carpaccio.
Diving into the main courses, you'll find a fine selection of ribeyes and steaks, including three different choices of wagyu, (The A5 Japanese Wagyu is described as "mouth watering" by many).
Those looking for something other than steak can select from dishes like duck breast, or the 2 pound serving of butter poached lobster.
Sides include everything from hand-cut French fries to shishito peppers to the raved-about truffle risotto.
On the dessert side, the blueberry cobbler (topped with ice cream), scores wonderful reviews.
Hours:

Sunday – Saturday: 5 PM to 10 PM
Also, all guests must be 21 years or older here.
Fin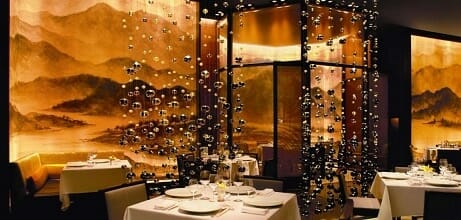 Billed as "contemporary Chinese cuisine" the restaurant is newly remodeled. Signature dishes included the clay pot braised sea bass, the crisp shitake mushrooms appetizer, the Cantonese Barbecued duck and the Spicy shrimp and lobster sauce.
There's also a deep fried sea bass entrée.
Hours:
Sunday, Monday and Thursday: 5 PM to 9 PM
Friday and Saturday: 5 PM to 9:30 PM
Portofino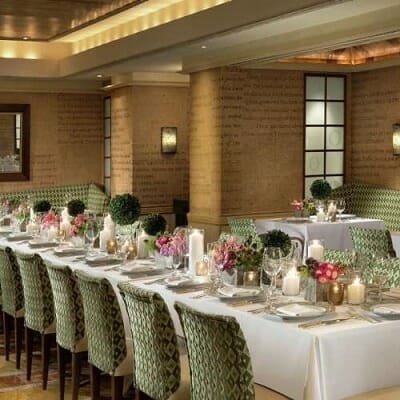 Classic Italian dishes with some contemporary twists.
Start with the Crab Cake Arancini or grilled octopus appetizer.
The selections of hand-made pasta, include the Burrata Agnolotti (lobster and chanterelle mushrooms), and Portofino's famous Ripatelli, which consists of wild boar Bolognese.
Uniquely-prepared versions of scallops, snapper, lamb and veal osso buco are among the more popular entrees.
Hours:

Sunday and Monday and Thursday – Saturday: 5 PM to 10 PM
Pantry
A classier, updated version of the classic casino diner, the pantry is Mirage's centrally-located 24 hour a day restaurant with a welcoming, "homey" décor.
Craving something sweet? We bet you are now. #Pantry pic.twitter.com/s9eBenWbNH

— The Mirage (@TheMirageLV) August 7, 2016
Breakfast is available day and night. There's everything from milk chocolate pancakes to chicken-fried steak and eggs, omelets, a feta and spinach scramble.
After 11 AM, added menu items include shareable dishes like a pretzel, calamari, loaded waffle fries, to non-shareable soups, salads, brisket cheese steak sandwiches, club sandwiches, pork sliders, ribs, grilled cheese sandwiches and the like.
Delectable desserts include the "Hot Iron Cookie Skillet" (with ice cream of course), and Cinnamon Sugar donut bites.
Hours:

Sunday – Saturday: 24 Hours

Friday and Saturday: 5 PM to 9:30 PM
Japonais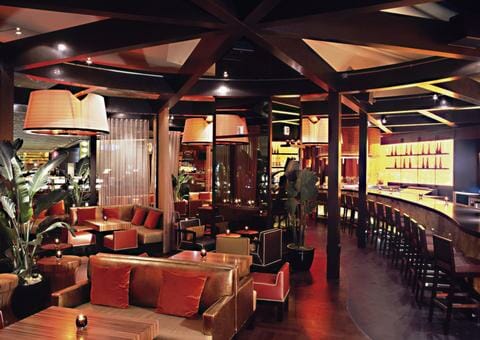 Mirage's website says Japonais was included in the Conde Nast Traveler magazine's top 100 restaurants in the world.
It's described as "Where modern day Japan meets European elegance."
Hot appetizers include lobster spring rolls, sweet and sour calamari, and "The Rock" – thin slices of New York strip served over hot rocks.
Japonais is a sushi-lover's heaven, with individually prepared sashimi, nigari and rolls. Choices include unagi, akami, Hamachi, madai (Japanese red snapper), Uni (sea urchin), and tako (octopus), among classic rolls and the "Chef's Specials from the Sushi Bar."
Their menu of main courses lists Spicy Seafood Ramen, a maple-leaf smoked duck, and glazed sea bass.
Hours:

Sunday – Thursday: 5 PM to 9:30 PM

Friday and Saturday: 5 PM to 10 PM
The Still
An evening @TheStillVegas is a guaranteed good time. pic.twitter.com/Goph9IosIk

— The Mirage (@TheMirageLV) July 13, 2016
An upscale sports bar boasting 8,000 square feet and 27 different flat screen TVs. They also have 50 different craft beers.
As for food, you go up and order it yourself from a trailer. And no, I'm not making that up.
The food truck inside the bar is a refurbished Airstream trailer. Menu items here include street tacos (chicken, steak or fish,) a lobster roll, chili cheese dog, mini cheese burger, fish and chips, crispy chicken wings and the like.
Desserts include sundaes and even s'mores.
Hours: Monday – Thursday: 4 PM to 1 AM

Friday: 4 PM to 2 AM

Saturday and Sunday: 11 AM to 1 AM
Stack
Stack is a little on the pricey side, but gets fantastic reviews across the board.
Are you ready for this 24 ounce tomahawk rib eye? #GetStacked pic.twitter.com/NzBNu7tsYU

— Stack Las Vegas (@StackLV) July 15, 2016
This sort of upscale steakhouse specializes in contemporary American dishes and hand-crafted cocktails. They're known for their variety of shared plate options.
Cold shared plates include mini Maine lobster rolls, yellowtail sashimi, and Alaskan King crab tacos, while on the warm side, there are pigs in a blanket, meatballs, wings, and baked crab cakes.
Main dishes rang from a lobster curry plate, to a 24 ounce tomahawk rib eye. There are highly-regarded Kobe burgers and seafood risotto too (shrimp, lobster and calamari).
Some of the quirkier sides and desserts include duck fat fries, adult tater tots, and lemon and blackberry baked Alaska.
Hours:

Sunday – Thursday: 5 PM to 10 PM

Friday and Saturday: 5 PM to 11 PM
(Related: Caesars Palace restaurants)
Samba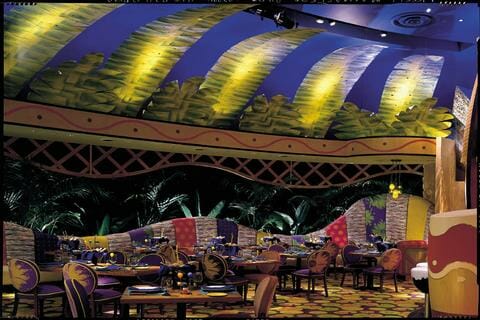 This Brazillan Steakhouse with the colorful décor and unlimited barbecue meats is in the vein of the Fogo de Chao chain of restaurants.
At Samba, waiters stop by your table with long skewers of meat, poultry and fish to carve and deposit onto your awaiting plate.
These include Brazilian-prepared Angus beef sirloin, slow cooked Portuguese sausage, a honey brushed turkey breast roulade wrapped in bacon, roasted pork long, lime chicken and more.
Sides include your standard black beans and rice, vegetables, and the not-so-standard sweet-fried plantains.
As you might imagine, the drink menu includes Brazil's national cocktail, the Caipirinha, which consists of cachaça (a liquor distilled from sugar cane), sugar and limes.
Hours:

Sunday – Thursday: 5 PM to 9 PM

Friday and Saturday: 5 PM to 10 PM
Carnegie Delicatessen
Famous for their pastrami sandwich with meat piled on higher than the Stratosphere (almost), the New York import to Sin City also serves up soups, salads, burgers and hot dogs.
Its long sandwich menu is full of standards (reubens, salami, bologna), as well as a chopped liver option.
It's all day breakfast menu includes lox and bagels, and several different omelets.
Unlike in years past, the Carnegie Deli at the Mirage now just has counter service, rather than a normal sit-down with full service waiter/waitress arrangement. There is a separate stand for take-out orders.
Hours:

Sunday – Saturday: 8 AM to 11 PM
LVB Burgers and Bar
Formerly the home for BLT Burgers, LVB Burgers and Bar is a gourmet sit-down burger restaurant in the busy corridor near the south exit of the Mirage. In other words, it's pretty good for people watching.
Some of the more non-typical menu items include a duck burger, mini oyster po'Boys, a salmon and pineapple burger. Fortunately the famous BLT adult milkshakes are still around. These are the whiskey and rum infused milkshakes that are to die for.
Hours:

Sunday – Thursday: 11 AM to Midnight

Friday and Saturday: 11 AM to 2 AM
Paradise Café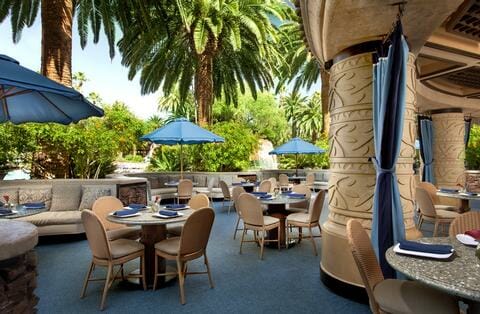 This is pool-side restaurant, has pretty, lush surroundings.
They serve an all-day breakfast, and lighter items, with salads and sandwiches dominating the menu.
A Thai peanut crunch salad, Lemon tarragon seafood roll, an Asian fried chicken sandwich, and barbecue beef sliders are some of the less-standard items.
Of course there is a bar here, with lots of frozen cocktail options, albeit at very expensive prices. The tropical mojito is one of the favorite drinks here, along with the "Rum in a coconut."
Hours:

Sunday – Thursday: 9 AM to 3 PM

Friday and Saturday: 9 AM to 4:00 PM
Cravings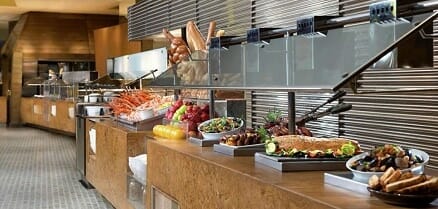 The Mirage buffet is a good one – and reasonably priced when compared to many others on the Las Vegas Strip.
There are 11 different stations, including the popular buffet standard-bearers: prime rib and crab legs.
Dinner buffets include all-you-can drink wine and beer.
Hours:

Monday – Friday: 7 AM to 9 PM

Saturday and Sunday: 8 AM to 9 PM
California Pizza Kitchen
Close to the sports book and well-traveled corridor, this places gets pretty busy at times. It serves more than just pizza however.
The menu includes four varieties of soup, nine different salads, wraps, and pasta dishes like spaghetti, shrimp scampi, and fettuccine, including a jambalaya fettuccine.
On the pizza front, you can get them with the original hand tossed crust, or the thin crust. There are 18 different pizzas to choose from, including a carne asada, wild mushroom, spicy chipotle chicken, Jamaican Jerk Chicken, and their signature pie: the "Original BBQ Chicken Pizza."
Hours:

Sunday – Thursday: 11 AM to Midnight

Friday and Saturday: 11 AM to 1 AM
The Roasted Bean
Located in the shopping promenade on the way to the convention center and theater, this coffee stand opens at 5:30 every morning.
As the name implies, you'll find coffee here, tea, muffins, croissants, yogurt parfaits, and the like. There are also sandwiches and paninis. There are chairs and booths, however it's all counter service, rather than being a sit-down full service restaurant.
Hours:

Sunday – Thursday: 5:30 AM to 8 PM

Friday and Saturday: 5:30 AM to 10 PM
Starbucks
You know the menu here, and the Starbucks inside the Mirage is located across from the California Pizza Kitchen. It's at the south entrance walkway, by the Carnegie Deli.
Like the Roasted Bean, it's open early, at 5:30 AM. Unlike the Roasted Bean, this Starbucks stays open very late, (by coffee-stand standards): 1 AM.
Hours:

Seven days a week: 5:30 AM to 1 AM
Blizz Frozen Yogurt
Located across from the Roasted Bean in the shopping area of the Mirage, Blizz is your typical make your own frozen yogurt joint. There are also smoothies, sweet crepes, savory crepes and Belgian waffles.
Hours:

Sunday – Thursday : 9 AM to 10 PM

Friday and Saturday: 9 AM to Midnight
As with other fro-yo places, you can add a variety of toppings to your yogurt.