Cravings, the Mirage Buffet 2023 Price, Hours & Menu
Updated January, 2023
(Please note: Cravings Buffet remains closed. With the Hard Rock taking over the Mirage, this may be a permanent closure, however we'll update this page if and when any announcements are made as to a re-opening.)
In between the bare-bones but cheap Circus Circus Buffet buffet and the top of the line, expensive Caesars Palace buffet, you'll find the Cravings Buffet at the Mirage to be a decent, affordable alternative between the Las Vegas buffet extremes.
With a very open layout and modern décor, Cravings has a good atmosphere and convenient location right off the casino floor.
It's also, in my view, a pretty good value, given the eye-popping prices of Bacchanal Buffet at Caesars Palace.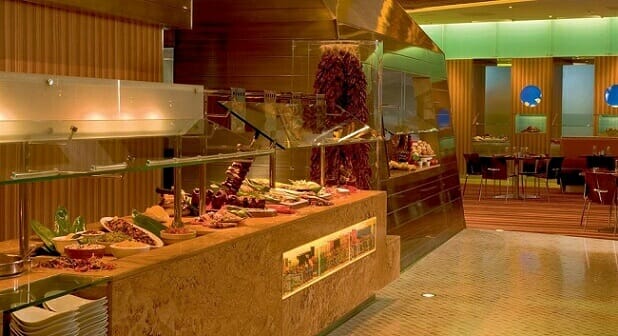 As for food, they advertise "11" different stations, however I believe that includes the drink station.
Breakfast features mini-chicken fried steak (rather than the monster ones you sometimes get), hash browns, gravy, bacon, sausage, eggs of course including eggs Benedict, plus a selection of pastries and a mini chicken & waffle dish.
The selection is always subject to change of course, but here's some sample menu items for some of the brunch and dinner stations.
Salad bar: In addition to a decent salad bar with lots of add-ons, toppings, fruits, soups, etc., there are a selection of deli meats and cheeses (shaved grana Parmesan, harvarti cheese with caraway, smoked gouda, etc.), along with pre-made salads, like a 3-bean quinoa salad.
Carving station: Succulent prime rib, honey glazed ham, turkey and roasted beef ribeye. Sauces to complement the meats include au jus, two kinds of horseradish, turkey gravy, and a cranberry sauce.
(Related: Wynn Buffet price)
American station: Hot dogs, chicken wings, baked beans, spicy okra in a tomato sauce, fries, onion rings, St. Louis style barbecue ribs, flank steak, and cole slaw.
Italian Station: Pre-made pasta dishes including a cheese tortellini with cherry tomato and basil, chicken piccata with escrow, (ravioli and the like) along with a chef station where you can have made-to-order pasta prepared for you right there on the spot for you.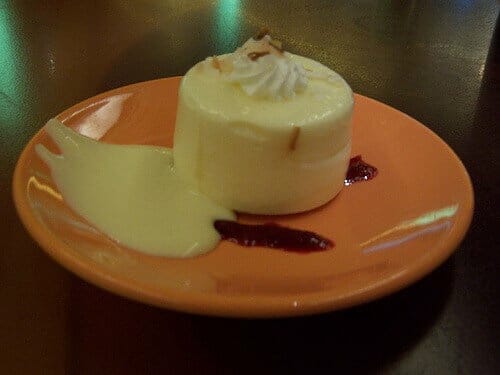 The pizza selection includes your basic pepperoni, cheese, along with grilled vegetable pizza and chicken pizza.
Seafood station: Menu items include snow crab legs (chilled or steamed and already split for you), shrimp cocktail, seafood bouillabaisse, salmon, cioppino (an Italian fish stew), and even seaweed.
Please note that the crab legs are served starting at 3 PM on weekdays and are served at the Saturday & Sunday brunch buffets.
Latin America Station: Not a large selection, but you'll find the usual nachos, chicken fajitas, chilaquiles, taquitos, and the like. I'm not sure why it's in the Mexican food area, however there is a Cajun roasted chicken in this section too.
Asian Station: Menu items here include steamed rice, vegetable & egg fried rice, spicy Szechuan eggplant, five different kinds of sushi (including Tropical Roll, spicy Hamachi roll, Octopus Nigiri, and Shrimp tempura & jalapeno roll), stir fry, gyoza (dumplings), vegetable chow mein, beef broccoli, an Asian chicken pasta salad, and typical Asian dishes. The Mirage buffet's wonton soup gets high marks.
Desserts: You'll find your non-typical cakes, such as an Amour pistachio raspberry cake and a white chocolate raspberry cake, pies, Danishes, bread pudding, cupcakes (including mini gourmet-style cupcakes), different cookies (peanut butter chip cookie and Mexican wedding cookie for example), a German chocolate brownie, apple streusel bar, small cups of Washington berry cobbler, and a basic gelato dispenser machine.
As found in an increasing number of other Las Vegas buffets, the Mirage labels, and provides, several gluten-free options, including everything from gluten-free toast to a small sampling of gluten-free desserts. There are sugar-free desserts as well.
Drinks
Unlike in previous years, you now get your own beverages at the Cravings Buffet. To that end, there is a beverage station with milk, tea, coffee, juices, and 150 different flavors of Coke products.
All You Can Drink Options
Up until recently, unlimited beer and wine was included in your price of dinner admission, and unlimited champagne was free at weekend brunches.
That's no longer the case, however you can purchase an all-you-can drink package for $12.99.
This will get you (for a maximum of two hours), unlimited Bud Light, along with seasonal beers (recently this included a Goose Island IPA), different varieties of wines: Chardonnay, Moscato, Sparkling Rose, Merlot, Pinot Noir, and Cabernet Sauvignon, mimosas, champagne, bloody Mary's (up until 3 PM), screwdrivers, and rum punch (beginning at 3 PM).
Cravings Buffet at the Mirage Prices and Hours
Breakfast:
Monday – Friday (7 AM to 11 AM) $19.99
Weekday Lunch: Monday – Friday (11 AM to 3 PM) $23.99
Weekend Brunch
Saturday and Sunday (8 AM to 3 PM) $31.99
Dinner
Monday – Thursday 3 PM to 9 PM $32.99
Friday – Sunday 3 PM to 9 PM
$34.99
Please also note there is the Las Vegas 8.38% sales tax added to each of these prices.
Cravings Buffet Children's Prices
As for the kids? Cravings is free to kids 4 and under. Kids 11 on up pay adult prices.
Kids ages 5 to 10 years old will pay the following:
Breakfast: $12.99
Lunch: $17.99
Brunch: $20.99
Dinner (7 nights a week): $22.99
Cravings Buffet Phone Number & Website
(702) 791-7111
Actually this is just the Mirage's phone number. If you hit "0" you'll get the hotel operator, and he or she can transfer you to Cravings. Parties of 12 or more should call ahead for reservations.
Website: Cravings Buffet
(Dessert photo courtesy of aprilandrandy via Flickr. Cravings photo courtesy of MGM Resorts.)