Circus Circus Buffet: Prices & Hours 2023
Updated January 1st, 2023
Circus Circus has one of the few remaining traditional buffets in Las Vegas. However if we're being honest, we'll have to say that the buffet at the Circus Circus Hotel and Casino in Las Vegas is on the lower end of the Strip's lineup of renowned buffets.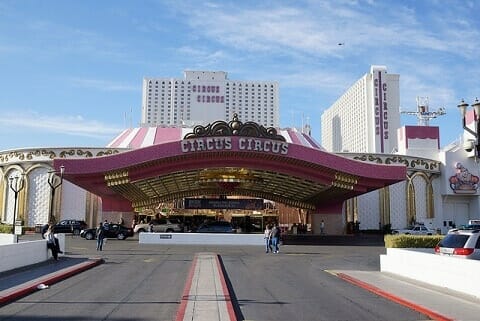 Called the Circus Buffet, it will not be mistaken for the Bacchanal Buffet at Caesars Palace.
On the plus side, the Circus Buffet is very affordable, competing with the Flamingo buffet as being one of the cheapest on the Las Vegas Strip.
Located on the casino level, the buffet does get busy. However once you get past the ropes, the inside dining area, is open and spread out with two different main serving areas separated by the self-serve drink station. The decor is functional and in no way fancy.
Circus Circus Brunch Buffet
Nothing stands out here; you'll find the typical breakfast buffet staples, such as fresh fruit, (apples, bananas), and sliced fruit (watermelon and cantaloupe).
The cereal bar give you choice from six different cereals (generic versions of Apple Jacks, Cocoa Puffs, Raisin Bran, Fruit Loops, etc.)
You'll find your French toast, waffles, biscuits and gravy, hard boiled eggs, scrambled eggs, sausage, potatoes. In other words, pretty much just the basics. There is a made-to-order omelet station that remains open for the length of the brunch (2 PM).
There are bagels with your choice of five different spreads, including blueberry, strawberry, and a maple walnut raisin spread.
Also on the sweeter side, you'll find donuts, cinnamon rolls, muffins and other sweeter pastries.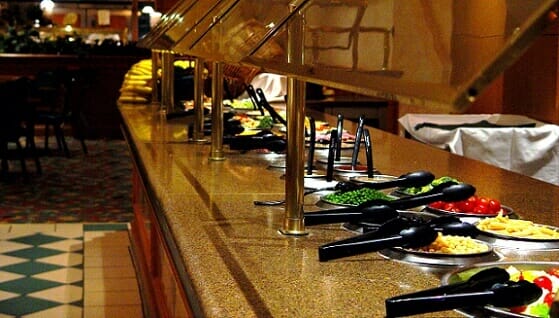 More on the lunch end of things, you'll see macaroni and cheese, corn dogs, chicken fingers, and an adequate, if not dazzling, salad bar. There's also a small selection of deli meats and cheeses.
Circus Circus Dinner Buffet
At dinner you'll find many of the same lunch staples found during the brunch buffet, with some extra dishes.
There's a pasta section, spaghetti, meatballs, and other warm pasta dishes.
The small Asian food section has with white rice, egg rolls, shrimp fried rice, spicy beef and edamame.
On the seafood front, you'll find pasta alfredo, fried shrimp, baked fish, clams and mussels.
Of course there is pizza, and a very modest carving station.
The Mexican station is very basic, with make your own tacos, pre-made burritos, chips and salsa, taquitos, and a shrimp fajita mix.
Classic comfort foods served include hamburgers, hot dogs, French fries, mashed potatoes and gravy, baked potatoes, corn on the cob, and baked chicken.
Unlike at brunch, the salad bar at night includes a little make your own Caesar salad section, with shrimp and anchovies as some of your options.
(Related: Luxor Buffet prices & menu)
Onto all of our favorite: Desserts
You'll see pretty much all of the usual suspect: brownies, cookies, cheesecake, jello, pies (coconut cream, cherry and apple), carrot cake, bread pudding, and soft-serve ice cream cones (chocolate or vanilla).
The middle beverage area is self-serve, and offers Pepsi products, milk, (whole, skim, 2% and chocolate), iced tea, hot tea, and fruit juices. In addition to coffee (regular and decaf), there is a cappuccino machine.
Circus Circus Las Vegas Buffet Prices & Hours
For pricing purposes, the breakfast and lunch buffets are simply called "brunch." Therefore the price is the same whenever you show up anytime from 7 AM to 2 PM.
New food items however, are brought out at 11 AM when the lunch part of brunch begins.
| | | | |
| --- | --- | --- | --- |
| Brunch | Friday, Saturday & Sunday | 7 AM to 2 PM | $28.99 |
| Dinner | Friday & Saturday | 4:30 PM to 10 PM | $30.99 |
| | Monday – Thursday | Closed | |
Opening days and hours have bounced a lot lately, and are subject to change. .
Please note that these prices are before tax, which is 8.38% on the Las Vegas Strip. As such, a dinner for two people would cost $67.17 total.
Also, during holidays and busy 3 day Las Vegas weekends, prices jump to an additional three dollars per meal.
Circus Circus Buffet Children's Prices
As one of the few family-friendly hotels on the Las Vegas Strip, the Circus Buffet gets more than its share of children. And if your kids are as picky as mine are, you'll appreciate the discount they get.
Children ages 4 to 10 years old are charged $20.99 for brunch, and $22.99 for dinner. Kids age 3 and under eat free. A child eleven or older will pay full adult prices.
Also, recently there was a seniors (age 55 on up) discount in which you'd receive a $2 discount per person. I'm not sure if this is still in effect however, so you may want to inquire about that when first seated.
The Circus Circus Buffet gets a lot of hate on sites like Yelp, however if you go in with proper expectations, realizing it is not the Wynn buffet, you may just leave satisfied with experience (and full to boot).
(By Steve Beauregard. Photos courtesy of Allie_Caulfield via Flickr and Circus Circus Las Vegas)