Updated January 2nd, 2021
(Please note: While the Luxor Hotel and Casino are open, the Luxor Buffet remains temporarily closed. We will update this article as soon as a re-opening date is announced.
As one of the largest hotels in the world, the Luxor's buffet does a solid job in giving large crowds a decently-valued buffet option. (Note for those of who just looking for the price: Prices are down towards the bottom of this article).
Located in the resort's lower level, Luxor's buffet keeps with the resort's Egyptian theme in décor, with marble columns and arches. It has a spacious, tile-filled open layout to accommodate the crowds. It seems clean and open, but can seem a little dark and "basement-y" at times.

Luxor Buffet Menu Items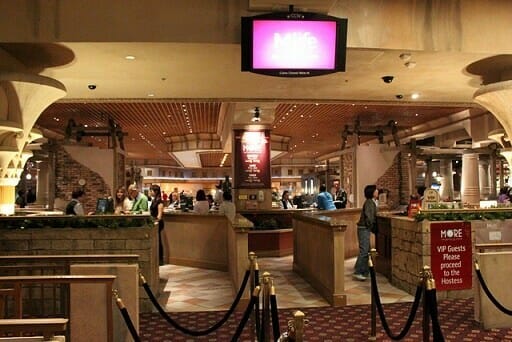 As with any Las Vegas buffet, menu items are subject to change, but a recent visit found the following options:
Breakfast
There are your standard staples of course, like scrambled eggs, fruits, yogurt, breads and pastries, such as blueberry muffins and banana nut muffins.
In addition, you'll find everything from chicken fried steak, biscuits and gravy to a caramelized onion & spinach strata (which is similar to a quiche).
We also saw Spanish omelets, potato pancakes, corned beef hash, and chorizo & eggs.
Whether you choose pancakes, French toast, crepes, waffles or all of the above, you can choose to drench them with a variety of syrups, including maple, peach, or a banana caramel sauce that looked delicious, but maybe a little too rich for my morning tastes.
Lunch/Dinner Buffet Menu Items
As with most buffets in Las Vegas, there several different stations to try.
In the seafood area, you'll find chilled crab legs, chilled New Zealand green lipped mussels (odd sounding, but also said to help with arthritis), shrimp, sushi rolls, crawfish and the like.
The buffet has a pretty good salad area, with plenty of toppings and dressings (I counted seven different dressings), along with several unique pre-made salads, like a kale & quinoa salad, Italian bread salad, sweet potato salad, greek salad and a fattoush salad.
There is your standard deli meat and cheese selection, with two different soup options. We also saw pita bread with baba ganoush dip.
For you non-carnivores, Luxor has something I've never seen before: vegetarian meatloaf. This was next to summer squash and polenta cakes.
International station combines a lot of different cultures, but a sampling included Menudo soup (a traditional Mexican soup made with beef stomach), made-to-order fajita station. The Asian area has bok choy, fried rice, chicken dishes like ginger chicken and Korean beef barbecue ribs.
You'll find a Made-to-Order pasta station, along with several pre-made pasta dishes, and of course pizza.
The buffet has both a grill station, (where you can watch your meat being prepared on the grill for you), and a carving station, where you'll see roasted kielbasa sausage, and a huge Texas spiced Slow Roasted Beef Steamship ready to be carved for you.
There's also made-to-order soups, fish and chips, traditional meatloaf, mac n' cheese, mashed potatoes and gravy, corn on the cob and other dishes you see almost everywhere.
Luxor Buffet Desserts
Everyone's favorite area, Luxor's dessert area includes a vaariety of cakes (including lava cake), cookies (including sugar-free cookies), fudge brownies, chocolate trifle, fresh fruit tarts, panna cotta, eclairs, and three different kinds of cheesecake: plain, strawberry and a Heath bar cheesecake (my wife's favorite).
There's also a soft serve ice cream machine with vanilla or chocolate. Toppings including rainbow sprinkles, strawberry sauce, or crème anglaise (a rich egg custard). Other desserts include raisin bread pudding and apple pie.
One dessert menu item I haven't noticed much at other Las Vegas buffets is their sorbet machine. The Luxor's sorbet dispenser offers two flavors: raspberry and peach.
As for drinks, the self-serve drink station offers Pepsi products, juices (apple, orange, grapefruit and cranberry), iced tea, coffee and milk (whole, skim, 2%, or chocolate milk).
Next to this drink stand is a little bar area where you can order beer or cocktails.
Luxor's The Buffet Prices & Hours 2020
Below are normal prices on non-holidays:
Breakfast
Monday – Thursday: 7 AM – 10 AM
$19.99 ($11.99 for kids)
Weekday Brunch
Monday – Thursday: 10 AM to 3 PM
$21.99 ($13.99 for kids)
Weekend Brunch
Friday – Sunday: 7 AM – 3 PM
$24.99 ($16.99 for kids)
Dinner:
Monday – Thursday: 3 PM – 10 PM
$25.99 ($16.99 for kids)
Friday/Saturday & Sunday: 3 PM to 10 PM
$29.99 ($18.99 for kids)
Please note that the weekend brunch here includes unlimited champagne or mimosas. So at $24.99 (before tax), the weekend brunch is a pretty good value in my view.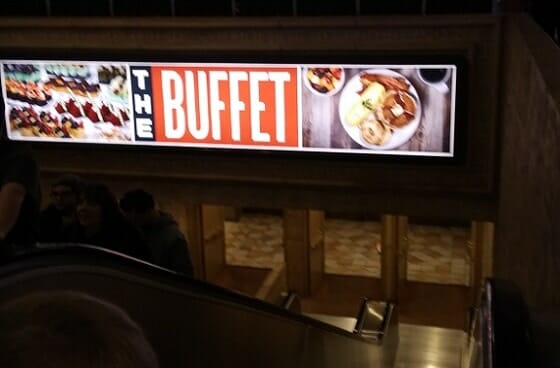 Also, don't forget the Las Vegas and Clark County combined tax of 8.25% on meals. What this means is that a dinner buffet for two people on a weekend night would cost you $64.92 after tax.
Lastly, at the Luxor, children are considered those aged from 5 years to 11 years. Kids 12 years and older pay the normal adult fee, while kids 4 and under are free.
Luxor Buffet Holiday Pricing
As with most buffets in Las Vegas, the Luxor's buffet bumps prices up a tad on weekends and special occasions. Prices can also increase during entire holiday weekends, ranging from traditional (Christmas) to "holidays" like Super Bowl weekend.
Here at the Luxor, holiday pricing is only slightly higher than normal days. These can change, but recent holiday pricing was as follows:
Brunch: $25.99

Dinner: $33.99
Unlimited Drinks at the Luxor Buffet
A new feature at the buffet is an all-you-drink option.
This option goes from 11 AM to 9 PM on weekdays (Monday – Thursday), and from 7 AM to 9 PM on Friday, Saturday and Sundays. The cost is $11.99 per person (on top of what you pay to get into the buffet).
Once you've paid and have gone inside the buffet, you can show your receipt at the bar and receive free alcohol for up to two hours.
Your drink options include: draft beer and house wine and a few selected cocktails.
Luxor's All-Day Buffet Pass
The Luxor and its sister property next door, the Excalibur, offer guests an all-you-can eat all day buffet option, (previously called the "Take Two Pass.")
It allows you unlimited access to both the Luxor and the Excalibur Buffet all day long. Prices for the wristband are as follows:
Monday – Thursday: $41.99 ($26.99 for children)

Friday – Sunday: $48.99 ($26.99 for children)
Just recently, the Luxor Buffet offered this all-day pass during holidays, when each buffet price goes up.
All-Day Buffet passes during holidays will cost you $49.99 for adults, and $26.99 for children.
One last item: if you don't want to sit and eat, you can fill up a to-go box one time for a $20 charge.
Luxor Buffet Phone & Website
(702) 262-4000
Official website: Luxor's official Buffet website
(By Steve Beauregard. Photo courtesy of Prayitno via Flickr.)