Excalibur Las Vegas Buffet: Prices, Hours & Menu 2023
Updated January 1st, 2023
The busy Buffet at the Excalibur is one of the more affordable buffet options on the Las Vegas Strip. It's only open for brunch, but that's likely to change soon.
Either way, the demand is there, as this resort (and all the Strip), is hopping. Excalibur itself is the 6th biggest resort in Las Vegas, with just under 4,000 hotel rooms, all situated on an intersection that has the most hotel rooms in the world.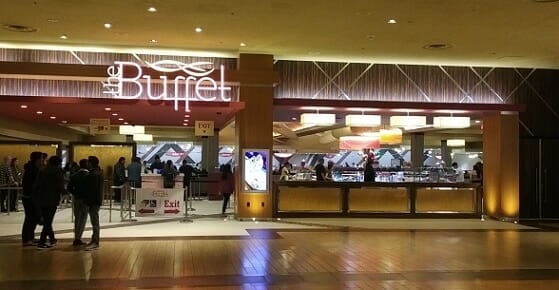 By most accounts, the buffet at the Excalibur Hotel & Casino in Las Vegas does a solid job in moving guests in and out efficiently while providing them with a very reasonably-priced buffet experience.
The resort's buffet, formerly called the Round Table Buffet, is now simply called, "the Buffet," and was remodeled in late 2014, at a cost of just over $6.2 million.
It's located upstairs, on the second level (the Castle Walk level), above the casino floor, and just before you get to the Excalibur Food Court.
(All you can Vegas YouTuber's Derek and Catherine review the Excalibur Buffet.)
The nearly 35,000 square foot restaurant has seating for up to 610 customers. The dining area has colorful red carpet, dark chairs and red and black colored booths, and high ceilings with a contemporary artistic touches.
Many reviewers speak of the relatively short lines here, compared with some of the more expensive big name buffets in Las Vegas.
The low price is a big selling point here, as is the convenience factor for the thousands of guest staying and playing at the Excalibur. Many of whom visit the buffet after receiving it comped from a room package or from points earned on their MGM Rewards card.
And while it has been remodeled, this is still more of an "old school" buffet in that menu items mostly come served in a large pan, rather than the individual serve portions you see at the more upscale buffets.
Excalibur Buffet Prices & Hours
These are the current, standard buffet prices. Prices are increased on holiday weekends however, including Labor Day weekend and other special events, such as Super Bowl weekend.
| | | |
| --- | --- | --- |
| Day | Adult | Child (5-11) |
| Monday – Thursday (8 AM – 3 PM) | $28.99 | $16.99 |
| Friday, Saturday & Sunday (8-3) | $31.99 | $17.99 |
Kids ages 4 and less eat free, while your 12 year-old on up with pay adult prices.
Also, these prices do not include the Clark County sales tax of 8.38%. On the plus side, (I guess), the buffet is now entirely self-service, so you don't tip at all. Therefore a weekend buffet for two people would cost you a total of $69.34 after tax.
You should also note that as with MGM Grand Buffet and other MGM Resorts buffets, prices go up during holiday weekends.
The exact increase is subject to change, however typically the holiday buffet prices go up between $4 and $8 dollars per person. The New Year's Day 2023 brunch buffet cost $35.99, for example.
Breakfast
On the breakfast side, you'll find the basics: Chicken fried steak, biscuits and gravy, eggs of course, along with a a made-to-order omelets area. There is also a made-to-order crepes area.
Pre-made dishes include huevos rancheros, eggs benedicts, caramelized plantains, sausage, turkey sausage, applewood smoked bacon.
More on the sweeter side, you'll find strawberry pancakes and cinnamon French toast, along with a variety of donuts and other pastries.
Lunch and Dinner (Below is our pre-Covid shut down wording. We'll update this when the dinner buffer returns).
On the lunch and dinner side, there are six main stations.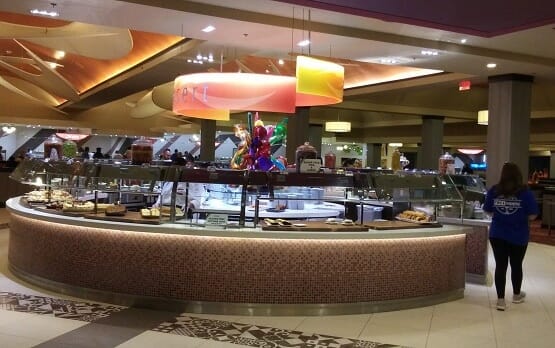 Here's a quick look at menu items, with the caveat they are subject to change at the executive chef's discretion. Also keep in mind the more expensive weekend night buffet includes a few more seafood items than on the week night buffet.
Latin Station: Chicken tamales, cheese and Chile rellenos, seafood paella, and a baked basa fish dish with pineapple salsa.
The make-your-own burrito area includes seasoned beef with your toppings choice of guacamole, shredded cheese, olives, sour cream, lettuce, green salsa, red salsa and pico de gallo.
Asian station: sushi (spicy tuna and California roll), ginger chicken, wontons, and leek shrimp dim sum, steamed rice, fried rice, stir fry vegetables, pot stickers and Mongolian beef.
The "Carvery" station: Fresh carved slow roasted beef steamship, turkey and Italian sausages.
American Station: Bourbon molasses pork ribs, fish & chips, fried chicken, roasted chicken, meatloaf, cornbread stuffing, mashed potatoes and gravy, and sweet potatoes with a dish of marshmallows to add, because if you couldn't put marshmallows on them, nobody would eat sweet potatoes.
Italian Station: pizza, baked ratatouille, spaghetti with either tomato sauce and/or meatballs, pasta primavera, and marsala mushroom stuffed chicken.
The Pantry: This is actually the seafood and salad bar area.
Seafood options include oysters, fried shrimp, saffron and black mussels, shrimp and spinach linguini, and arabiata confit pasta.
As of this writing the Luxor Buffet still has, a crab legs upgrade option (on weekends only I believe). If you pay $9.99 additional, you will receive one pound of snow crab legs.
(Related: Excalibur parking fee)
On the salad side, there are no pre-made salads. You choose from three different types of lettuce and add from among just your usual condiments and toppings. There are a few cold salads, such as chicken salad and crab salad, and a quinoa salad. The two soups on a recent visit were chicken noodle soup and minestrone. breads
Additions to the weekend buffet you won't find at the lesser-priced weeknight buffet include sirloin steak, a crawfish boil, a veal & artichoke spinach dish, and chicken cordon blue.
Dessert
The Buffet at Excalibur's dessert area is actually a separate island situated a little bit away from the main area. Perhaps this is to make you take some extra calorie-burning steps before diving in.
Either way, at this dessert island, you can circle around to sample various sweet treats, including the highlight: Made-to-order crepes.
Here you can choose your ingredients, such as caramel apple chunks, blueberries, pineapples, strawberries, etc., as the chef prepares them in front of you before covering it with chocolate sauce (if you choose).
Other areas of dessert island feature an assortment of pies and cakes, including banana cream pie, chocolate cream pie, carrot cake, along with a selection of no-sugar added cakes and pies. There is also a small section of gluten-free desserts.
In addition to the standard soft serve ice cream dispenser (with only chocolate and vanilla), you'll find a well-regarded chocolate lava cake and bread pudding.
Individually-served portions include cookies, cupcakes, small individual dishes of caramel flan with fresh berries, eclairs, chocolate fudge moose, cannoli in a cup, and crème puffs.
The modest self-service drink stands offers Pepsi products, iced tea, coffee, and some juices.
Lastly, you can choose the one-time fill-up of a to-go box at the buffet for a price of $19.99. That price applies for every buffet. For holiday pricing, the to-go box is priced at $21.99.
All You Can Drink at the Excalibur Buffet
The Friday, Saturday and Sunday weekend brunch used to include unlimited champagne and mimosas, but that is no longer the case.
All Day Wristband Option
Note: This option remains available. We will update this section once it returns.
As part of the two resort's "Take 2" option, you can purchase a wristband that will grant you all-day access to both the Excalibur Buffet and the Luxor Buffet.
Prices for what is basically an all-you-can-eat all day long ticket are as follows:
Monday – Thursday: $41.99 for adults ($26.99 for children)
Friday – Sunday: $48.99 ($26.99 for children)
Considering the fact that on a weekday, purchasing all three meals at Excalibur separately would run you $67.97 before tax (versus $41.99 before tax for the wristband), this is a significant savings, while providing you with a very affordable way to eat in Sin City.
The downside of course, is that you may get sick of eating buffets by the end of the day, but the low average price of $13.99 for each meal should be some consolation.
The all-day pass jumps up to $49.99 on holiday weekends.
The Buffet at Excalibur Website and Phone Number
Excalibur Buffet Website: Excalibur Buffet
Phone Number: (702) 597-7476 They especially want you to use this if you have a large party going to the buffet.
Photos from me at gamboool.com