MGM Grand Buffet 2023 Prices, Hours & Menu
The MGM Grand Buffet is back! Sort of. There is still no dinner buffet (yet), but the buffet is open, albeit for breakfast and lunch only. (More on that below).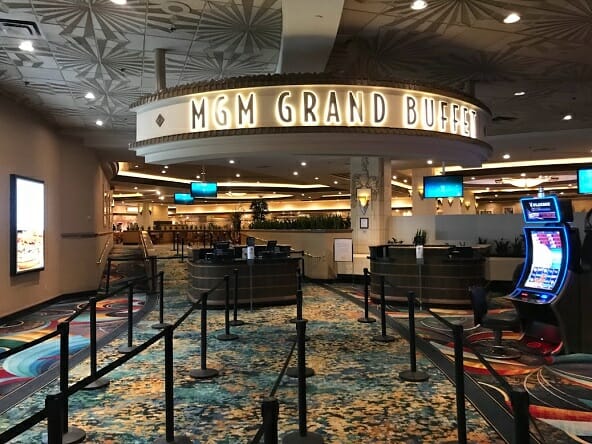 As one of the largest hotels in the world, boasting over 5,000 rooms, the MGM Grand requires a buffet efficient enough to handle the crowds.
By most accounts, it succeeds with a buffet that – while not extremely noteworthy – is large and clean and offers a wide variety of offerings and pretty reasonable prices when compared to some of the other Strip casino buffets, such as the pricey Bacchanal Buffet at Caesars Palace.
The MGM Grand Buffet is located near the Strip entrance of the massive MGM Grand resort in Las Vegas. You'll find it just past the sports book and Centrifuge bar.
(Below, the fun Derek and Catherine from All You Can Vegas Review the MGM Grand Buffet)
They have removed waiter and waitress table service. In other words, while you've always gotten your own food, now you even get your own self-service drinks (pop, milk, tea, water, flavored water, etc.).
This is one busy buffet. Many of the customers at the MGM Grand's buffet are here because they received a free buffet pass as part of a travel package and/or a buy-one get-one free promotion. In the past, the MGM Grand has offered a promotion where guests staying at the hotel can get resort credit to eat at the buffet for free during their stay.
MGM Grand Buffet Prices & Hours
Current prices for the MGM Grand Buffet are as follows (before the MGM Rewards discount):
| | |
| --- | --- |
| Monday – Thursday (8 AM – 3 PM) | $27.99 |
| Friday, Saturday & Sunday (8 AM – 3 PM) | $36.99 |
Please note, these prices do not include the combined Las Vegas sales tax of 8.38%. As such, the cost of a weekend buffet for two people after tax is $80.18. These are the walk-up prices. If you book a reservation on line, the price jumps $15 a seat (see below).
Also, these prices apply to everyone six years old and up. Kids five and under eat free.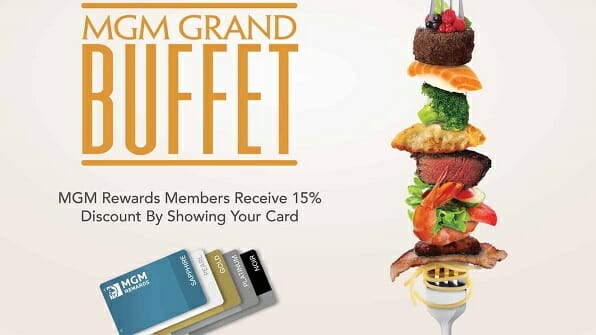 MGM Grand Buffet Discount
By holding an MGM Rewards card you are entitled to a 15% discount off of the buffet price. Please ask the cashier ahead of time as I'm not sure if this applies to all levels currently.
MGM Grand Buffet Reservations: Skip The Line Pass
If you're willing to pony up $15 more per person, you can reserve your seating and be seated quickly with MGM Grand's skip-the-line pass. Reservations can be made here: https://mgmgrand.mgmresorts.com/en/restaurants/mgm-grand-buffet.html
The pre-tax reservation price comes out to $42.99 per person on weekdays and $51.99 per person on weekends (which includes Fridays). You have to pay ahead of time, but can cancel without penalty so long as the cancellation is 24 hours prior to your visit.
MGM Grand Breakfast and Brunch Buffets Menu
The menu for breakfast/brunch now served at the MGM Grand can change from week-to-week, however staples include all your basics of course: scrambled eggs, bacon, sausage, pancakes, French Toast, waffles, cheese blintzes, corn-beef hash, and biscuits & gravy.
You'll also find blueberry blintzes, beef fritters, and "loaded breakfast potatoes."
The carving stations (there's more than one), feature roasted turkey, baked ham, brisket and beef top round.
On the healthy side, a yogurt bar has fruit and toppings. MGM Grand's Buffet has a very simple salad bar with also pre-made Cesar salad. The lox bagel section includes smoked salmon, capers, red onion, tomatoes and other toppings. Fresh fruits include honeydew, watermelon, cantaloupe, and pineapple.
A small deli area features salami, pepperoni ,along with other sliced meat and cheeses, including smoke gouda.
There are numerous breakfast pastries and breads (like banana nut muffins), croissants, and the like.
A nice feature of this buffet is the fact there are two different made-to-order omelet stations, designed to keep the line moving.
Lunch/Dinner Items at the MGM Grand Brunch Buffet
Moving away from breakast items, the comfort food section includes Ranch-style chive mashed potatoes,mac n' cheese, and corn on the cob.
In this area, there are a selection of main dishes that seem to rotate in and out, and which may include Rockfish in Jamaican Rum Sauce, Green Pork Chile, Pineapple glazed barbecue pork, meatloaf, baked cod, vegetable lasagna, and baked chicken.
A small Asian section included fried rice, fried shrimp, potstickers and spring rolls.
Soups, on this visit included clam chowder and broccoli cheddar. This area also served cheese grits, oatmeal and cream of wheat.
A separate modest seafood area include crawfish, shrimp cocktail, mussels, clams and oysters on the half-shell. By my count, there were four varieties of sushi with ginger.
There's a basic cereal selection (but who is eating cereal at a buffet?) that includes Corn Flakes, Raisin Bran and Cheerios. In this area you'll find apples and bananas as well.
Desserts
Yes you can have dessert at a breakfast buffet!
And at this overall pretty average buffet, the dessert area may be the highlight.
Here you'll find bread pudding area, where toppings included Oreo, peanut butter chips, sprinkles and chocolate chips.
Next to this is an impressive selection of beautifully presented, individually-served parfait cups, mousse, custard, cakes (red velvet cake), tarts, (including a cute Key Lime one), cupcakes, crème brulee, brownies something I can never resist, regardless of how full I am: Rice Krispie treats!
Drinks
Drinks are self-serve, and include whole milk, 2% milk and chocolate milk, coffee, hot tea (including Japanese Nishimura tea packets), and a variety of Minute Maid juices and lemonade from a machine. There's also the Coke free-style pop machine with a seemingly endless variety of flavors. Fanta alone has ten different varieties by my count.
(Related: Excalibur Buffet price)
MGM Grand Buffet Unlimited Drinks
A separate walk-up bar area exists within the confines of the buffet. And for an additional $18.99, you can get all-you-can drink beer, wine and mimosas during your buffet visit.
Alternatively, you can pay $27.99 for all-you-can drink beer, wine, mimosas and well drinks. Either way, you have to walk up to the bar to get your drinks.
Even if the all-you-can drink option isn't running, you can get drinks by the glass instead (I believe it was $10 to $15 for a Bloody Mary). The previous policy of free champagne and mimosas during weekend brunch is a thing of the past unfortunately.
MGM Grand Buffet Dinner Menu
Editor's note: Below is the pre-covid shutdown wording for the rest of the buffet. We'll update this article once the dinner is offered again.
The Friday and Saturday night "Grand Dinner" buffet, (at $42.99 per person), will cost two people a total of $93.07 after tax.
When you compare these prices to other buffets in Las Vegas, you'll find MGM Grand Buffet's prices to be somewhat reasonable. In particular, the weekend brunch price is just under $63 a person, which is getting harder to find on the Strip. On top of that, the weekend brunch comes with free champagne and mimosas, making it a decent value in my view.
Free Drinks at Dinner Buffet
All dinner buffets, seven days a week, include unlimited beer and wine. The beer choices are Bud Light and Coors light I believe. Recently the three wine selections were all from Liberty Creek: a Chardonnay, White Zinfandel, and a Cabernet Sauvignon.
At dinner, for an additional $9 upgrade, you can get bottomless Bloody Mary's, bellinis, margaritas, etc. This upgrade also includes more premium beers.
Stations
As is customary with Las Vegas buffets, there are a variety of stations, serving up everything from macaroni and cheese to crab legs (on weekends), from pizza to prime rib.
The seafood station serves fresh sushi, and oysters, spicy tuna rolls, varieties of shrimp (butterfly shrimp, Creole shrimp, etc), and mussels, among other dishes.
Other signature dishes at the MGM Grand Buffet included brisket, pot stickers, and the Colorado Chili.
There is of course, the requisite salad bar, but also a variety of pre-made, salads, including crab. There's even an organic garden salad section.
Other offerings that you may see at dinner include a variety of Chinese dishes, fried chicken, corn on the cob, mashed potatoes and gravy, dim sum, and lamb.
Dinner menu items also include a Pho station, and a select pasta of the day.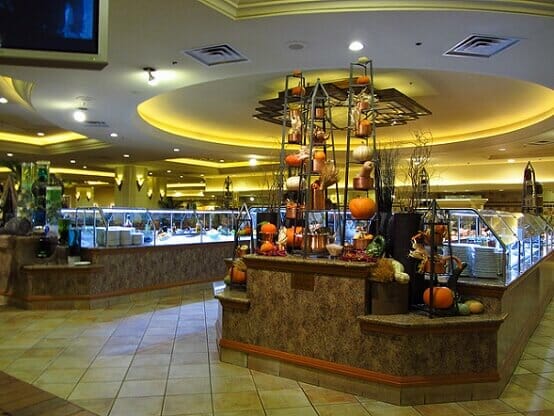 The burgundy short ribs get high marks here, but otherwise, many feel it is just your average Las Vegas buffet and not unusually outstanding.
The weekend Gourmet Dinner buffet (Friday – Sunday nights) features most everything on the regular weeknight dinners plus dishes like New York strip steaks, sushi and seafood ceviche. On these three nights, you'll also be treated to Dungeness crab, Snow Crab and Crab Claws (subject to availability).
Other Friday-Sunday night exclusives include assorted fresh fish that is cooked to order and NY steaks off of the grill.
Desserts
Desserts are served in smaller portions, which is nice in that it allows you to sample several different kinds of sweets without having to waste food or expand your waistline more than necessary.
Some of the more unique MGM Grand Buffet menu items in the rotation may include the fried Twinkies, (they come with a defibrillator), cheesecake shots, a Bailey's Cheesecake, and Mango yogurt mousse.
A new item I was unfamiliar with were the Strawberry profiteroles, which are basically a strawberry cream puff and delightful.
MGM Grand Buffet Phone Number & Website
For general questions about the buffet, use this number: (702) 891-1111. (This is MGM Grand's main number. You'll be directed to hit "2" to get dining).
However for parties of 15 people of more, it's recommended that you call ahead for seating at the following number:
(702) 891-7433
MGM Grand's official page for their buffet can be found here: MGM Grand Buffet
MGM Grand Buffet Deals and All-Day Pass
MGM occasionally often runs a promotion in which your room rate includes a total of 2 buffets per stay. These two buffet passes are good for either breakfast, lunch or dinner. Given the more expensive cost of the dinner buffet, it's more financially beneficial for you to use your free pass at dinner.
I've also heard of many people obtaining buy-one, get one free buffet passes using points on the popular MyVegas app. (MyVegas is the official MGM Resorts mobile slot game you play on your phone to get points for freebies and discounts at MGM Resort properties). The downside is that these BOGO passes seem to sell out quickly each day.
As for the All-Day Buffet Pass? Previously you could purchase a pass (similar to Caesars Entertainment's Buffet of Buffets pass), which entitled you to make endless trips to the MGM Grand Buffet for a 24 hour period. However MGM Resorts has stopped offering this buffet pass.
(By Steve Beauregard. Photos courtesy of Calgary Reviews via Flickr.)