Updated May 20th, 2021
The MGM Grand Buffet is back! Sort of.
There are limited hours, and no dinner buffet (yet), but after being closed for a year, the buffet reopens on Wednesday, May 26th, for breakfast and lunch only. (More on that below).
As one of the largest hotels in the world, boasting over 5,000 rooms, the MGM Grand requires a buffet efficient enough to handle the crowds.
By most accounts, it succeeds with a buffet that – while not extremely noteworthy – is large and clean and offers a wide variety of offerings and pretty reasonable prices when compared to some of the other Strip casino buffets, such as the pricey Bacchanal Buffet at Caesars Palace.
The MGM Grand Buffet is located near the Strip entrance of the massive MGM Grand resort in Las Vegas. You'll find it just past the sports book and Centrifuge bar.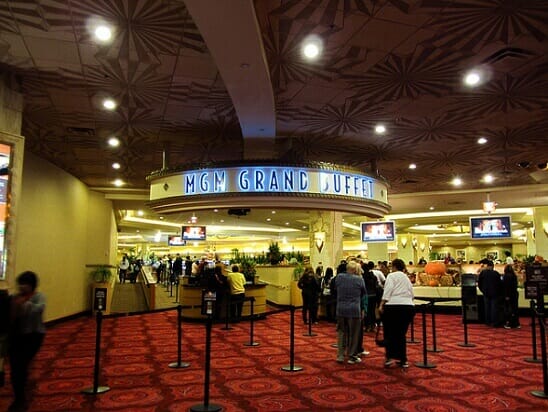 The MGM Grand Buffet has removed waiter and waitress table service. In other words, while you've always gotten your own food, now you even get your own self-service drinks (pop, milk, tea, water, flavored water, etc.). While this does save on tipping, it makes it a little more inconvenient when you're wanting refills.
This is one busy buffet. Many of the customers at the MGM Grand's buffet are here because they received a free buffet pass as part of a travel package (common when booking a trip through Southwest), or are comped a buffet directly from MGM. The MGM Grand often offers a promotion where guests staying at the hotel can go to the buffet for free during their stay. (More on that below).
MGM Grand Buffet Prices & Hours
| | |
| --- | --- |
| Monday, Thursday & Fridays (7 AM – 2 PM) | $25.99 |
| Saturday & Sunday (7 AM – 2 PM) | $29.99 |
Please note, these prices do not include the Las Vegas sales tax of 8.25%
MGM Grand Breakfast and Brunch Buffets
(Editor's note: below is our breakfast coverage pre-shutdown. We expect this menu to be similar to the re-opened buffet, but will update this as soon as we get to visit.)
Breakfast and brunches at the MGM Grand include chicken and biscuits, breakfast pastries and breads (like banana nut muffins), croissants, salmon lox, mini-waffles and pancakes, as well as a highly-regarded cinnamon roll (but then again, I love every cinnamon roll).
The breakfast and brunch buffet spread includes smoked salmon, corned beef hash, baked ham, fresh fruits, every pastry you could think of, blueberry blintzes and the requisite made-to-order omelet station.
The weekend brunch also features mussels and clams, sushi, fried chicken, tri-tips, cocktail shrimp, roasted turkey, and champagne or mimosas.
More Editor's notes: Below is the pre-covid shutdown wording for the rest of the buffet. We'll update this article once we know menu items for the re-opened buffet and once dinner is offered again.
The Friday and Saturday night "Grand Dinner" buffet, (at $42.99 per person), will cost two people a total of $93.07 after tax.
When you compare these prices to other buffets in Las Vegas, you'll find MGM Grand Buffet's prices to be somewhat reasonable. In particular, the weekend brunch price is just under $63 a person, which is getting harder to find on the Strip. On top of that, the weekend brunch comes with free champagne and mimosas, making it a decent value in my view.
Children's Buffet Pricing:
These prices apply to children ages 4-12
Early Bird Breakfast (Monday – Thursday) 7 AM to 9 AM: $12.99
Weekday Brunch (Monday – Thursday) 9 AM to 3 PM: $14.99
Weekend Brunch: (Friday – Sunday): $16.99
Dinner: (Sunday – Thursday) 3 PM to 9:30 PM: $19.99
Dinner: (Friday and Saturday: $21.99
Kids 3 and under are free.
(Related: Excalibur Buffet price)
MGM Grand Buffet Unlimited Drinks
On weekends, you'll drink alcohol for free at the MGM Grand Buffet. This applies for both the brunch and dinner buffets on Friday, Saturday and Sunday.
Free Drinks at Brunch
During the weekend brunch, champagne and mimosas are included in the price.
Alternatively, for $9 more, you can have unlimited drinks from a menu that includes Bloody Mary's, Bellini's and Margaritas.
Monday through Thursday breakfast and brunch buffets do not include unlimited drinks, however you can pay $9 more to have all-you-can drink champagne and mimosas. You can also pay $15 for the unlimited drink menu (Bloody Mary's, etc.)
Free Drinks at Dinner Buffet
All dinner buffets, seven days a week, include unlimited beer and wine. The beer choices are Bud Light and Coors light I believe. Recently the three wine selections were all from Liberty Creek: a Chardonnay, White Zinfandel, and a Cabernet Sauvignon.
At dinner, for an additional $9 upgrade, you can get bottomless Bloody Mary's, bellinis, margaritas, etc. This upgrade also includes more premium beers.
Stations
As is customary with Las Vegas buffets, there are a variety of stations, serving up everything from macaroni and cheese to crab legs (on weekends), from pizza to prime rib.
The seafood station serves fresh sushi, and oysters, spicy tuna rolls, varieties of shrimp (butterfly shrimp, Creole shrimp, etc), and mussels, among other dishes.
Other signature dishes at the MGM Grand Buffet included brisket, pot stickers, and the Colorado Chili.
There is of course, the requisite salad bar, but also a variety of pre-made, salads, including crab. There's even an organic garden salad section.
Other offerings that you may see at dinner include a variety of Chinese dishes, fried chicken, corn on the cob, mashed potatoes and gravy, dim sum, and lamb.
Dinner menu items also include a Pho station, and a select pasta of the day.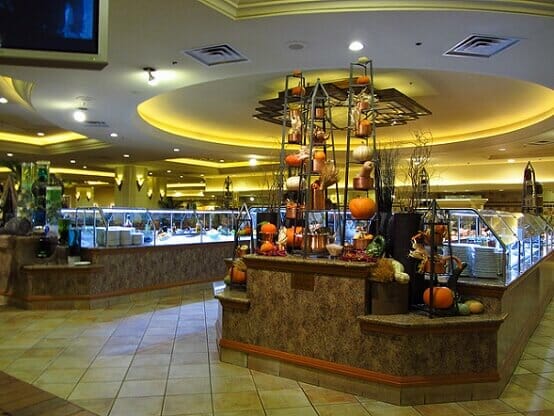 The burgundy short ribs get high marks here, but otherwise, many feel it is just your average Las Vegas buffet and not unusually outstanding.
The weekend Gourmet Dinner buffet (Friday – Sunday nights) features most everything on the regular weeknight dinners plus dishes like New York strip steaks, sushi and seafood ceviche. On these three nights, you'll also be treated to Dungeness crab, Snow Crab and Crab Claws (subject to availability).
Other Friday-Sunday night exclusives include assorted fresh fish that is cooked to order and NY steaks off of the grill.
Desserts
Desserts are served in smaller portions, which is nice in that it allows you to sample several different kinds of sweets without having to waste food or expand your waistline more than necessary.
Some of the more unique MGM Grand Buffet menu items in the rotation may include the fried Twinkies, (they come with a defibrillator), cheesecake shots, a Bailey's Cheesecake, and Mango yogurt mousse.
A new item I was unfamiliar with were the Strawberry profiteroles, which are basically a strawberry cream puff and delightful.
MGM Grand Buffet Phone Number & Website
For general questions about the buffet, use this number: (702) 891-1111. (This is MGM Grand's main number. You'll be directed to hit "2" to get dining).
However for parties of 15 people of more, it's recommended that you call ahead for seating at the following number:
(702) 891-7433
MGM Grand's official page for their buffet can be found here: MGM Grand Buffet
MGM Grand Buffet Deals and All-Day Pass
MGM occasionally often runs a promotion in which your room rate includes a total of 2 buffets per stay. These two buffet passes are good for either breakfast, lunch or dinner. Given the more expensive cost of the dinner buffet, it's more financially beneficial for you to use your free pass at dinner.
As for the All-Day Buffet Pass? Previously you could purchase a pass (similar to Caesars Entertainment's Buffet of Buffets pass), which entitled you to make endless trips to the MGM Grand Buffet for a 24 hour period. However MGM Resorts has stopped offering this buffet pass.
(By Steve Beauregard. Photos courtesy of Calgary Reviews via Flickr.)