Buffet of Buffets Las Vegas Pass Price 2023
Updated January 2023
(Editor's note: While Caesars Palace's popular Bacchanal Buffet is open, and busy as ever, most Las Vegas Strip buffets closed during the pandemic, and sadly, have remained closed. As such, the Buffet of Buffets pass remains unavailable. Below is our original write-up, and we'll update this article once it's offered again).
Caesars Entertainment has taken the concept of the all-you-can eat buffet, and kicked it up several notches with a unique and still new concept on the Strip: all-you-can eat for 24 hours straight.
We're talking unlimited food for breakfast, lunch and dinner. At a selection of different buffets too. You may even be able to sneak in a 4th meal. (More on that below).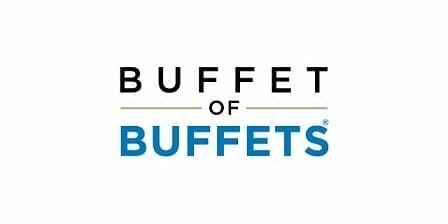 It's called the Buffet of Buffets, or as some have nicknamed it: "BOB."
The Buffet of Buffets is a pass that allows you unlimited access to five different Las Vegas Strip buffets for a 24 hour period. For an additional fee, you can have the same unlimited access to one additional, premium buffet.
How Much is the Buffet of Buffets Pass Price?
Prices increase on holidays (more on that below), but the normal Buffet of Buffets passes price is $59.99 when showing a Caesars Rewards Card.
Exact prices are as follows:
Sunday – Thursday: $69.99 per person (or $59.99 if you show a Caesars Rewards Card)
Friday – Sunday Morning: $79.99 per person (or $69.99 with a Caesars Rewards Card)
Please note the higher-priced weekend pass now starts at 8 PM on Thursday night, and continues until 8 PM on Sunday night. Therefore, the cheaper weekday Buffet of Buffets pass starts at 8:01 PM Sunday nights.
Also, these prices do not include Las Vegas' 8.25% sales tax.
Therefore, assuming you have a Caesars Rewards Card, a Weekend Buffet of Buffets Pass for one person will cost $75.76 after tax. For a couple, your total bill would be $151.53 before tip but after tax.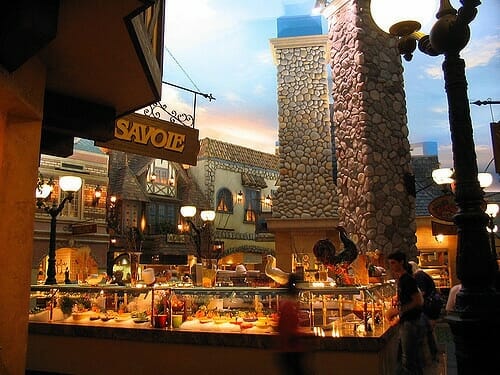 As for the kids? Sorry, but there is not a discount for children's passes. They pay the same price as mom and dad.
Incredibly, the BOB started off just a few years ago as an experiment costing just $29.99.
Due to its popularity, prices have skyrocketed since then – most recently raised again in April 2019. Pricing varies based on the timing of your visit, as weekday BOB passes are cheaper than those used on weekends.
Either way, it's important for you to sign-up for a Caesars Entertainment Caesars Rewards Card (formerly known as the Total Rewards Card) before purchasing the pass. Having the card (which is free to sign-up for at any Caesars Entertainment casino player's club desk), will save you $10.
Buffet of Buffets Holiday Prices
$99.99 per person or $89.99 for Caesars Rewards Card holders.
According to Caesars Entertainment, holiday pricing can be in effect two to three days before and after the following days: Memorial Day Weekend, Labor Day Weekend, Thanksgiving/Black Friday Holiday Weekend, Christmas Eve, Christmas Day, New Year's Eve Weekend, and New Year's Day.
Also, other weekends can have holiday pricing. Caesars does not say what these other holidays are, however I believe it includes Super Bowl weekend, among others.
Buffet of Buffets Pass Savings
While the normal weekday $59.99 24 hour buffet pass may seem steep, some perspective is in order. A breakfast buffet at the Paris Las Vegas, for example, will cost you $21.99. Their lunch buffet is $24.99 while their weeknight buffet is $30.99.
This totals $77.97. The Buffet of Buffets pass however, costs $59.99 (with a player's card), meaning you'll save about $18 over buying the buffets individually. Not only that, the enterprising eater can squeeze in a 4th meal, making the deal even more valuable.
Example: you purchase the BOB pass at 7 PM and eat dinner. The next morning, you enjoy a breakfast buffet, followed by a lunch buffet. For dinner, you show up before 7 PM to partake in the 4th buffet.
Where Do You Buy a Buffet of Buffets Pass?
You can buy a pass at any one of the six participating buffets. Just go to the cashier's stand.
You may also buy one at the Total Rewards desk at any Caesars Entertainment hotel/casino (like the Linq even), with the exception of Planet Hollywood for some reason.
Either way, be sure to either show, or sign-up for, a free Caesars Rewards player's card.
It's also probably good to just simply purchase the pass at your first buffet stop, immediately before going in. That way you can stretch out the benefits for the full 24 hours if you wish.
Upon purchasing the pass, you'll be given a black wristband to wear. It has a barcode on it and is your access to all of the buffets. Those of you who showed your Caesars Rewards card will use that to get into the buffets. You'll also be required to show a driver's license or other photo i.d. (This keeps you from chowing down then giving your Caesars Rewards card to your friend).
When Does the Buffet of Buffets Pass Expire?
The pass is time stamped and is good for 24 hours exactly. According to Caesars Entertainment, you won't be allowed into the buffet after your 24 hour period is up – even if you were in line at the buffet as it expired.
Buffets Included in the Buffet of Buffets Pass
The restaurants included in the Buffet of Buffets pass are as follows:
Flavors, the Buffet at Harrah's
Paradise Garden Buffet at the Flamingo
Le Village Buffet at Paris Las Vegas
Spice Market Buffet at Planet Hollywood
Carnival World Buffet at the Rio All-Suites Hotel & Casino
These are the five buffets that are included in your pass without any additional charge. Previously the Carnival Buffet at the Rio charged a $25 upgrade fee, however that fee was removed in May of 2018 when the Carnival buffet eliminated their elaborate seafood buffet in May of 2018.
In addition to these five, there is one buffet that is part of the Buffet of Buffets pass, but which requires an additional fee.
It's the popular and highly-regarded Bacchanal Buffet at Caesars Palace.
Buffet of Buffets Upgrade Fee
Being the main star of the Caesars Entertainment resorts' buffet lineup, the very popular Caesars Palace's Bacchanal Buffet charges Buffet of Buffets pass holders an added fee to enter.
The upgrade fees are as follows:
Breakfast: $15
Brunch: $25
Dinner: $35
On holidays, the Bacchanal Buffet upgrade jumps to $45.
These prices are for each visit. In other words, if you paid the normal $35 to get into the Bacchanal Buffet at say, 5 PM on Tuesday, and wanted to eat dinner again at 4:30 PM on Wednesday, before the pass expired, you would still have to pay a $35 upgrade fee on Wednesday.
I should also bring up the fact that the upgrades and taxes can add up quickly. For example, a couple without a player's card who goes to the Bacchanal Buffet cashier on a weekend, buys two BOB passes (for $79.99 each) and goes in the Bacchanal for dinner ($35 upgrade fee), will have just paid a total of (gulp), $248.95 after tax.
Buffet of Buffets Deals
All of the participating buffets are part of Caesar's Entertainment family of casinos.
As such, Caesar's Entertainment occasionally offers, what I call, "Room and Board" packages. (They call it "Room and Buffet Packages.")
This package, which is on again/off again, will be available near the bottom of the page here (when offered), at Caesars' official site: Buffet of Buffet packages.
With it, guests staying for two or more nights at one of the eight Caesars Entertainment hotels will get a total of two Buffet of Buffets passes. (Should you book a room with this, I may receive a commission from Caesars).
The passes you receive in this package have the same stipulations as if you bought them separate. Which is to say the passes will get you in for free at five buffets: Harrah's, Flamingo, Paris, Rio's Carnival and Planet Hollywood.
There is the same additional fees show above for guests wanting to use their BOB pass at the Bacchanal Buffet at Caesars Palace.
Considering the cost of two weekend Buffet of Buffets passes, this Room and Buffet package could end up saving you a lot of money on meals – assuming you don't mind eating every meal within a 24 hour period at a buffet. If you're able to stretch the buffet pass into four different meals, (which is not that hard to accomplish), you'll save even more.
As with any deal, you will have to calculate the cost of buying the room by itself and then paying for meals, versus the slightly higher cost of the food and room combo.
With six different buffets to choose from, (five of which have no additional cost), the Buffet of Buffets pass can be a pretty good value if you're willing to make the effort to maximize your time (and food consumption) during the 24 hour duration of the pass.
Some other Tidbits
* You cannot use any other coupon or buffet deal with the Buffet of Buffets pass.
* All the regular buffet drinks (pop, tea, coffee, milk, water, etc.) are included of course, however alcoholic drinks are not.
* After purchasing your pass, you should keep your receipt. This will help you a replacement pass should you lose it.
(Photo courtesy of Juan David Ruiz via Flickr).