Spice Market Buffet at Planet Hollywood 2023 Prices, Hours & Menu
(Editor's note: While Planet Hollywood is open, the Spice Market buffet remains closed. We'll update this article if and when it re-opens. Until then, below is the original article).
In a nod to its former Middle Eastern theme as the Aladdin Hotel & Casino, the Planet Hollywood Hotel & Casino in Las Vegas has an Middle-eastern themed buffet called the "Spice Market Buffet."
In years past, this buffet ranked among the best buffets in town per the annual "Best of Vegas" poll by the Las Vegas Review Journal. However that is no longer the case, due both to several new and improved casino buffets around the Strip, and a seemingly general decline in offerings at the Spice Market.
Nowadays, the Spice Market is primarily known for having that rare Mediterranean/Middle Eastern section. It is one of the buffets included in Caesars Entertainment's Buffet of Buffets Pass, in which you pay one price to get entry into several different buffets for a 24 hour period.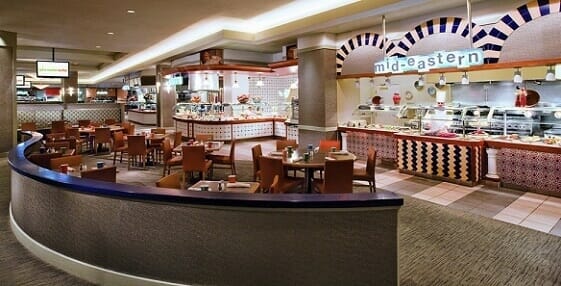 It's one of the stations you'll find here, along with an American Station, Asian, Soup, Seafood, Mexican, Salad bar, pastry area, and of course, dessert.
Located on the lower level at PH, the Spice Market is pretty affordable – especially when compared to its fancier buffet cousins across the Strip at the Bellagio and Caesars Palace.
In February of 2020, the Spice Market stopped offering a breakfast buffet. There is no longer a breakfast or lunch buffet – just a weekend brunch.
Spice Market Buffet Hours and Prices
Here are the standard hours and prices, however keep in mind, most Las Vegas buffets jump up the prices during most holiday weekends. These range from real ones, like Christmas, to "holidays" like Super Bowl weekend and March Madness.
Champagne Brunch
Saturday and Sunday: 10 AM to 3 PM – $25.99
Dinner
Monday – Friday: 4 PM to 10 PM – $30.99
Saturday & Sunday: 3 PM to 10 PM – $30.99
Keep in mind you'll be helping to pay for the Las Vegas Raiders new football stadium with the city's 8.25% sales tax.
As such, the dinner buffet for two people would set you back $67.09 after tax.
Children's Buffet Prices
At Planet Hollywood, children 3 and under eat free, while kids 11 years and older pay the full prices quoted above.
Children between the ages 4 and 10 years old are charged $16.99 for brunch buffets and $18.99 for dinner.
Unlimited Drinks
For an additional $12.99, you can get unlimited beer, wine and champagne during your meal. It's delivered to you, whereas you have to get your own non-alcoholic drinks. I mention this because of numerous complaints about the speed of this service.
Also note that the Spice Market is one of the buffets included (without any additional charge) in the popular Buffet of Buffets meal plan.
Spice Market Buffet Menu Items
Here's a sampling of some (not all) of the offerings you're likely to find during the various meals. I try to keep up on these, however they're subject to change on the chef's or management's wishes.
Brunch
In addition to the usual offerings of scrambled eggs, waffles, hashbrowns, etc, you'll find a build-your-own omelet station, roasted ham, biscuits and gravy, cheese grits, eggs benedict, donuts, baked oatmeal with peaches, banana and strawberry smoothies, cheese and blueberry blintzes.
Other breakfast items included: cereals, eggs, fruits and pastries, along additional dishes like herb and citrus rotisserie chicken, chicken fajitas, and salt & pepper chicken wings.
The Middle-Eastern station serves oak-smoked salmon, marinated olives, marinated tomato salad, and a selection of gourmet meats and imported cheeses, among other items.
The Middle East section offers dishes like baba ganoush, tabbouli, baklava, chicken kabobs and vegetable kabobs, dolmas and feta cheese among others. There was also tandoori chicken kabobs, vegetable spring rolls, and vegetable lo mein.
There are soups and the full salad bar as well.
Also, one glass of either champagne or mimosa is included with your entry fee to the brunch buffet.
Lunch Items at Brunch
Mussels in white wine sauce, seafood paella, 3-cheese lasagna, rotisserie chicken, Yukon mashed potatoes and roasted turkey
There are soups and a full salad bar of course, including pre-made salads such as Caesar salad, kale salad and artichoke salad.
Mexican station, you'll find enchiladas, beef fajitas, and even poblano quesadillas.
Again, the Middle East station spreads some dishes not normally found at most Las Vegas buffets. These dishes include baba ganoush, tabbouli, baklava, chicken kabobs and vegetable kabobs, dolmas and feta cheese, dried fruits and hummus and naan bread.
Dinner
Dinner menus will include most of the lunch items in addition to these dishes not found at brunch: shrimp scampi pasta, crab-stuffed sole, seafood cioppino, and barbecue pork ribs.
The dinner buffet has been re-named "Prime Rib Dinner", with (as you guessed), prime rib served every night. You'll also have a selection of roasted turkey, tri-tips, and barbecue chicken.
The Middle East dishes include the ones listed above at lunch, but also lamb and potato kabobs, spicy basil pork fried rice, and steamed BBQ buns.
You'll also find soup selections, and the salad bar area with varieties of fruits, cheeses, and shrimp cocktail.
Dessert
The dessert station does not stand out, as it has the usual assortment of sweets, cookies, cupcakes, etc.
One out-of-the-norm offering is the cotton candy.
(Related: Planet Hollywood parking)
Drinks
In a change from the past, there are no longer servers here, meaning you have to go up and get your own drinks at the small drink station, which can get crowded.
Spice Market Buffet Phone Number & Website
This is the main number:
(702) 785-5555
However if you are planning to hit the buffet in a party of 12 or more, PH asks that you call ahead at this number:
(866) 733-5827
Website: Spice Market Buffet
(Photo courtesy of Caesars Entertainment)