Planet Hollywood Parking Fee 2023 w/Map & Valet
Smack dab in the middle of the Las Vegas Strip, Planet Hollywood Las Vegas is a popular resort, with a busy casino, almost 2,600 rooms, and the successful Miracle Mile shops.
Up until recently it was also one of the few places where you've always been able to enjoy free parking on the Las Vegas Strip.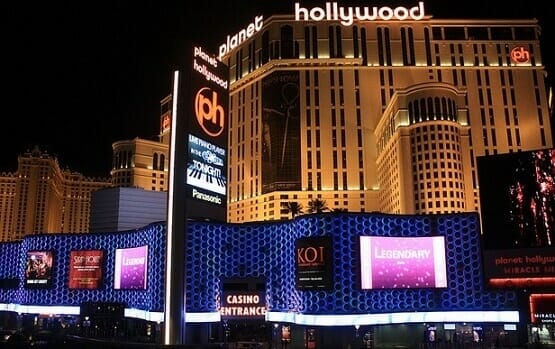 Now however, there's a self-parking fee for everyone: hotel guests, non-hotel guests, and shoppers going to the Miracle Mile Shops at Planet Hollywood alike will have to pay to park (more on that below).
Originally opened in the summer of 2000 as the Aladdin, the resort was remodeled, and re-themed with the new Planet Hollywood version opening in April of 2007. Parking at Planet Hollywood in Las Vegas is convenient, as there is a large 10 story parking structure attached to the resort.
It's also one of the more easy parking structures to get in and out of in Las Vegas, with a large main entrance and exit off of Harmon Avenue, which connects to the Strip, and two back entrances/exits off of Audrie Street, directly behind the resort.
As for the parking itself, please know that it's is a pretty good walk from the parking garage to the main casino floor. This is especially true if you find yourself having to park at one of the more distant, eastern parking spaces.
Planet Hollywood Parking Fee
Paid parking fees are as follows:
| | |
| --- | --- |
| Monday – Thursday | |
| First Hour | Free |
| 1 – 4 Hours | $15 |
| 4 – 24 Hours | $18 |
| Each Additional Day | $18 |
| | |
| --- | --- |
| Friday – Sunday | |
| First Hour | Free |
| 1 – 4 Hours | $20 |
| 4 – 24 Hours | $23 |
| Each Additional Day | $23 |
Please note that self-parking is free for those of you with Caesars Rewards player's card at the Platinum, Diamond or Silver Star levels.
During "Special Events," which may include busy holiday weekends, parking fees jump.
There is also fee to valet park at Planet Hollywood, with prices going up on weekends. Valet parking fees are as follows:
Planet Hollywood Valet Parking Fee
| | |
| --- | --- |
| Monday – Wednesday | $36 |
| Thursday – Sunday | $40 |
There may be increased prices during 3 day weekends (like Memorial Day, New Year's Eve, etc.). Special Event/Holiday pricing isn't listed on their website.
As with self-parking, Valet Parking is free for players with a Caesars Rewards Card who have reached one of the following levels: Platinum, Diamond, or Seven Stars.
Some other notes:
Hotel guests staying at Planet Hollywood who use valet parking will have the valet fee automatically charged to their room.
Guests staying at the Planet Hollywood Hotel will have in-and-out privileges, however non-hotel guests will have to pay a new valet parking fee for each time they drive to the resort. In other words, if you've paid the valet fee once, they leave a few hours to sightsee and come back, you'll have to pay another valet fee.
Planet Hollywood Parking Garage
Directions to Planet Hollywood Casino's parking garage: From the Strip, you'll want to go east on Harmon Avenue. The intersection of Harmon and the Strip is easily recognizable by the giant, Times Square-ish appearance with the huge screen above a lighted Walgreens and McDonald's signs.
PH Casino Parking Map
(The two purple stars show you the back parking garage entrances and exits, while the black star represents the main PH parking entrance off of Harmon Avenue).
When going north on the Strip, you'll want to take a right at Harmon Avenue, just before the busy Harmon corner shops in front of you.
When going south on the Strip, Harmon will be the first left you take after you see Planet Hollywood on your left. It's right after you pass the Cosmopolitan and before you get to the tall "Aria" sign on your right.
(Related: Mandalay Bay parking fee)
Once you are on Harmon Avenue, you'll simply want to stay in the left side of your lane and take the first left, at Planet Hollywood Way. The large red Planet Hollywood and Miracle Mile shop signs will be on your left.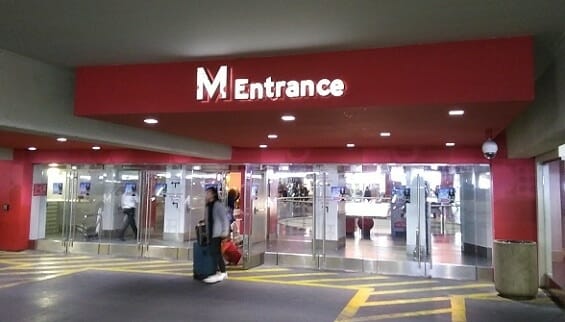 Once you are on Planet Hollywood Way, driving into the resort, the signage is pretty good. Stay in the center lane for the self-parking garage. You'll see signs pointing to the "Miracle Mile" self-parking area on the right as well. Both the Miracle Mile self-parking area the Planet Hollywood self-parking areas in the same 10 story structure.
Besides the Harmon Avenue exit, there are two parking garage exits on Audrie Street, which is the first street east of the Strip. This road can get busy at times, but taking a right when exiting this entrance will take you back to Harmon Avenue for access back to the Strip. Oftentimes, when the Strip is even busier than normal, an exit via the Audrie Street exit then going east on Harmon may be a faster route to wherever you are headed.
Clearance into Planet Hollywood's parking garage is 6 feet, 8 inches.
Planet Hollywood Valet
Planet Hollywood is one the hotel/casino where using the valet will save you a lot of steps. As I mentioned earlier, the parking structure is east of the PH/Miracle Mile complex. Getting stuck parking at the far eastern end of the 10 story parking garage can lead to a nearly 1/4 mile walk to get to the front of the resort on the Strip side.
Vhen entering the resort from Harmon Avenue (see directions above), you'll want to stay in the far left lane. Signage is good, and the circular drive will lead you to the valet area.
While the PH valet is convenient and much closer than using the parking garage, there are no guarantees, as the valet parking has been known to be full on occasion.
(By Steve Beauregard. Miracle Mile photo from gamboool.com. Top photo courtesy of David Herrera via Flickr.)